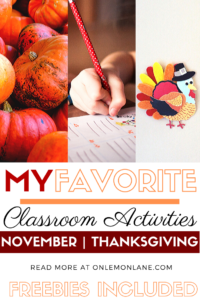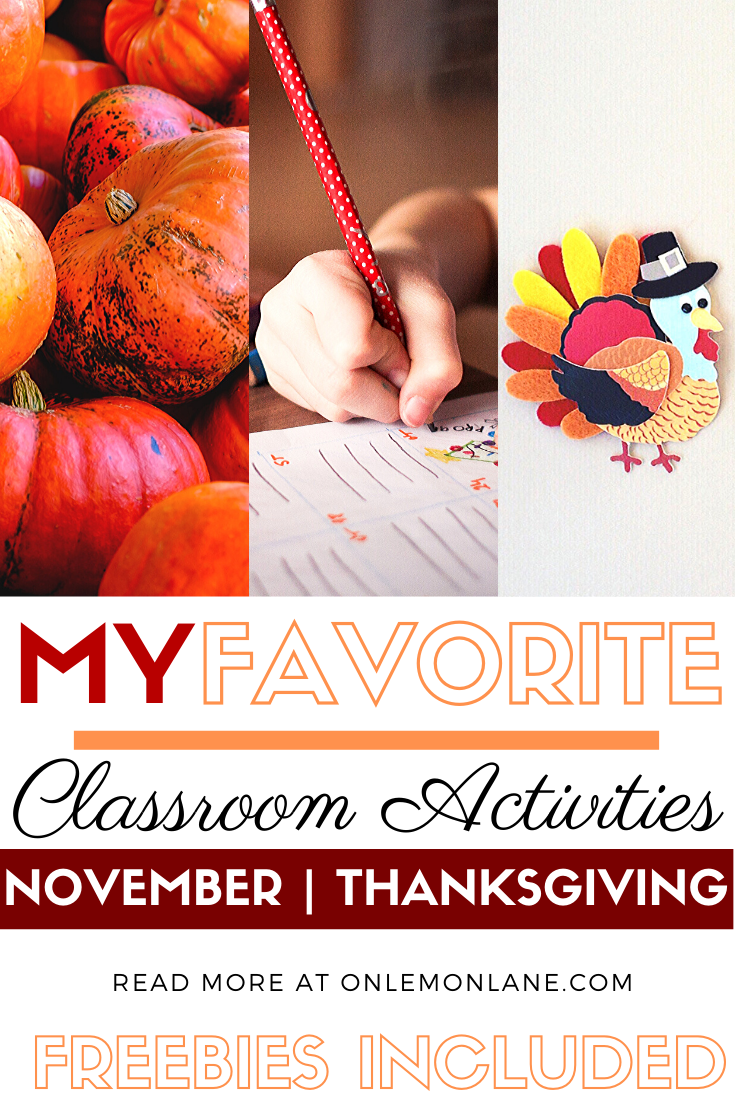 November is such a great time to be a teacher. I feel like at this point you are in the groove. You know your students, your students know you, full steam ahead. Interestingly, of all the holidays I have created content for, Thanksgiving has the most options, many of them FREE. Even better many of these Thanksgiving-themed resources are appropriate for the elementary, Middle School, and even High School Grades! As you plan for the month of November, I hope you enjoy these activities and that they help bring an attitude of gratitude into your classroom. After all, if you can teach students to be grateful, you have truly given them one of life's most important skills.
I had to start with my favorite. This Plan a Thanksgiving Dinner activity is based on the Project-Based Learning method, and it is FANTASTIC. The idea and need for this project came when I was doing a bit of planning our actual meal. I. HAD. NO. IDEA. The amount of math involved is staggering, let alone the analyzing, synthesizing, and evaluating… Mr. Benjamin Bloom would be so proud. This project involves a lot of math, critical thinking and even incorporates some writing and design. All 100% real-world application. I know there are other products out there based on planning a Thanksgiving dinner, but this one goes a step further. To see this product explained in detail, click here, or watch the brief video below!
This is such a great Thanksgiving Art Project for both younger and Upper Grades. I love to use the Holidays as a time to review figurative language and focus on Poetry, Thanksgiving is no exception. These two projects work as a great and complete activity with the Art Project and Thanksgiving writing project! If you haven't tried a Zentangle art project in your classroom. This is the perfect opportunity. The process is simple, however, based on the skill level of students the project can become as intricate and detailed as they choose. Another benefit is the supply list is SHORT. Literally paper, pencil to lightly sketch, and a pen, or marker if you really want to make a statement. All of these can be found in your basic classroom with basic supplies.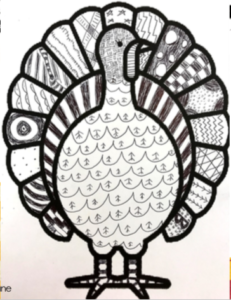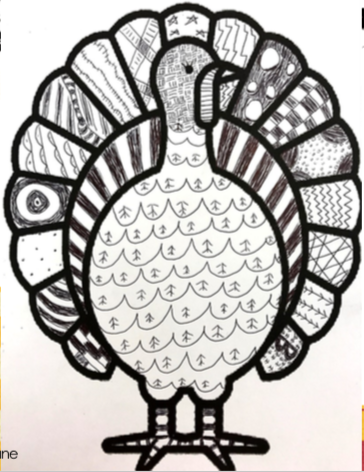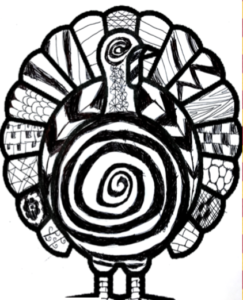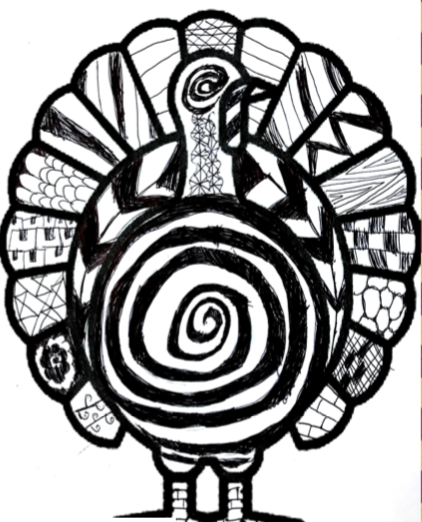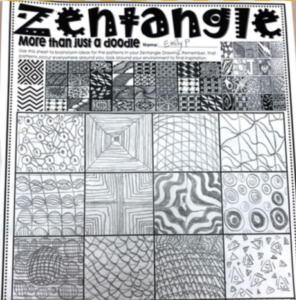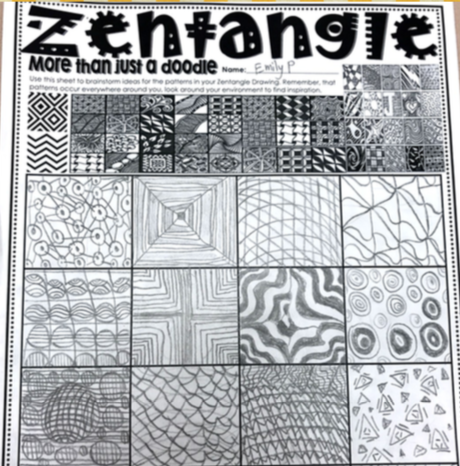 I've included a brainstorm page as well as a few examples to jumpstart and inspire your students. If you love Zentangles in the classroom make sure to check out: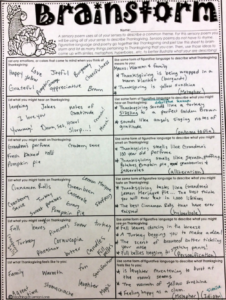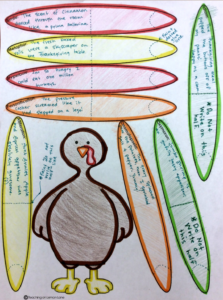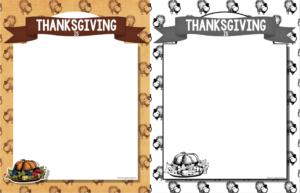 Once the turkeys are done, I have students cut them out and mount them on construction paper. We display our turkeys and poems in the hall for the month of November. More on the poem below:
This product also includes a poem template that supports students in writing a really fun sensory-driven poem. Students use a brainstorm page to think of emotions, sounds, sights, smells…etc related to Thanksgiving. Using what they've brainstormed they start experimenting with figurative language. From that point, they will move onto the poem template. The template will scaffold them as they create a really beautiful and rich poem that describes Thanksgiving form their point of view and individual experiences. The end results are really delightful.
I've updated this product to include a couple of different options for students to write their finalized poems on. If you use Google Classroom I've also uploaded a FREE option that students can use to type and display their finalized poem. Click here for access to the Google Classroom Thanksgiving Poem Templates. Remember access is exclusive to members of On Lemon Lane. Not a member? No problem! Click here to sign up. Becoming a member is FREE, Fast, and Easy, Peasy Lemon Squeezy!
Thanksgiving, historically speaking can be a (and should be) a sensitive concept in the classroom. I think a great way to approach it is by using historical documents that offer different points of view. Specifically, the views of both the Wampanoag and English settlers. As an educator, you have a responsibility to educate yourself and your students from a place of accuracy and representation. This reading passage focuses on the letter written by Edward Winslow, as well as the friendship that was formed between him and Chief Massasoit. After all, if there was a message that should be known and celebrated today, it would be one of two unlikely individuals coming together under difficult circumstances and forming a friendship. This comprehension reading passage is great for the month of November and a great way to open the classroom to a discussion about the actual history behind Thanksgiving today. If you would like to become more informed about the history of Thanksgiving and how the "celebrated" history differs, the resource linked below, along with this passage is a great place to start!
Harvest Ceremony Beyond the Thanksgiving Myth: A Study Guide
This one is SO fun. In this informational text, students learn just how greatly the meal they enjoy today differs from the meal consumed during the first Thanksgiving feast. In fact, you may be surprised to see just how different they are! This is a fun and interactive, informational text reading passage. Students will enjoy learning more about the history of Thanksgiving and get a better glimpse as to what the colonists and Wampanoag people ate, as well as the impact the Wampanoag had on that meal. Take it a step further by downloading the free Tangram activity below! The two were created for each other and together make a wonderful and complete activity.
This activity is a wonderful stand-alone or follow-up to The First Thanksgiving Meal described above. Students will try to recreate 4 of the different foods that either were or according to historians, most likely were served during the first Thanksgiving.
Tangrams are believed to have been invented in China thousands of years ago. The traditional Chinese Tangram puzzle is a single square divided into 7 specific shapes. Students will use all 7 shapes to try and recreate the tangram puzzles on the challenge cards. Simply cut out the shapes and begin! This activity is perfect for centers or rotations or even as a fast finisher activity for November. This is a FREE activity exclusive to members of On Lemon Lane. If you aren't a member sign up is FREE, FAST, and EASY PEASY LEMON SQUEEZY! Click here to become a member. 
Click Here to Download
Click Here to Purchase

Gratitude is an action, and I am grateful for you! This Freebie includes an awesome Thanksgiving Trivia Crossword Puzzle that contains fun history and facts. As well as a coloring page, and a thank you note template. Students can identify someone they are thankful for and have an outlet to express that gratitude. Both activities are perfect for Thanksgiving Day. It would be great for Thanksgiving Bell Work, or November center or rotations!
This activity gives me all the feels. This Freebie includes an awesome Grateful through the Alphabet activity where students are required to write something they are grateful for that starts with each letter. The more detailed and specific to them the better. Also, included is a thank you note template so students can identify someone they are thankful for, and express their Gratitude. Again this is a great November activity, Thanksgiving Day activity perfect for centers, rotations, or simply morning work!
I hope you enjoyed a few of my favorite activities for the classroom for the month of November and that these ideas alleviated some of your lesson planning! What do you do in your classroom?
Click on the title to purchase the products through the On Lemon Lane Store, or 
Click Here to Complete your purchase through Teachers Pay Teachers!

To stay up-to-date on new blog posts, freebies, exclusive promo codes, and sales… Join the Teaching on Lemon Lane Community! Pick any or all of the following to stay in the loop of all things Teaching on Lemon Lane. 
If you enjoyed this PLEASE SHARE! Sharing on Pinterest, Facebook, or tagging on Instagram is a simple, yet wonderful way to support the efforts of Teaching on Lemon Lane!