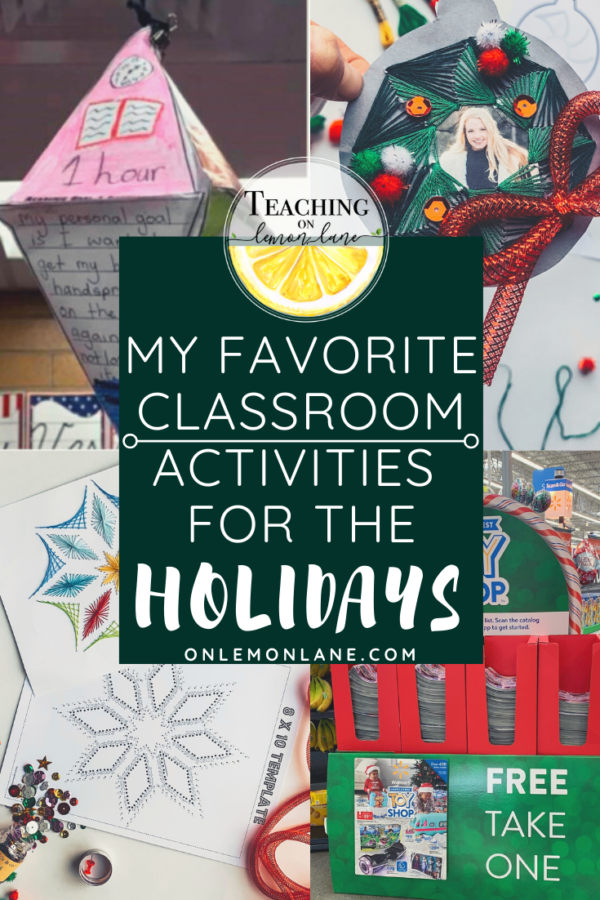 December can be such a WILD time in the classroom. You add the typical demands of a classroom, a dash of the Holiday Bustle, mixed with the added excitement of the season, and you have yourself a heavy dose of survival mode. To help you thrive instead of simply surviving, I wanted to share some of my favorite classroom activities for the month of December!
***Make sure to check back often, I'm adding more DIGITAL Christmas/Winter projects I know you and your students will LOVE!
***UPDATE: As I add keep coming back to add ideas and activities this post continues to get bigger and bigger! To help you in your search I've organized this post into 5 sections:
Winter Themed Activities (Includes Digital & Printable)

Christmas Themed Activities (Includes Digital & Printable)

New Year|Goal Setting Activities (Includes Digital & Printable)

Holiday STEAM & STEM Project Ideas

Last but not least… FREEBIES! (Christmas, New Year, and Goal Setting)
Last thing, if you have a hard time picking just one… I've got you! You can purchase most of these products mentioned, at a STEEP Discount through the Winter Mega Bundle! This is a GROWING Bundle, meaning the earlier you buy it the better discount you receive as I continue to add new products to the Bundle as I create them. TPT actually warns me about listing my bundles at too steep of a discount… but I can't help it! I would love for you to be able to justify trying all of these in your classroom! ***I've also included the December Morning Meeting Slides as a FREE Bonus with this Bundle 😀 
Click Here to Purchase the Bundle!
Like most blog posts, I LOVE to include Freebies for you! This Holiday Round-Up is no different.  This post contains a HANDFUL of Freebies available to you, keep reading for access to some fun, FREE downloads like these!
Phew. Let's Dive in!

Winter Themed Activities (Includes Digital & Printable)
Trapped in a Snow Globe Digital Art & Writing Project: Digital & Printable Versions Included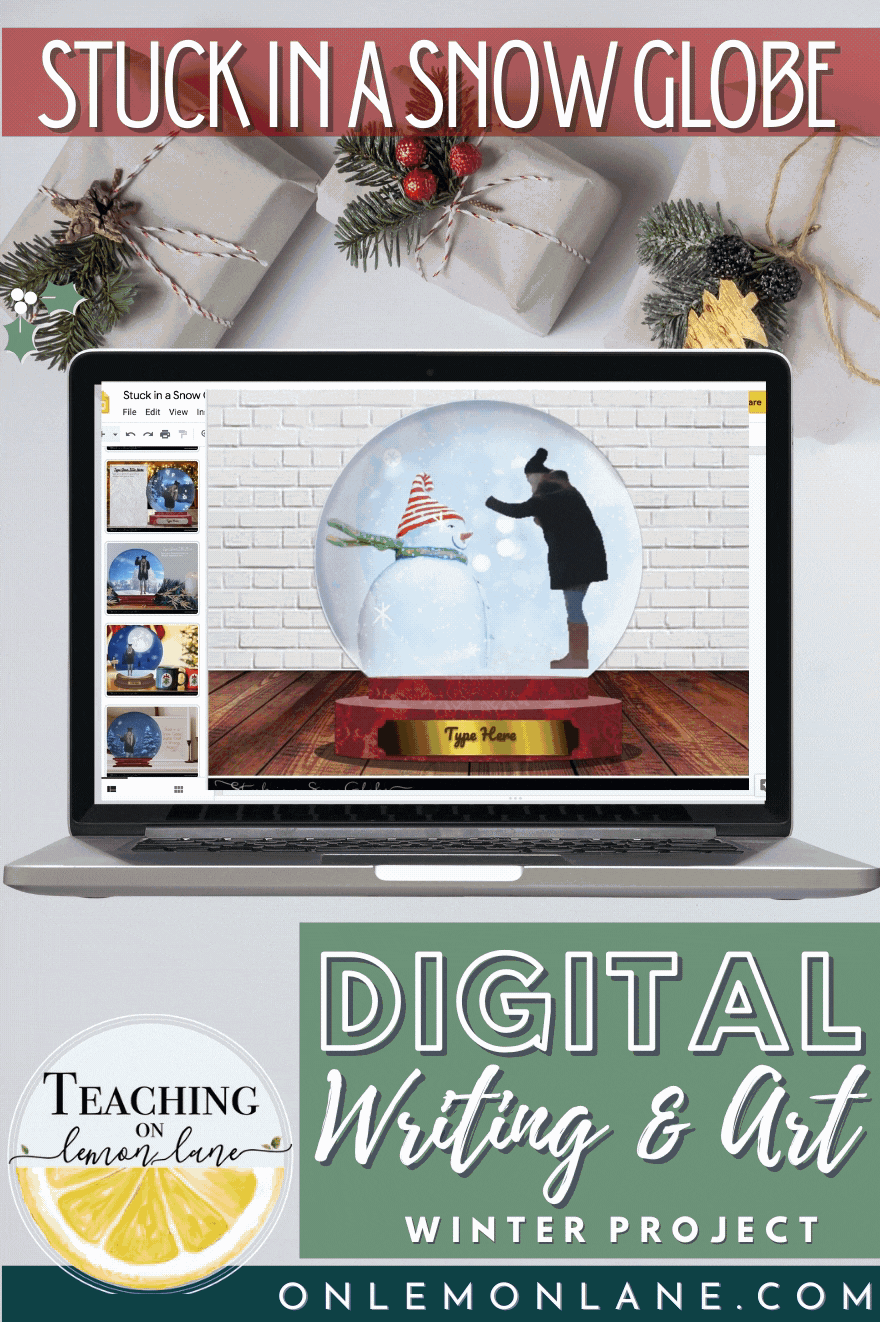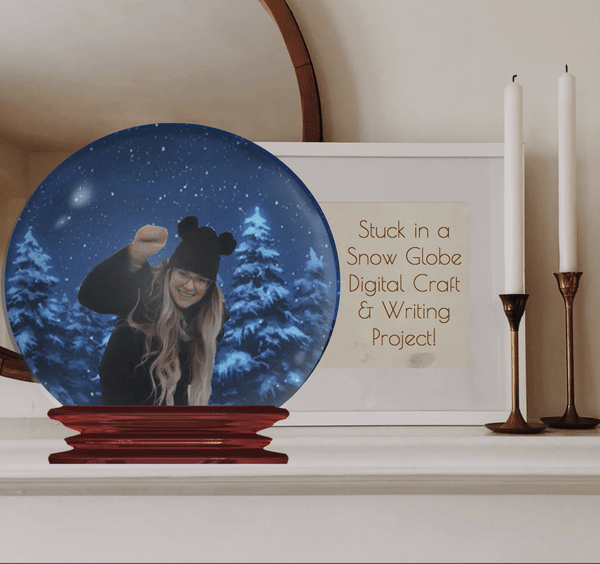 You know when a project or idea turns out even better than you had imagined… That's exactly what happened with this little beauty. I am THRILLED to share this fun winter craft with you. I always loved seeing the Stuck in a Snow Globe craft the younger grades did and wanted to see if I could put a digital spin on it making it more age-appropriate for your upper grades. I've included 2 templates in this pack, one is more simplified than the other. With the more simplified template, I feel confident your tech-savvy 3rd graders could handle it with the right guidance and some support. (I've included video tutorials!) Even better, this product can be appreciated and enjoyed all the way up to your High Schoolers. I could go on and on about this one, but in short, it's magical.
****If you decide to try this one with your class, make one for yourself as an example and post it to IG using the Hashtag: #snowglobe? I CAN'T wait to see what you come up with!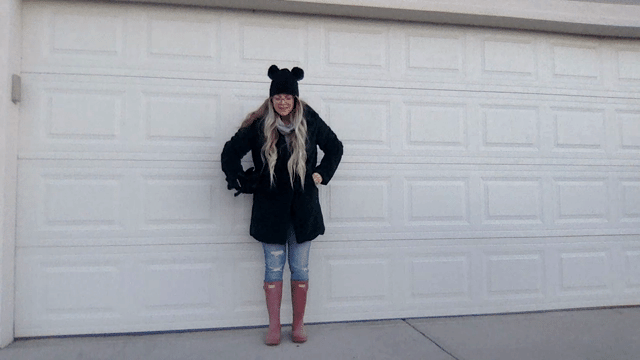 SIDE NOTE: This product includes graphic organizers and templates for writing a story to accompany the craft… Sometimes I think we ask a LOT of our upper-grade students when we ask them to write a quality and engaging story that has a beginning, middle, and end on the spot. Instead of having them write an ENTIRE story try having them just write part of it. I would assign my students to pick up at the climax and challenge them to include inner dialogue… Having them focus on a segment of their story allows them to do one part REALLY well, instead of an entire story that's just OK. It also makes it MUCH easier to share their stories with their classmates, which after this art project, they are going to want to share!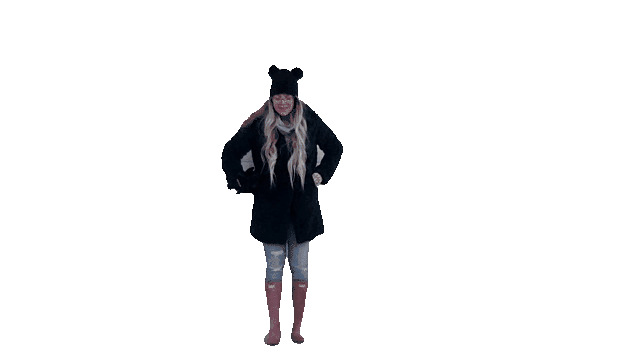 Another SIDE NOTE: If you look at this project and think you aren't tech-savvy enough to try it… Think again. The templates I've created are EXTREMELY user-friendly, I've also included step by step instructions & video tutorials to help you along! You complete this activity in layers, so long as you can:
Click, drag, and drop
Arrange Layers
Record on  ScreenCastify (I include a tutorial, so easy)
and Insert an image into Google Slides… you can do this activity!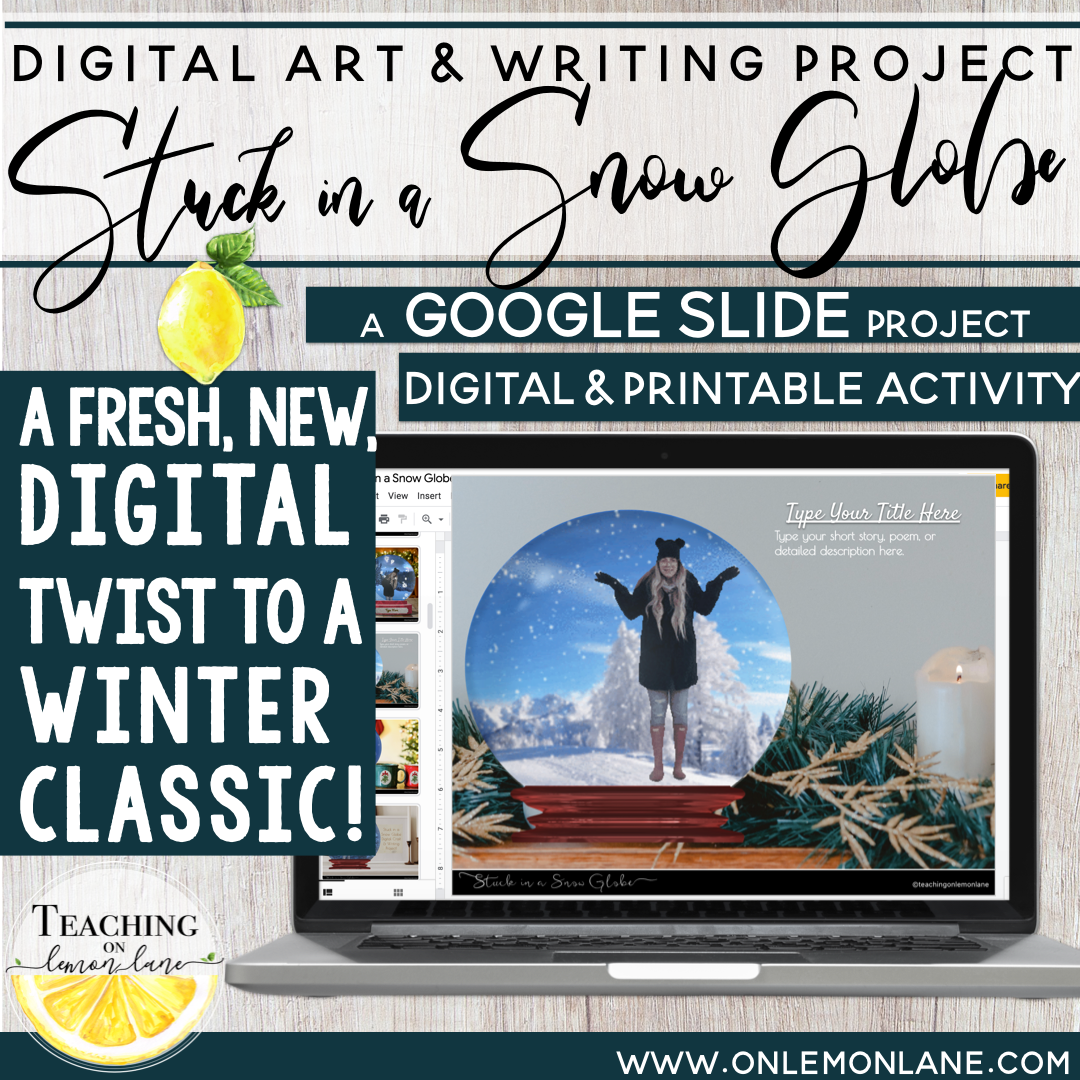 Ugly Christmas Sweater Design: Poetry, Persuasive, and Art Project (Includes Digital & Printable)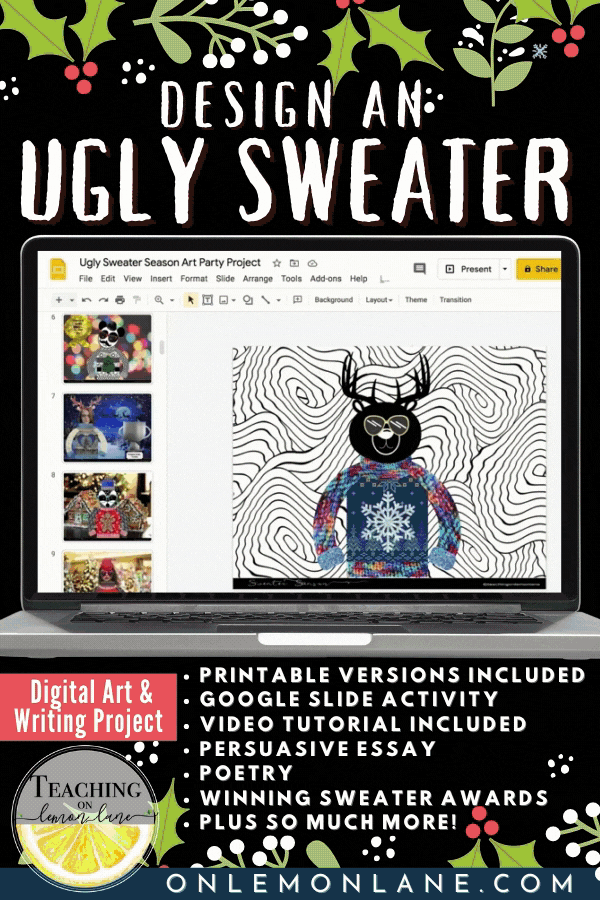 This project turned out SO fun, and there are really SO many variations or uses for it. In a nutshell, students design a sweater using either one of the digital templates or one of the printable templates. No matter the template you pick, the end result is as fun as it gets.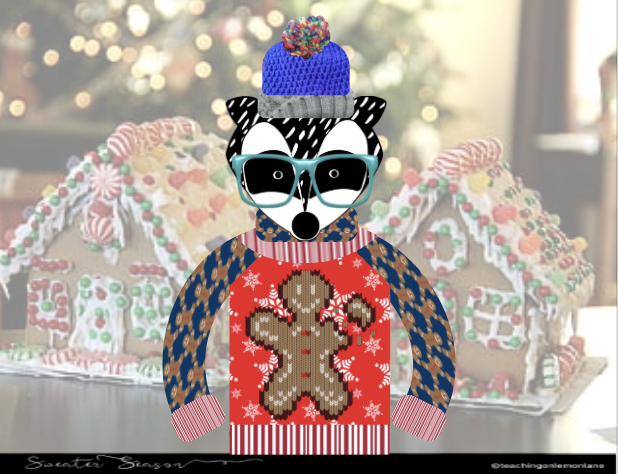 The digital templates are pretty magical students can just design the sweater itself, add a Scandinavian style animal head, or take it a step further by adding a picture of THEMSELF. If that weren't enough, I've also included a step that allows you to add a GIF (moving picture, ie flashing Christmas Lights) on top of their sweater to give it the look of one of those over the top, battery-operated sweaters! The options for customizing their sweaters are literally limitless, giving them a huge range to stretch their creativity. You will be blown away by what your students come up with.
I've included a handful of printable templates to pick from. Have students use crayons, markers, and pencils to design their sweater, OR my favorite is to provide actual craft supplies like pom poms, felt, and sequins and let the students go to town with their tacky supplies and a little bit of glue! Whether you go digital and print off, or printable and create, they both make for an AWESOME classroom display!
We're just getting started.
Use this project strictly as an art project, or consider integrating a little ELA. I've included graphic organizers that work both digitally or as a printable for persuasive essays, (Why their sweater is the ugliest) and a poetry template (Created to the same rhyme & rhythm as O Christmas Tree) There is even a place where students can type up or write their final drafts on the half-size sweater page!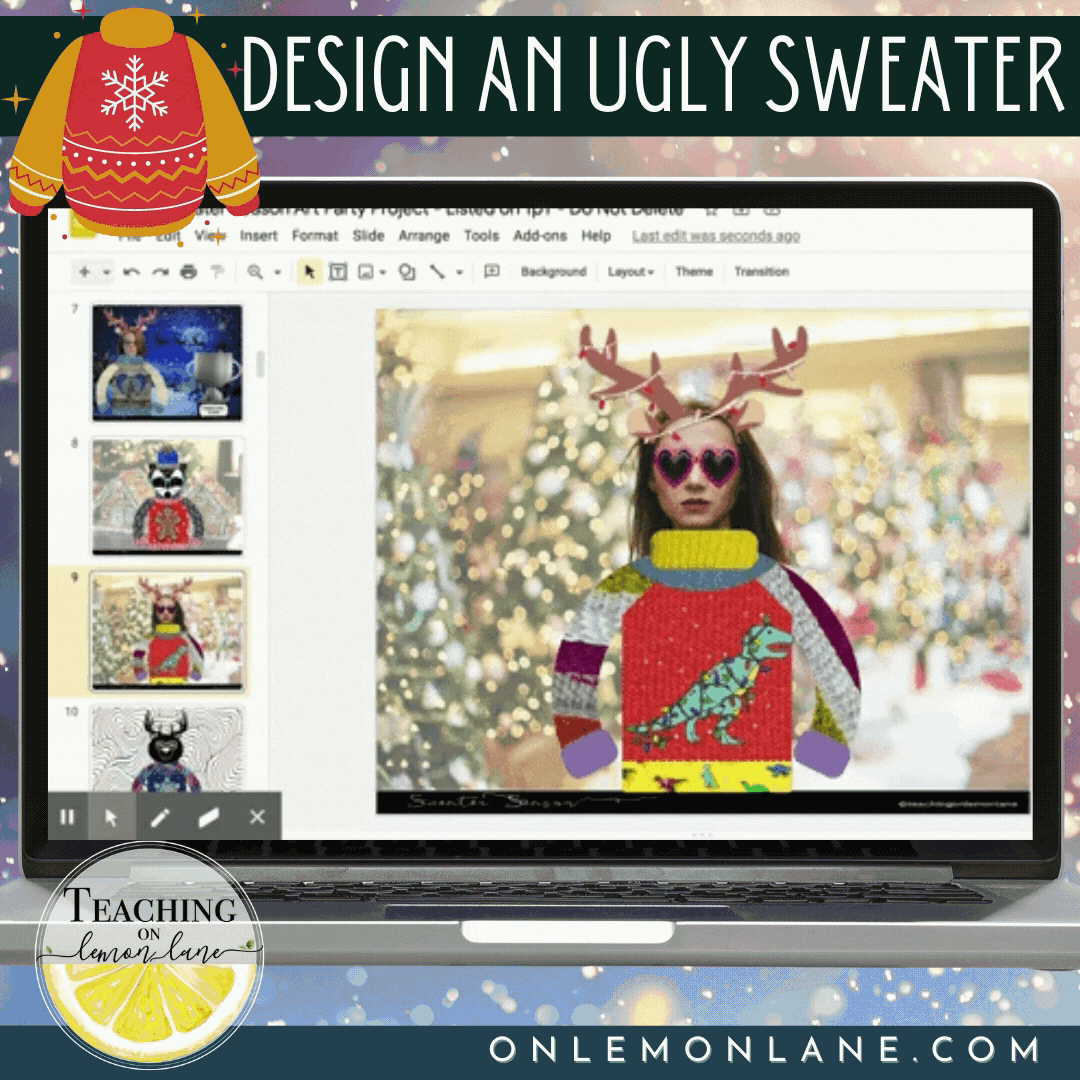 Also included are templates and instructions for printable and digital Ugly Sweater Awards: full-size award certificates, and digital trophy and ribbon that the students can customize. Students come up with the title of their award,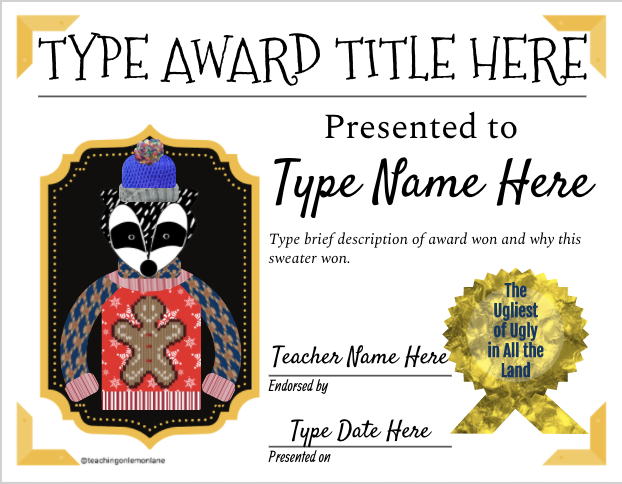 and decide on a classmate to give it to! You can even print off the award certificates for an ACTUAL Ugly Sweater Party in your class!
Finally, I've included instructions to create a collaborative slide that will allow students to view all of their classmate's designs! Just like a virtual Ugly Sweater Party! On the collaborative slides, students can copy and paste the award they created onto their classmate's designs! I've also included instructions on how you can EASILY and digitally have students vote for the Ugliest Sweater Design of All! I highly encourage you to have a grand prize on the line for this coveted title. Also included are printable and editable Ugly Sweater voting ballots if you would rather have a paper trail 😉
Ideas for a Grand Prize:
If you choose to do this project, make sure to create your own Ugly Sweater and post your design to our Facebook group or on Instagram and use the hashtag: #uglysweater? I can't wait to see what you come up with!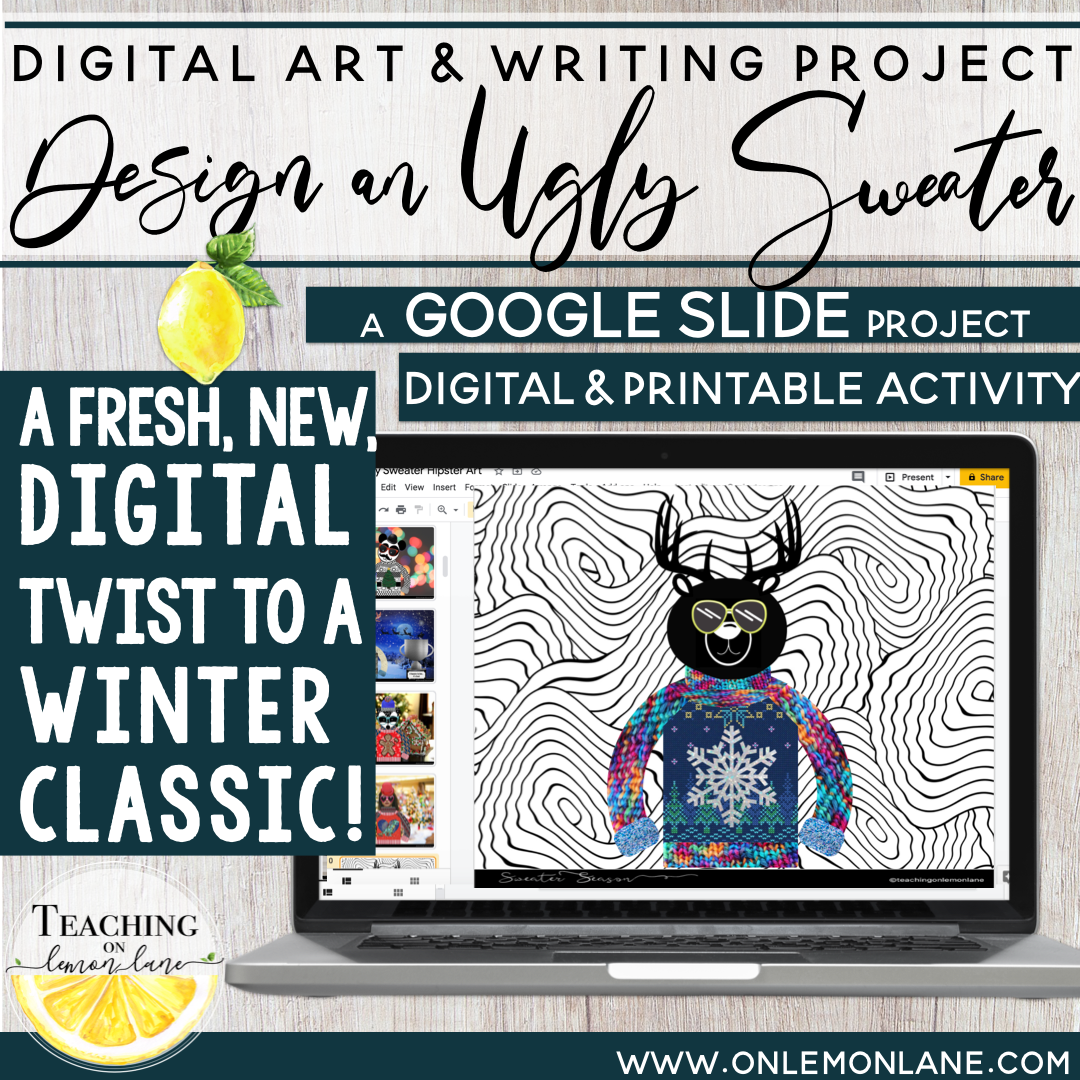 Christmas Themed Activities (Includes Digital & Printable)
Holiday String Art Projects: 2 Versions, over 6 patterns to pick from! (Printable)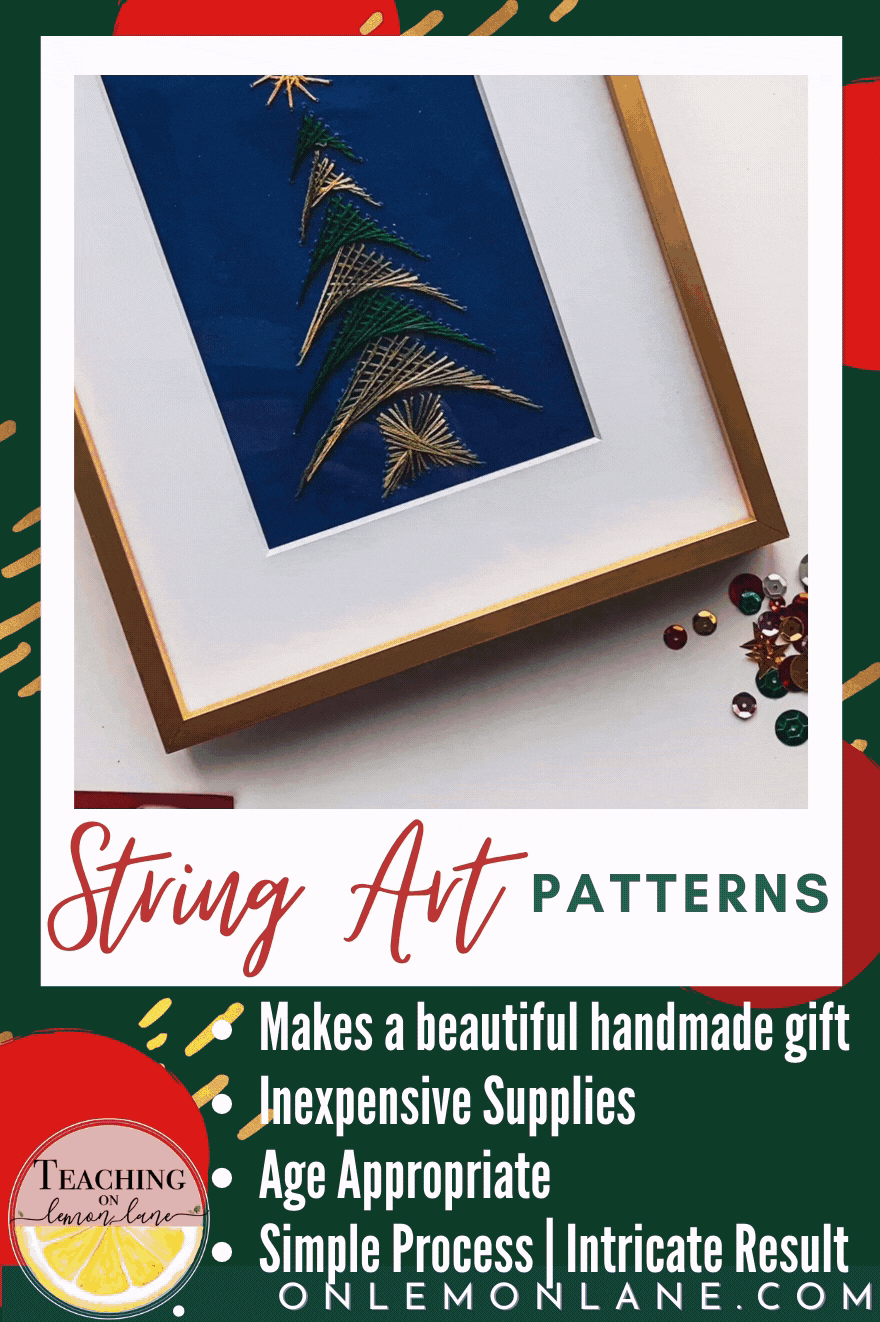 This next one is near and dear to my heart. In one word, Nostalgia. This idea came from my first year of teaching. I noticed my 5th graders still wanted to participate in all the Holiday Fun. However, many of the December projects, crafts, and ornaments were more geared to the younger grades. I remembered doing a string art candy cane when I was their age and set off to find the perfect project. The thing is… I couldn't find one. So I decided in true On Lemon Lane fashion that I would simply create my own.
To this day, all of our childhood ornaments hang on my parent's Christmas tree. Some of my favorite ornaments are those with a school picture on it. There's something about immortalizing that awkward stage that brings nothing but happiness. Based on that giddiness, I knew I wanted to create a pattern that would allow the option to include a student picture. Thus my original Upper-Grade Template was born. If Ornaments and student pictures aren't your jam, I've also included a 5×7 and 8×10 String Art Christmas tree template that can be framed in a dollar store frame, or even folded on a piece of cardstock to make a beautiful hand-made card.
***To learn more about my String Art Patterns and see more examples, click here to read the full Blog Post.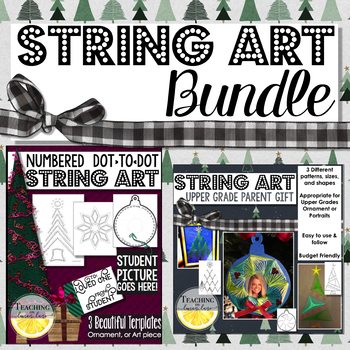 Digital Version Coming Soon!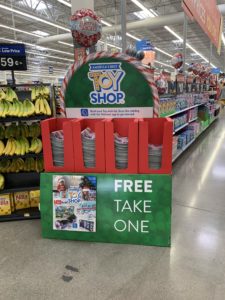 This activity is a favorite amongst many of my students, despite the fact that there is ALOT of math involved, cue maniacal laugh…  Many of your students will already be daydreaming and plotting their Holiday Wish List, so you may as well meet them in the middle and bridge math and their wish list together. By doing this you clearly exemplify the need for math in this Real-World Application project. Students are able to see a real-world application of how and when they might use rounding / estimating/compatible numbers with money. Also, the application used when adding and subtracting decimals or working within a budget.
I typically complete this activity around the Holidays, however, it can be used ANY TIME OF YEAR. The key benefit of completing or prepping for this activity in December is the sheer fact that FREE Toy catalogs can be found in every corner of every retailer. I'm looking at you Target and Walmart. This means you can pick up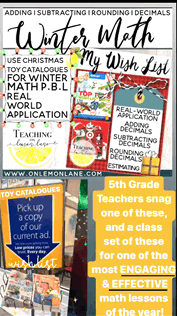 a CLASS SET of catalogs and not only will no one bat an eye, but it's actually encouraged! Your kids will LOVE flipping through and shopping for their favorite items for a loved one and themself! ****Even better, I even save and reuse the catalogs for at least another year, and always pull them out again for an end of the school year review! If you are unable to get your hands on a couple of toy catalogs you can print off pages, display a page or two over the overhead, or allow the students to "shop" online!
***Digital Version will include Digital Catalogs
The worksheet I've created guides students through each step and encourages students to explain their thinking as well as provide evidence to their answers. I have designed this product with a faint grid. The grid lines are to help guide your students to better organize their work. Which honestly with decimals this can be the biggest culprit of mistakes! I have my students use the columns to write each individual number and the lines to place their decimals. This helps students to line up their decimals and numbers being used by place value. I like to have students work in partnerships to encourage math talk in the classroom. There is not a wrong way to complete this activity. I guarantee that every version will lead to your class having a more sound understanding of the concepts, and an increase in student motivation to practice the concept!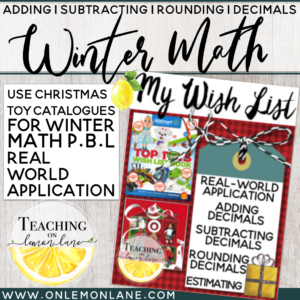 New Year|Goal Setting Activities (Includes Digital & Printable)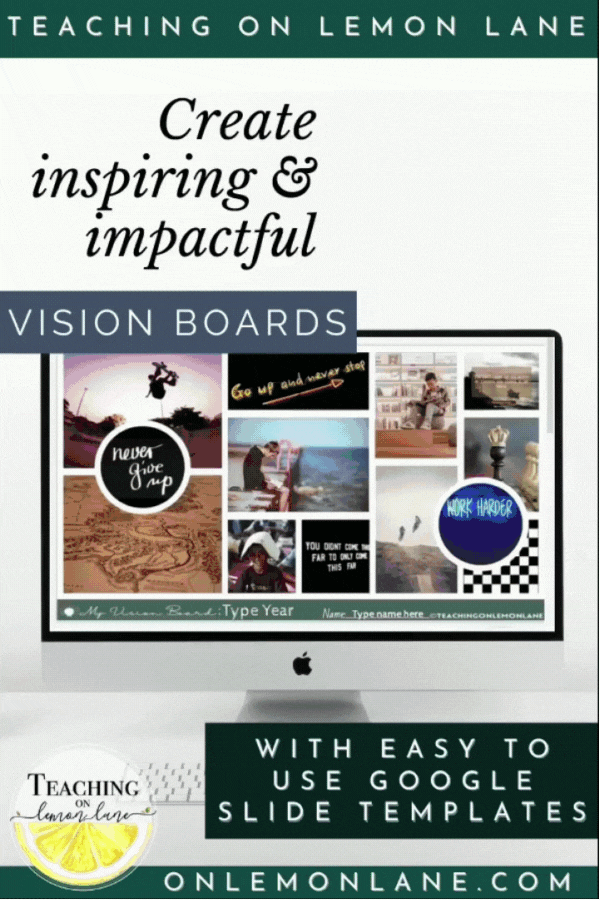 This one was such a labor of love, but I think I love it even more because of that! This Goal Setting Activity is perfect at the beginning of the school year for back to school, a new term, or even as a New Year Activity. I even have a teacher friend that uses it as a Self-Love activity for Valentine's Day! It also pairs perfectly with my One Word Resolution/Bulletin Board project listed below! When determining the best time to set goals and refocus, there really isn't a better time than the present.
In a nutshell, you learn about vision boards, smart goal setting, and complete SEL  and self-reflection activities. Next, you create a digital vision board then save it as the device's wallpaper and|or lock screen to act as a daily visual and reminder. ***Templates for computers, tablets, and Smart Phone screens are available, the Vision Board Bundle includes ALL of the templates.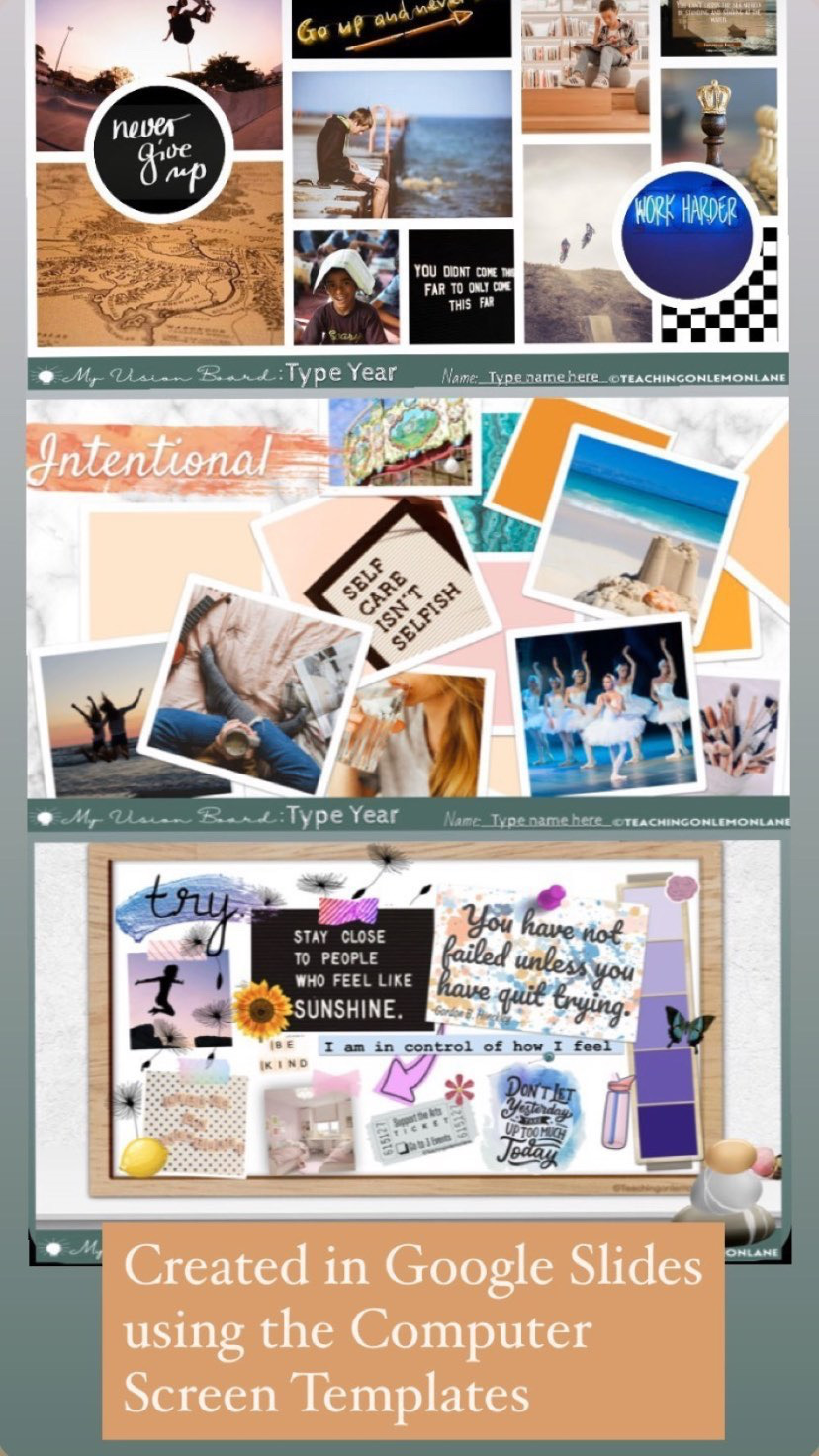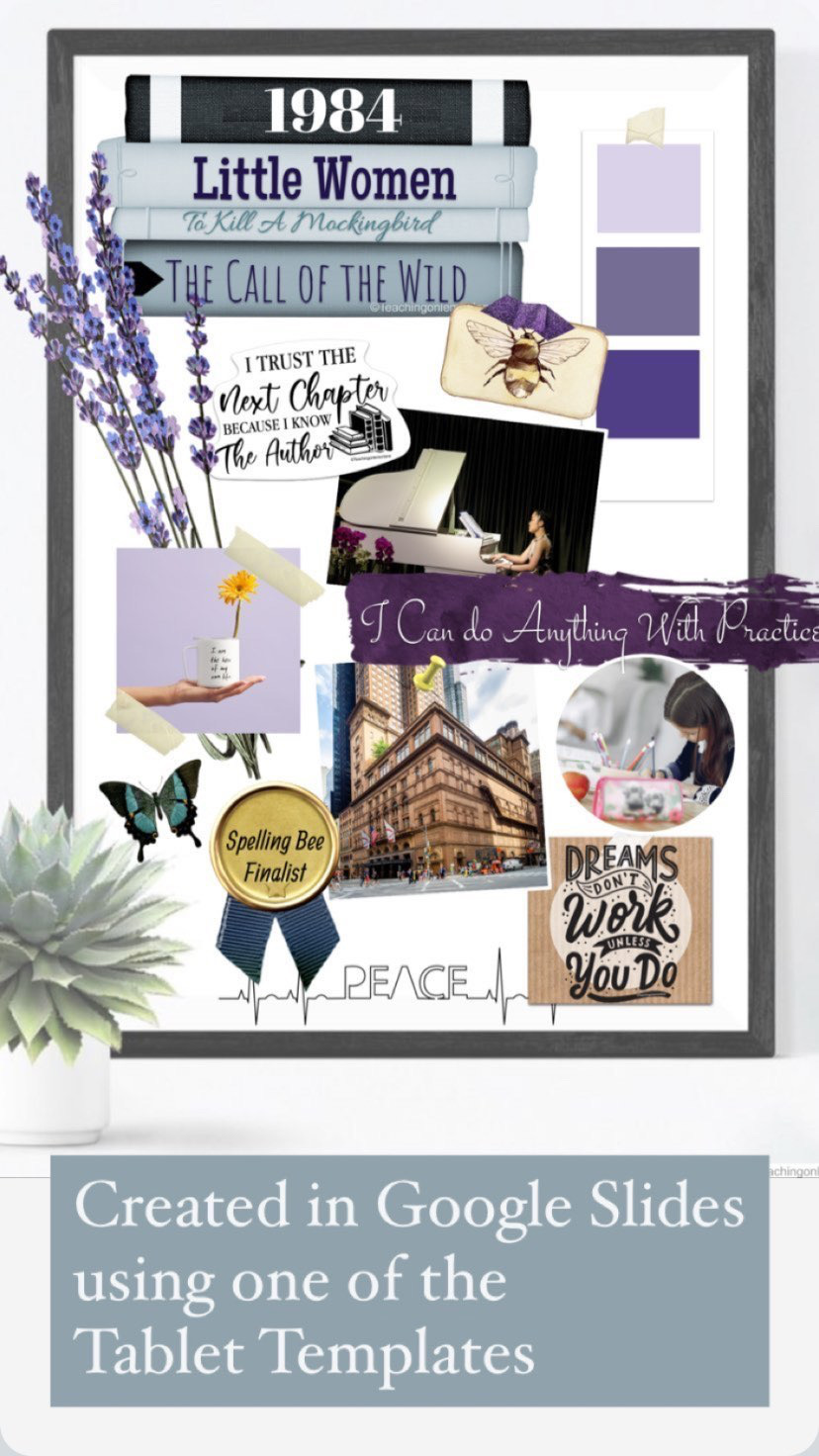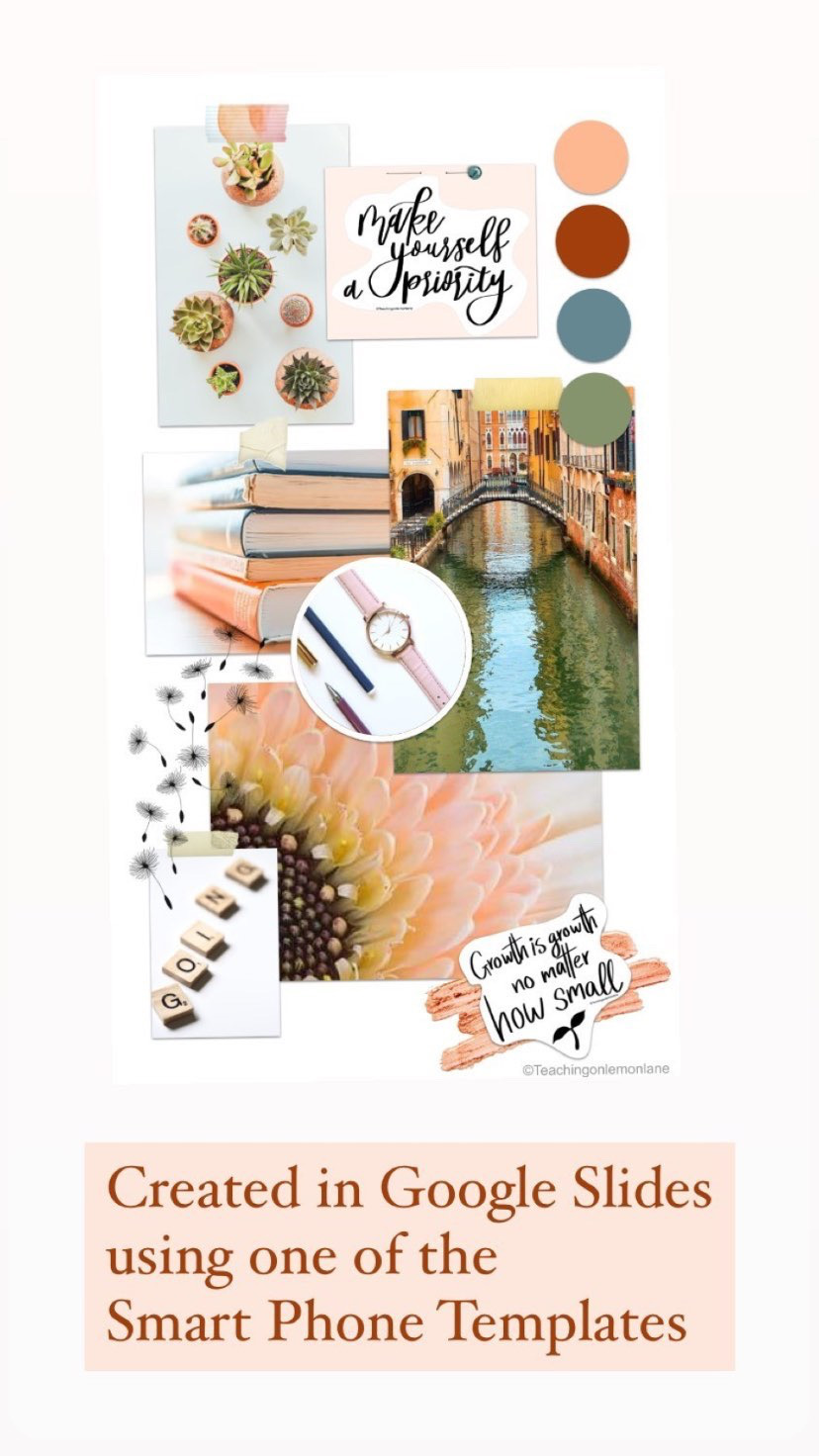 This activity can help ANYONE to look at their life and what they are prioritizing with fresh lenses, motivation, and a clear plan moving forward. I really wanted this project to be just as educational as it is beautiful and I'm happy to report I believe that goal was met. Not only will your students and YOU (***This project will be just as beneficial for you as it will be for them!) create a visual representation of your goals with IMPACT but you will also learn about the Elements of Wellness, increase S.E.L. through awesome Social-Emotional Learning Activities, all while having fun planning, and creating a beautiful, completely customizable vision board using my EASY to use digital templates through Google Slides!
Once your vision board is complete you will then set it as your device's wallpaper and|or Lock Screen to act as a daily reminder and reinforcement. (Instructions included)
***The Vision Board Bundle includes 26 different digital templates proportional to a Computer Screen, Tablet, or Smartphone. Use with Chromebooks, MacBooks, laptops, desktops, iPads, Fire, Tab, iPhones, Androids…etc.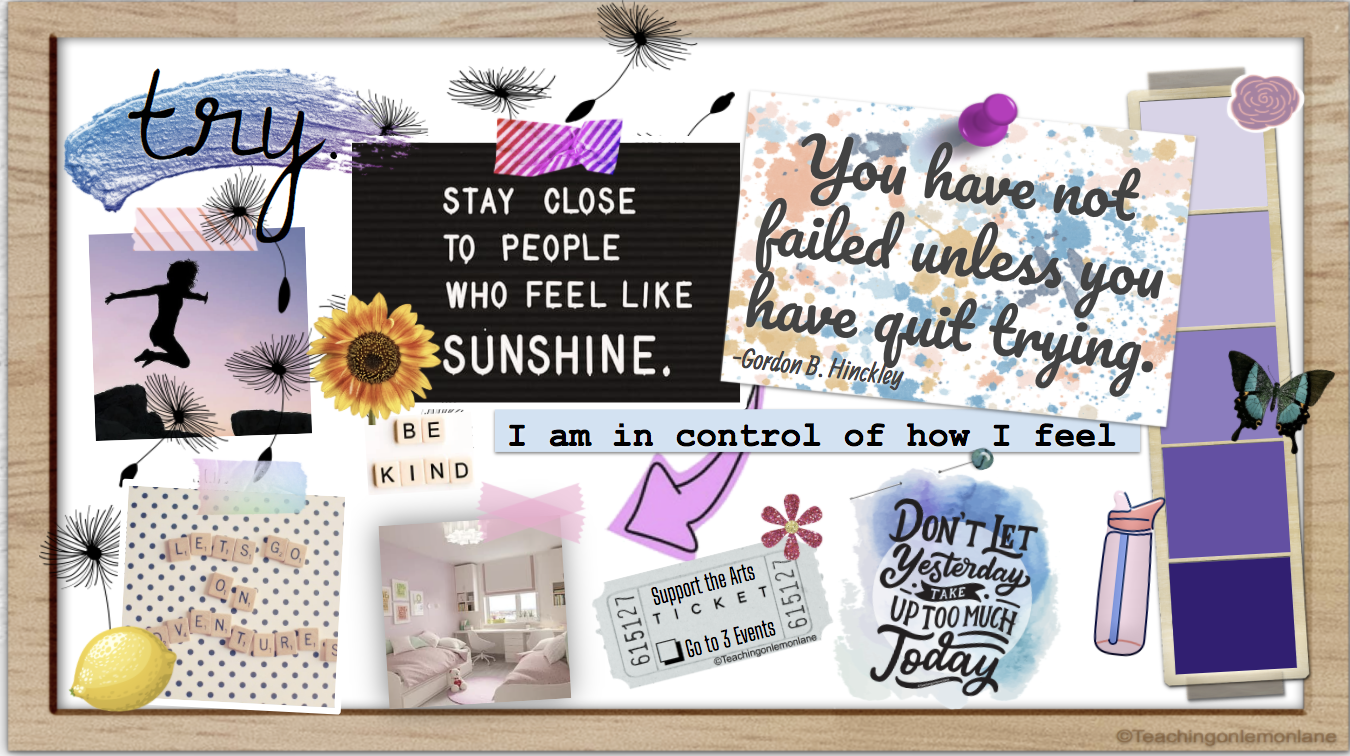 This Product Includes:
Teacher Notes
Video Walk-Throughs & Tutorials
Vocabulary Page
What is a Vision Board (Editable Reading Passage)
What's the Point (Editable Reading Passage)
A Balanced Life: Elements of Wellness (Editable Reading Passage)

Example page of each of the different Elements of Wellness + Questions (Editable)
Elements of Wellness Reflection Page (Editable)

What I Can Control & What I Can't Control Digital Sorting Activity
Areas of Control poster
Good | Better | Best: S.M.A.R.T Goal Setting Chart (Editable)
Suggestions for what to include on your Vision Board (Editable)
Color Symbolism Chart (Editable)
1 Word Resolution List and Wordsearch
Questions to Consider for planning your Vision Board (Editable)
Brainstorm Page (Editable)
Needed Tech Skills Worksheet, Answer Key, and Video Tutorial (Editable)
Reflection Page (Editable)
How to Save Vision Board From Google Slides Instructions
Completed Template Examples
26 Different Digital Vision Board Templates sized to your Computer Screen, Tablet, or Smartphone

Over 150 moveable stickers, graphics, and elements to customize your vision board!
Long story short. This product is JAM-PACKED. I've done my best to create something that EVERYONE can benefit and learn from. I know you are going to love it!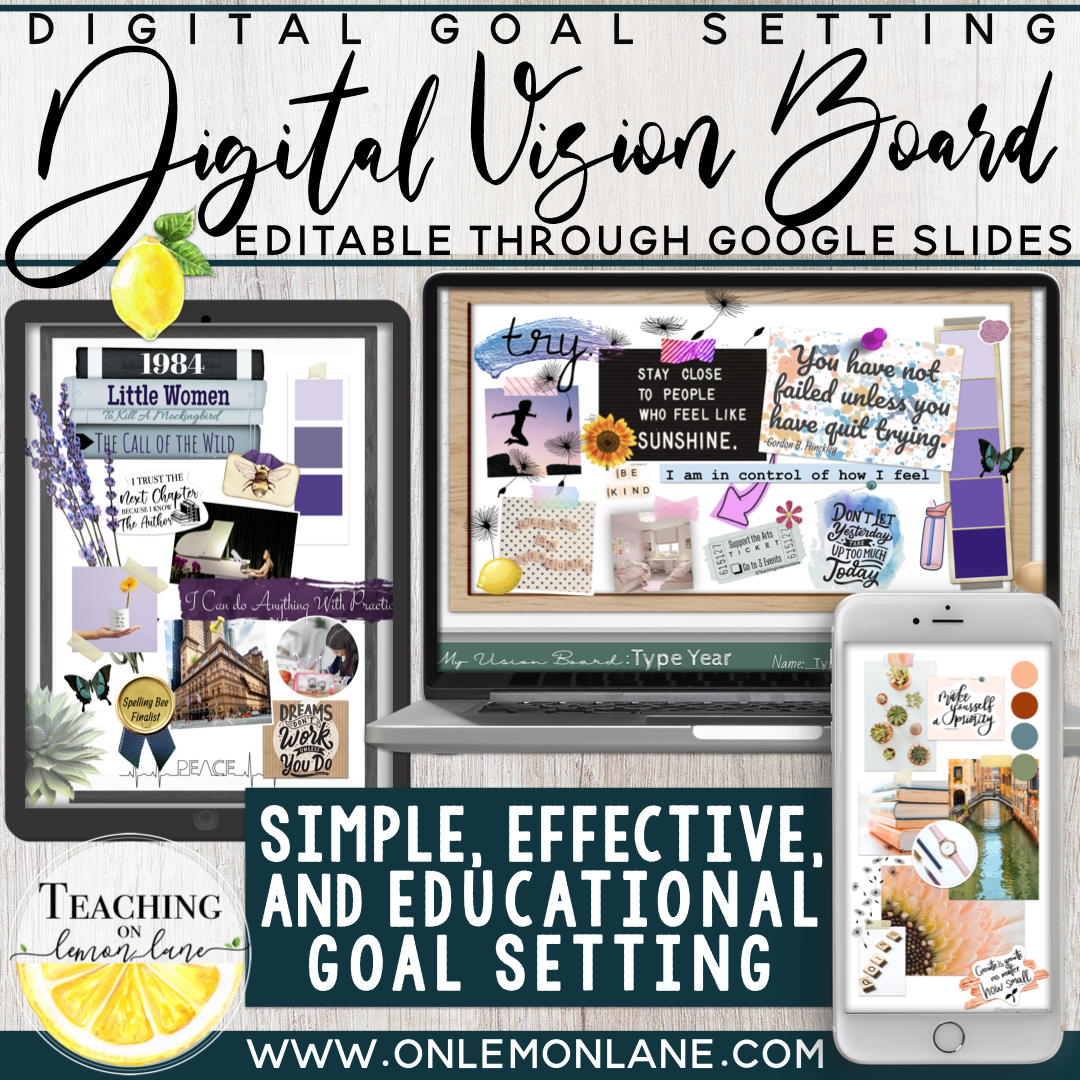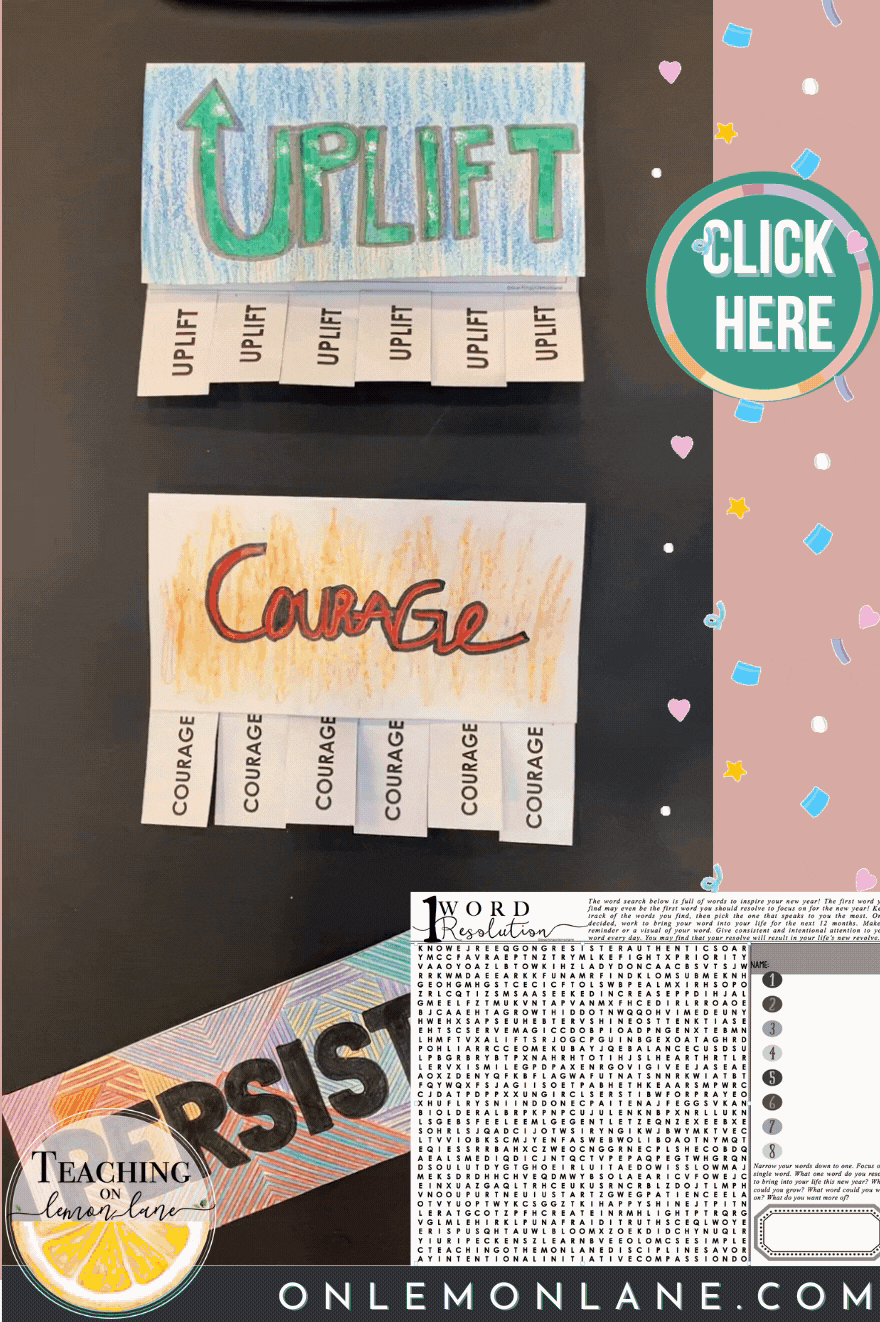 I'm beyond excited to finally be able to share this idea with you! This activity is JAM packed and so much fun. It's the perfect way to ring in the year with focus and excitement.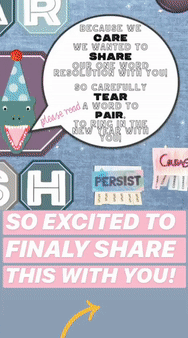 Students begin with the word search. There are over 150 hidden 1-Word Resolutions in that pretty, little word search. The words range in difficulty so this is a great way to scaffold using the SAME resource. The word search requires students to find 8 words, then narrow their list to 1 meaningful word.
The best part is that EVERYONE can download the 1 Word Resolution Word Search for FREE! **Keep in mind you will need to be a member of On Lemon Lane to access this download. Not a member? Not a problem! Click Here to sign-up: Sign-up is FAST, FREE, and Easy-peasy Lemon Squeezy!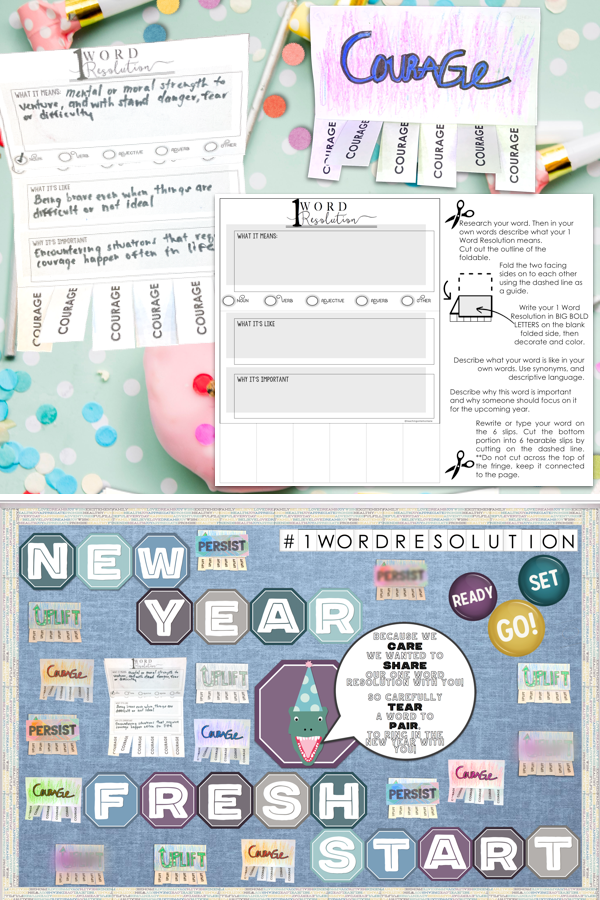 Once students have determined their word they will create a bookmark. This can be done by hand or digitally through Google Slides and Google Classroom then printed. The idea for the bookmark came from the need of students needing a daily reminder of their word.
It all leads to an AWESOME, Interactive Bulletin Board Display.
Click here to learn more and read the blog post about the One Word Resolution Activities & Interactive Bulletin Board.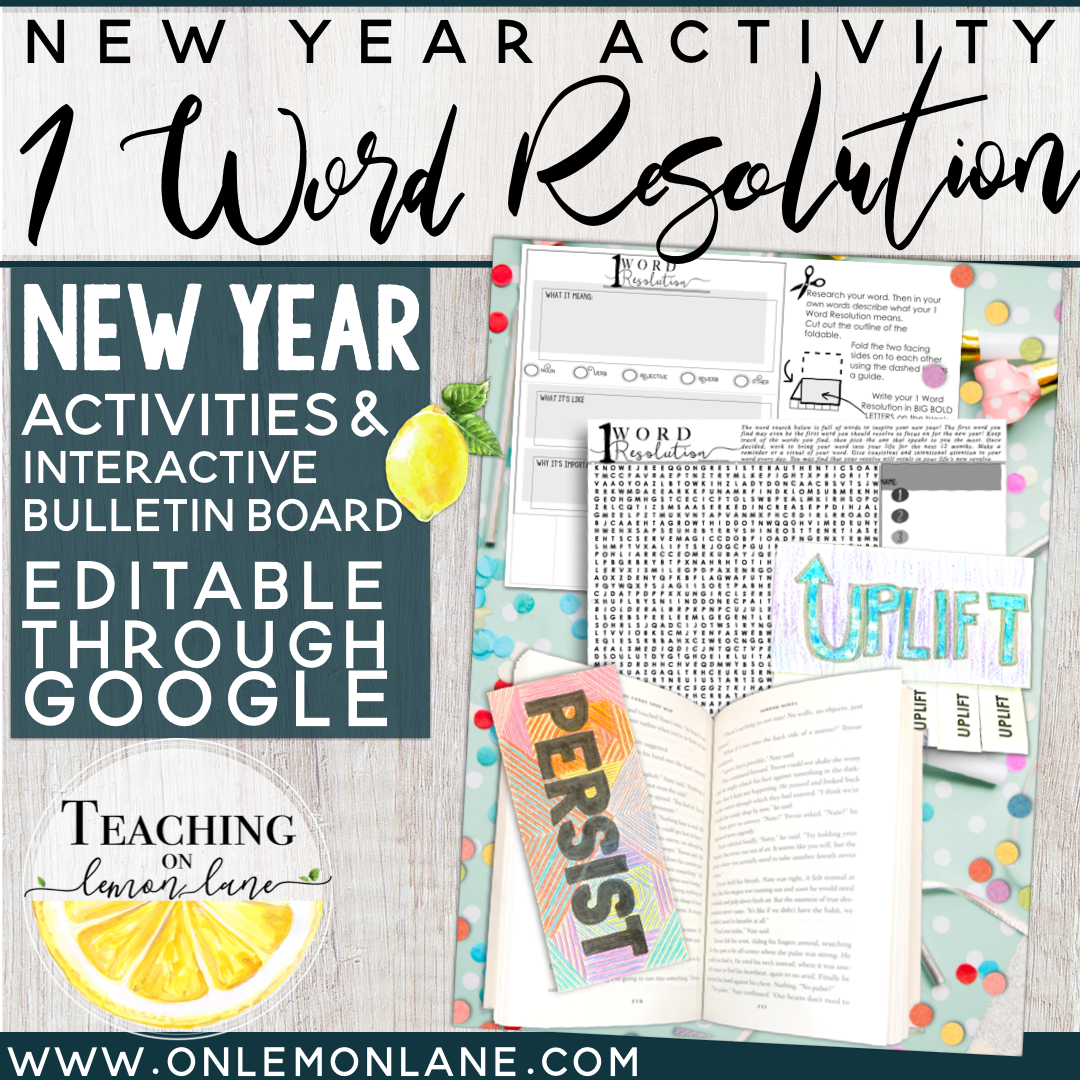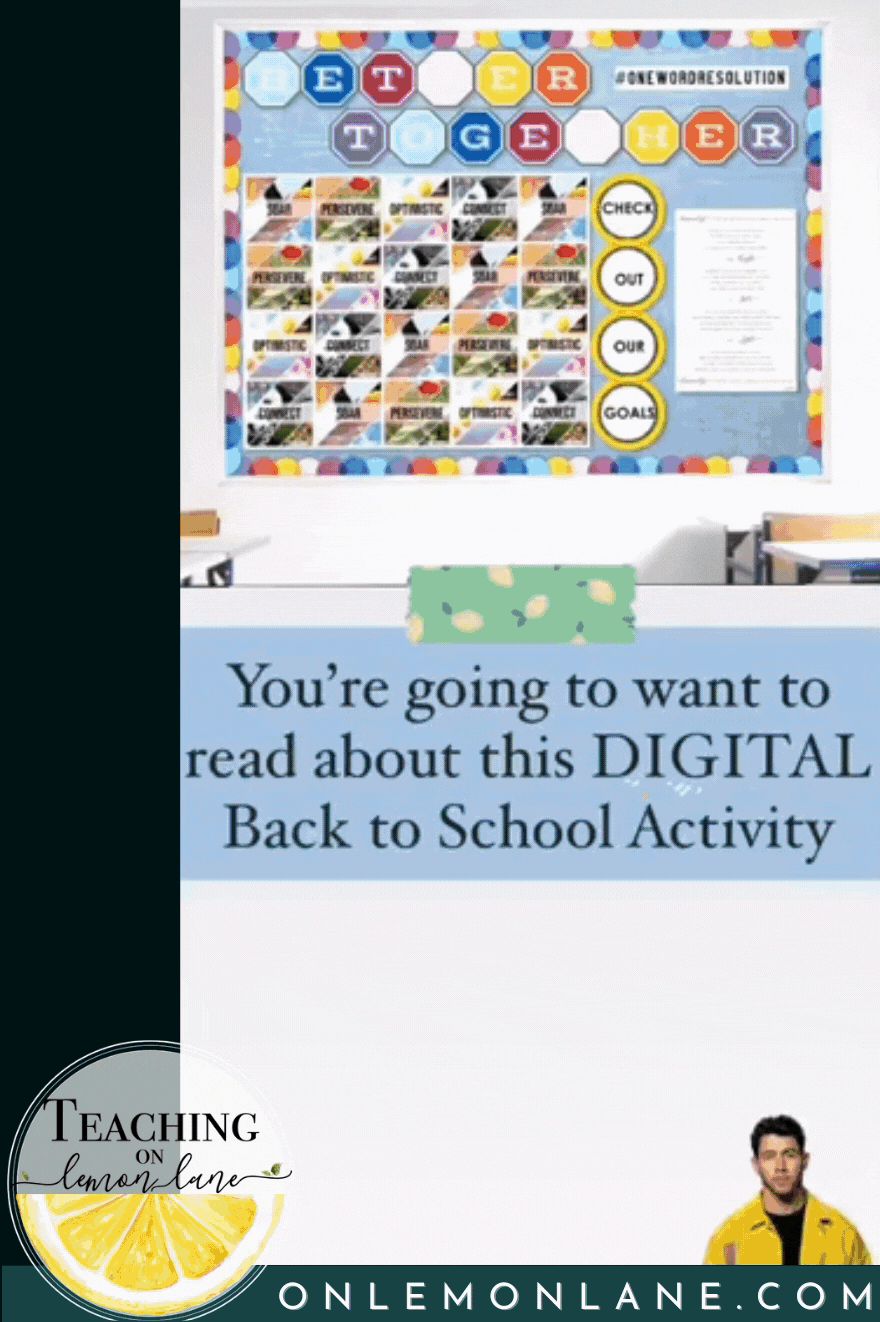 This one… like all the others… turned out really COOL. Put on your seatbelt as I try and find the words to accurately describe how cool this little digital activity is! The One Word Collaborative quilt begins with students selecting a One Word Resolution or Goal they would like to focus on for the new term, of the coming school year. Students can select from a list of words, or use a fun Digital word search to decide! Students then complete a word work page to better understand the meaning of their word, and brainstorm scenarios and steps to bringing their word to life.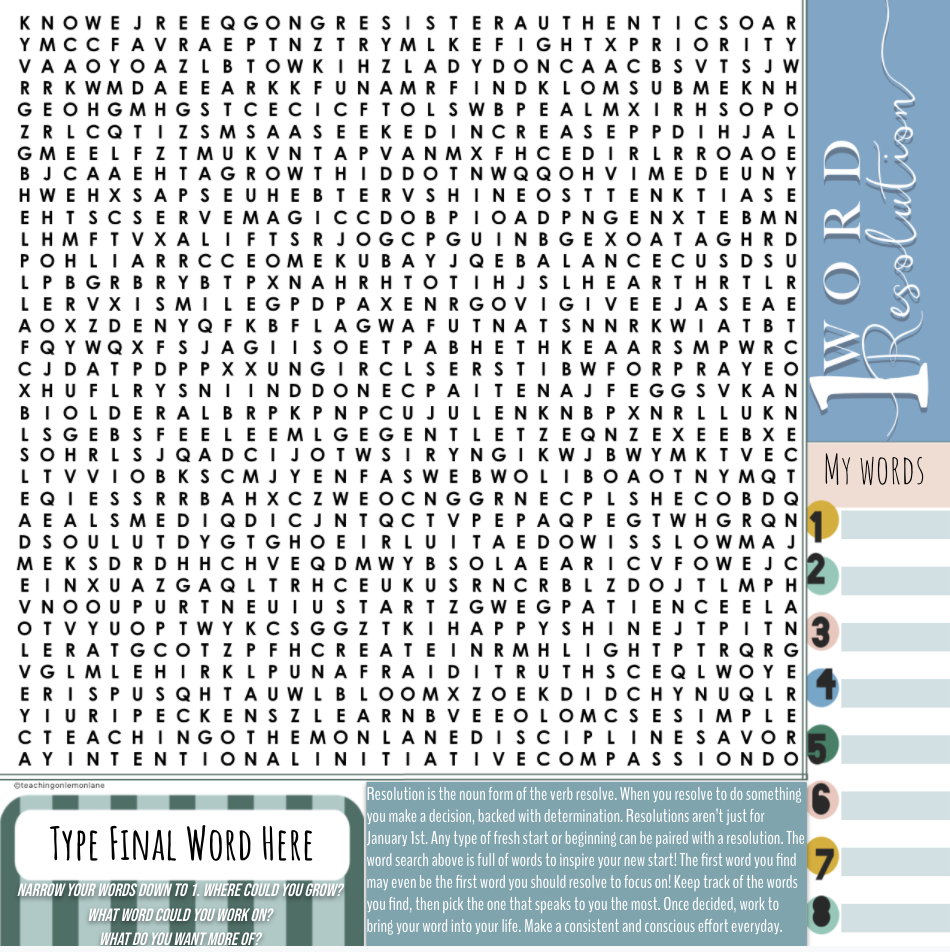 Once their word has been selected students will pick from 1 of the 4 EASY to use templates to create a digital illustration of their word. Students can also complete the Figurative language page where they explain why they selected the pictures that symbolize their word.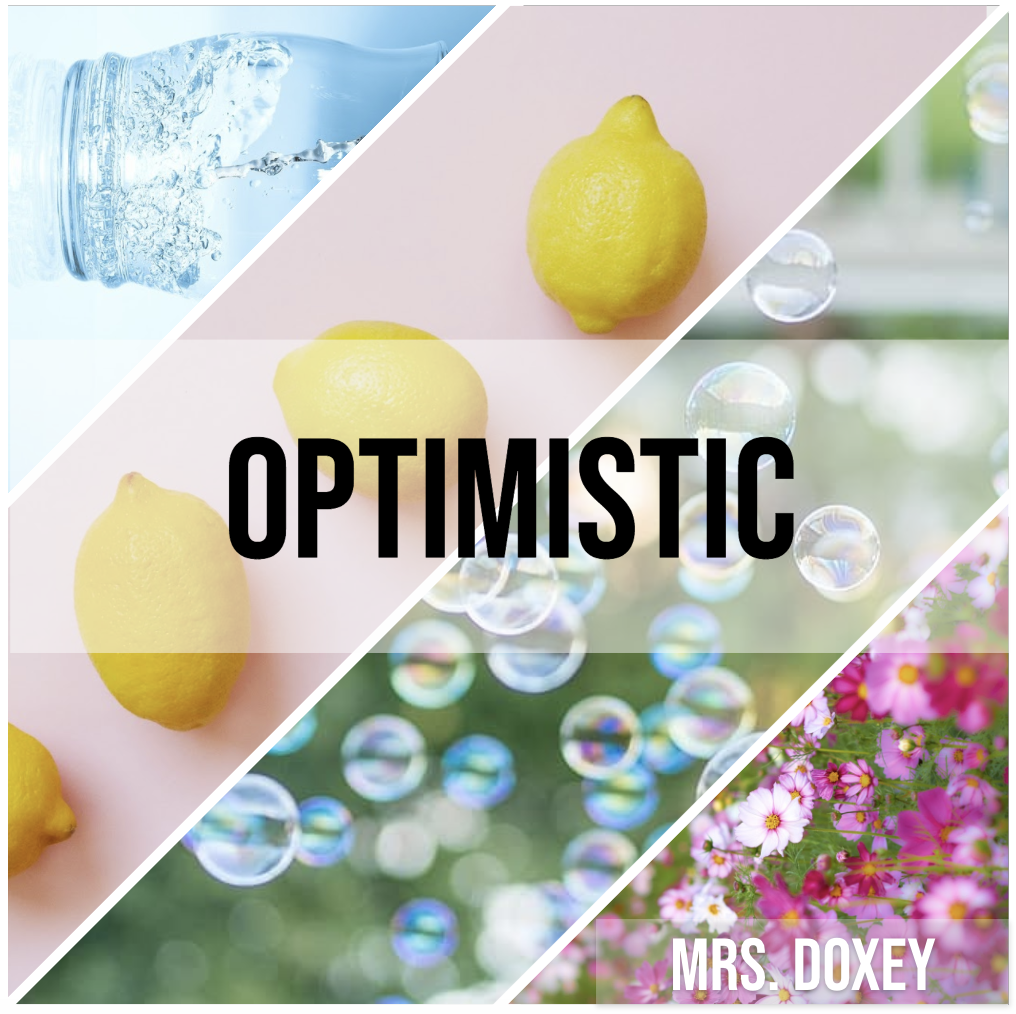 This illustrated "piece" will then become their part of a COLLABORATIVE Class Poster or Quilt as I like to refer to it! The coolest part about this Digital Quilt is that it can be printed off along with the kit I've included to create an ACTUAL Bulletin Board for your classroom, OR you can save the Digital Quilt along with my editable templates to create a DIGITAL bulletin board (using the student's work) that you can insert into your VIRTUAL Classrooms!
The templates I've created allow students to simply use a place holder for the image meaning they won't need to worry about croppings or sizing their pictures to fit the slide! SO EASY AND FUN! This product was created in Google Slides and can easily be edited or assigned in Google Classroom or other digital learning platforms.
This Digital Product Includes:
Instructions & Tips for using this product in a Distance Learning Setting
Instructions & Tips for using this product in your classroom
A Collaborative Google Slide etiquette & Page that students must initial before starting activity
A student instruction page with tutorials on how to complete the activity
Completed examples
4 Different Digital Quilt Piece Templates for you or students to pick from
Word List & Digital Word Search for Deciding on the One Word Goal
2 Printable Quilt Piece Templates
24 Editable & Printable Bulletin Board Kit Slides
2 Digital Bulletin Board Templates
5 Different Class Size Quilt Options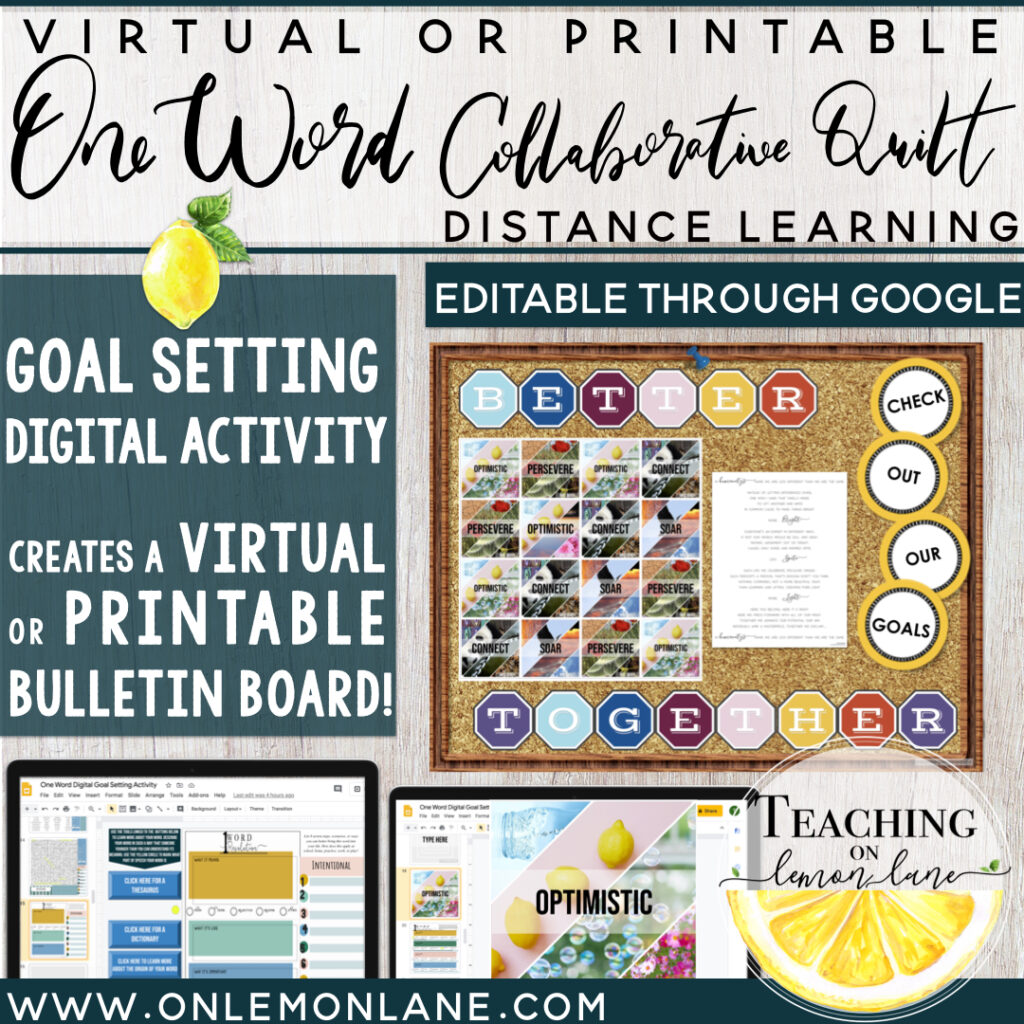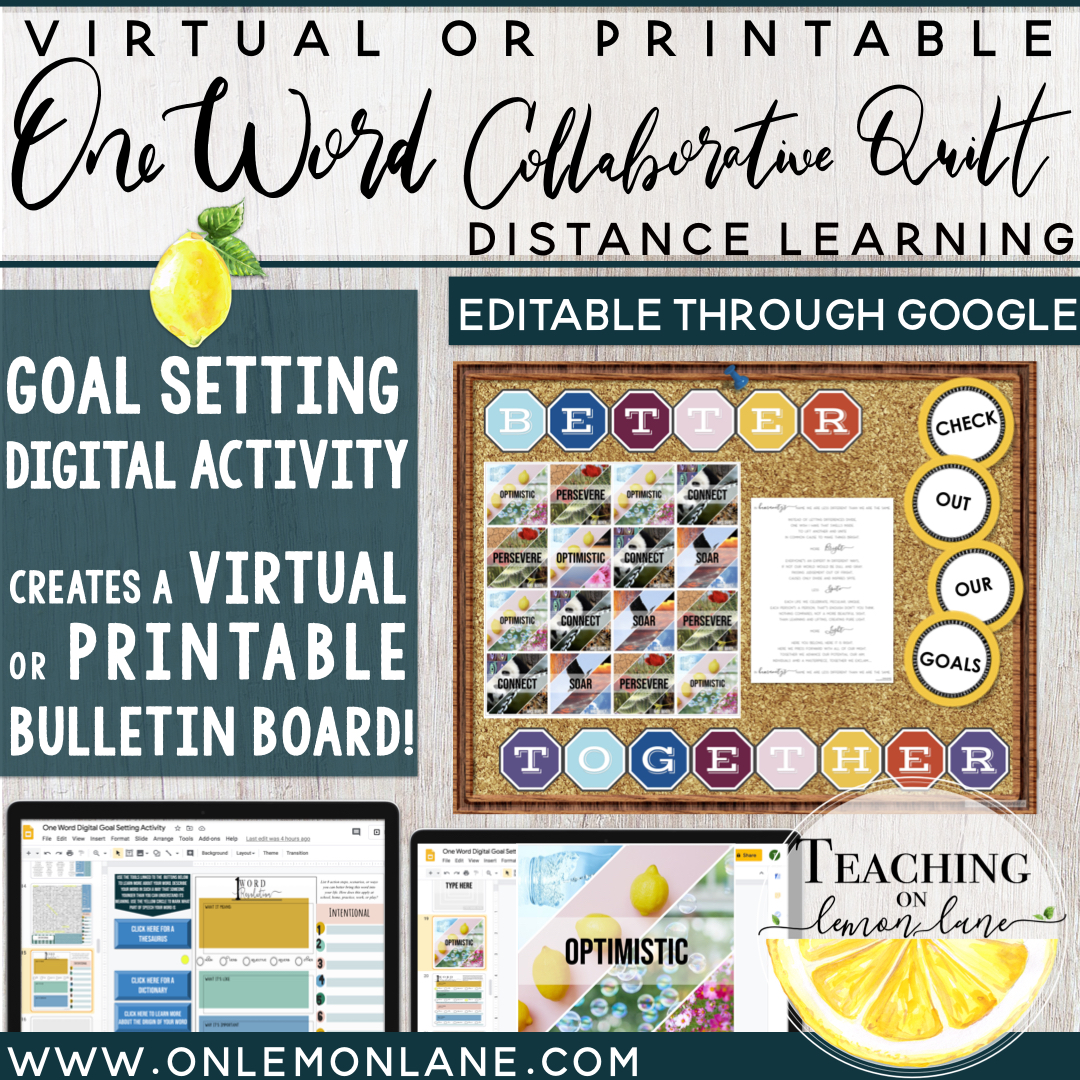 Holiday STEAM & STEM Project Ideas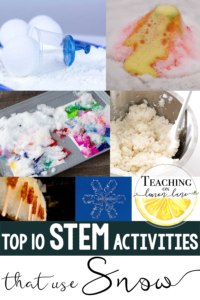 We've had a warm December this year, but if Winter is anything like it was last year… we're in for another ETERNAL WINTER. We had so much snow last year that I figured it was time to stop complaining about it and time to put it to work. I rounded up some of my favorite STEAM &  STEM activities that use SNOW.
No Snow… No problem. There are plenty of other Holiday-themed STEAM and STEM Ideas for you to enjoy! I've gathered a handful of my favorite projects and will include the links below. Before I share them, if you're anything like me, you may have a strained relationship with Steam or Stem challenges in the classroom. You love them in theory, but in practice, they lack in academic application… If so make sure to check out my Steam and Stem planning and reflecting response sheets below. They are the perfect companion to ANY project. These pages give your students the structure, scaffolding, and organization needed to guarantee success, application, and a deep and thoughtful discussion.
Click here to learn more about the Steam| Stem Planning & Reflecting Response Pages.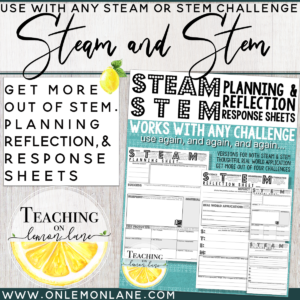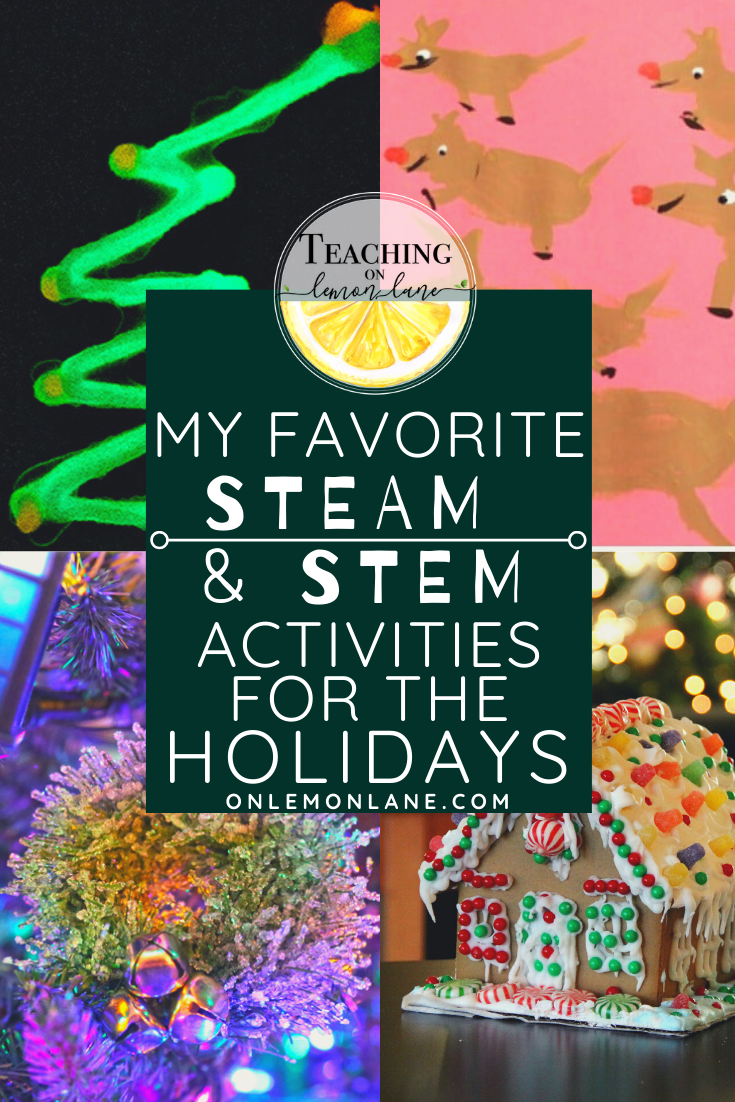 As promised… Here is a list of my favorite Holiday Themed Steam and Stem Challenges for the classroom!
Holiday Themed Steam & Stem Challenges:
Challenge students to make a 3-Dimensional Christmas Card
Design a new hat for Santa's Elves. (Add a layer of challenge by not allowing the tape to be visible.)
Egg Drop. Design Shatter Proof Packaging. (Present fell from Santa's Sleigh, will it survive?)
I LOVE THIS IDEA for STEAM: Have students design their own wrapping paper (Challenge Layer: Needs to be a repetitive pattern that is seamless)
Gift Wrap Challenge: Can you wrap a present using a single piece of tape?
Ginger.Bread.Houses.  (My Favorite Memory from my own 6th Grade Class)
Create a step by step tutorial for folding and cutting out a snowflake. (Include pictures)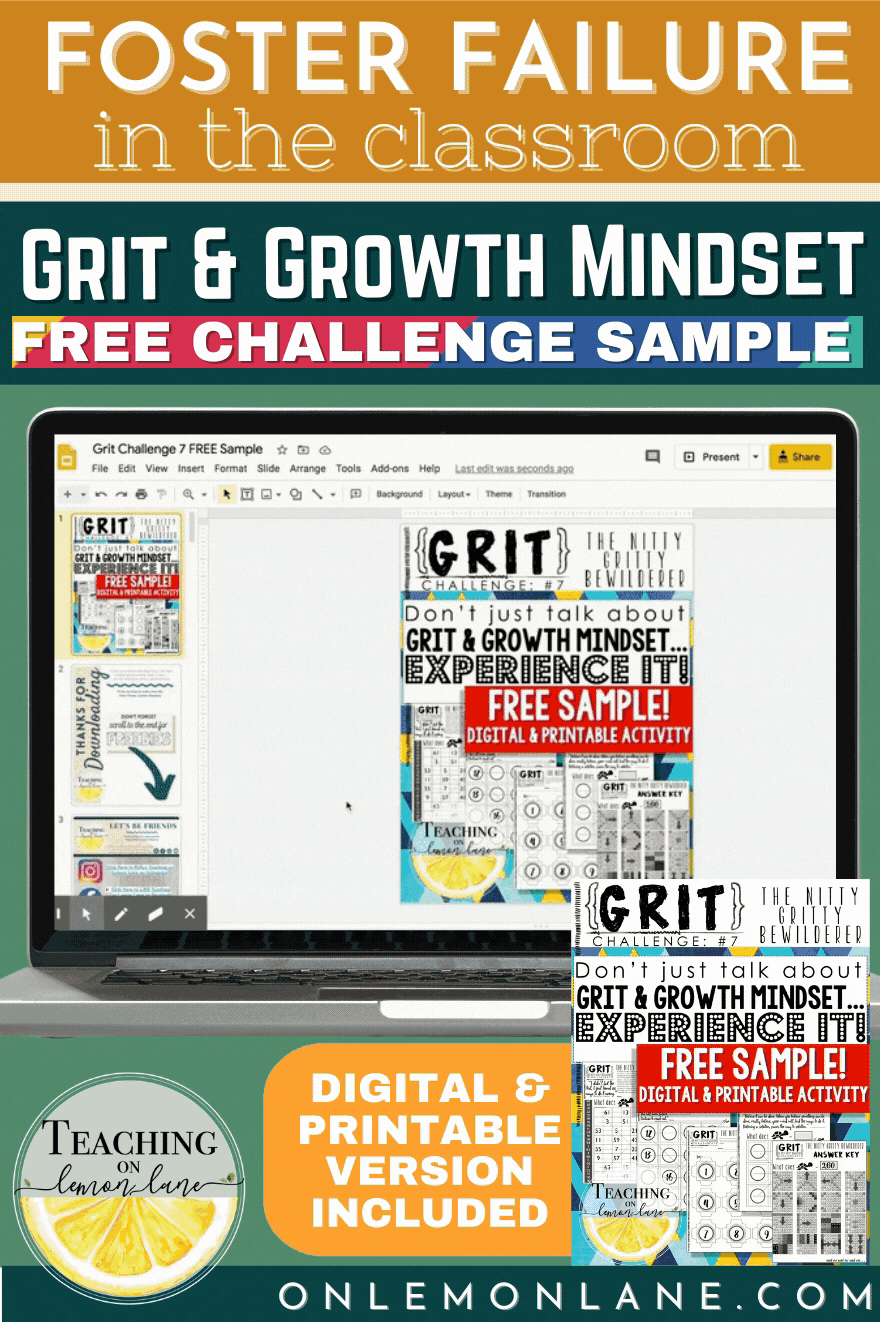 With the start of the new year, and the end of the school year now fast approaching… there is not a better time to facilitate failure in the classroom. GRIT and Growth Mindset are the hot topics in the classroom at the moment and for very good reason. However, most products, blog posts, and resources only discuss what it is, what it looks like, and the importance of it. This line of products allows you to explicitly teach it.
These activities are designed to make your students struggle and fail, tossing them into the depths of the learning pit. Sounds a little harsh? Maybe. But I can't think of a better place, than the safety of the classroom, in a controlled environment for students to exercise grit and growth mindset than under the watchful eye of a loving teacher.  By facilitating failure you and your students are able to pinpoint those tough emotions, negative thoughts, and capitalize on them. 
Click Here to Read the Full Blog Post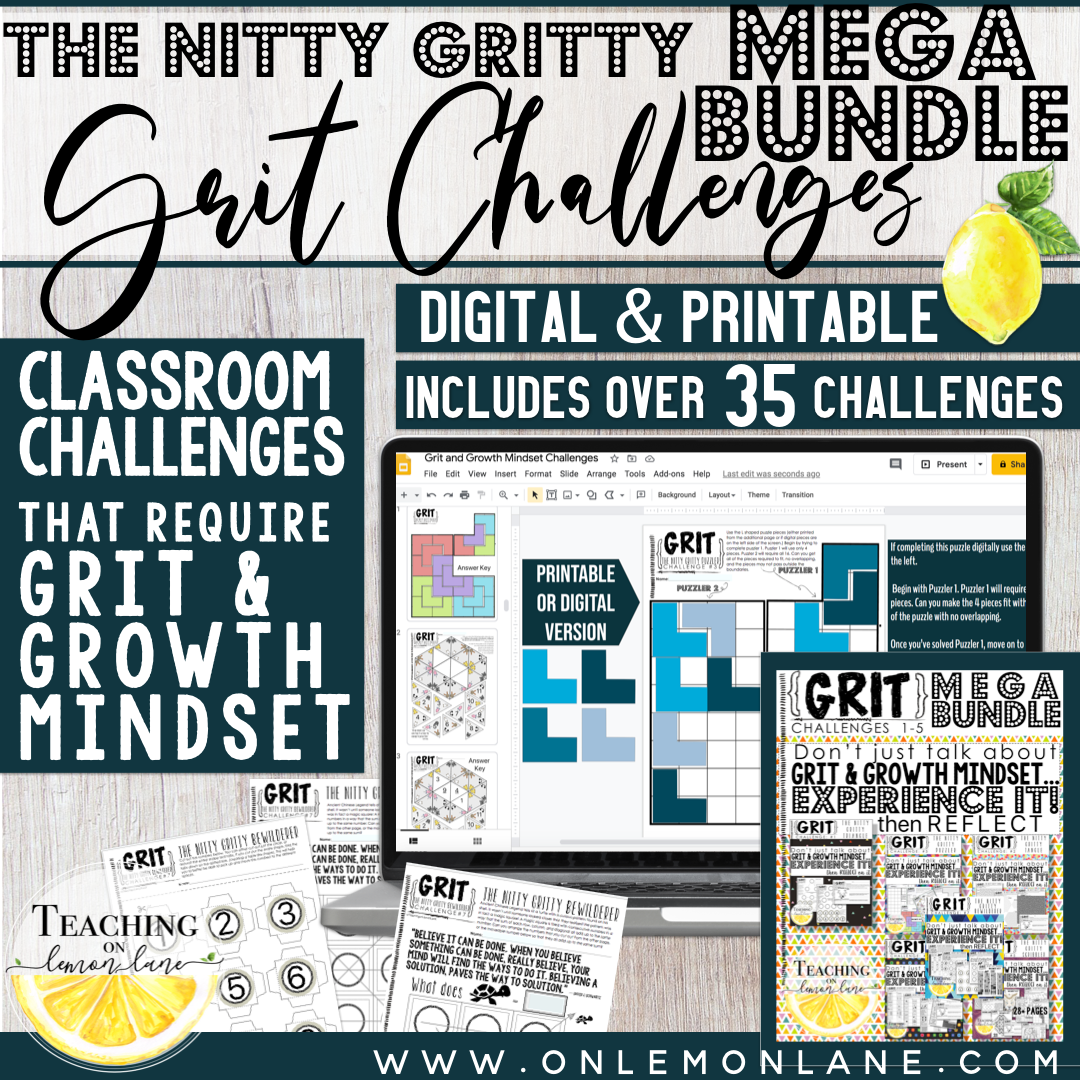 Last but not Least… FREEBIES!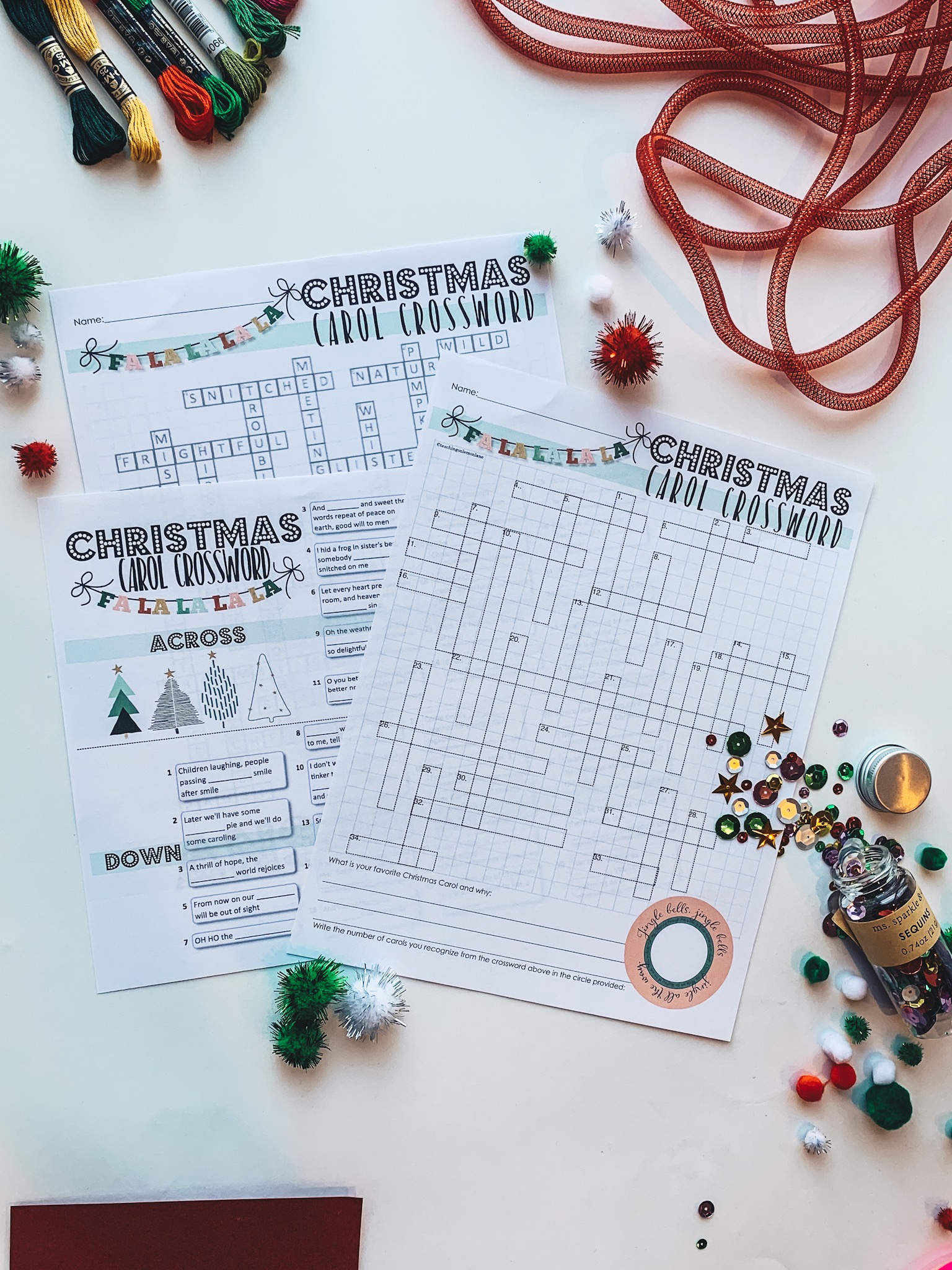 My gift to you. This is SUCH a fun crossword. Essentially, students will test their knowledge and see how many of them actually know the lyrics to the classic Christmas Carols. The prompt will give them a snippet of the carol, and students must fill in the blank to complete the crossword. You may be surprised by how many you actually don't know when you were so sure you did. Once completed students will count up how many they were able to complete and write the number in the circle provided. This is a great December Activity for morning work, winter rotations or centers, or your fast-finishers.
 In order to access the download, you must be logged in. Not a member? Not a problem! Sign-up is FAST, FREE and Easy-Peasy Lemon Squeezy! Click here to become a member!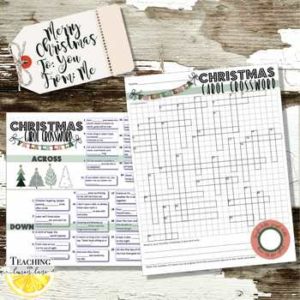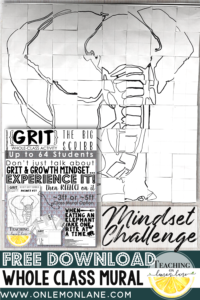 Speaking of New Year Resolutions or goal-setting… This FREE project is a mural that is created in pieces by students in your class. Students have no idea what the end result or picture will be and instead are asked to focus on their small tile and to recreate the image assigned to them with as much accuracy as they can. Any lesson that includes a little mystery immediately means ENGAGEMENT.
This project leads to MEANINGFUL discussion, and the start of the New Year is the PERFECT time to have this discussion. I've included a poster and discussion questions to act as a guide. This is a great lesson to use when introducing setting goals. (Hello New Year, New Term, New Semester) This project illustrates why it's important to set small attainable goals in order to achieve their big goals or dreams. It's also wonderful for talking about teamwork, and unity in the classroom. You could use this as a morning meeting, at the beginning of the school year, with new year resolutions or at the start of a new term or semester! I love that at the end of this project you are left with a mural that can be used as a classroom display or bulletin board that MEANS something to your class. You can refer to it throughout the year when students come across a tough concept that feels like an "elephant". Remind them of the power in taking it one small bite at a time.
With students returning from Winter Break, this is one of the first activities I would do, followed by the goal-setting mobiles mentioned above.
 In order to access the download, you must be logged in. Not a member? Not a problem! Sign-up is FAST, FREE and Easy-Peasy Lemon Squeezy! Click here to become a member!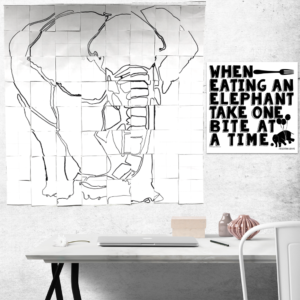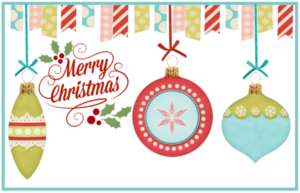 While we're talking about FREE activities I wanted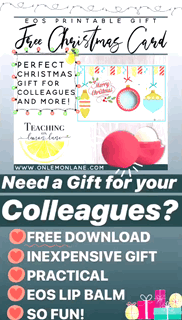 to make sure you knew about this FREE download. It's tough to come up with a practical and inexpensive gift idea for your fellow team teachers or colleagues. This is my gift to you! My hope is this free printable will save you time and stress. If you are like me Christmas seems to sneak up so quickly, and as a teacher, my time is already strapped! So finding the perfect, inexpensive gift for a friend, neighbor, room-mom, or colleague is out of the question.
This printable includes 4 different layouts and 2 different sizes. My favorite is the half-page. You can print either as a fold-able card, or simply write your message in the space provided below. I typically include chocolate with this gift, but with the EOS lip balm, this gift can stand alone. To use simply print on cardstock, then cut out the dashed circle in the center ornament. Open your EOS lip balm and insert it into the cut-out, then screw the EOS lid shut. Let me know if you have any questions! I know you and your lucky gift receiver will love this as much as I do!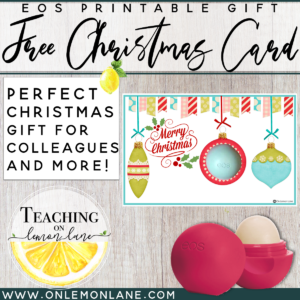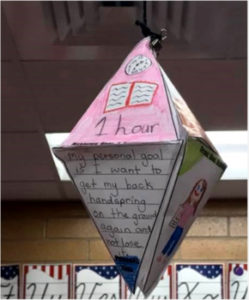 This activity is FREE and a lot of fun. It's the perfect launchpad into a new semester, new term, and new year. Students are asked to describe and illustrate their goals. We then hang these mobiles around the classroom. Hanging them in the classroom isn't just a fun decoration but an effective reminder for the students to see every school day! Students are asked to set two academic goals for the term, one personal goal, and one future goal.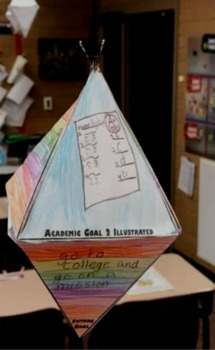 This product is versatile and can be used for the start of a new term, in January as a New Years Resolutions, or at the beginning of the year with the start of a new grade. I hope you enjoy this freebie as much as my students do!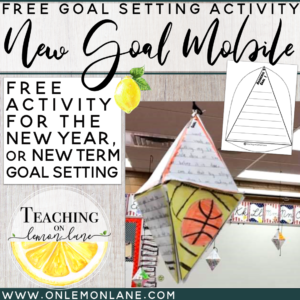 What's your favorite activity for the holiday? Comment below!
Can't wait to hear what you think! Better yet, what did your students think? Comment below, or let's connect on Instagram or Facebook! Tag me in your pictures pretty please!

To stay up-to-date on new blog posts, freebies, exclusive promo codes, and sales… Join the Teaching on Lemon Lane Community! Pick any or all of the following to stay in the loop of all things Teaching on Lemon Lane. 
If you enjoyed this PLEASE SHARE! Sharing on Pinterest, Facebook, or tagging on Instagram is a simple, yet wonderful way to support the efforts of Teaching on Lemon Lane!