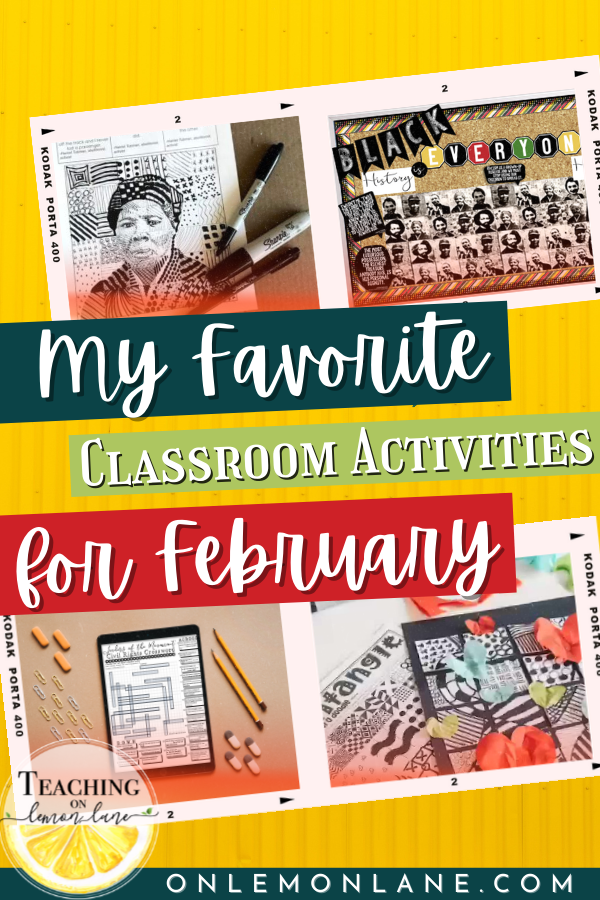 A list of my favorite digital & printable February Crafts, Black History projects, & Valentine activities for the Upper-Elementary: (Fourth grade, Fifth grade, Sixth grade,) Middle School, and High School classrooms.
February.
Where to start.
Of all the months spent teaching… February and March were my least favorite.
Call this often optimist a pessimist, but…
February in Utah typically equals an eternal winter of inside recess,
and March is affectionately known as the month without a 3-day weekend.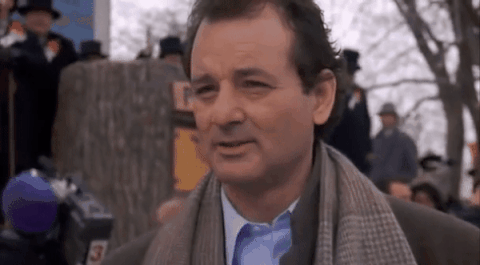 If you're anything like me, you need something to look forward to and add a little light to the dark and dreary.
It's funny, but I think subconsciously I created and scheduled many of my favorite projects (Leaders of the Civil Rights Zentangle, March Madness Math Dream Team Learning Project, PI Day PBL…) and resources during this two-month span.
Now don't get me wrong, there is a lot of fun to be had in the classroom during this time. For this blog post however we will be specifically focusing on fun ideas to incorporate during the month of February! My favorite activities and resources (and freebies) for March can be found here!

I've decided to organize this post into sections, as you read you will find resources, ideas, and freebies for the following categories:
Black History Month

Valentine's Day

Presidents' Day

Friendship Month

Random Acts of Kindness Day

Exclusive On Lemon Lane Freebies!
Before we dive in, I want to let you know that ALL of these activities are available as a BUNDLE! Why choose when you shouldn't have to right???
You can now purchase the February Survival Kit…?
I mean Bundle through Teachers Pay Teachers, and eventually in my shop!
When you purchase the Bundle you are able to save BIG and snag the following activities at a STEEP DISCOUNT! TPT actually warns me about listing my bundles at too steep of a discount… but I can't help it! I would love for you to be able to justify trying all of these in your classroom!
Another benefit to purchasing a bundle is that as I add new February activities to it you gain access to them without having to pay more! ***To sweeten the deal, I've also included the February Morning Meeting Slides as a FREE Bonus with the Month of February Bundle Download!?
Bundles Available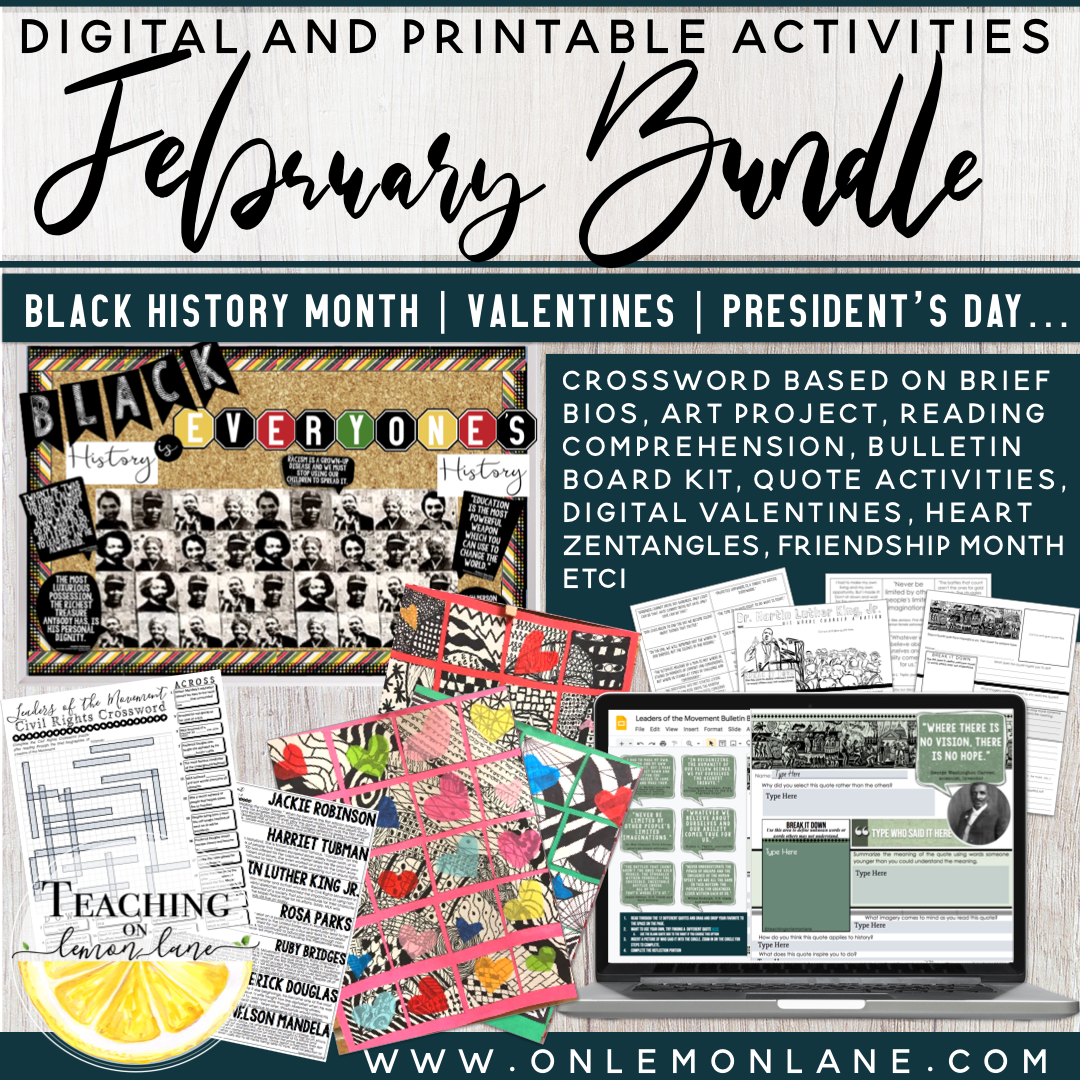 CLICK HERE FOR FEBRUARY BUNDLE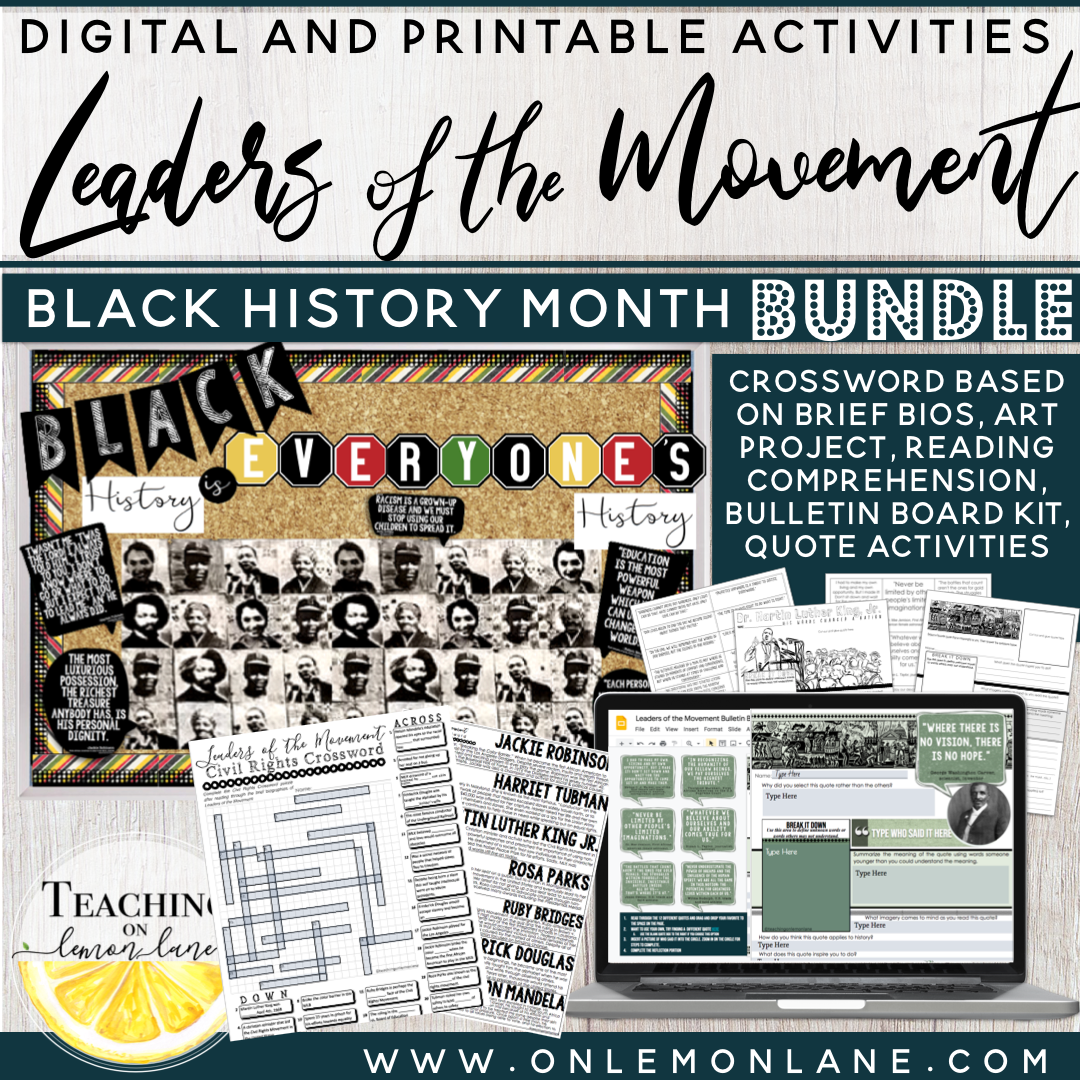 Click Here for Black History Bundle

Black History Month Activities: (Digital and Printable)
I was going to say, "It goes without saying…" but I don't think that's true. It needs to be said and recognized that Black History should be taught year-round and not just during the month of February. Black history is not a separate genre to be studied, it is our history. With February, I love that there is an added increase and focus on many extraordinary individuals. Below you will find a few of my favorite ideas to both celebrate, and learn about them.
"We must never forget that Black History is American History. The achievements of African Americans have contributed to our nation's greatness."
-Yvette Clarke
FREE Leaders of the Movement Portrait Zentangle

THIS IS A FREE and FAVORITE DOWNLOAD!
This was one of those ideas where in my head it should work, but when it came down to actually doing it… I was nervous…
It wouldn't be the first time what seemed like a great idea flopped (ie. Grow your own Valentine Crystals)
BUT… I am happy to report this project went swimmingly!
The video above was my first attempt, and by the end, I was THRILLED WITH THE RESULTS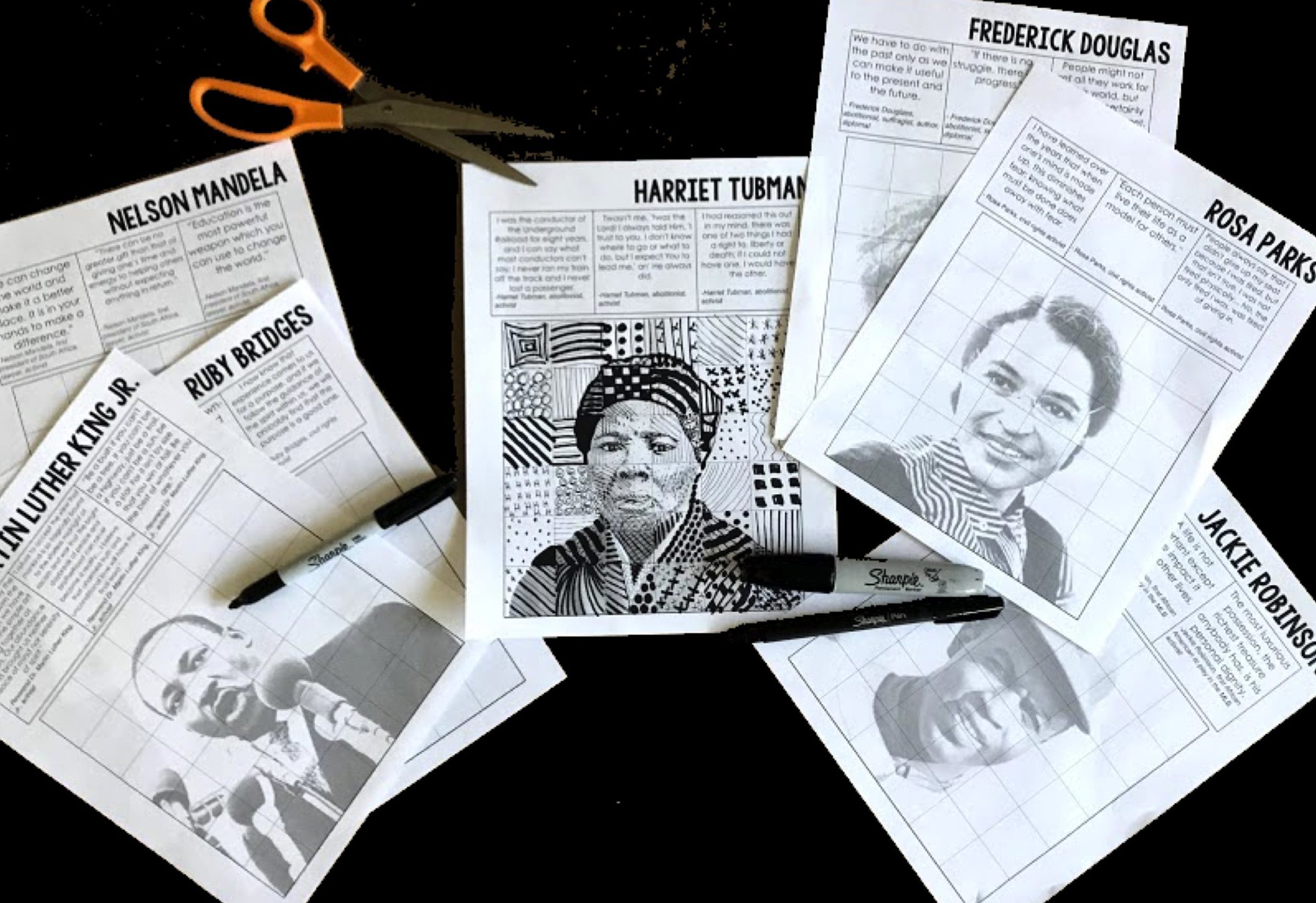 Students select one of the following leaders from the Civil Rights Movement. It was tough to narrow it down to 7 but this list includes some of my favorites.
Harriet Tubman
Jackie Robinson
Dr. Martin Luther King Jr.
Ruby Bridges
Rosa Parks
Fredrick Douglas
Nelson Mandela
To complete the portrait, the sky really is the limit.
I chose to work with black ink: sharpies, fine-tooth markers, and pens.
However, who's to say this couldn't be completed with other mediums like colored pencils, markers, or crayons.
***If you would like to really make these pop. Have the students complete their portrait using black ink, and then go over the top with watercolors!
Even though these projects look extremely intricate and complicated. I can confidently recommend this project to 4th graders and up, any younger is out of my range of experience, however, I would love to hear if you find anything different.
***Since writing this blogpost I was notified even THIRD graders can complete this activity with success! Check out @tailsofthird display below.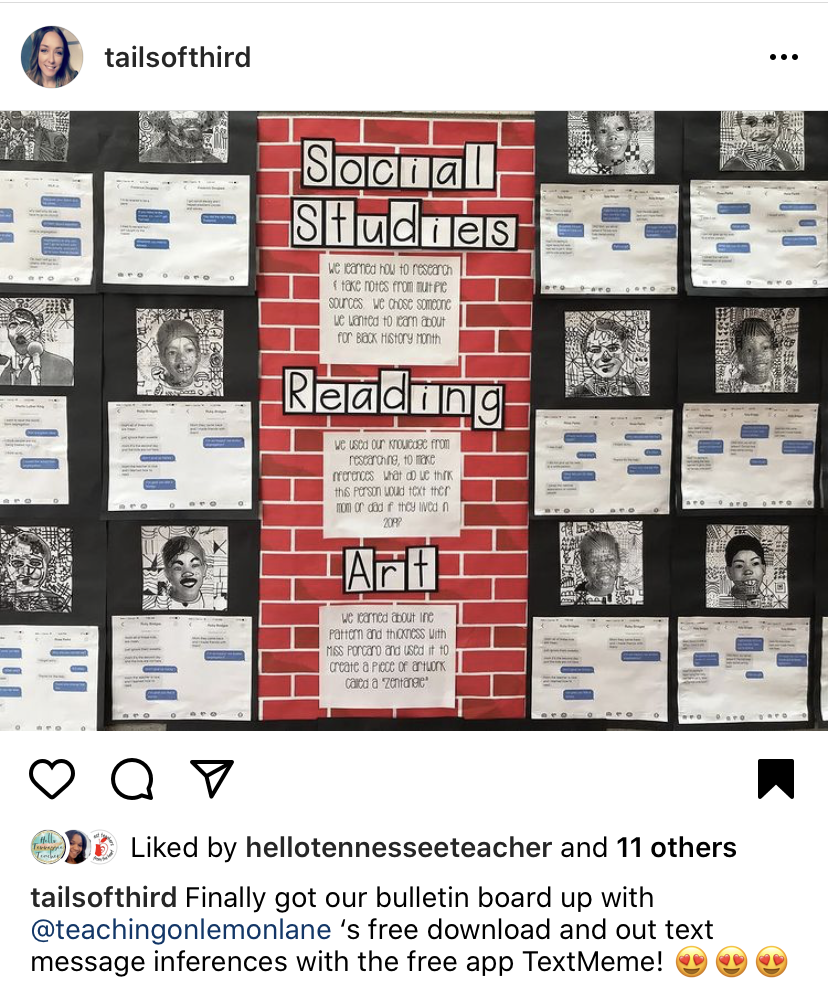 Click Here to Follow @Tailsofthird on Instagram
It has been so fun to see this project completed in both your primary and secondary grade levels! If you do this FREEE activity with your class remember to post and tag @teachingonlemonlane and use the hashtag #🍋zentangle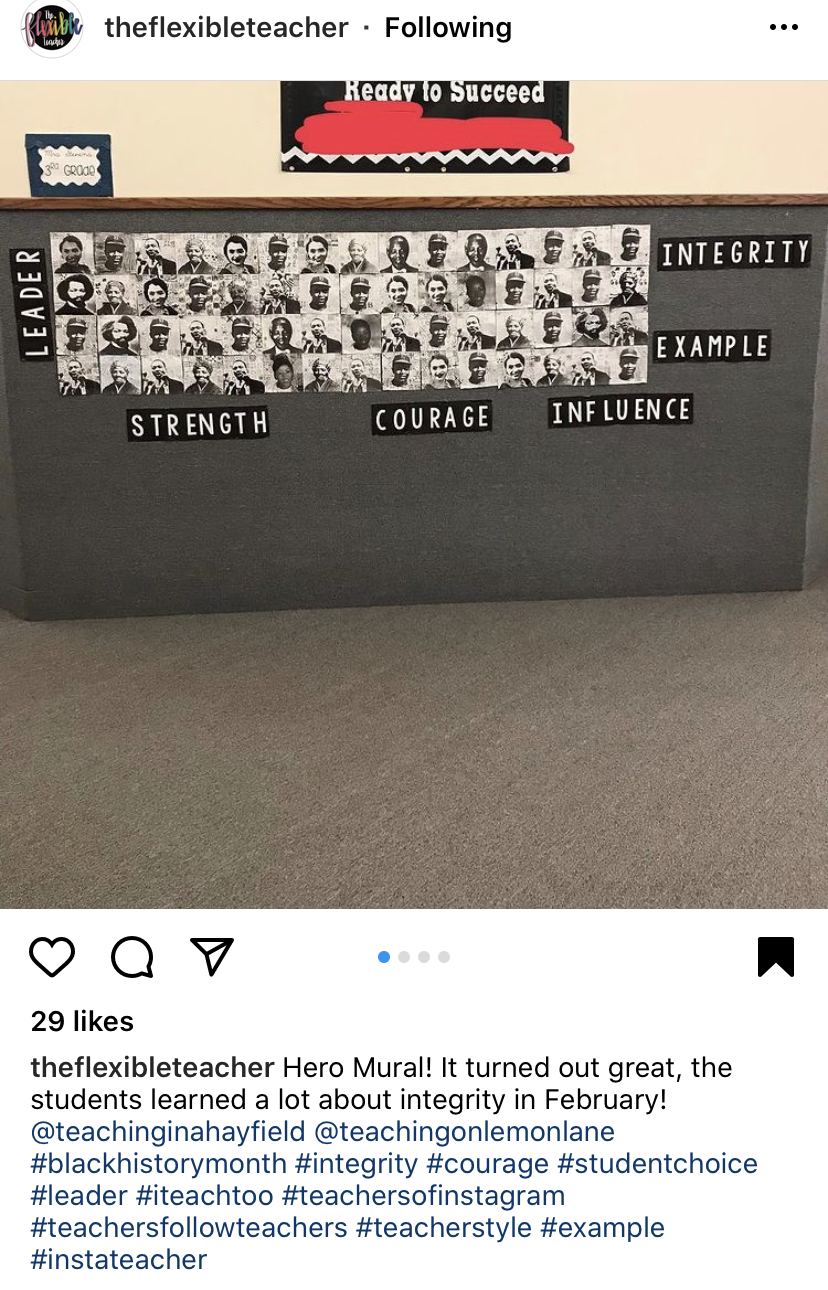 Check out this display by @theflexibleteacher and her grade level team! Click here to follow @theflexibleteacher, You especially want to check out her clipart for all things bitmoji and digital classrooms… She's a WIZARD! Check out her store, here!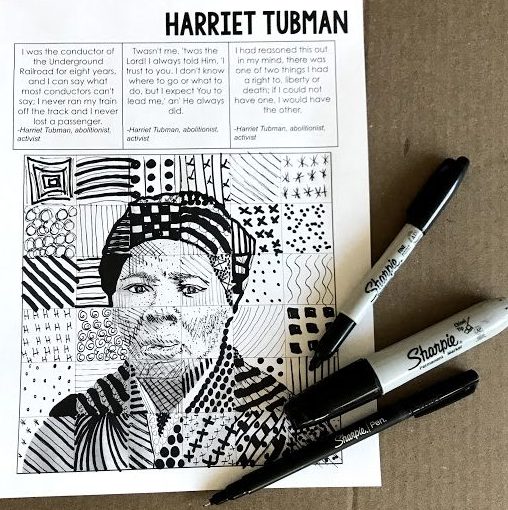 Tips for this Project:
The subtle shading of the portrait is key to the student's success. It acts as a guide.
Where the shading is darker, use more ink, closer lines, bolder colors…etc.
Where there is no shading use patterns or designs that are thinner and spread out.
A practice page is included for students to brainstorm designs before beginning.
***Make sure the students get the eyes right.
Consider showing this video before the project to give students a better idea of the end result.
I can't wait to see what you come up with! Please share your results in the private Facebook group, or tag me on Instagram!
Click Here for this Freebie & More
FREE Leaders of the Movement Civil Rights Quote Activity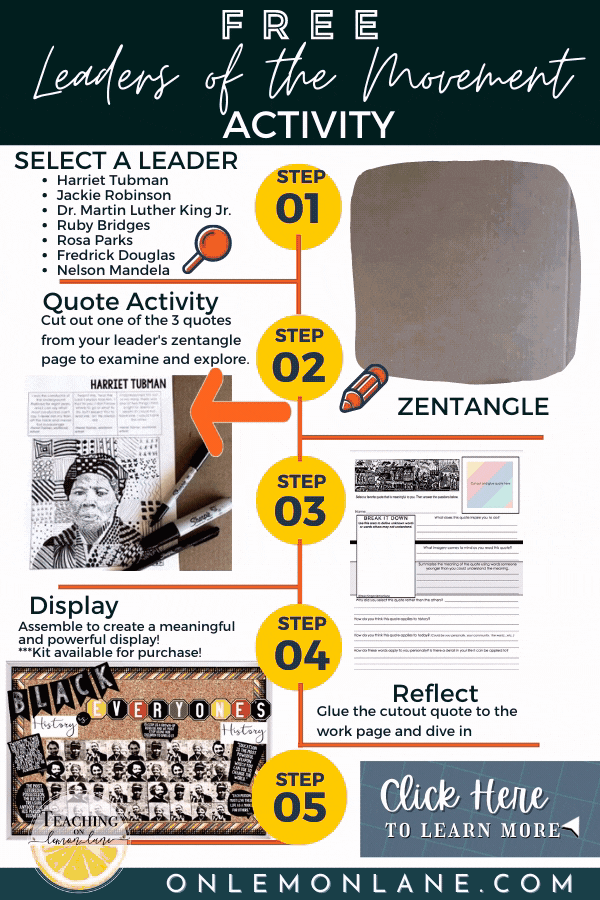 THIS IS another FREE and FAVORITE DOWNLOAD!
This activity is meant to be completed with the zentangle art project mentioned above.
Once students have selected their individual have them start by reading through the three quotes at the top of the zentangle page.
Next, have them cut out their favorite quote and glue it to the FREE Quote activity work page.
These two activities together make for a really complete and beautiful project that leads to wonderful reflection and discussion.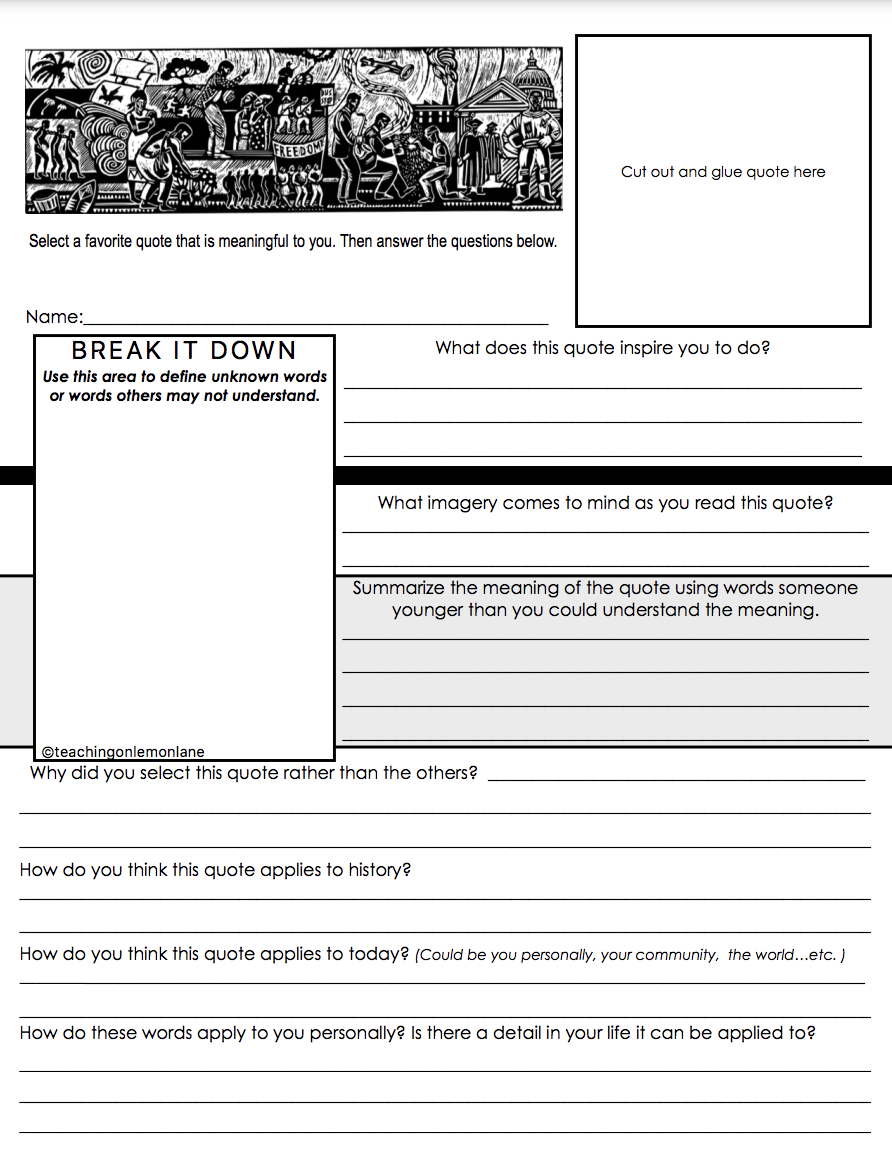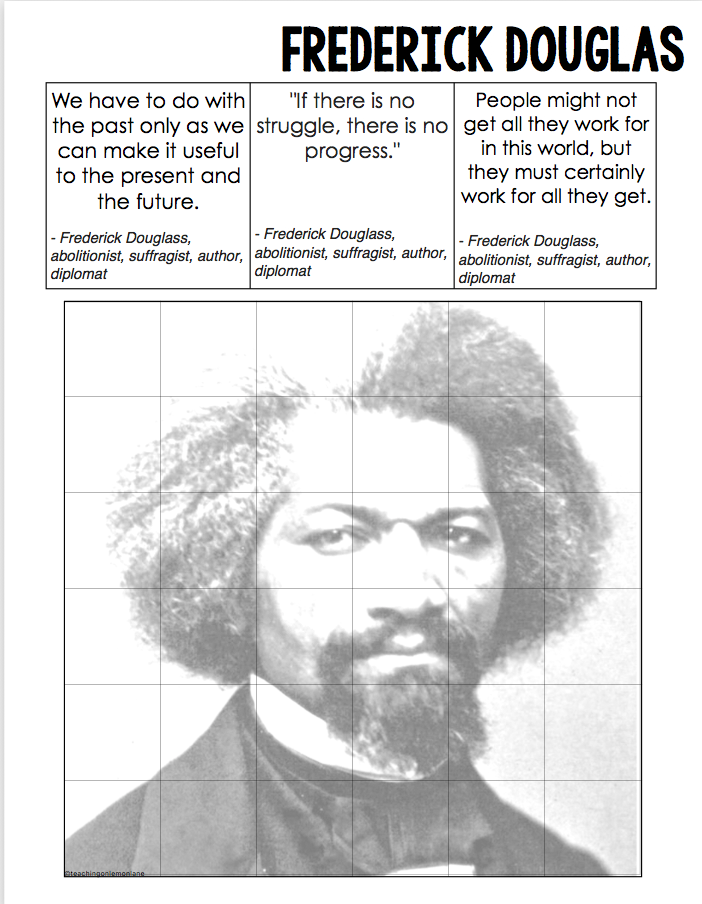 Click Here for this Freebie & More
Leaders of the Movement Crossword Puzzle: Digital and Printable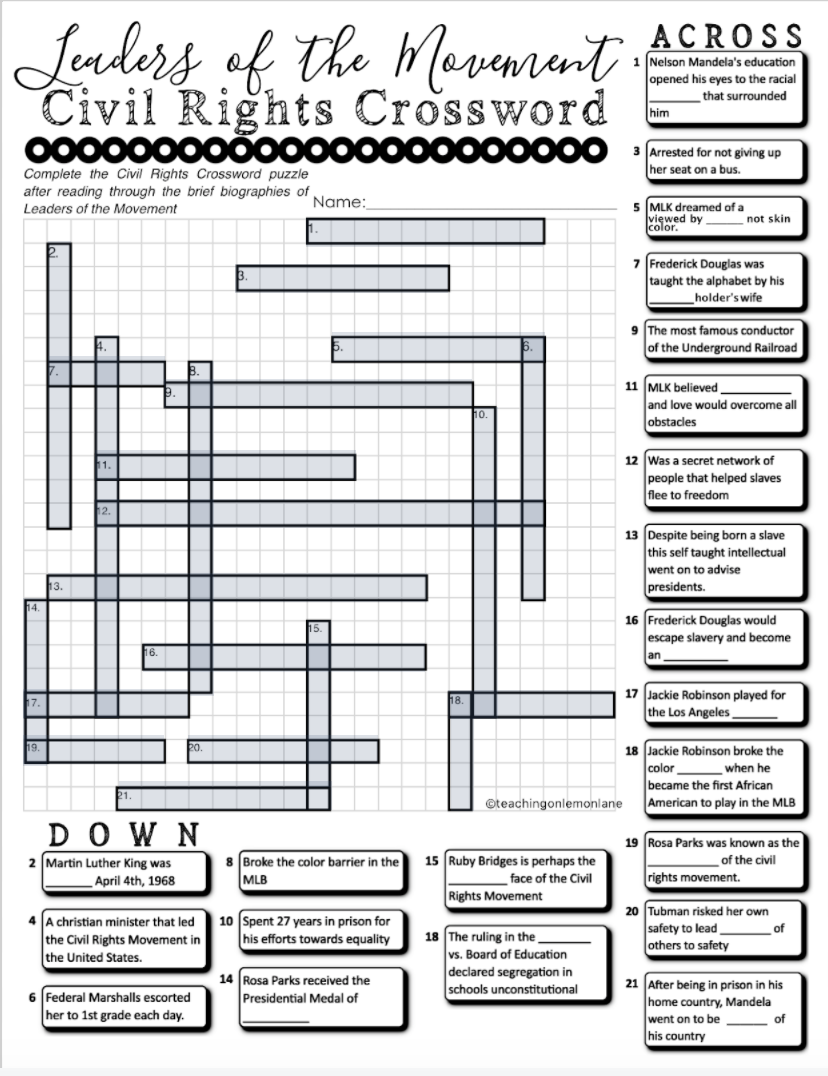 This Crossword puzzle is another piece of the Leaders of the Zentangle project!
This is the perfect introduction to the activity. This crossword highlights the 7 different leaders they can pick from for their zentangle portrait.
I've updated this resource so it can be completed both digitally or as a printable.
To complete the crossword, students put their reading comprehension to the test! Each answer to the crossword prompt is found within a brief but fascinating biography of each leader!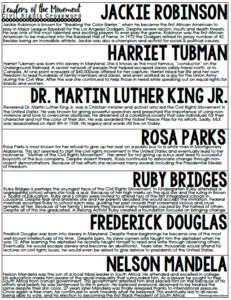 Once students have completed the crossword, they will have a better idea as to who they would like to learn more about, all while having a better understanding of the importance and significance of the others.
This leads perfectly to having students select who they would like to create their zentangle for.
Not only is this a great activity to introduce the Leaders of the Movement project, but it also makes a great activity to use on the first day of Black History Month.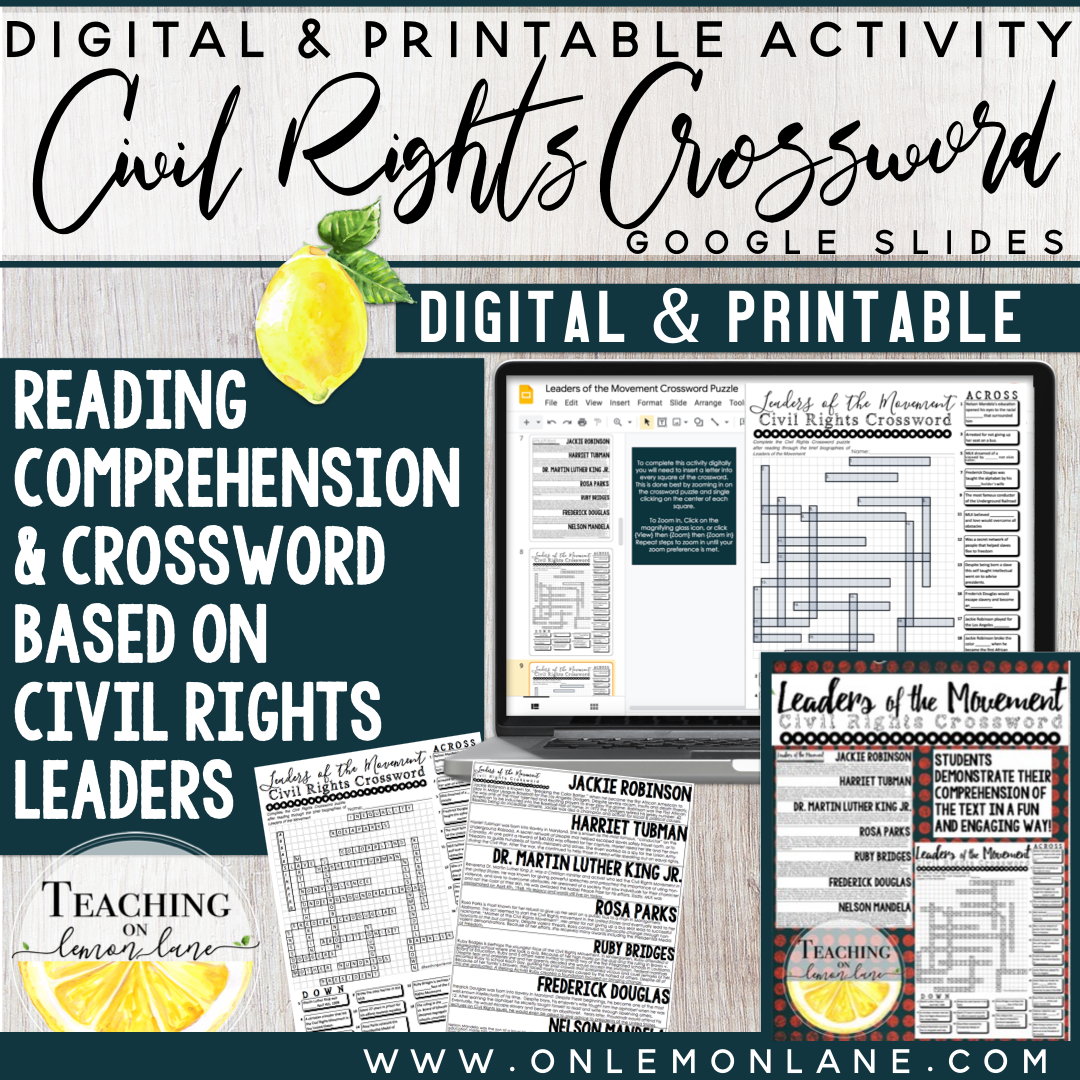 Leaders of the Movement Bulletin Board Set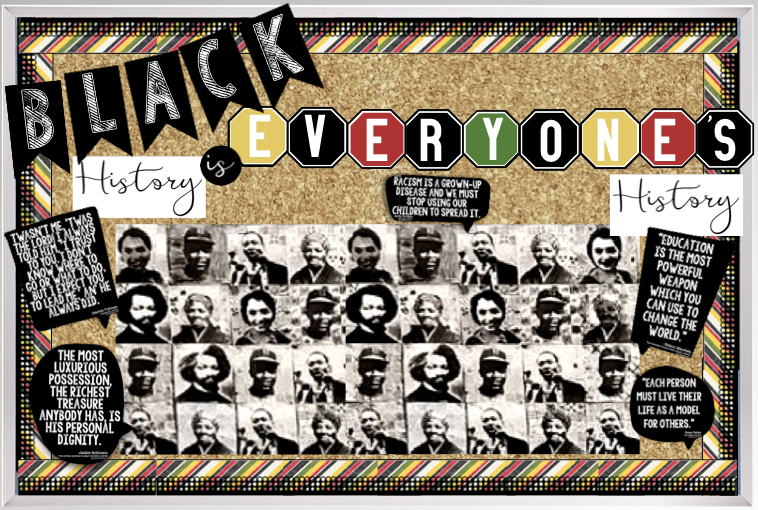 My favorite type of student activity always ends with a hallway display or bulletin board that packs a punch!
These zentangles do just that.
Each bulletin board kit I create is made with you in mind.
I try to pick easy to cut shapes, and easy to assemble parts, to ensure your time isn't wasted.
Because as a teacher time is your most valuable resource.
This kit is editable through Google Slides so you can pick and choose the words or quote you would like to use.
Don't have time for that? Print it as-is for the pre-made display shown above.
I decided to go with, "Black History is Everyone's History," as the bulletin Board's theme after reading these powerful words. Remember if you would like to use another quote or theme, you can edit and customize the text through google slides!
"We must never forget that Black History is American History. The achievements of African Americans have contributed to our nation's greatness." — Yvette Clarke

"Won't it be wonderful when black history and Native American history and Jewish history and all of U.S. history is taught from one book. Just U.S. history." — Maya Angelou

Black history is American history." — Morgan Freeman

"We should emphasize not Negro History, but the Negro in history. What we need is not a history of selected races or nations, but the history of the world void of national bias, race hate, and religious prejudice." — Carter Woodson
Leaders of the Movement & Dr. Martin Luther King Quote Activity: Digital and Printable
In case you are looking for a digital option for Black History Month or Martin Luther King Day, I really love this one.
Again it's simple, however, these activities are powerful.
This product contains 2 activities both digital and printable versions. Students examine powerful quotes from some of the most influential leaders in Black History. Through Google slides students pick their favorite quote, then react and reflect on it.
The first version of this activity includes 20 different Martin Luther King Jr. quotes to pick from. (both digital and printable)
The second version includes 12 different quotes from different influential Black leaders, activists, inventors, athletes…etc. (both digital and printable ***the printable version is included for your convenience. It can be downloaded separately at the end of this post!)
Students will struggle to pick a favorite quote. I know I did when it came to deciding which quotes to include!
Each causes you to stop and reflect. The quotes vary in degrees of difficulty to comprehend so everyone from 3rd grade to 12th grade can feel confident finding and responding to one that resonates.
If they can't find a favorite, the digital versions also lend the option of students finding and typing their own favorite Black History quote.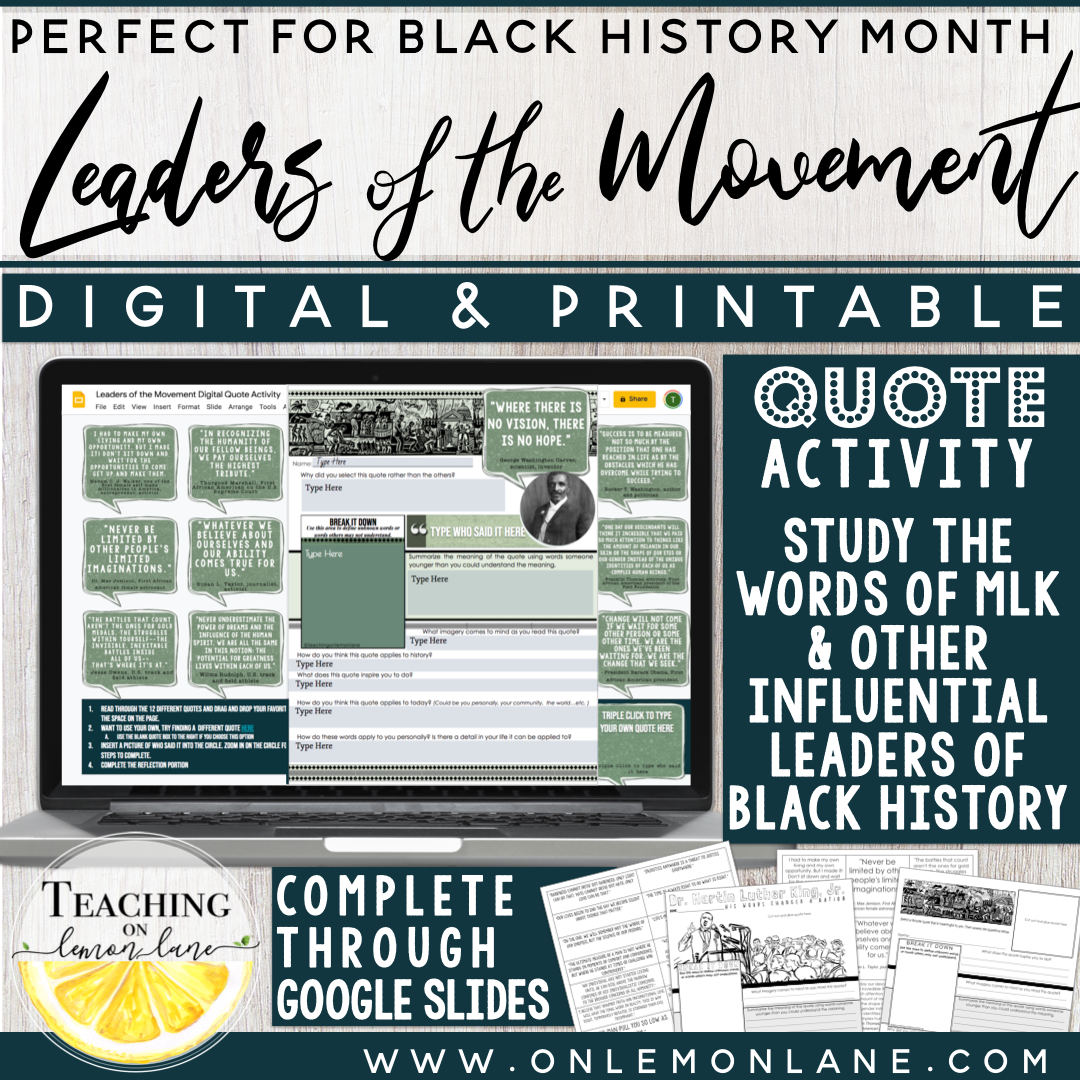 Leaders of the Movement Biography
Once the quote activity is completed, I highly suggest having your students research and prepare a biography report of some sort.
At this point, they will be even more invested in their individual and the opportunity of learning more will be exciting and feel natural, which means they will be more engaged.
Engagement is a key factor in student performance. Below are a few of my favorite options for preparing and planning a biography.
Biography Research Graphic Organizers:
Every teacher has something they do really well, for me… Graphic organizers are my jam.
These graphic organizers aren't just your basic prepare a biography organizer. Instead, they take it a step further by having students identify trials their individual overcame, how we are different today because of them, and how their example can be applied to the student's life.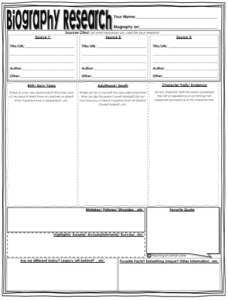 This download also includes a reflection page. I consider the reflection portion to be the most important part. In the reflection students really begin to consider and explore what they can learn from this individual and how it applies to them in this day and age. Just read the raving reviews on these simple, yet compelling organizers, Click here to learn more!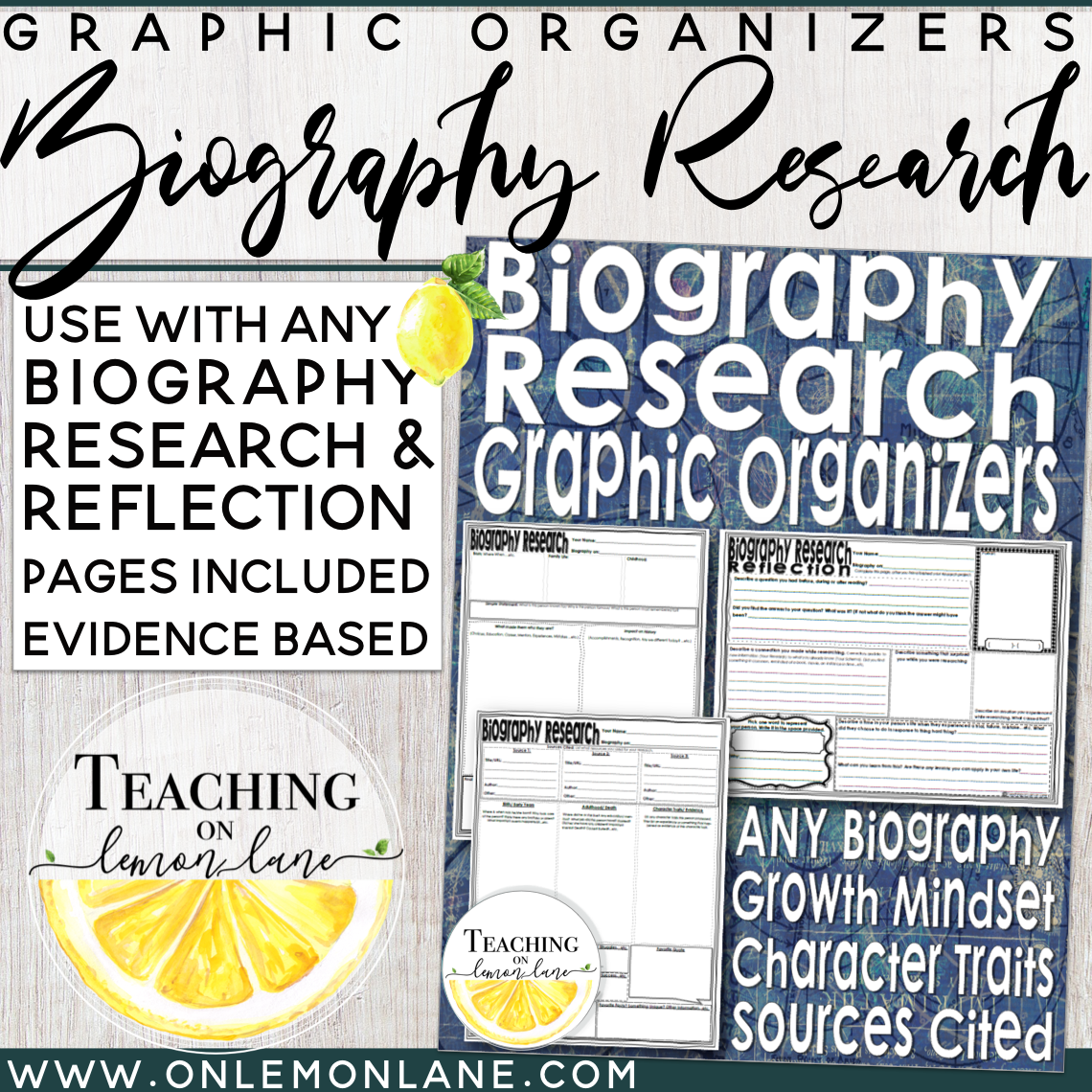 Snapshots Biography: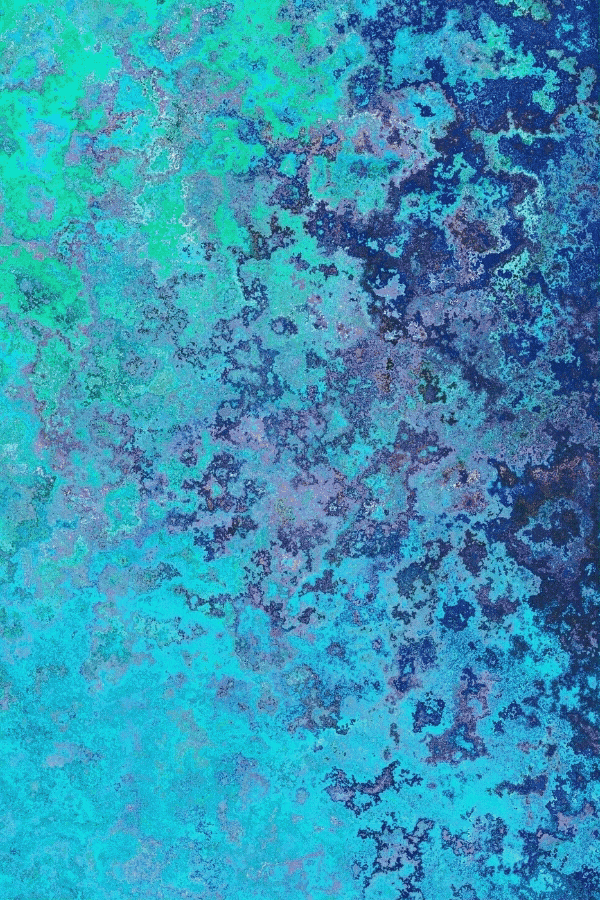 If a report seems too heavy, having the students select one word for their individual can have quite the impact as well.
You could then cut out the completed portrait and glue it to construction paper with the word written in bold on the page with the portrait.
This lends well to a lesson on adjectives or character traits! You can also use the single word approach with this fun Digital Snapshot activity!
Like the graphic organizer mentioned previously, this will work with any biography!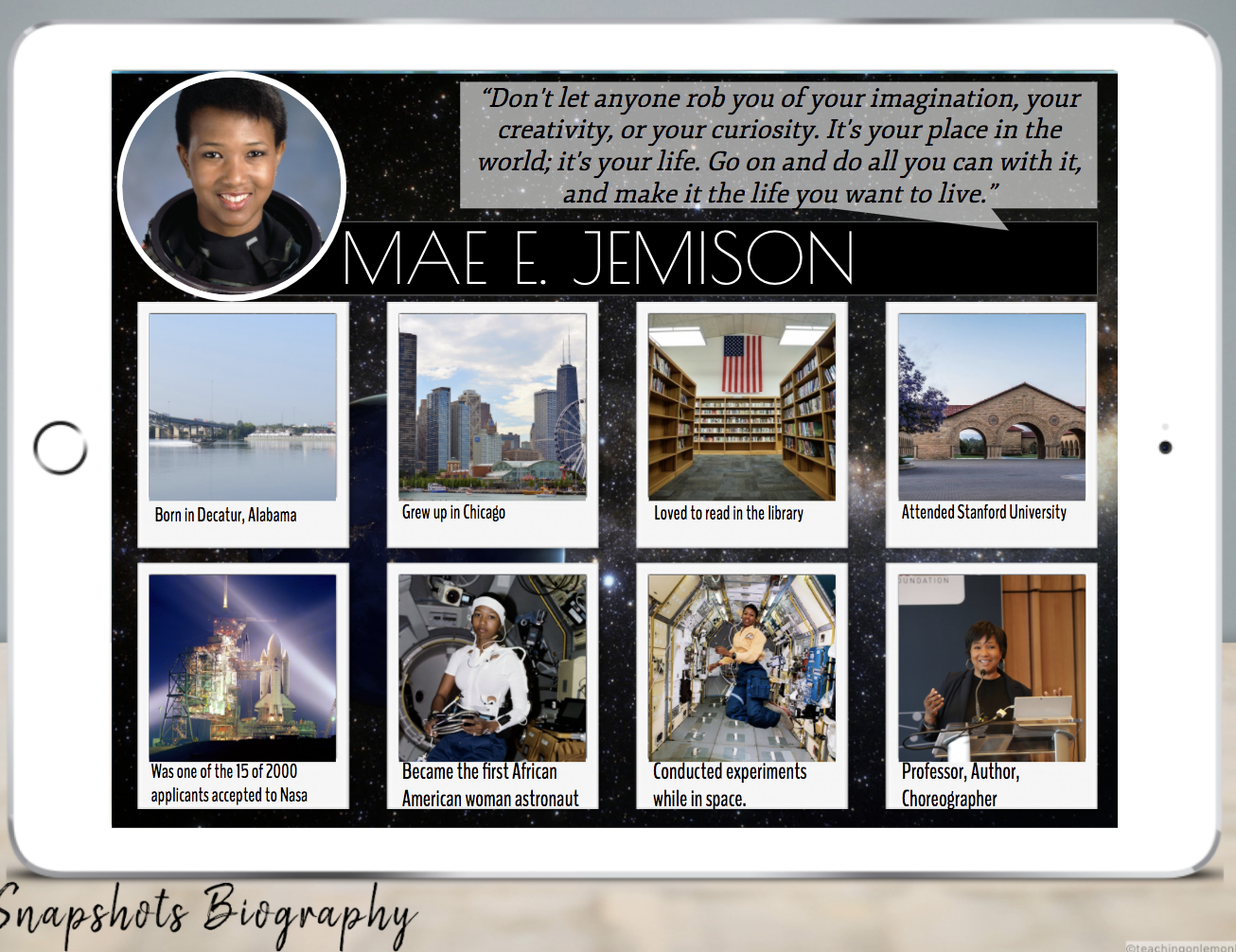 The Snapshots Biography is a great simplified approach or alternative to writing a complete essay.
I use this with the graphic organizers but instead of writing out an essay, students can summarize their research through this digital or printable visual.
Students will insert 8 pictures plus a "profile" image of their individual.
They can also type a brief explanation or think of a relevant hashtag.
Through ACTUAL photographs or images, students can share key details and moments from the subject of their biography.
Think of the possibilities…
Pictures of where they were born
Their family
Key events
PRIMARY SOURCES
Pictures of journal entries or artifacts
…etc!
All is done through a simple 3 click process. (That means no downloading, inserting, or cropping images!)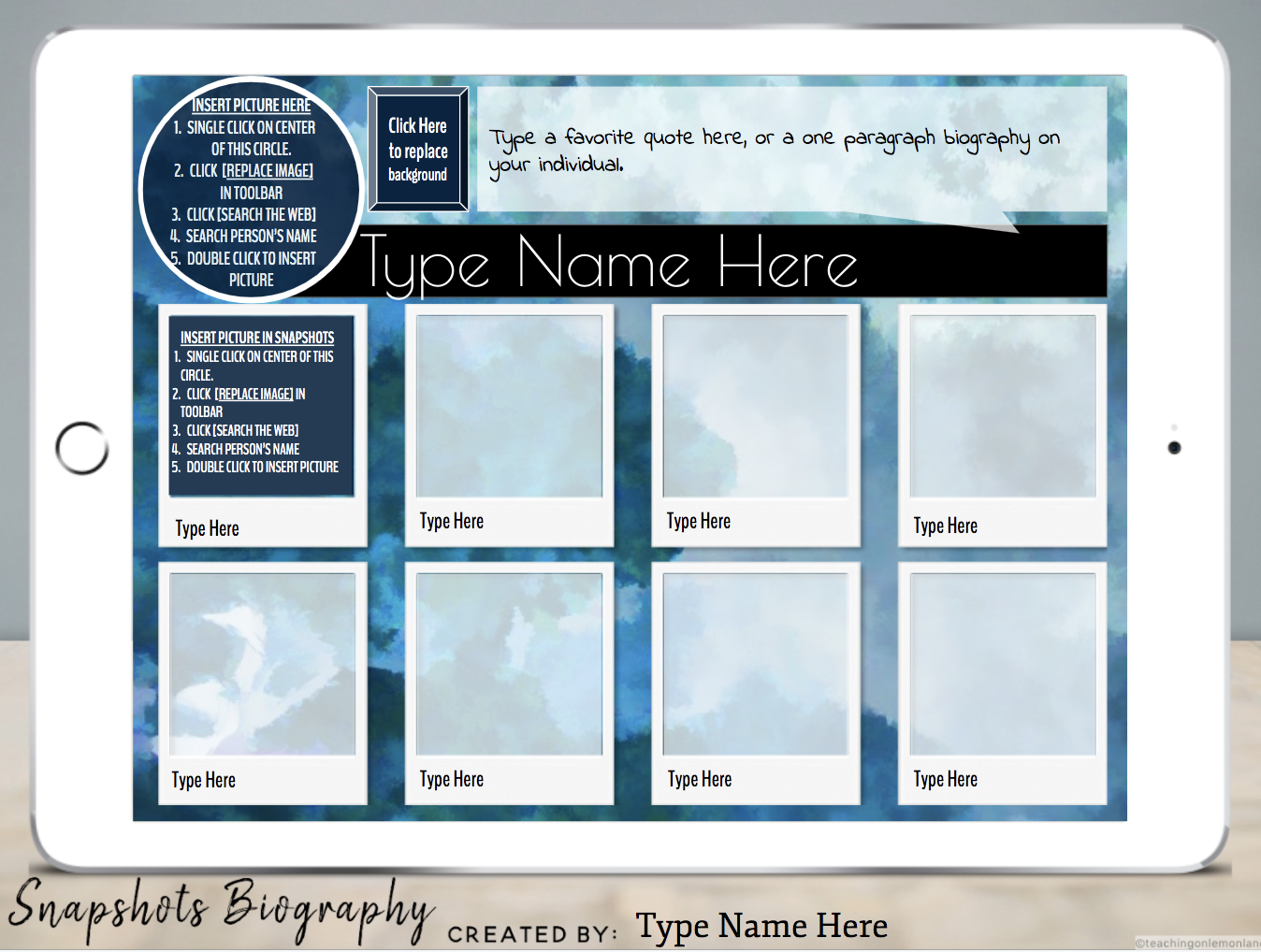 The templates I've created allow the user to insert automatically scaled images into the picture placeholders, from a quick google search or from images saved to their google drive or device!
These templates are so cool because not only are they SO SIMPLE to edit, but they create really visually appealing and age-appropriate results.
Depending on the rigor you set these Snapshot Bios can be used in grades as young as 3rd all the way up to your high-schoolers!
Don't forget you can double-down and use both biography products again for PRESIDENT'S DAY!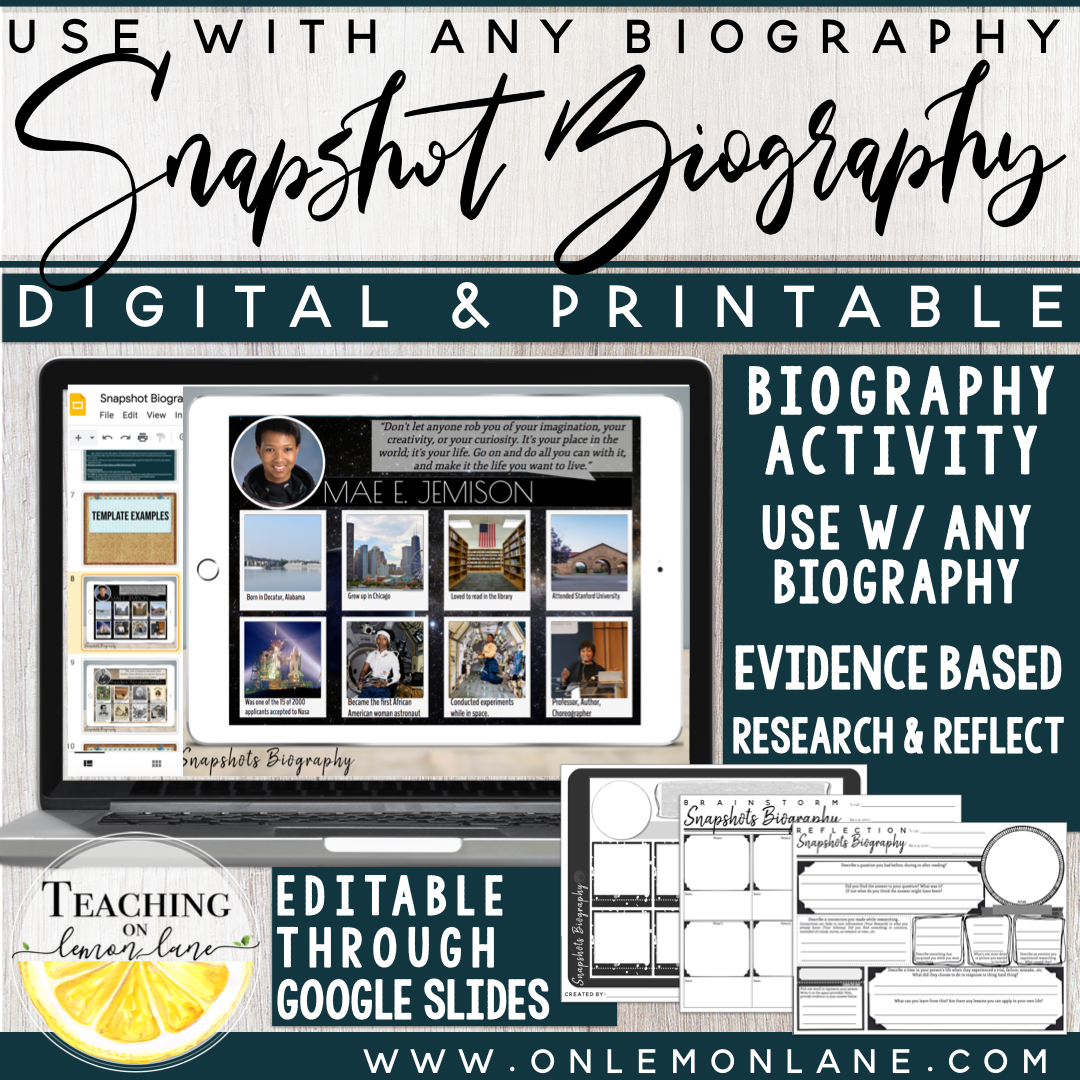 Additional Resources for Black History Month
I LOVE READER'S THEATRE. If you haven't tried one, please make it a goal. They are so wonderful and fun, and guaranteed your students will thrive. Start rehearsing at the beginning of the month and end the month with a special performance for parents, the school, another class, or video it and have a premiere party in your class!
Now Let Me Fly by Marcia Cebulska A Play Commemorating the Landmark Supreme Court Decision Brown v. Board of Education of Topeka.

I stumbled across this script and couldn't wait to share it with you. Before you can access the script you need to decide how you will use it. If you plan to put on a professional production where money or admission is involved in any way royalty is required. However, if you plan to simply use it as educational royalty is not required! The script comes in 3 different forms, a full version, and 2 youth versions, one for junior high aged kids and the other for elementary. If you have any questions just make note of it in the contact form when requesting the use of the scripts. Click on the link above to access the contact form. If you are looking for a more detailed lesson plan for this script click here!

The National Museum of African American History and Culture. Did you know the National Museum of African American History and Culture is "the only national museum devoted exclusively to the documentation of African American life, history, and culture…To date, the Museum has collected more than 36,000 artifacts." This incredible and interactive museum opened in 2016 and is at the top of my bucket list. Their website and resources are incredible.

Students could select one of the stories from the collection series, research, and present their idea to the class or a small group.
While visiting make sure to check out the educator tab and explore. There are different options and offers you can apply for, as well as ideas and resources for educators to use in the classroom.

Primary Sources Pack a Punch. Some of the most memorable and impactful lessons I have conducted or participated in were due to primary sources being used. Primary sources are an immediate, first-hand account of a topic or time. They could be photographs, journal entries, letters, speeches, newspapers, advertisements, clothing or other artifacts…etc. Thanks to the internet primary sources are as easy as a click away. My favorite tool for accessing documents from the national archives is Docs Teach. Docs Teach is an online resource FREE to educators, meant for educators. Once you register you can search primary sources, explore already prepared activities, or even create your own and save it to the database. Get this… you can even share activities and sources to GOOGLE CLASSROOM. You're welcome.

When using primary sources in the classroom remember to set expectations. Before the lesson talk to them about how to appropriately react to the sources being used. Notify them that some of the sources may stir their emotions and that it's ok, in fact, it could even be the whole purpose of the lesson.
David Kilpatrick, a teacher from Washington gives a few examples of how he uses primary sources in his classroom:

Scholastic Culture and Change: Evolution of Black History is another interactive activity students will enjoy completing. This is set up as a timeline. To complete students move through the timeline and read about different things that had an impact or related to Black History. My favorite part about this activity is the Trailblazer segments. Anytime students see a star on the timeline and click on it, they are able to read about this person's achievements.
Guest Blogger: Terra Cooper Resources and Videos: Don't forget to check out this blog post! My dear friend, advocate, and former teacher Terra created some wonderful and insightful FREE resources and videos for you to use in your classroom. Click here to learn more!
How are we doing friends?
Did I mention this blog post is GIANT.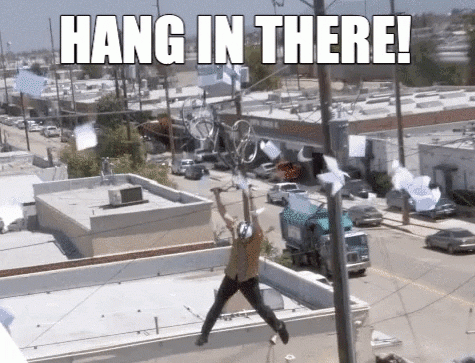 Hang in there as we explore a few of my favorite ideas for Valentines Day, Presidents Day, Friendship Month, and MORE! 😳
If you haven't already, make sure to snag this month's FREEBIES by clicking on the Lemon below.

Valentine's Day
Figurative Language Digital Valentine Design & Exchange: Collaborative Slide Project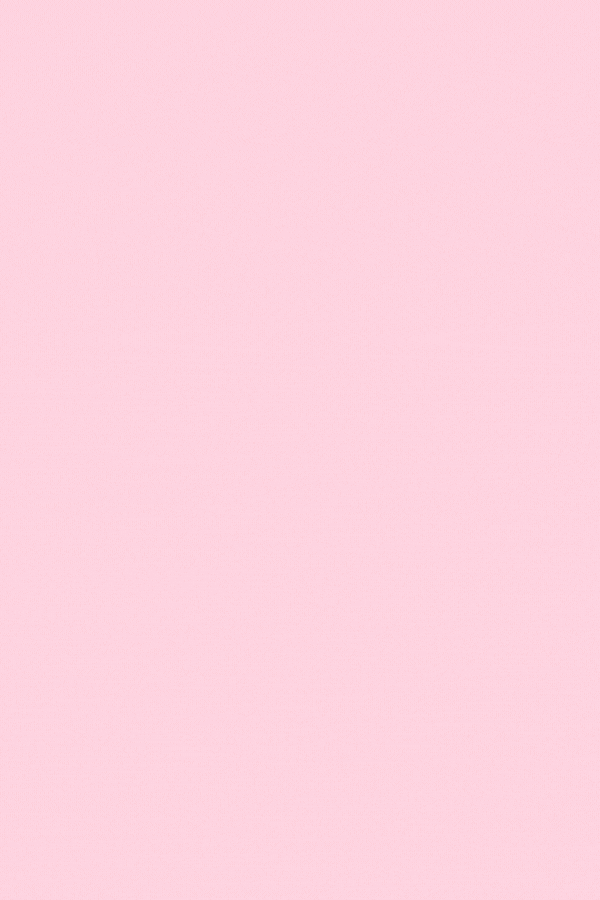 I've had this idea of a collaborative Digital Valentine Exchange focused on Figurative Language for a while now.
I knew how much work and time it would take to get it right and just couldn't talk myself into it. I think I was still burned out after creating the digital vision boards!
Now that this pretty little thing is done, I wish I would have started sooner!
This Digital Design a Valentine Card and Exchange is SO FUN.
Students can completely customize their projects, this type of level of customization ALWAYS leads to an increase in creativity and engagement.
I also can not think of a better holiday to go over Figurative Language than Valentine's Day, where you are surrounded by real-world examples!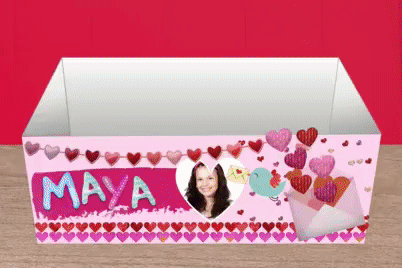 This project begins by having students create and customize their own Valentine box.
The possibilities are endless with over 150 stickers and 10 different backgrounds. Students will have a blast picking colors, adding text…etc!
Once completed, students click a "button" within the slide. This button will link them to the Valentine Cards. Here students are challenged to think of an example of the different types of figurative language and then create a digital valentine card based on their idea!

Types of figurative language covered:

Metaphor
Simile
Personification
Idioms
Puns
Allusions
Alliteration
Onomatopoeia
Hyperbole

Once their cards are complete, students will save their card as an image and share their cards with their classmates during the Digital Party exchange!

This might seem scary but you and your students can handle this NO PROBLEM!

I've even added video tutorials to help with any questions or clarification needed.
I can't wait to hear what you think of this one!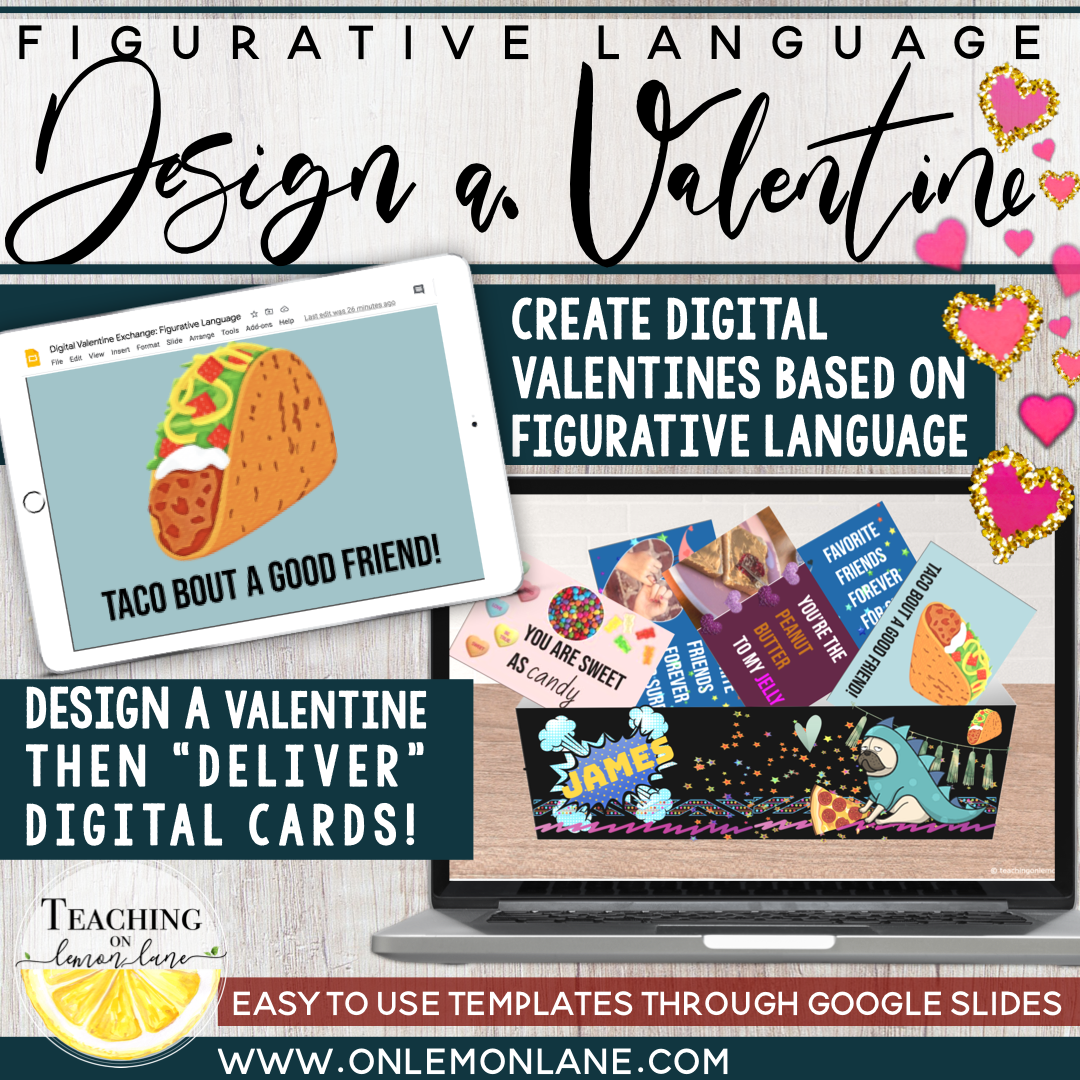 What I Love the Most
"What I LOVE the Most," is a FUN digital or printable activity perfect for your Upper Grades!
Through Google slides students create a visual of what they love the most, then try their hand at a Tanka Poem template!
(Challenge students to pick their unpopular but LOVED opinions for an extra layer of fun! Perfect for Valentine's Day, or as a February activity.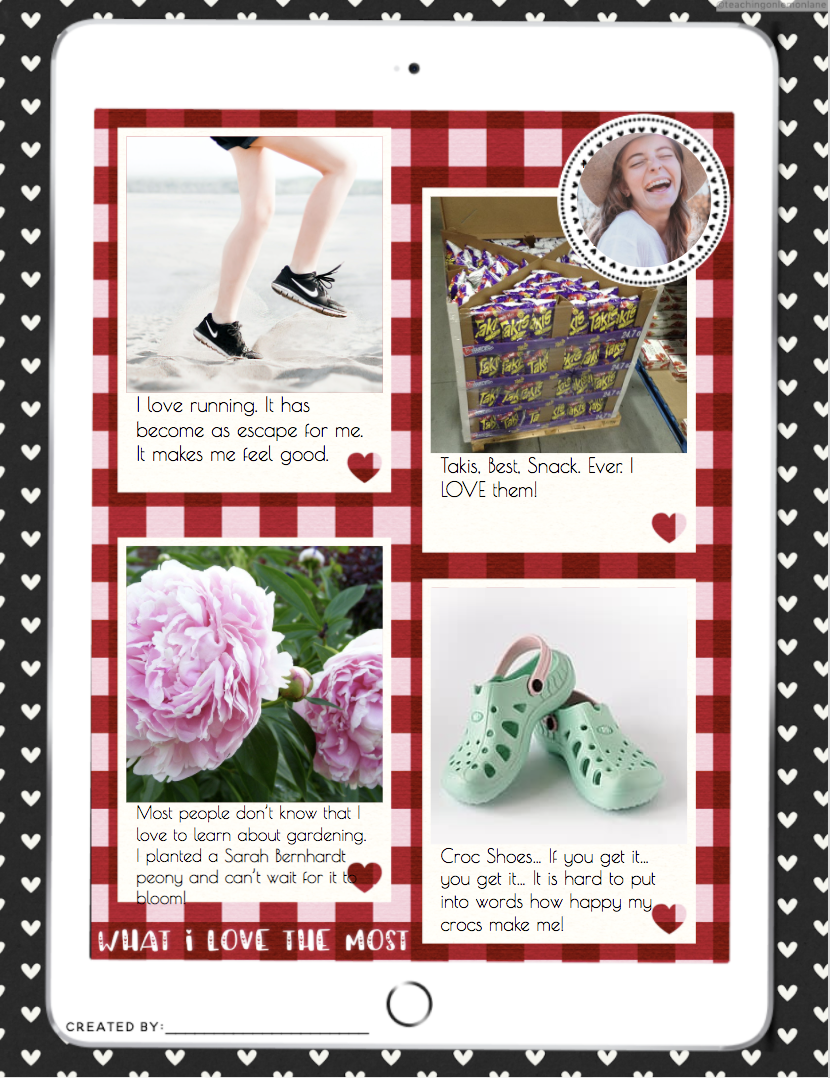 The "What I Love the Most" project is a great way to create connections in the classroom and improve Social Emotional Learning.
Students will insert (or draw) 4 pictures plus a "profile" image.
They can also type a brief explanation or think of a relevant hashtag.
Through ACTUAL photographs or images from their actual device, their google drive, or my favorite a simple google search
****All is done through a simple 3 click process.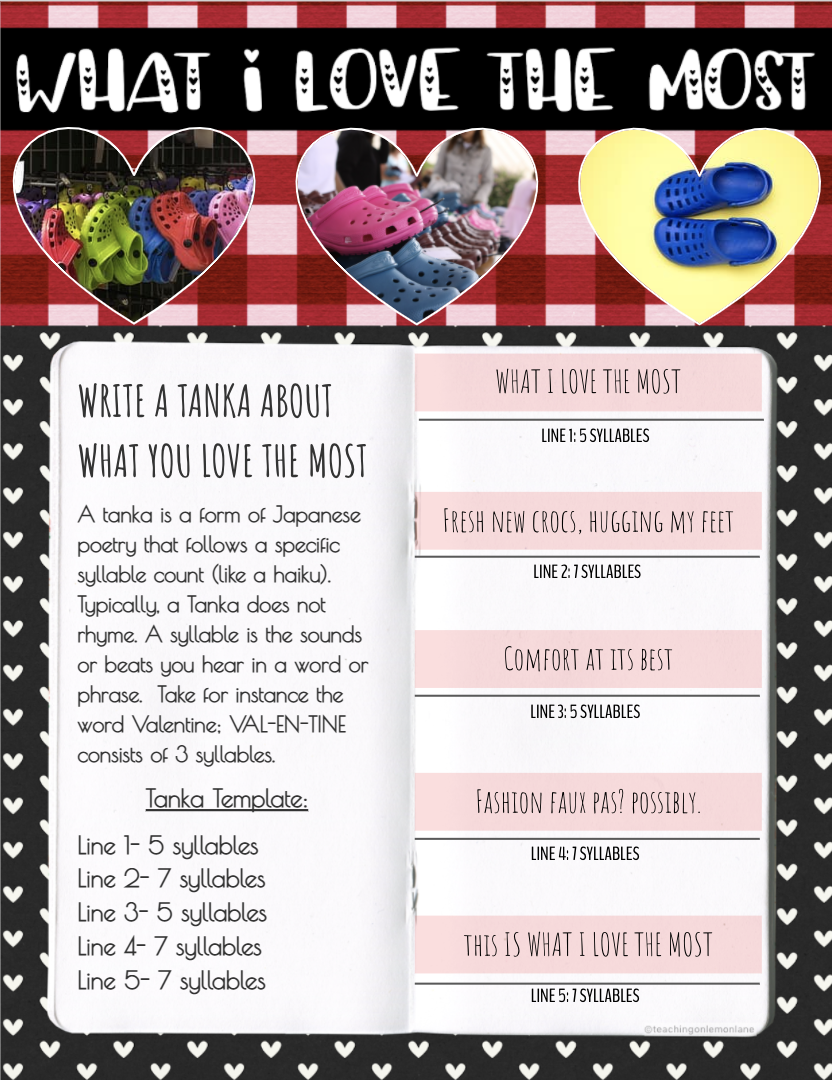 My favorite part of this project is the poetry section.
Often times students come up with SUCH creative and FUNNY Tanka Poems about what they love the most.
I especially get a kick out of a poem written about a student's unpopular opinion.
This gives Valentine's Day or the month of February such a fun and fresh take about love and poetry in the classroom!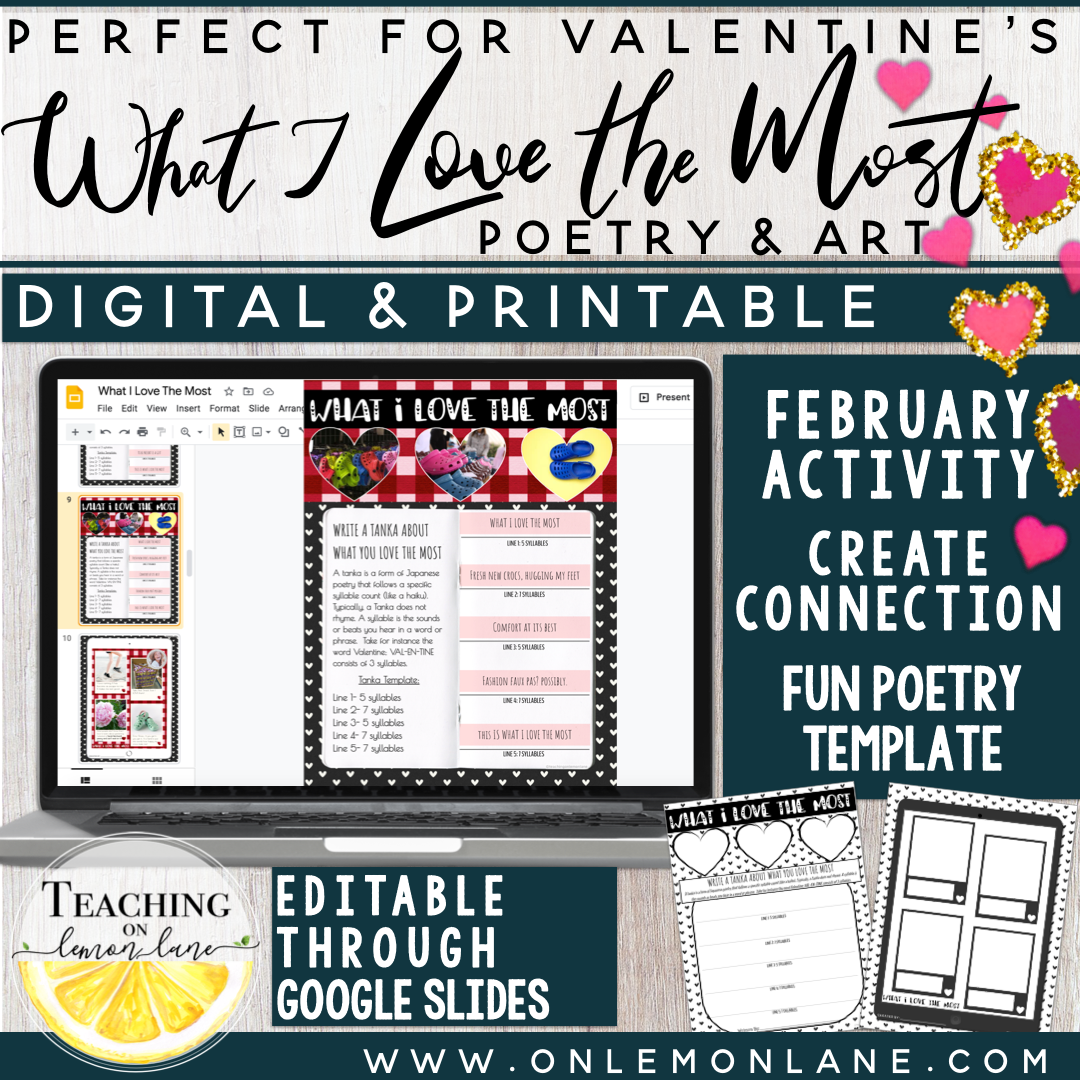 Zentangle and Tissue Paper Art Project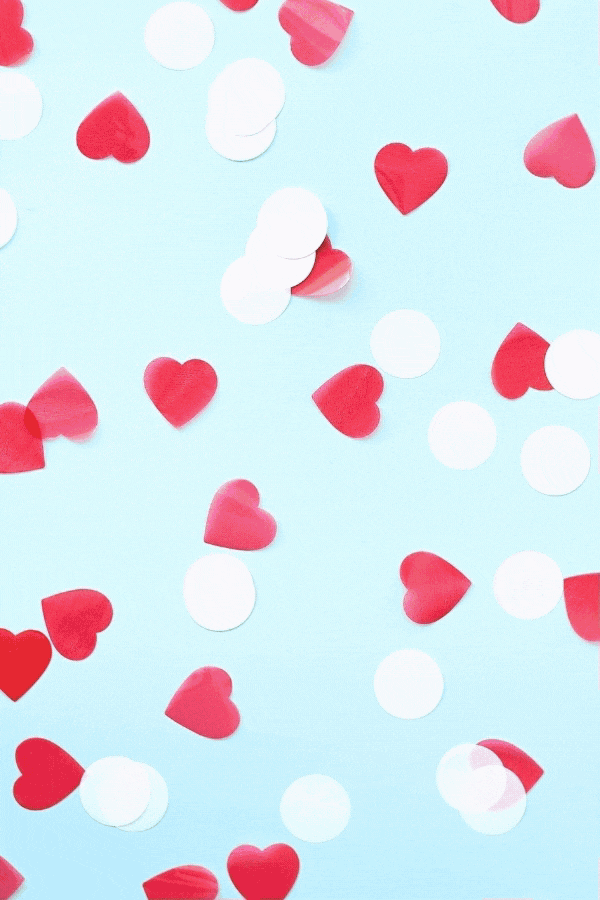 This is such a fun activity that my students always loved!
The end result is so impressive, intricate, detailed with fun pops of colors.
Students are always thrilled with the final product.
What most don't realize is how simple, and fun the process is. Any student can have success with this project.
I've seen this used in grades as young as 3rd all the way up to your high schoolers where the intricacies are really something to see!
The best part about this art project is that even though I like using this as a Valentine's Day Art Project, by encouraging the students to draw and cut out hearts…
It can technically be used for ANY day and ANY holiday.
The template is completely neutral, leaving it up to you and your artists to decide what to put on their canvas 😀
Click Here to Read the Blog Post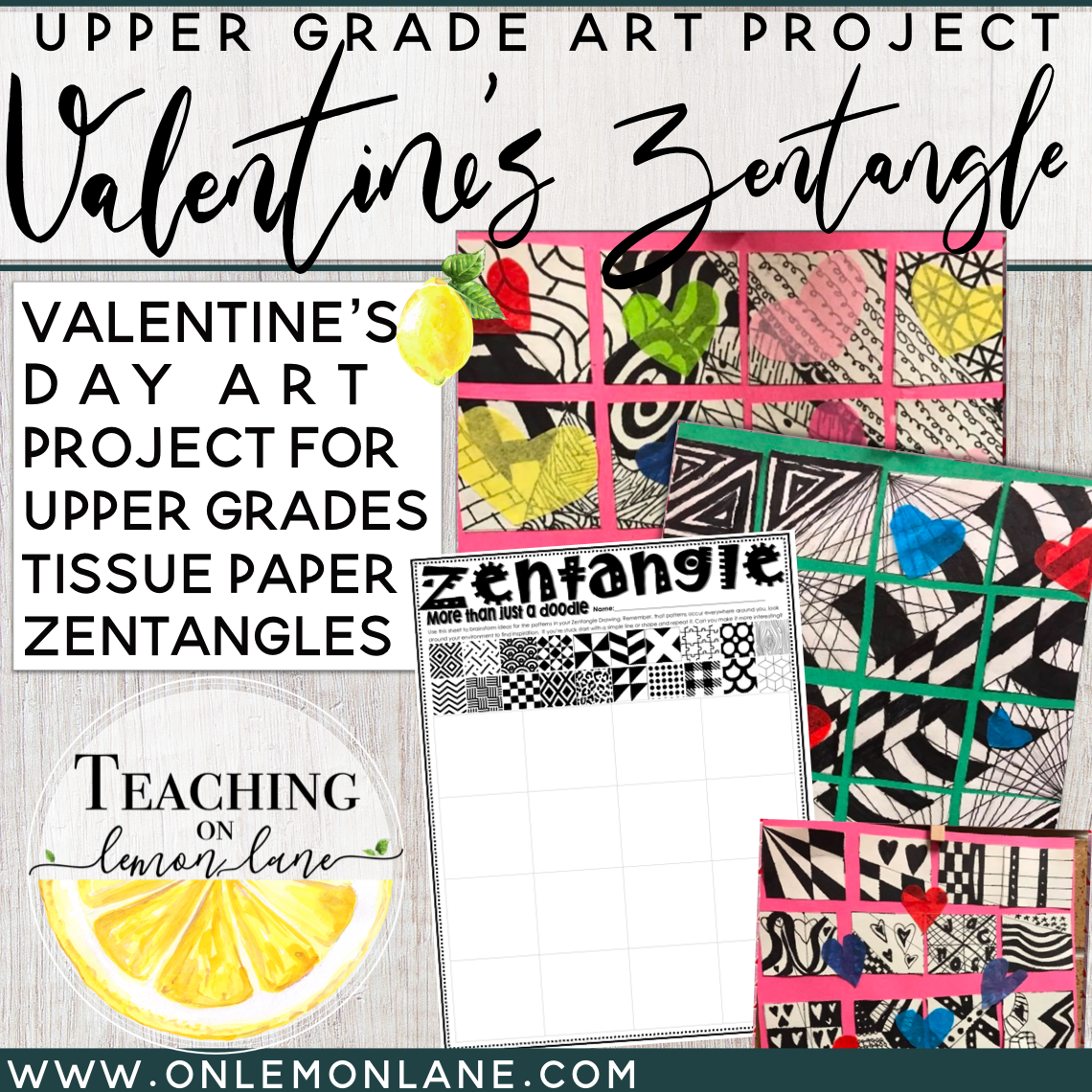 Presidents' Day
Double Down with the Snapshot Biography mentioned above!
Have students select a favorite person to learn more about, or assign one to each.
This is one of the many reasons I LOVE the Snapshot Biography page. It is SO versatile.
Use it over and over again, each time making it as extensive or simple as you choose.
Either way, each time students immerse themselves in meaningful, educational, applicable content!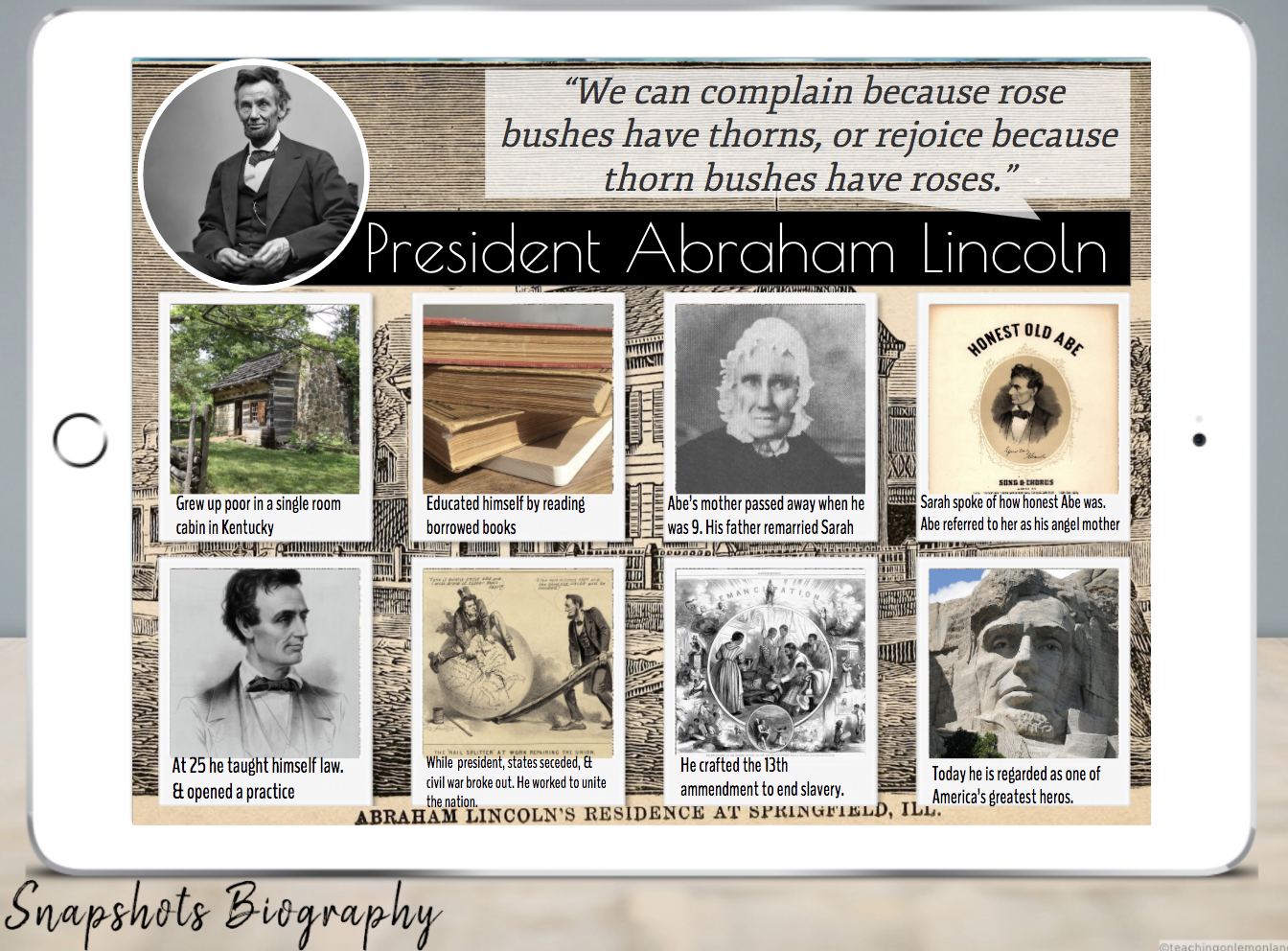 *** This Snapshot Biography is included in both the Black History Month Bundle and the Month of February Bundle, or you can purchase it individually below. To get a better idea of what is included, scroll back up to its mention in the Black History Section.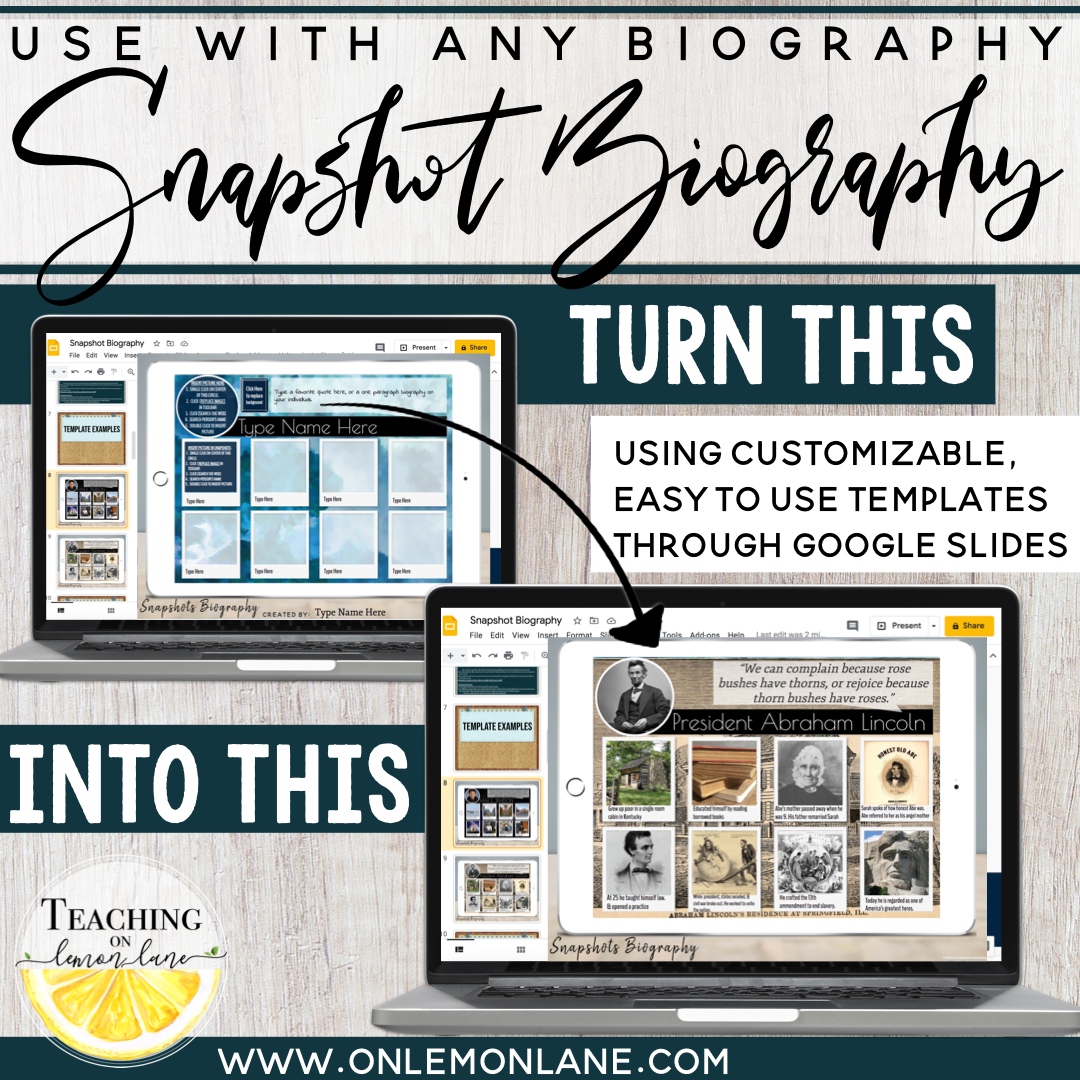 Friendship Month
February is National Friendship Month, and the 11th is Make a Friend Day!
I like to have something to look forward to in February, so if there is a reason to celebrate or change things up a bit… we're doing it!
As far as friendship goes, I can't think of a better time to learn about it than in the formative school years.
Creating and maintaining friendships is such an important life skill.
Friendship leads to skills that will increase confidence and self-esteem in students, as well as have opportunities to deal with conflict and adversity.
Below are a few of my favorite ways to celebrate National Friendship Month!
Friend in Me Friendship Bracelet PBL
I love this activity. I think too often when we talk about friends or friendship we put a lot of the responsibility on the friend.
This project instead turns it back and puts some accountability on the individual.
Teaching, in order to have a friend, you need to be a friend.
This project begins by having students explore and list out the characteristics that they think are most important in a friend.
They use a color symbolism chart to identify colors to represent these characteristics and then write a brief overview as to why these characteristics are important to have in a friend.
Students then create a friendship bracelet using embroidery thread in the colors they selected that symbolize what a true friend should be.
In the end, the friendship bracelet they have created is for themself and is to be worn as an acting reminder for the students to possess the traits they wish to have in a friend.
In order to have a friend of that caliber, you need to BE a friend of that caliber.
This is a really great project that leads to a really thoughtful discussion.
This product includes:
Both digital and printable planning pages
An EASY to use printable friendship bracelet loom
Both digital and printable reflection pages
Video Tutorial
What you Need
Thin Cardboard (Cereal Box, or Shoe Box) Makes your Loom more durable
Embroidery Floss Assorted Colors (Get a pack for your entire class for less that 10$
Listing Coming Soon

Keep going friends you're almost there!
Chrysanthemum Art Project and Bulletin Board
Did you know that many flowers are known to symbolize and represent different meanings or ideas?
The idea of using flowers to symbolize different ideas has been around for centuries.
Flowers have been used in protests to convey the message of the assemblers, by artists to hide secret meanings in their art, and of course, as gifts meant to show gratitude, love, hope or even sympathy.
Specific types of flowers can even represent specific meanings.
Take for instance, one of my favorites, (novice gardener over here) the Chrysanthemum.
The Chrysanthemum has long been known to represent friendship.
Specifically, lasting friendship, true friendship, good energy, optimism, loyalty, and devotion.
All characteristics akin to a good friend! This project makes a great companion to the friendship bracelets.
Have students pick the most important characteristic from their bracelet, they will then create their chrysanthemum in the color that symbolizes that characteristic.
It's fun to see what value each student views as the most important characteristic in a friend.
This lends very naturally to having them discuss, debate, defend, and then write an opinion or argumentative essay on this subject.
This download includes graphic organizers to help your students do just that!
This product includes:
Both digital and printable planning pages
Color Symbolism Chart
Opinion/Persuasive Writing Graphic Organizers Digital and Printable
Printable Template and Pattern for a large Paper Chrysanthemum
Both digital and printable reflection pages
Bulletin Board Kit
Video Tutorial
What you Need
An assortment of colors of cardstock **Students will pick a color that symbolizes what they think is the most important characteristic in a friend.
An assortment of sizes to roll paper: Pencil, Marker, glue stick…etc you roll the paper around these objects to create the different sizes of folds on the paper flower
Glue or a brass fastener to attach the petals
Green Cardstock for Leaves
Scissors
Extension Ideas
Once your display is complete, you will technically have a pictograph. Use the bulletin to compare which characteristic is valued the most, create fractions, and ratios…etc! (Use the "key" page to show what each color represents, **included in the download)
Write an opinion or persuasive essay about why they picked a specific characteristic of a friend over the others
This project gives you engaging student work, meaningful discussions, and a BEAUTIFUL display that can continue to be relevant until Spring and the end of the school year!
Listing Coming Soon
Random Act of Kindness Day
Ideas and resources coming soon!
Exclusive On Lemon Lane Freebies
If you haven't already, make sure to snag this month's FREEBIES by clicking on the Lemon below.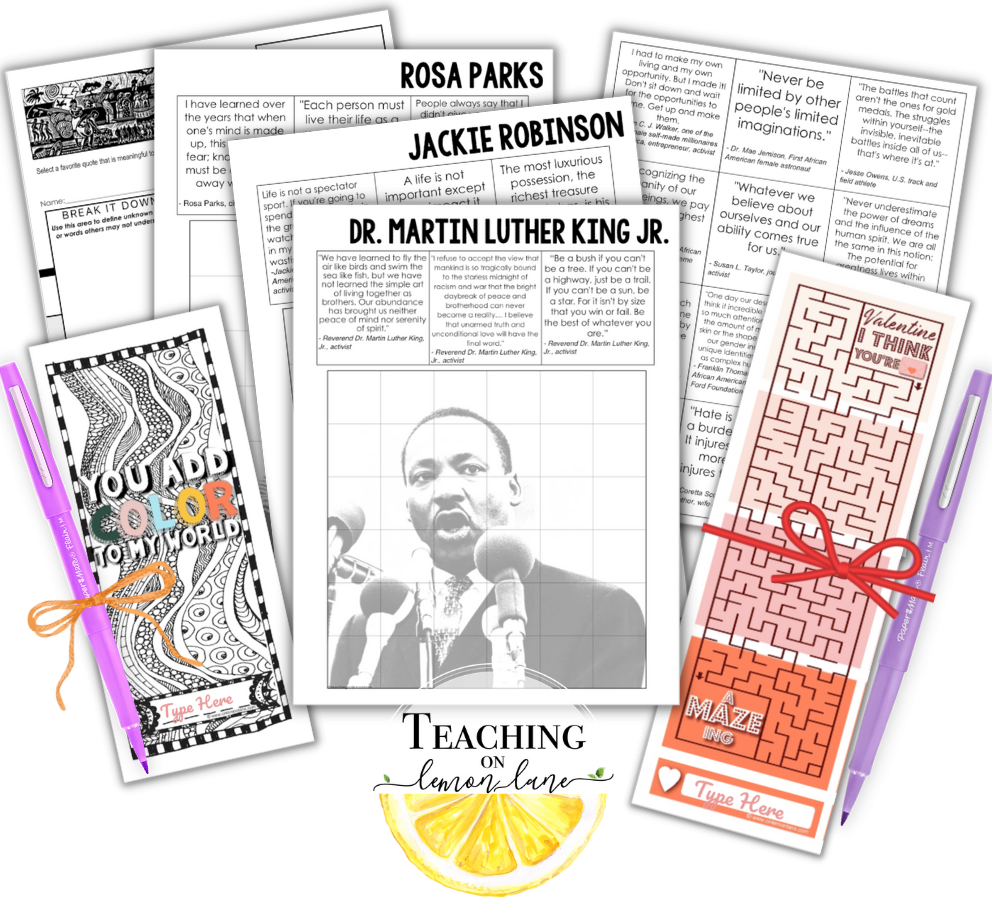 Click Here for the February FREEBIE Bundle
YOU DID IT! WE MADE IT!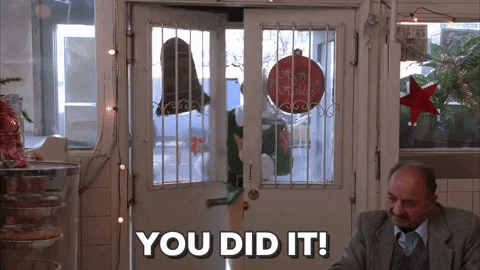 What's your favorite activity for February? Comment below!
Can't wait to hear what you think! Better yet, what did your students think? Comment below, or let's connect on Instagram or Facebook! Tag me in your pictures pretty please!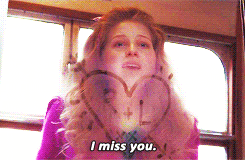 To stay up-to-date on new blog posts, freebies, exclusive promo codes, and sales… Join the Teaching on Lemon Lane Community! Pick any or all of the following to stay in the loop of all things Teaching on Lemon Lane.
If you enjoyed this PLEASE SHARE! Sharing on Pinterest, Facebook, or tagging on Instagram is a simple, yet wonderful way to support the efforts of Teaching on Lemon Lane!
Like this? You're Sure to LOVE These!
Free Downloads Included!
Click on the Image to Learn More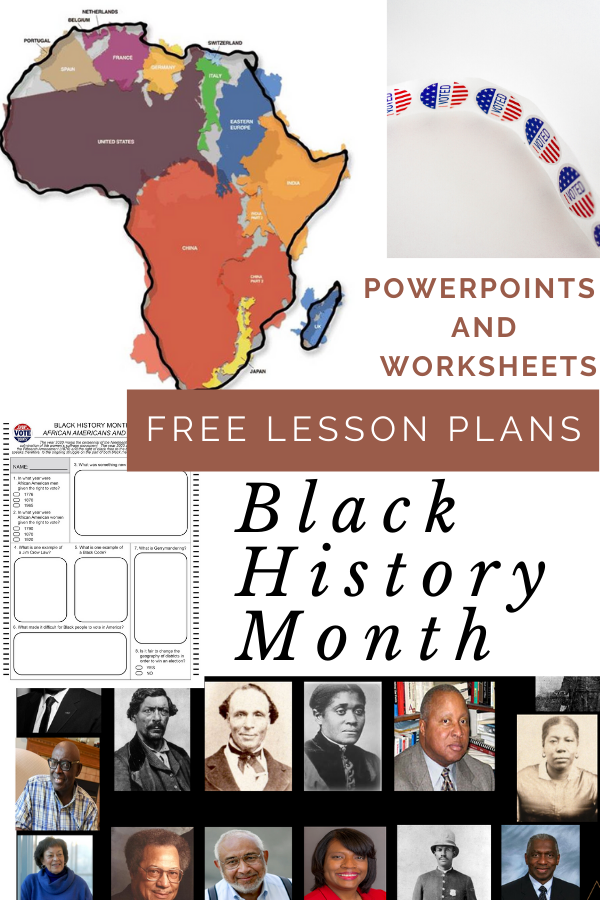 Check out Guest Blogger, Terra Cooper's FREE Black History Lesson Plans, Powerpoints, Videos and Worksheets!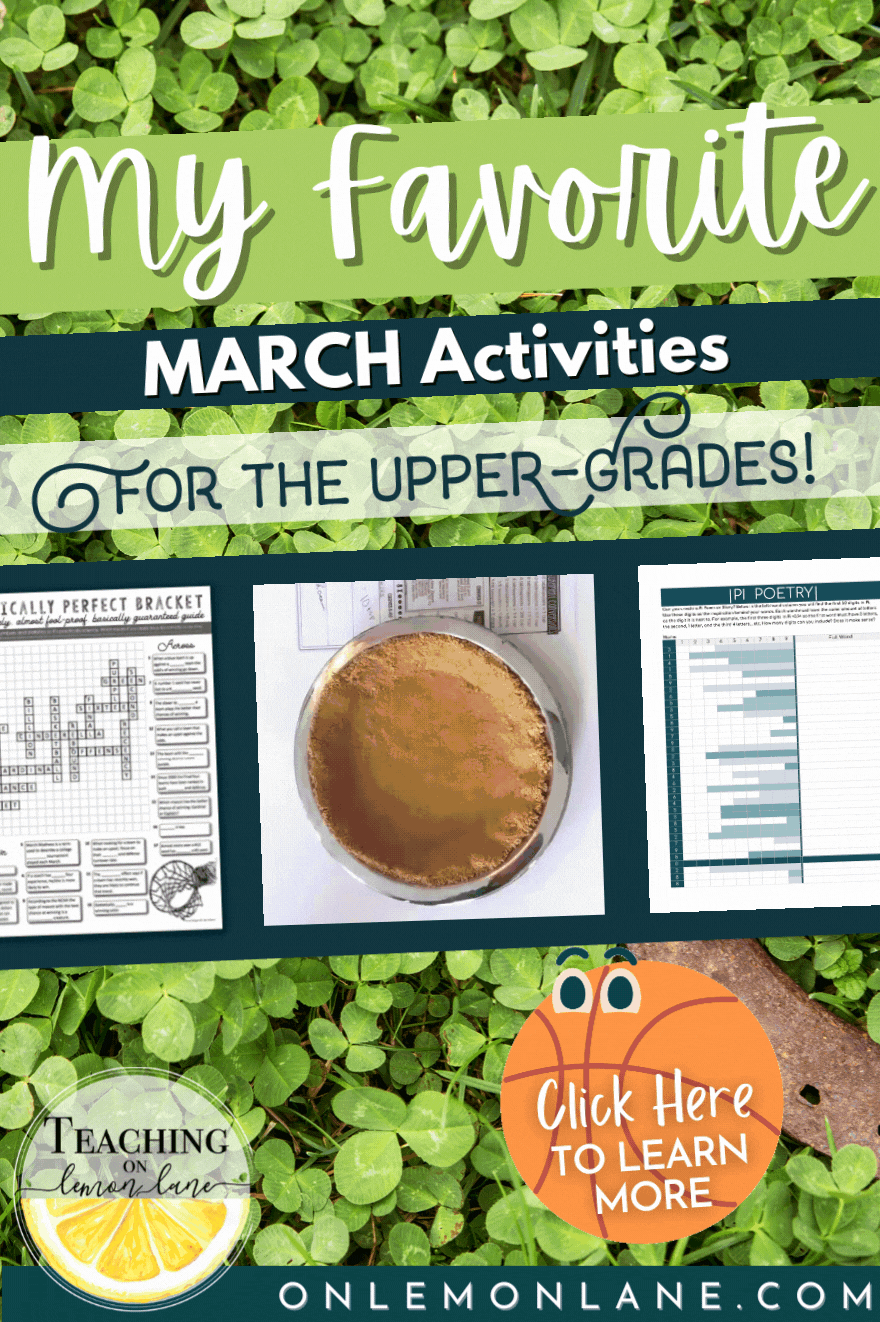 Click Here for my FAVORITE March activities and FREEBIES
Click Here for my FAVORITE April activities and FREEBIES