A compilation of my favorite March activities and ideas for 4th Grade, 5th Grade, 6th Grade, Middle School & High School Classrooms. Ideas for Pi day, St. Patrick's Day, Women's History Month, and March Madness.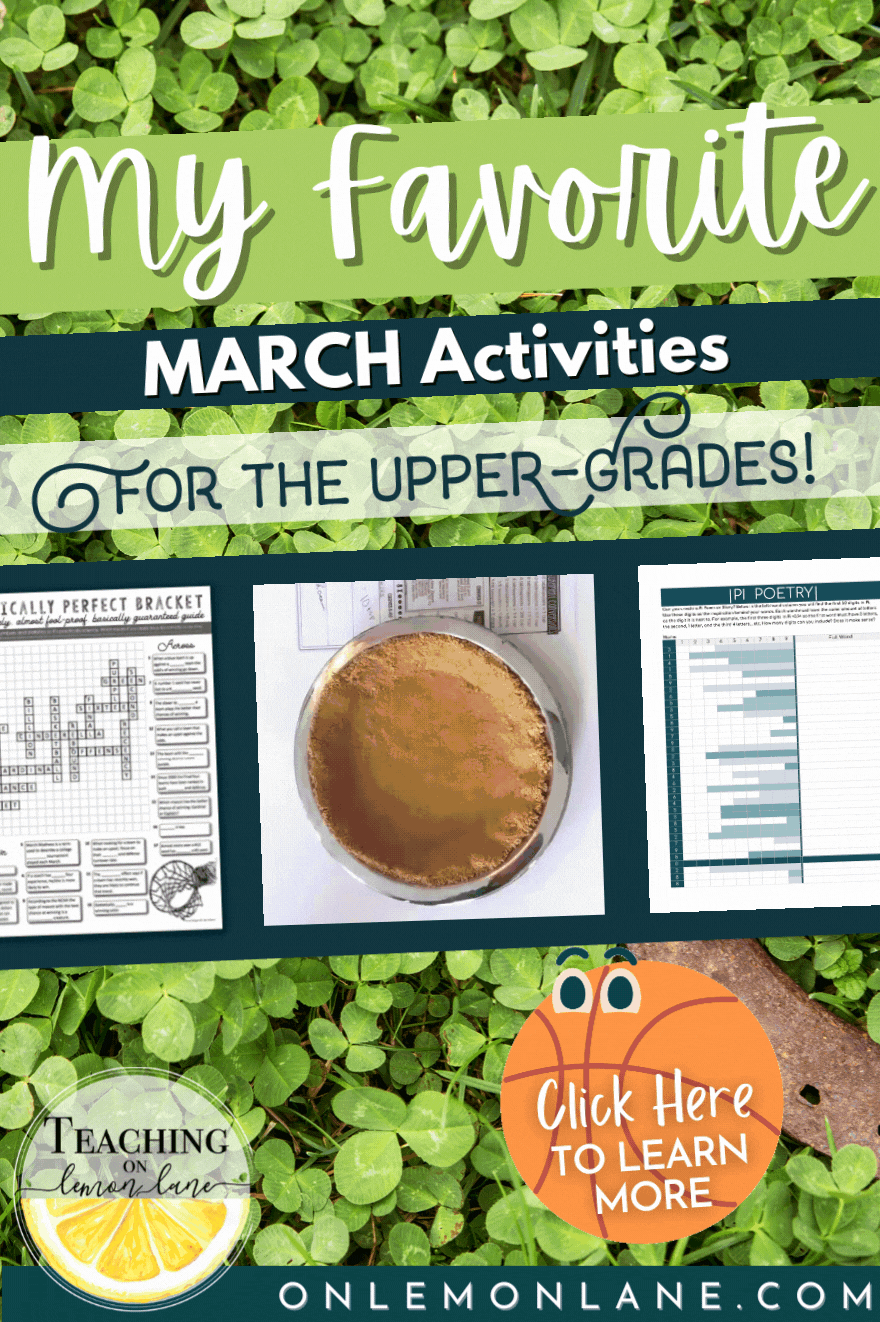 I'm a little giddy…
IT'S MARCH
March means SPRING
March Means PI DAY
March Means Women's History Month
March means MARCH MADNESS
and of course March means St. Patricks Day!
As a teacher, I wasn't always a fan of March…
In fact, in Utah we would refer to March as,
"The month with no 3 day weekends…"
If you're anything like me, you need something to look forward to. Especially during the climate confused days of March.
It's funny, but I think subconsciously I created and scheduled many of my favorite projects to survive March, and now the thought of March in the classroom honestly makes me GIDDY.

I've decided to organize this post into sections, as you read you will find resources, ideas, and freebies for the following categories:
Women's History Month

Pi Day

March Madness

St. Patrick's Day

BONUS: April Fools Day Printable Class Prank (April 1st Comes FAST 😜)
Before we dive in, I want to let you know that ALL of these activities are available as a BUNDLE! Why choose when you shouldn't have to right???
You can now purchase the March Survival Kit…?
I mean Bundle through Teachers Pay Teachers, and eventually in my shop!
When you purchase the Bundle you are able to save BIG and snag the following activities at a STEEP DISCOUNT! TPT actually warns me about listing my bundles at too steep of a discount… but I can't help it! I would love for you to be able to justify trying all of these in your classroom!
Another benefit to purchasing a bundle is that as I add new March activities to it you gain access to them without having to pay more! ***To sweeten the deal, I've also included the March Morning Meeting Slides as a FREE Bonus!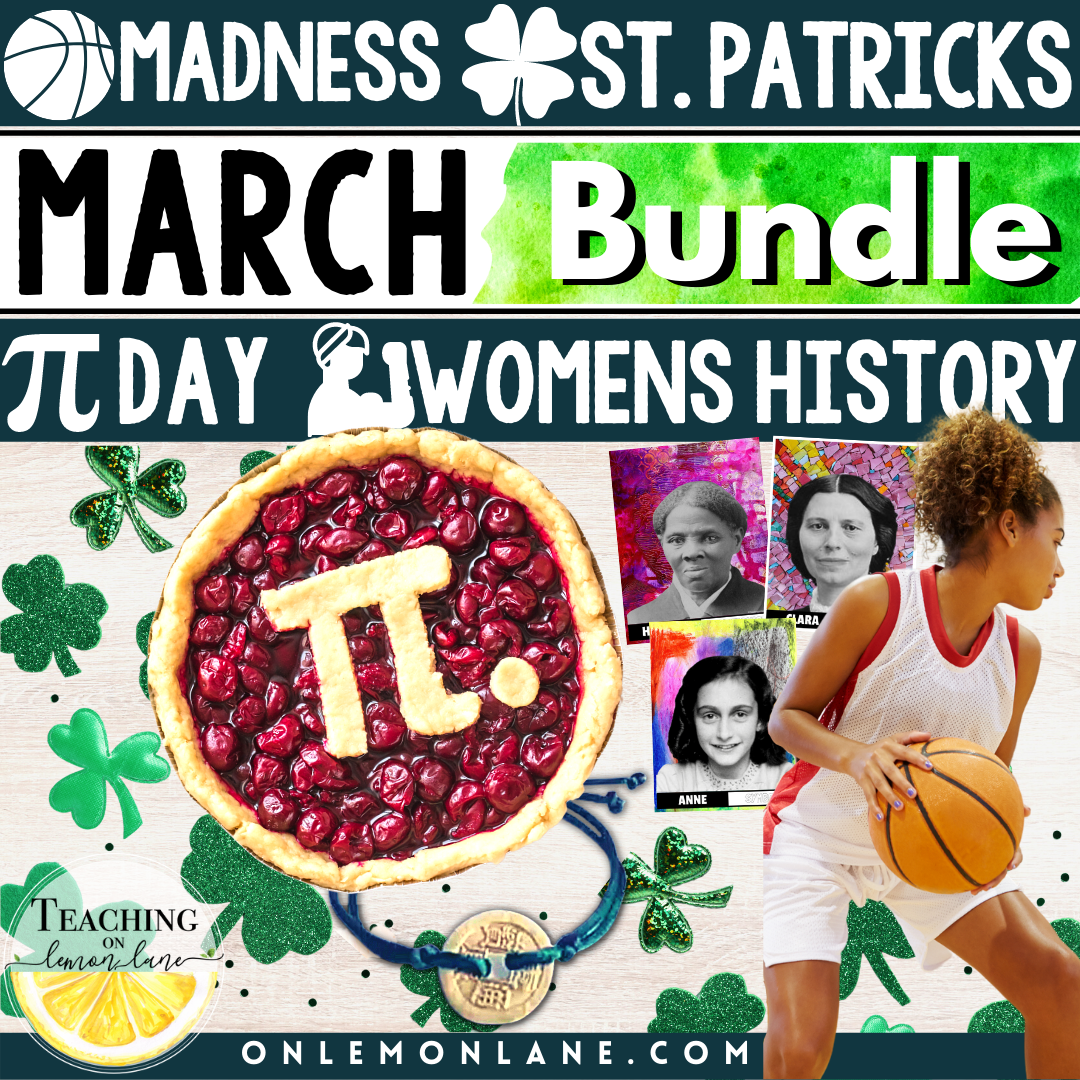 Women's History Month Art Project | Biography | Bulletin Board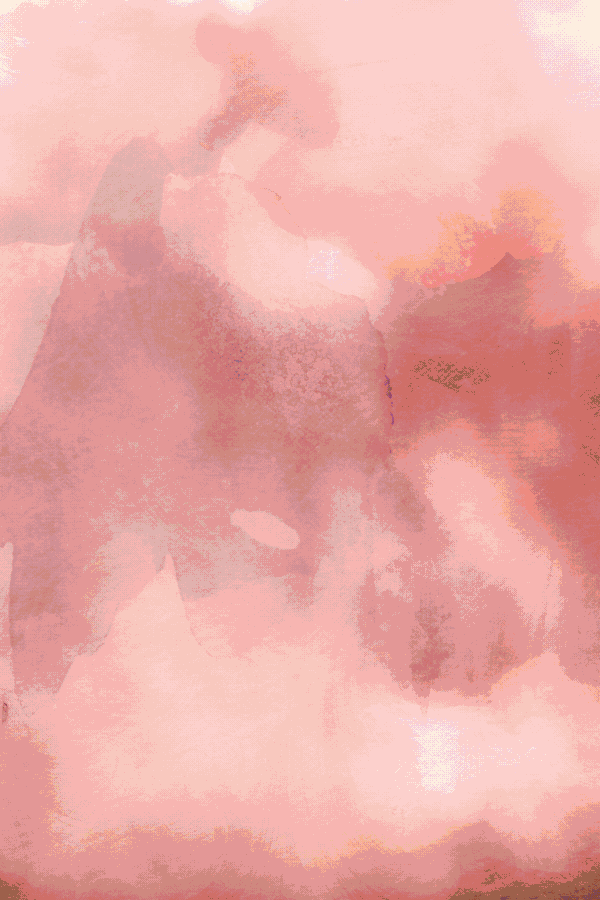 March is Women's History month and a GREAT time for students to learn more about the incredible women that have changed the world.
This download includes everything you need to teach your students about 45 incredible women from around the globe! I have included a portrait of each of these 45 women as well as a link to a biography about them.
The art project can be completed digitally or printed out and finished using a variety of methods like mixed media, watercolors, chalk, paint, zentangles, tissue paper mosaics, scrap paper…etc!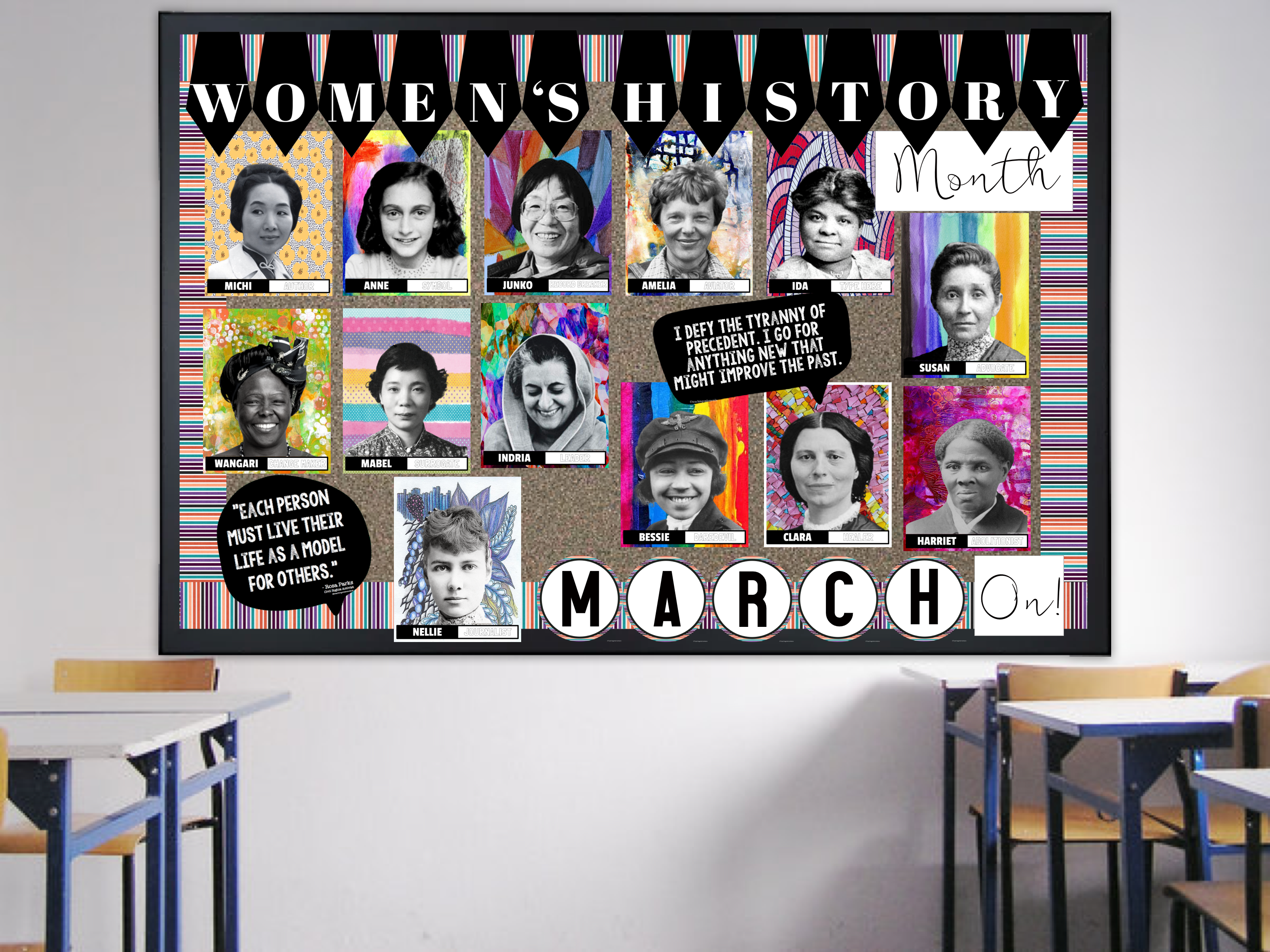 This product is JAM-PACKed:
Art Project Examples (Digital & Printable)
List of the 45 names to be used as slips for a drawing or sign up (Digital & Printable)
A linked button to a biography on each of the 45 women.
Black and White Portrait of each of the 45 Women (Digital & Printable)
Character Trait/Title Word Bank (Students can sum up their leading lady in a single powerful word.)
Research Option Links: Suggested sites for upper elementary and above (middle School/Secondary)
Quote Activity: Students find a favorite quote by their woman, then examine it and break it down. (Digital and printable activity)
Biography Research Graphic Organizer: Students organize information from their research on this editable graphic organizer. (Digital and printable activity)
Oral Report Script Page: Students use their research to write a compelling script for an oral report. I like to have them record their report using Flip Grid, they can also present it to the class. (Digital and printable activity)
Final Draft pages: These can be used to display the biography with the art project.
Pre-made PRINT and GO Bulletin Board Kit **See images for Bulletin Board
EDITABLE Bulletin Board Kit: Use Google Slides to edit the text and shapes to your own customizations!
Extension Ideas: I love to incorporate MARCH MADNESS into these Biography reports!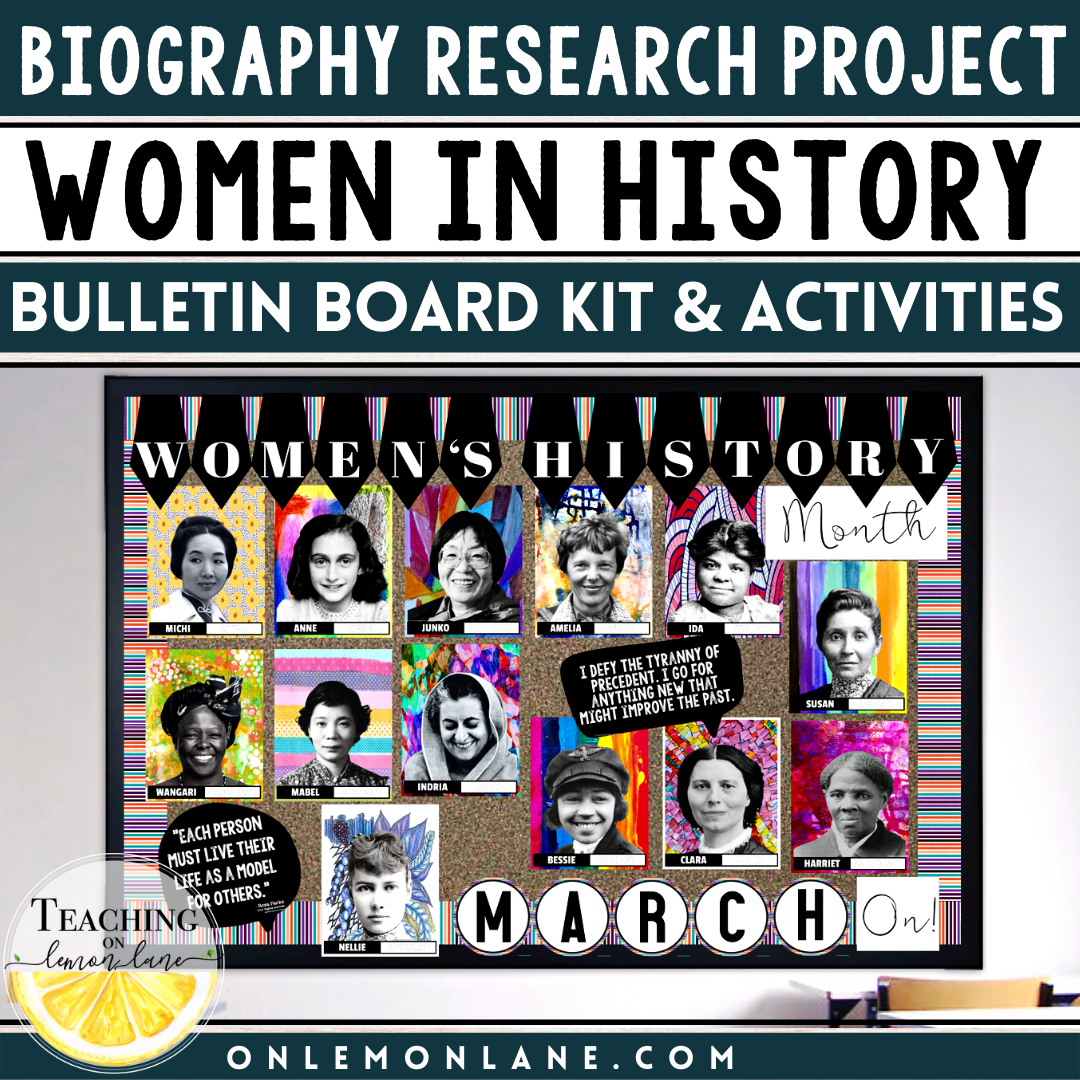 Pi Day
Give me a reason to eat pie and talk about numbers…. and I'm there. Pi Day can be celebrated and discussed at any grade level, and it should be! Below are a few of my favorite ideas for bringing Pi Day to the classroom!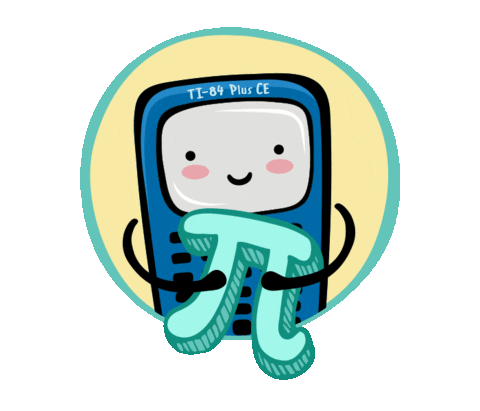 Make Pie for Pi Day
Call me biased, but this might be my most brilliant idea ever.
No Melting, No Mixer, No Baking, No Microwave, No Dishes, NO PROBLEM!
Students apply math such as repeated addition of fractions, multiplying fractions, simplifying fractions and measurement conversion to increase a mini pie recipe.
Best part…. They make the recipe with this 1000% classroom friendly process. Every "piece" of that pie #punintended is made in a ziplock bag with ingredients that simply require measuring.
Even better, it's delicious, and can easily be altered for any of your kiddos with food allergies. I'm convinced this is sure to be a favorite and memorable activity with your class! ? If you do this in your classroom, please, please, please, tag me!
For more information see this blog post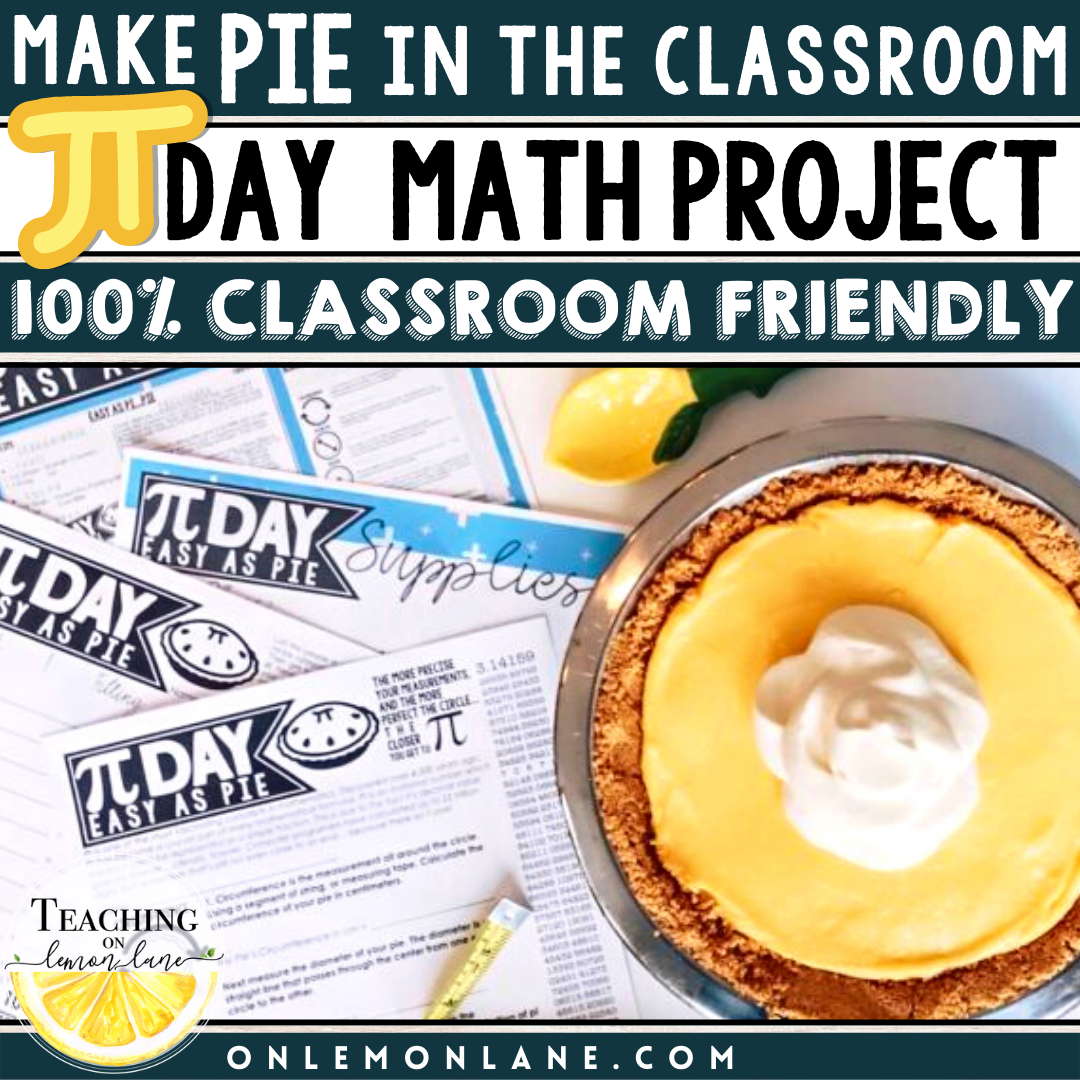 Pi Day Circumference (Free)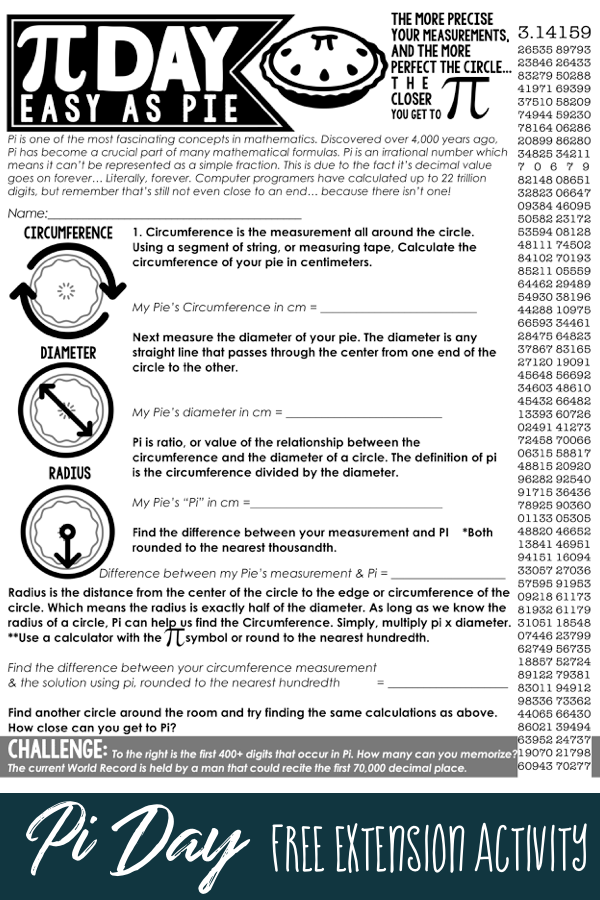 This extension is the perfect follow up for the activity above. However, you can also accomplish this activity by bringing in your own Pie, or rather any circular treat… cookies.
In this FREE activity students explore what Pi is, the definition of Circumference, Diameter, Radius, and Pi. Next, students measure their treat and find the following definitions above. Using circumference divided by diameter students find their "pi" the more precise their measurements the closer the value should be the actual pi!
They are also challenged to find the difference between their value and the actual value. Great practice for measuring, adding and subtracting decimals, and rounding. Students can use a calculator to solve, or practice those skills by hand!
Click Here to have this and other March Freebies sent straight to your email!
Pi Day Poetry (Free)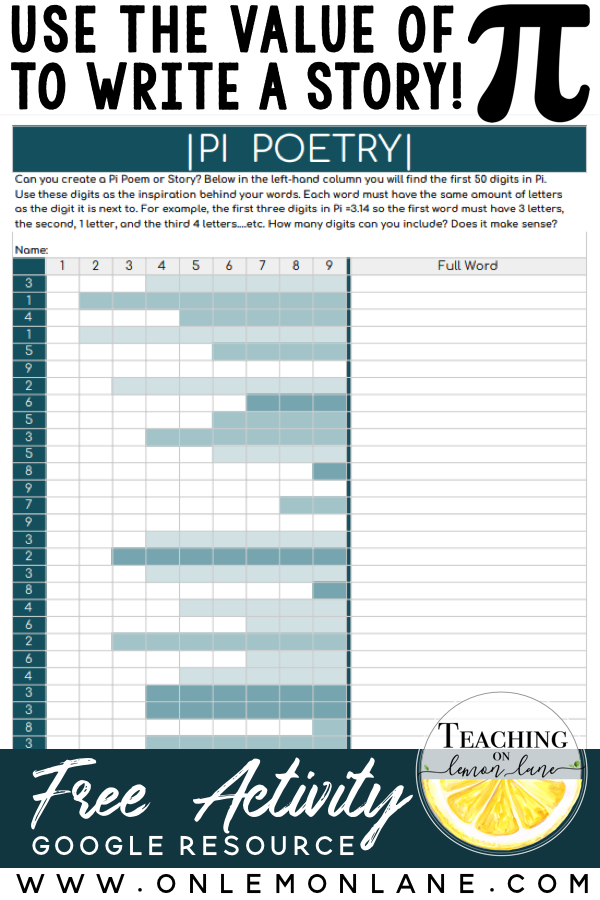 I LOVE this writing challenge. Taking the first digits that make up Pi, challenge the students to some creative writing with these parameters.
Students must write a story or poem that match up the amount of letters in a word to the consecutive digits in Pi. For example, the first 3 digits in Pi is: 3.14 So the first word of everyone's writing must be a 3 letter word, followed by a 1 letter word, next is a four letter word, and so on and so forth!
I've included both the digital version and a printable version of this activity! Complete through Google Slides or print and complete by hand!
Click Here to have this and other March Freebies sent straight to your email!
Pi Recitation Competition:
Probably the easiest, lowest prep Pi Day activity out there…. Good Old Fashioned… Competition. Challenge your students to memorize as many digits in Pi that they can. You can challenge them a week before, or give them 5 minutes to work some memory magic. Offer tips like grouping the numbers like a phone-number…etc.
Make sure to look up the record for most digits in Pi recited from memory…..
Don't worry I'll do it for you…
SEVENTY THOUSAND.
Blindfolded.
Mind.
Blown.
🤯
March Madness
I'll be honest… I don't always love basketball… but I ALWAYS love March Madness!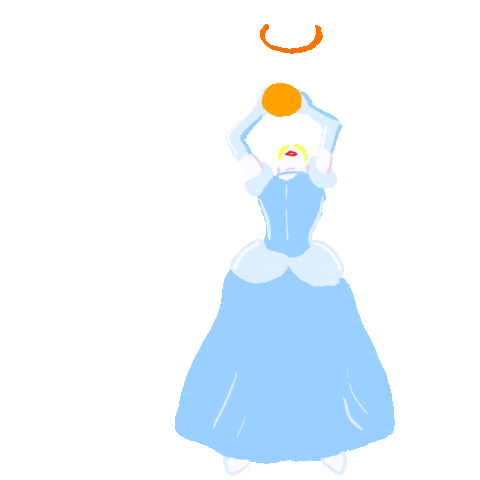 The Dream Team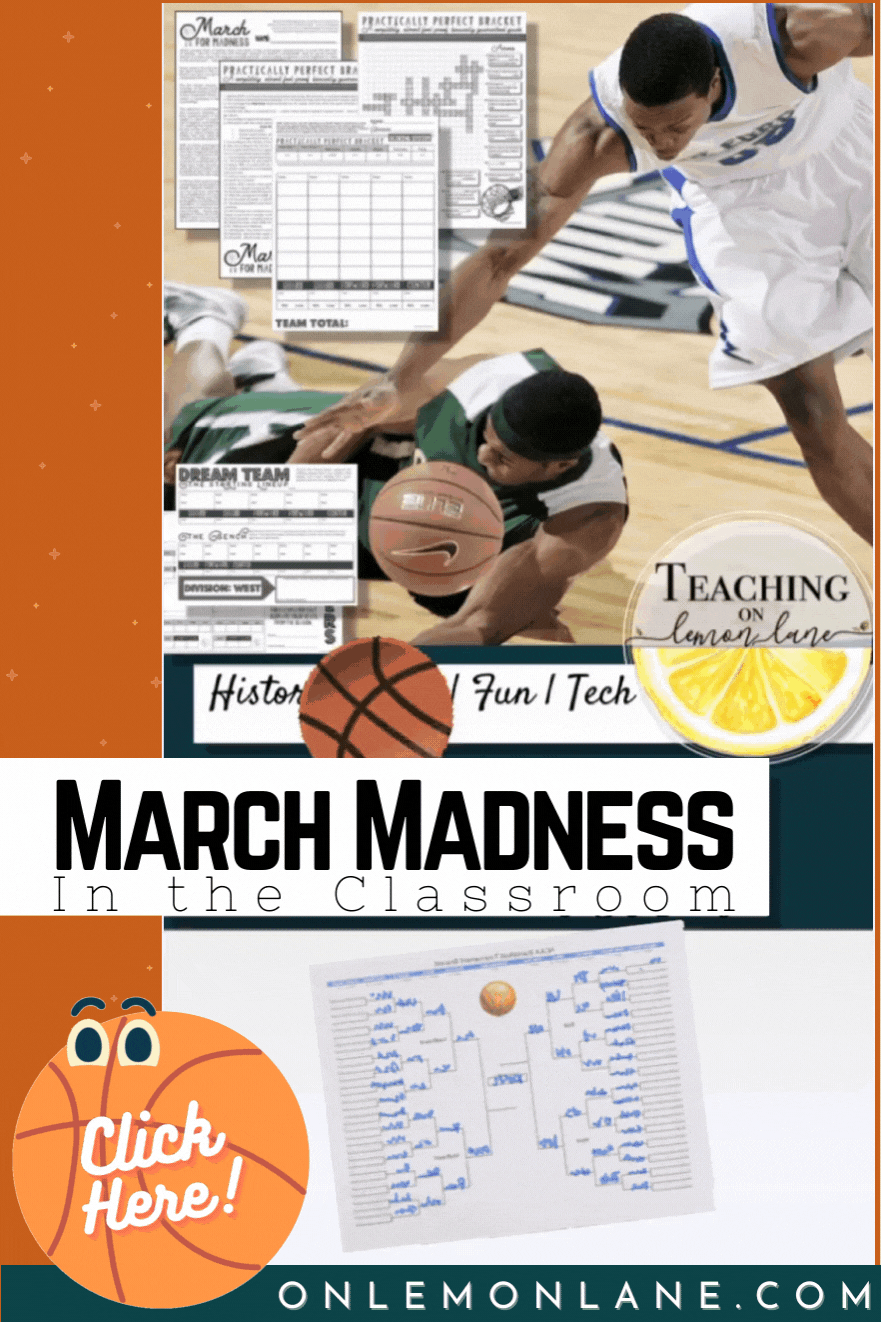 This activity is one that kept me up at night. I knew there had to be a way to bring the March Madness excitement into the classroom that incorporated mathematics. I focused on the statistics associated with the game, and from there the idea of combining March Madness, Fantasy Basketball, and Project-Based Learning bloomed.
My hope for this activity is that it will spark the interest and engagement of students that otherwise aren't, that students will be able to see how numbers are all around them and the math they are learning applies outside of school, and even to things they think are cool.
Product Description
Think March Madness + Fantasy Basketball + Lots of Math + A sprinkle of ELA = Engagement & Excitement & Learning
This product includes the following March Madness Activities:
Detailed step by step instructions
Details for filling out a private March Madness Bracket Online
March Madness reading comprehension and questions
Research a school of choice and design an infographic (Digital and print versions)
Differentiation for whole numbers, decimals, fractions, mixed numbers scoring.

Blank editable version available

Measurement conversion activity with ratios
Ordering decimals
Adding and subtracting decimals
Multiplying Decimals
Converting fractions to decimals
Mean Median Mode and Range using Sports Statistics
…etc.
This product includes a LOT. You can literally decide how much or how little, or how long you do this project in your classroom. Does the start of March Madness fall on Spring Break? No worries, start the project when you get back and begin to implement during the Sweet 16! Do it for one round, or all of the rounds, you can completely customize this project to your student's needs.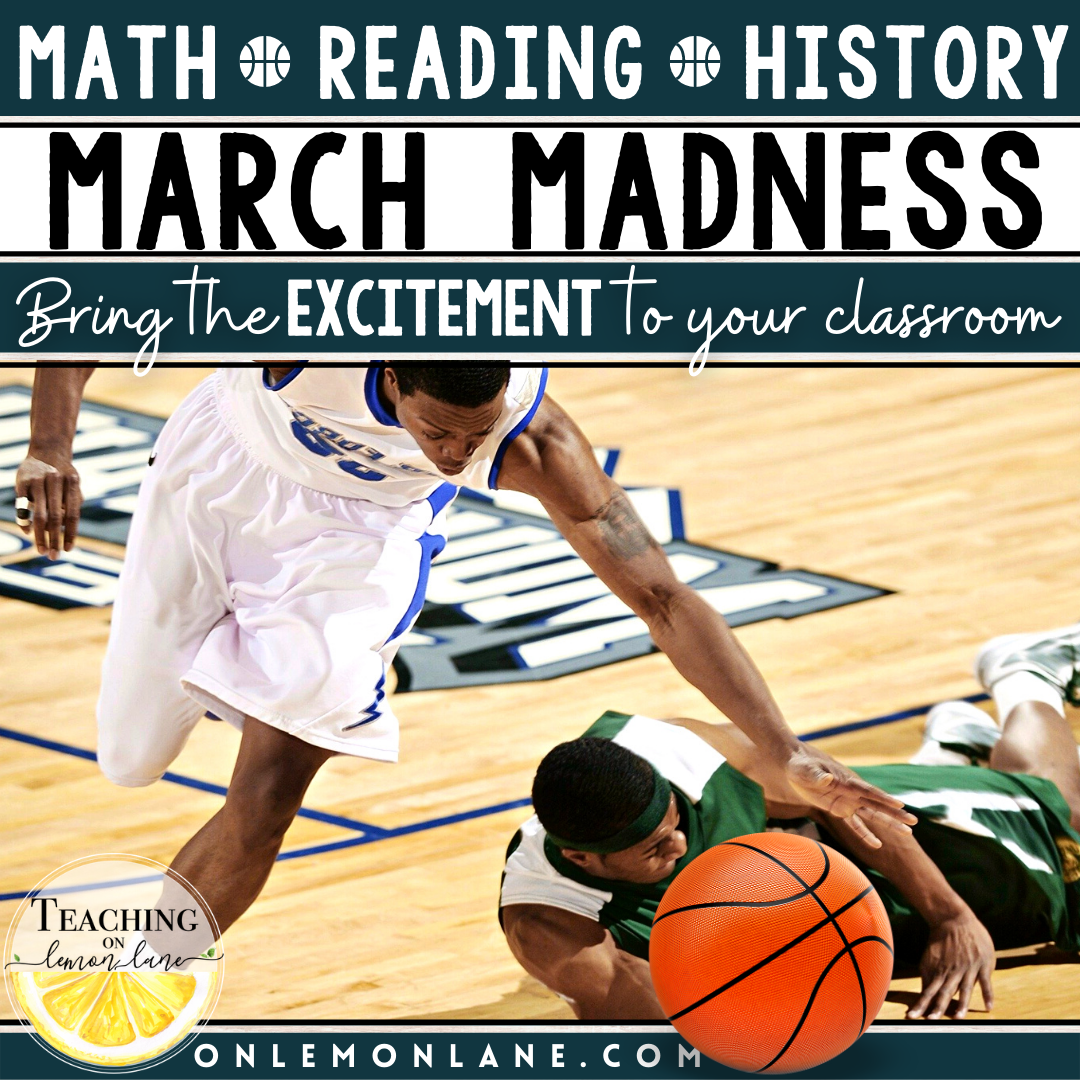 Bracketology: Reading Comprehension & Crossword Puzzle (FREE)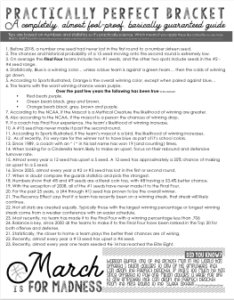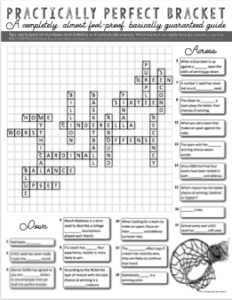 This activity is SO FUN. and is intended to be completed with the activity above, however it works as a stand alone.
A completely,
almost fool-proof,
basically guaranteed guide…to filling out the perfect bracket. (Tongue in Cheek)
This is a fun tip sheet that goes through "bracketology," and suggests what numbers show as the school color that wins the most, where to pick an upset, and even which mascot is more likely to win. This one is SO FUN. Guaranteed your class will LOVE this Reading Comprehension Passage and Crossword Puzzle. It will especially come in handy when filling out their own Bracket!
Click Here to have this and other March Freebies sent straight to your email!
Editable March Match-Up Bracket Kit (Use with any Subject)
In case you don't teach math but still want to invite the magic of MARCH MADNESS into your classroom… I created this Bracket Kit.
The beauty of this activity is that it:
Can make anything go head to head… (Books, Poetry, Biographies, mammals…etc)
Includes EDITABLE Bulletin Board & Display Kit
Digital version is included.
Use it with student's Women's History Biographies as they pick one QUEEN to reign supreme.
Use it do display student's DREAM TEAMS in the March Madness Math project above.
You can even use it with picture books, poetry, biographies, mammals…etc. No matter the topic if someone can have an opinion on it… it can be in a showdown.
This is a REALLY engaging way to practice argumentative and persuasive writing. In the past, I would use this type of activity with my students to practice their oral speeches they prepared for our grade level wax museum.
***Teacher Tip*** Do one Match-Up a day to keep students interested and attentive. This activity easily carries into April. This is how we would start our day after returning from Lunch. 2-4 students would present, then we would vote on who should move on. ***Make sure students understand that not everyone will have the same opinion that they do and that this activity can be based strictly on opinions.
Listing coming soon! Will be added to the March Bundle
St. Patrick's Day
I don't know what my deal is, but I've been on a BIG Ireland kick.
Putting this out into the universe…. Ireland, I'm coming for you.
I think it all began with our AMAZING trip to Notre Dame's Campus and football game. We were able to enjoy the game, and Touch Down Jesus in a box suite. Everything was a dream. Fighting Irish became a new life motto, which I felt I could claim having a little Irish blood in my pedigree, and two red head babies to my name.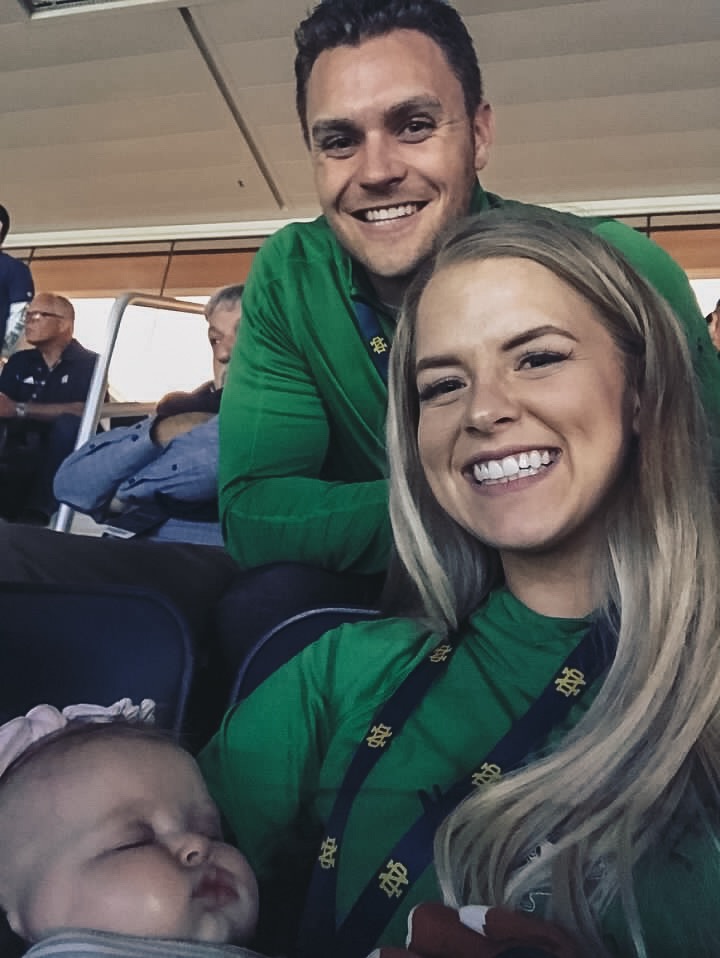 Between that and my current obsession with Ireland, St. Patrick, and their history… I just can't seem to get my fix.
Thus, I've got some GREEN goodies for you to try! some new and fun ideas for you to try!
I'm Lucky Clover and Bulletin Board Kit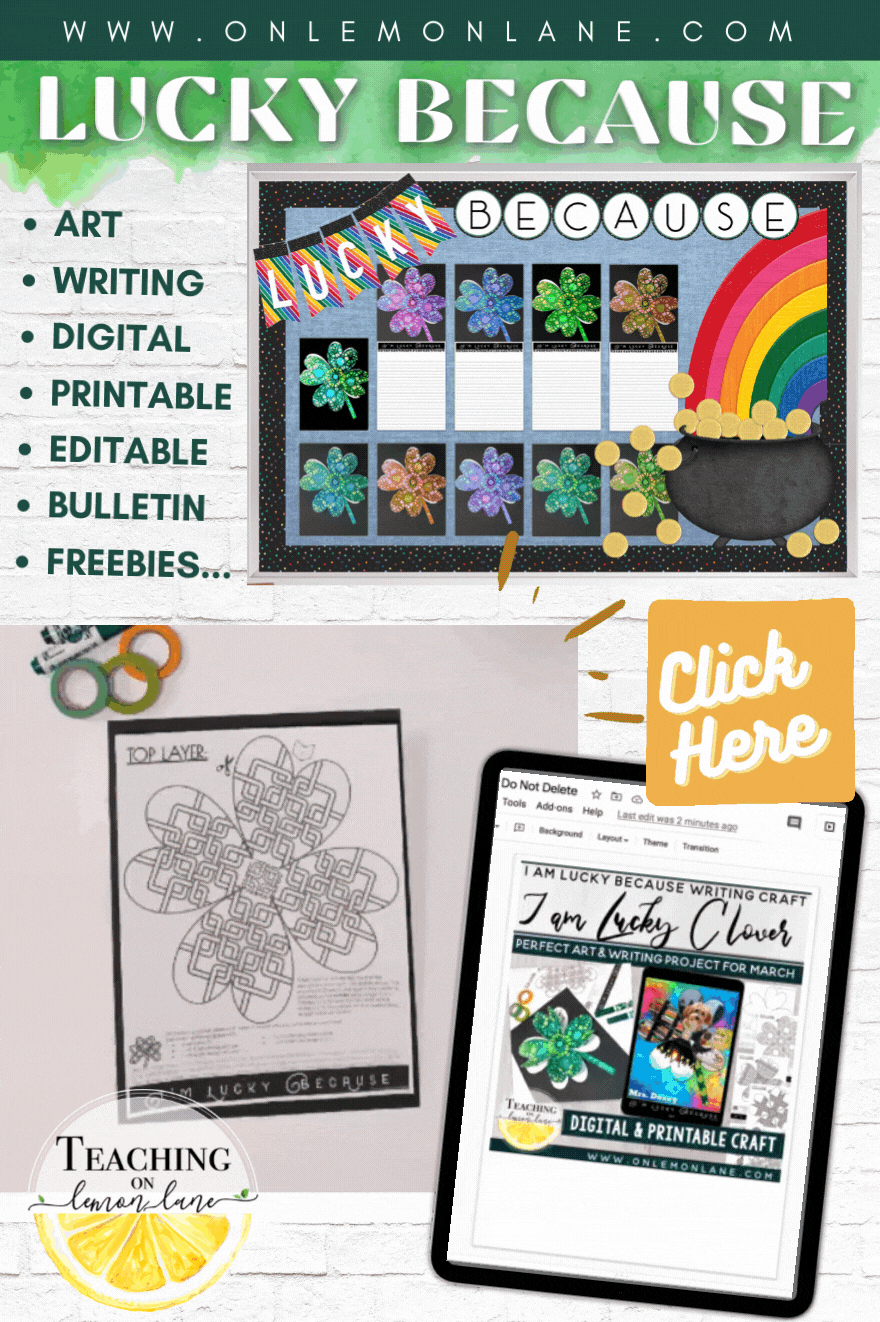 This is a really flexible project. Flexible in that it can span across a WIDE array of grade levels, ad flexible in how you want to approach it. The Celtic Knot Clovers can be completed by hand, or DIGITALLY.
If completing the Celtic knot clovers by hand, students have over 18 printable designs to pick from.
If completing the Clover digitally, students can insert pictures of what makes them "Lucky" by using my quick Google Search templates that insert the picture directly into the clover. (See video above for quick example)
This activity can be a simply St. Patrick's Day craft, where students write what makes them "lucky" underneath the Celtic knot clover foldable… OR you can take it a step further and have students actually write about it.
I've included a wide variety of writing pages including those that with large dashed lines for the younger grades.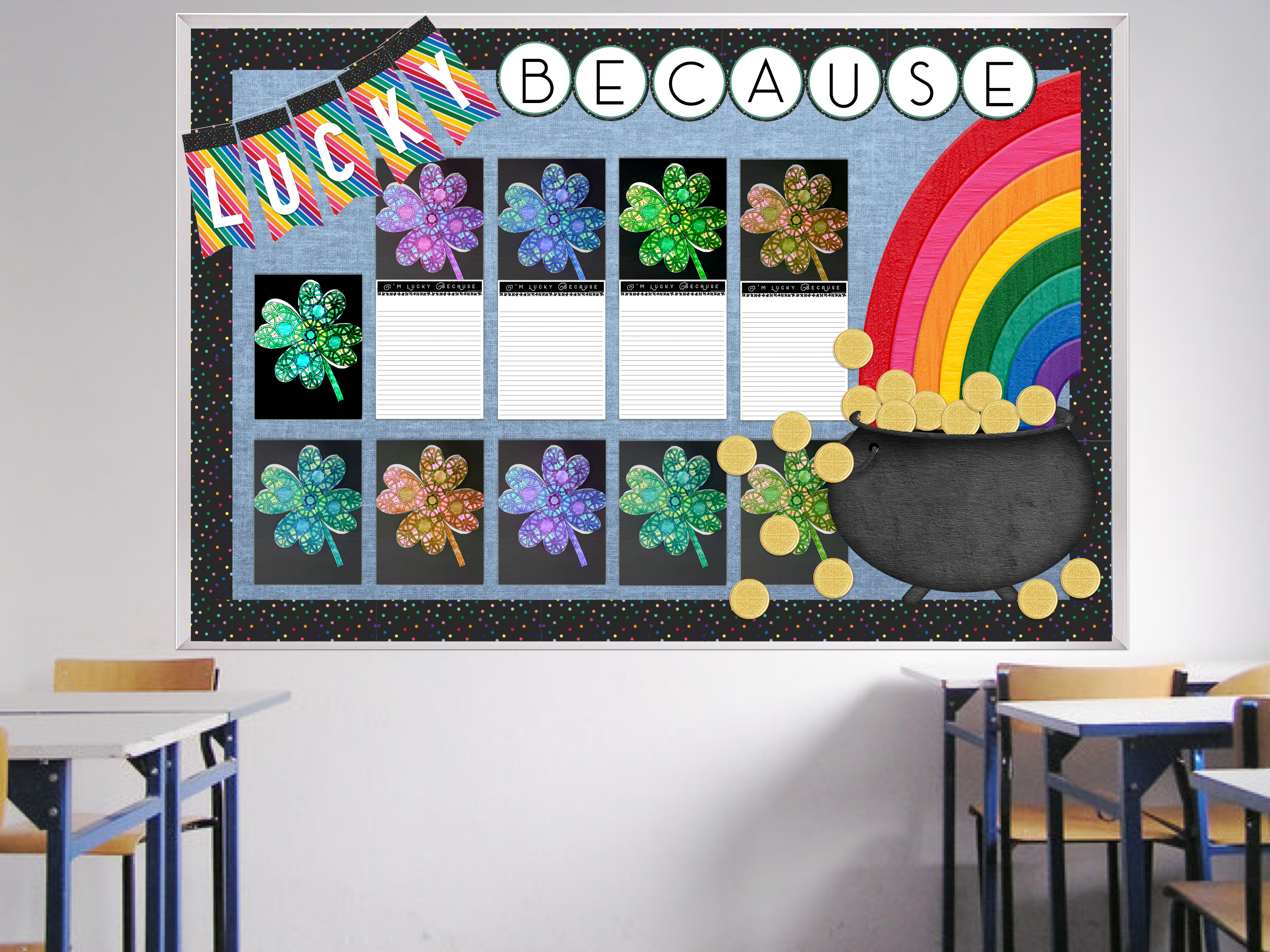 The last thing that makes this project FLEXIBLE is the editable bulletin board kit that is included! Use the bulletin board kit to decorate your door, or create a Hallway display. The kit includes letter pieces you can edit through Google Slides to completely customize the board to your classroom. You can even add your student's names to the Gold coins, or print and go with the pre-made kit you see in the picture above! Either way this a a fun option for showcasing student's work.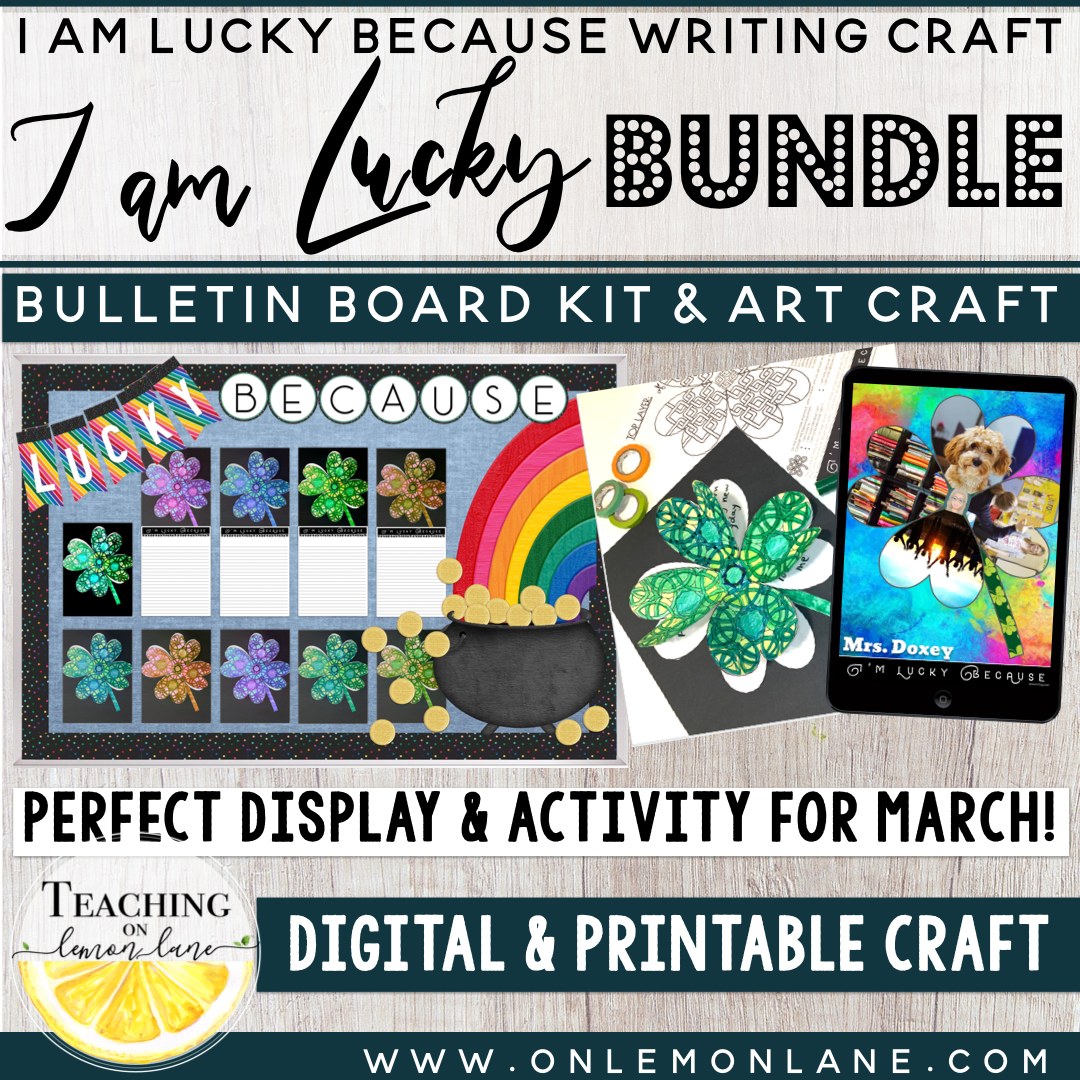 History of St. Patrick's Day Reading Comprehension & Crossword Puzzle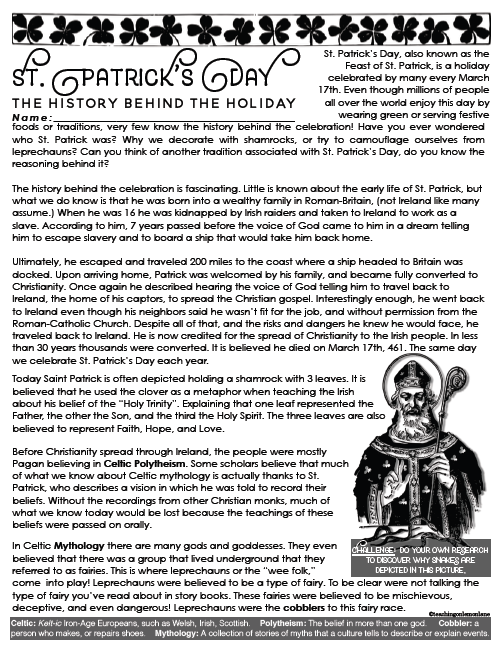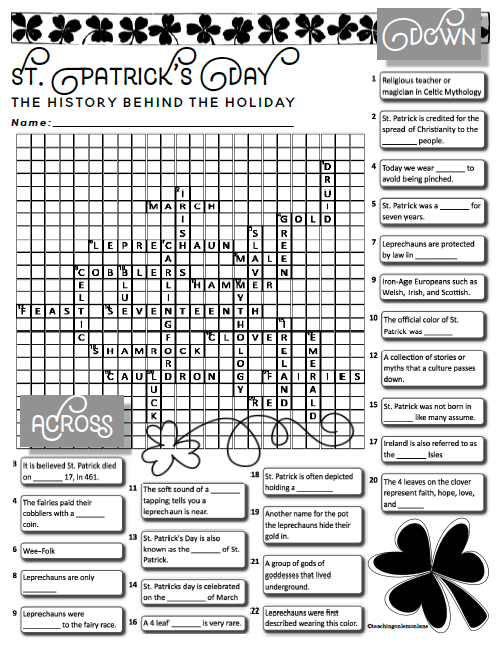 I don't even know where to start with this one, other than saying I enjoyed getting to know St. Patrick immensely.
Religious or not, Christian or not, there's a story here that EVERYONE will enjoy…
We're talking kidnapped at 16 and brought to Ireland.
Sold off as a slave, worked as a slave for years.
Mysteriously hears a voice telling him to escape slavery and travel 200 miles to the coast.
Where a boat just happens to be headed to his home in Britain will be waiting.
Said boat is full of pirates.
He finally makes it home only to turn back determined to bring Christianity to a Pagan Country, goes back despite no one thinking him capable, does it anyway. Absolutely FASCINATING. If you want to read his own account, CHECK THIS OUT.
Sorry for the run-on, I could not help myself, I geek out a little when it comes to history.
Anyways, this reading comprehension and questions give the brief and fascinating history of St. Patrick, as well as mentions Celtic traditions and legends like the fairy-race and leprechauns that have become part of the celebration as well! This reading and crossword based on the reading is sure to be enjoyed by all! If you want to geek out on more information, click here.
***I've updated this activity to include both a DIGITAL and printable version of this activity 🤓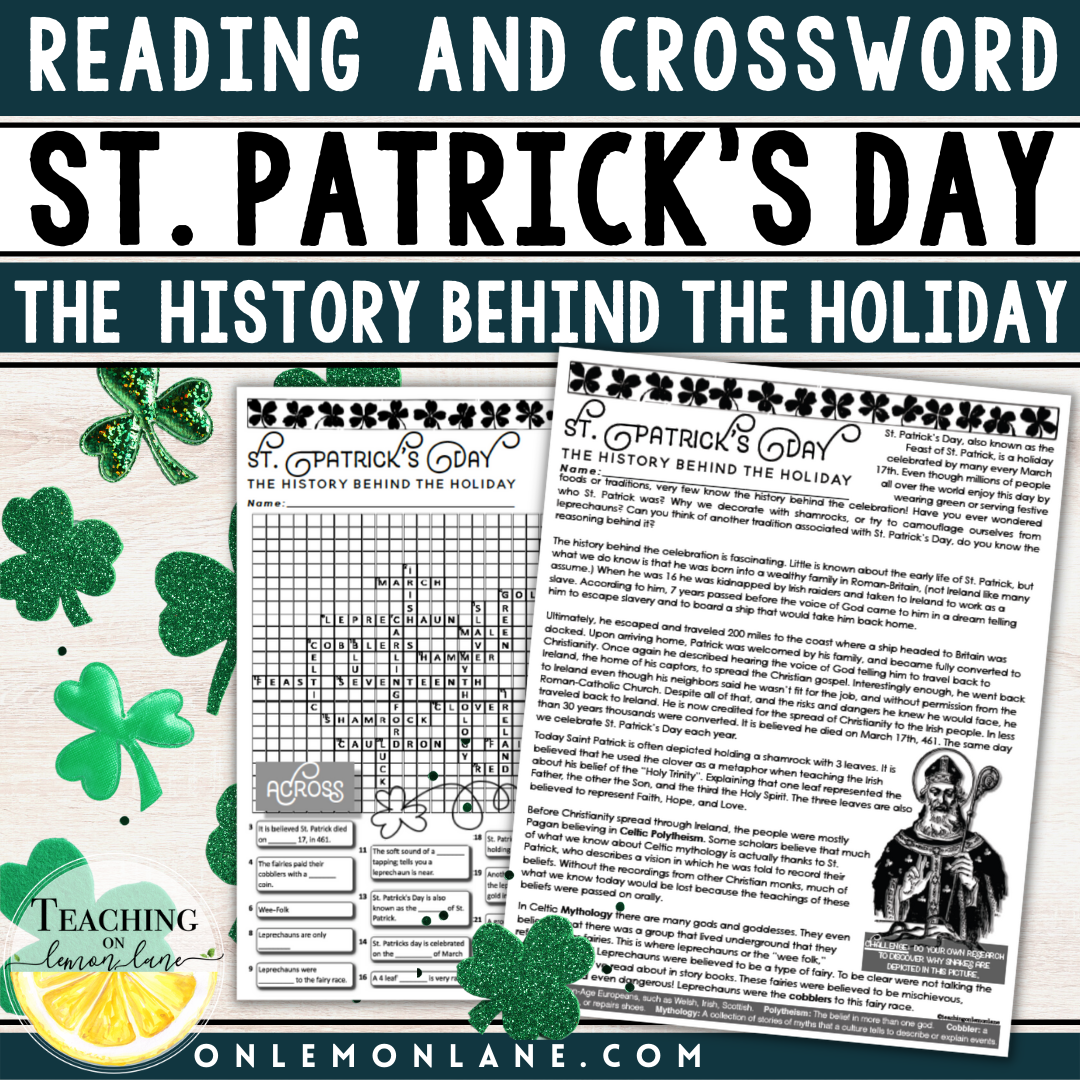 Luck of the Irish (FREE)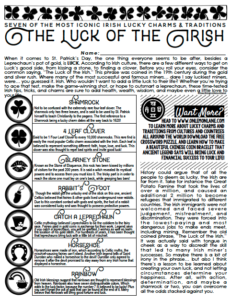 The Luck of The Irish FREE St. Patrick's Day Reading Comprehension Passage, questions, AND Crossword puzzle extension! Students learn about seven of the most iconic Irish lucky charms & Traditions including shamrocks, clovers, and even the Blarney stone! Students will also learn about the not so "lucky" history of the Irish people.
Click Here to have this and other March Freebies sent straight to your email!
The Luckiest Charm & FREE Craftivity Extension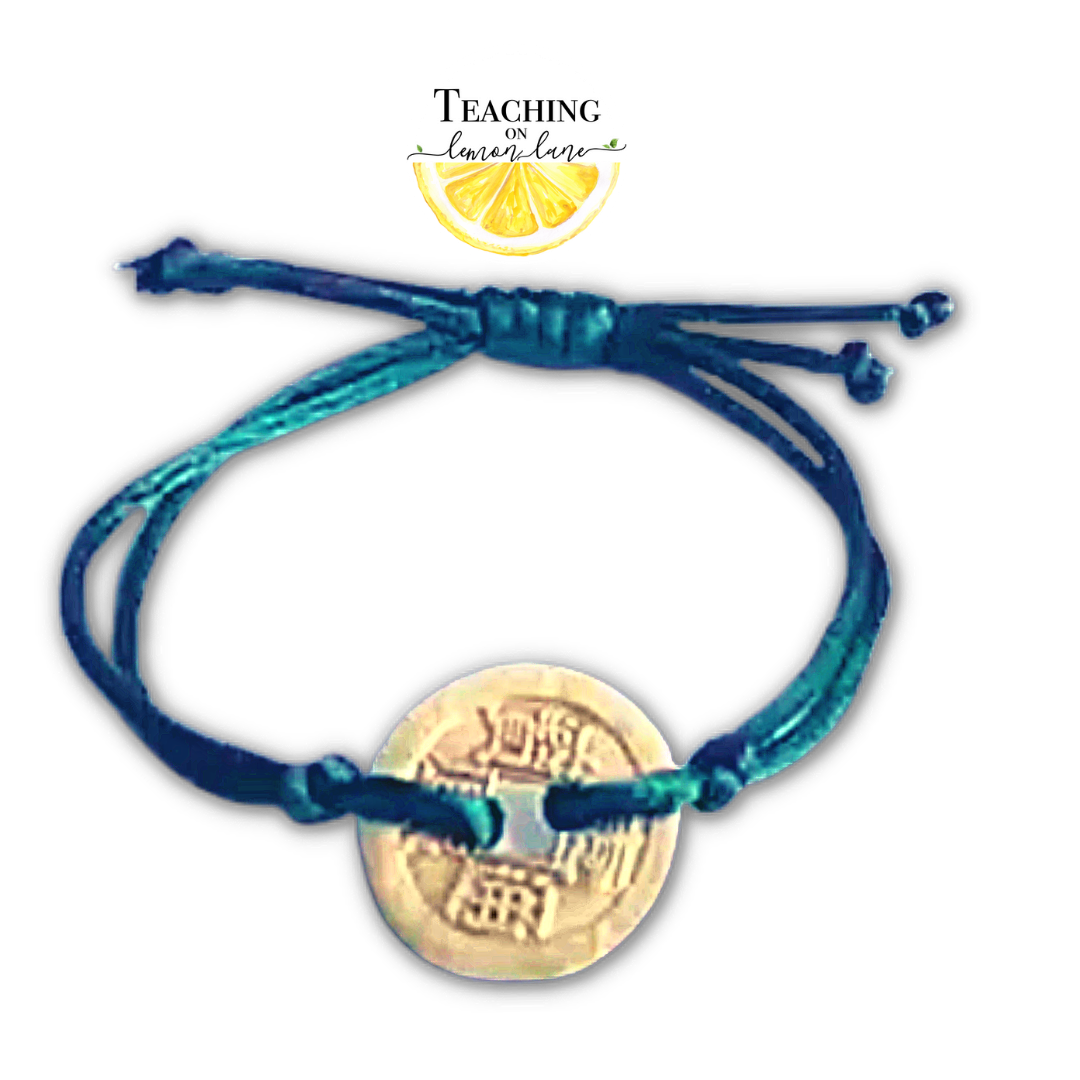 This one is SO FUN. The lucky coin bracelet craft I mention is a really fun extension that creates a complete activity that your students are sure to love.
Best part… You can outfit an entire grade level (That's right I said GRADE LEVEL… not class) with those bracelets for next to NOTHING, I include the Amazon links to the supplies I used in the March Freebie Download. Click Here to have this and other March Freebies sent straight to your email!
I like to complete this craft and reading during March because we are so focused on LUCK, plus it's fun for the students to wear their lucky bracelets during State Testing… However,
This activity is perfect for anytime of year, and has NO reference to St. Patrick's day in the reading.
Check out the video tutorial for the Lucky Coin Bracelet that goes along with the reading comprehension. ***If you end up doing this activity I highly suggest showing the video to your students to help complete the activity. 🤓
In this activity, students will learn about 13 Lucky Charms and traditions from all over the world, and across many different cultures. Including the Chinese Lucky GOLD coin that they will use to create their lucky bracelet. This reading comprehension passage, questions, and crossword puzzle have all been updated to include both the digital and print version.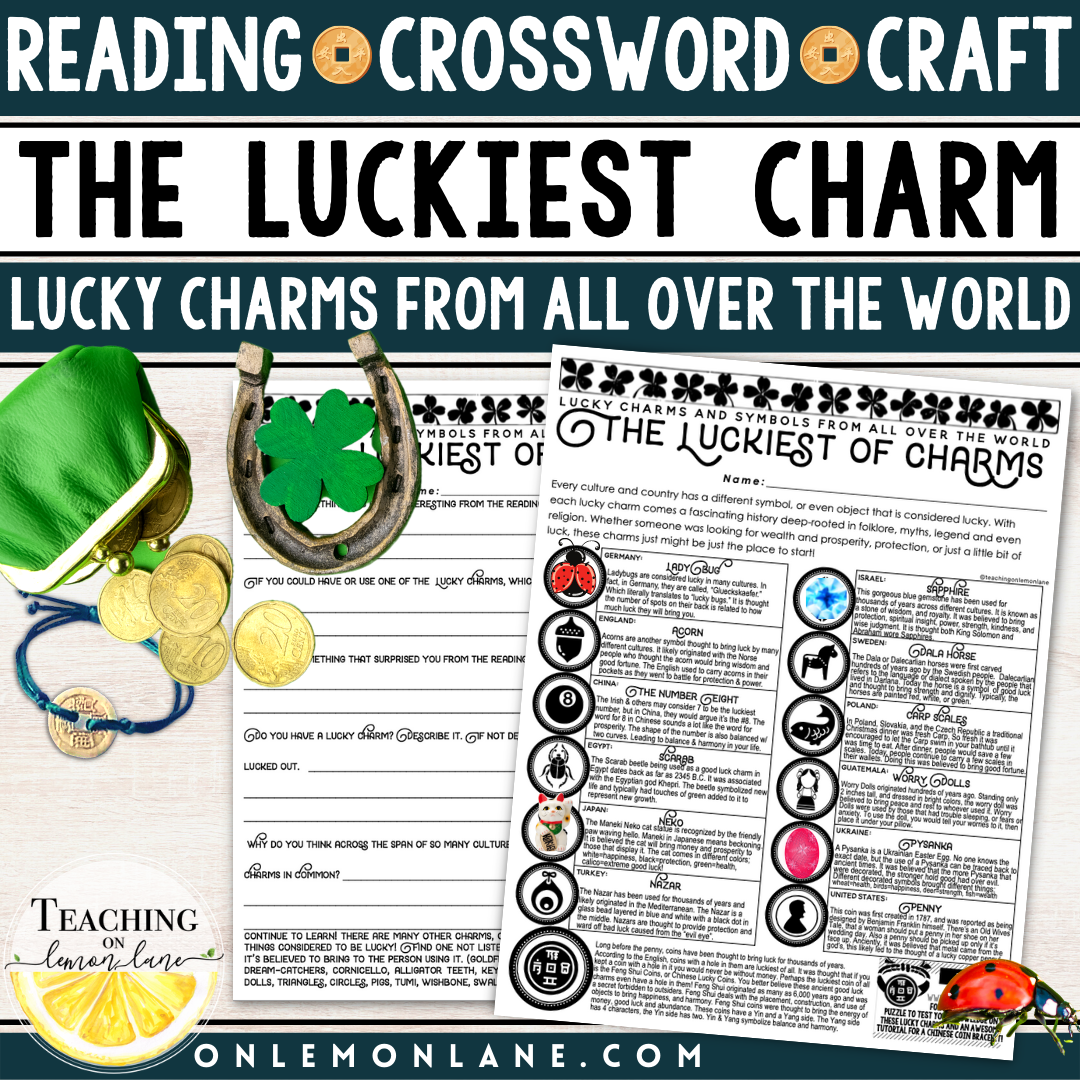 Love everything as much as I do? Remember you can snag it all in the March Bundle! Don't forget, every-time I add a new march related product you… you gain access to it 🤓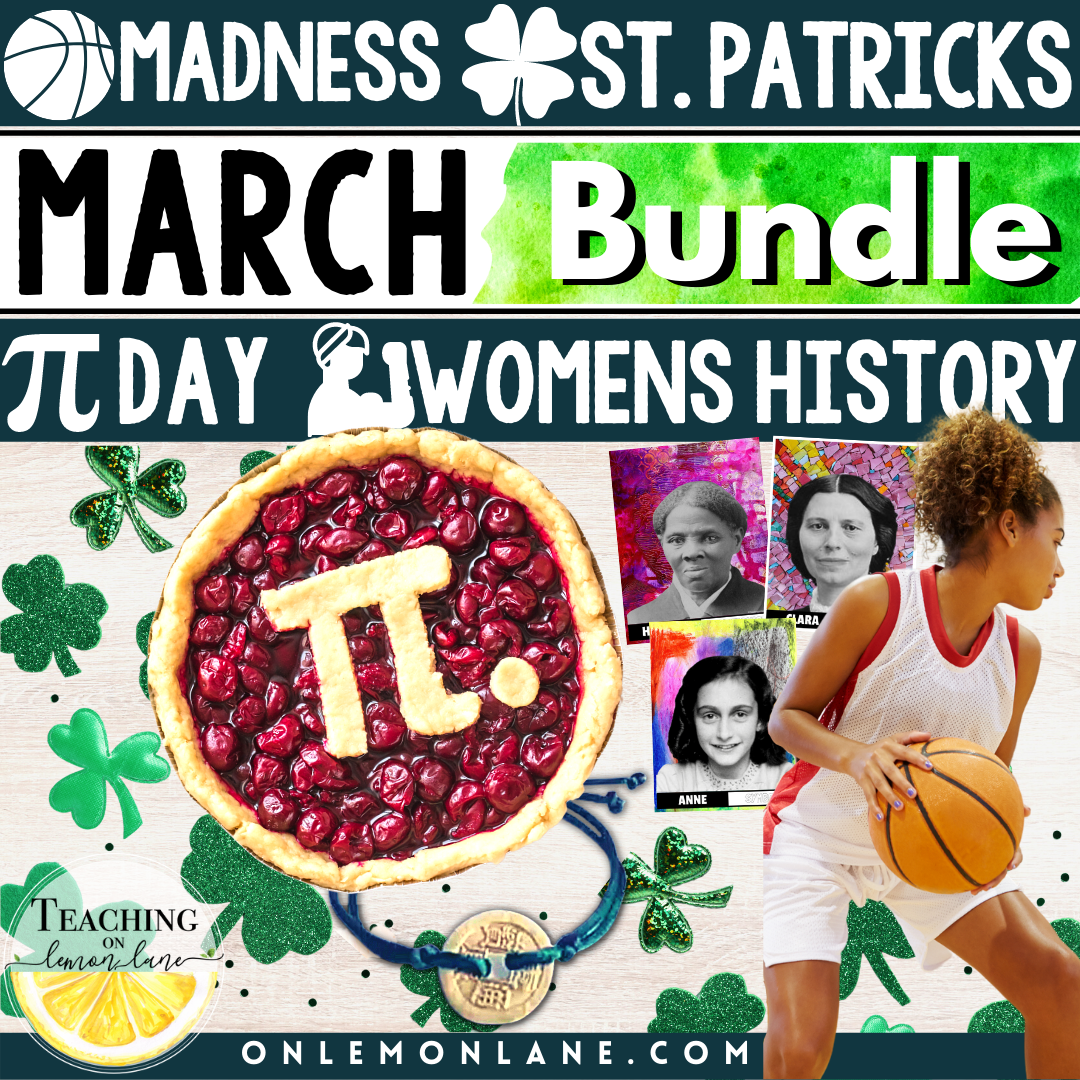 BONUS: April Fools Day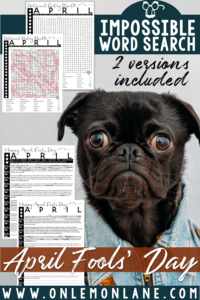 Because April 1st comes fast…
I had to make sure you knew about another one of my absolute FAVORITES.
In case you're in need of a little low-prep, comic relief… Which I can't think of a teacher that isn't.
You have to try my Impossible Word Search with your class.
April Fools' Day as a teacher wasn't always my favorite day.
That is until I started pranking my class..
Which helped… a lot.
We had teachers that would mirror screens in the computer lab next door and type messages to an unsuspecting class. GOLDEN.
Another favorite is the old turn in your homework I never assigned. Too fun.
A new favorite is to practice a flood drill with your students that has everyone practicing the front stroke in the hall for 5-10 minutes to build up their stamina… For when they need to swim… because the school is full of water… I honestly am not sure if I could keep a straight face with this one. So SO good.
However, the impossible word-search takes the cake for me. Low-prep, disguised to not raise suspicion, this one is hilarious.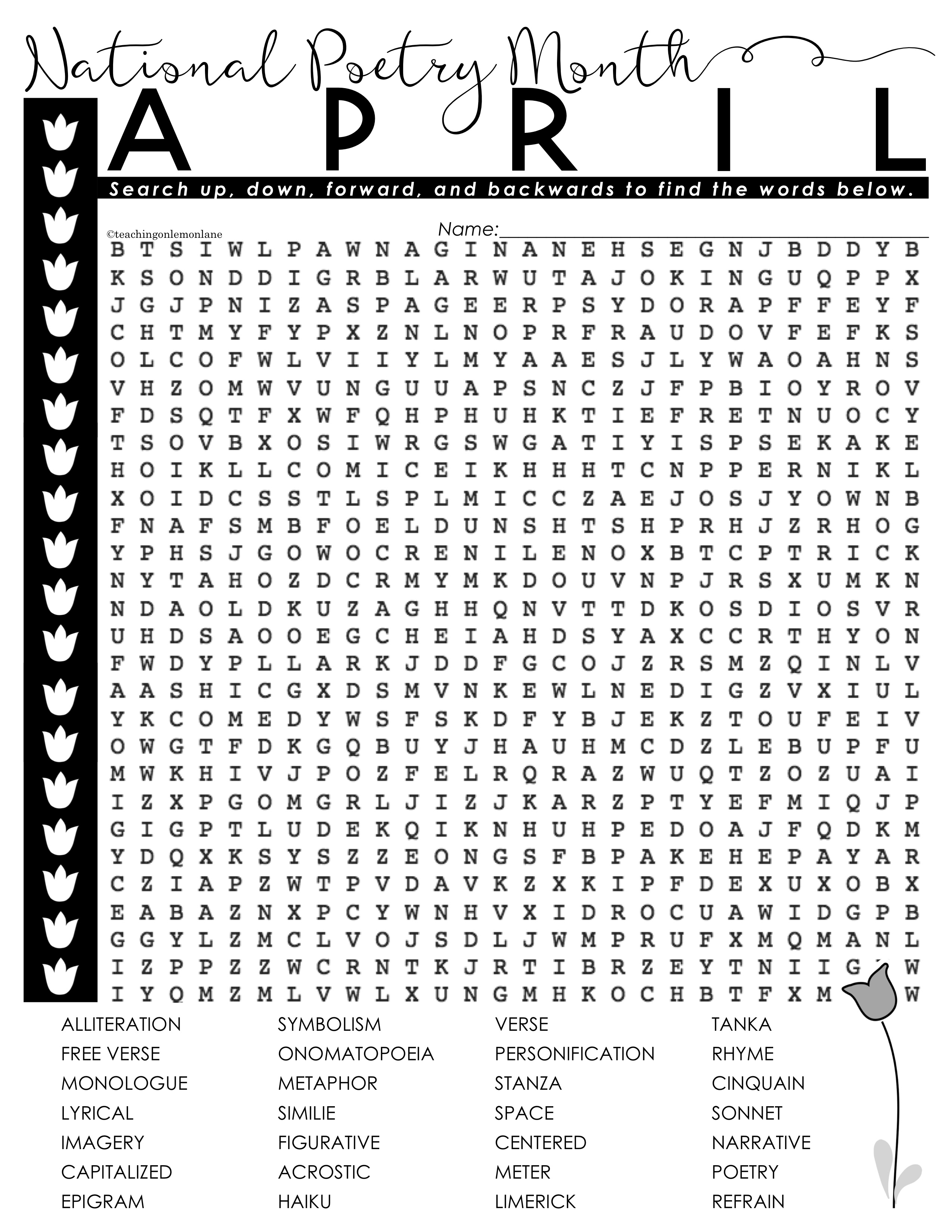 I've created an impossible word search, dressed in National Poetry Month clothing.
Perfect and completely appropriate/not suspicious for the first day of April. Assign it to your class, and try to suppress your giggles while they search,
and search,
and search,
and search, and search, and search, and search, and search, and search, and search, and search…
for words like lyrical, alliteration, verse, simile, metaphor, and acrostic.
The best part is they are simply looking for the wrong words….
Though if they were looking for words like:
BOGUS,
BUFFOONERY,
COUNTERFEIT,
HAPPY APRIL FOOLS DAY,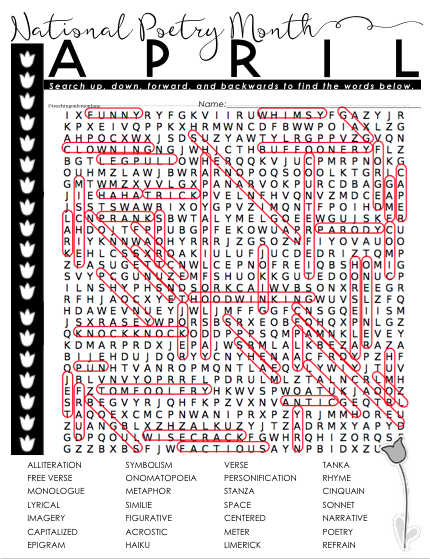 HOODWINKING, HORSEPLAY, JOKING, KNOCK KNOCK, SHENANIGAN, TOMFOOLERY, ……ETC…… plus 35 other terms.. they wouldn't be scratching their heads.
I created two versions of the word search, the same hidden terms just a variable in difficulty. The first version lacks a key. So sorry, I created this in the early hours of the morning and can't bring myself to research each term. The second version is simpler and includes a key. ***Students will likely catch on quicker to the second version, so it all depends on how you would like this to play out.
@courtneypenninton was kind enough to share some of the comments her students made while working on this pseudo-word search.
I almost feel bad for how funny this is to me…
Almost. 😅
"I keep finding words like comedy and joke, none of the words are about poetry"
"I've looked through this thing seven times."
"This is so hard, I've never worked this hard before…."
I could not help but giggle when I read through these! These are comments from the first version of the crossword. The words Happy April Fools' Day and all of the other 46 terms, we're just talking backward, diagonals.
I'm all about letting students struggle and fail just check out this Grit and Growth Mindset Bundle I created exactly for that reason! So if it were up to me, and my students were in 4th grade or higher, I'd use the first version no question!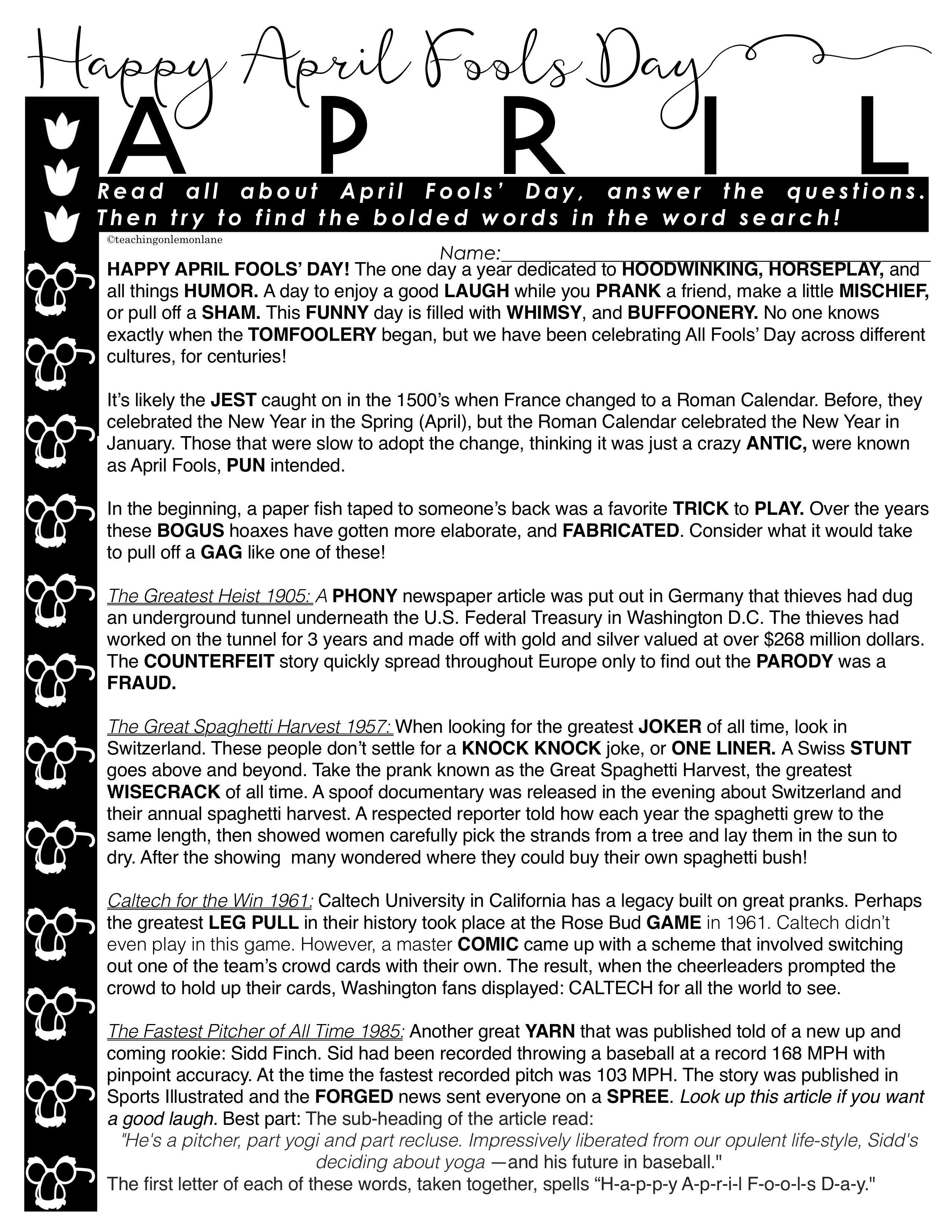 Once there's been a struggle and you've all had your fun. Trust me, they will LOVE this and the relief that comes when it all starts to click! Hand out the Informational Reading Passage on April Fools' Day.
This is a really fun read that covers a brief history of where April Fool's Day likely began, as well as a timeline of some of the greatest April Fools' Day Pranks of all time.
The BEST part.
All of the bolded words from the reading, are words that the students can ACTUALLY find on their pseudo-Word Search. The word search itself is Free and is included in both the March & April FREEBIE bundle. However, the reading passage and comprehension questions can be purchased here!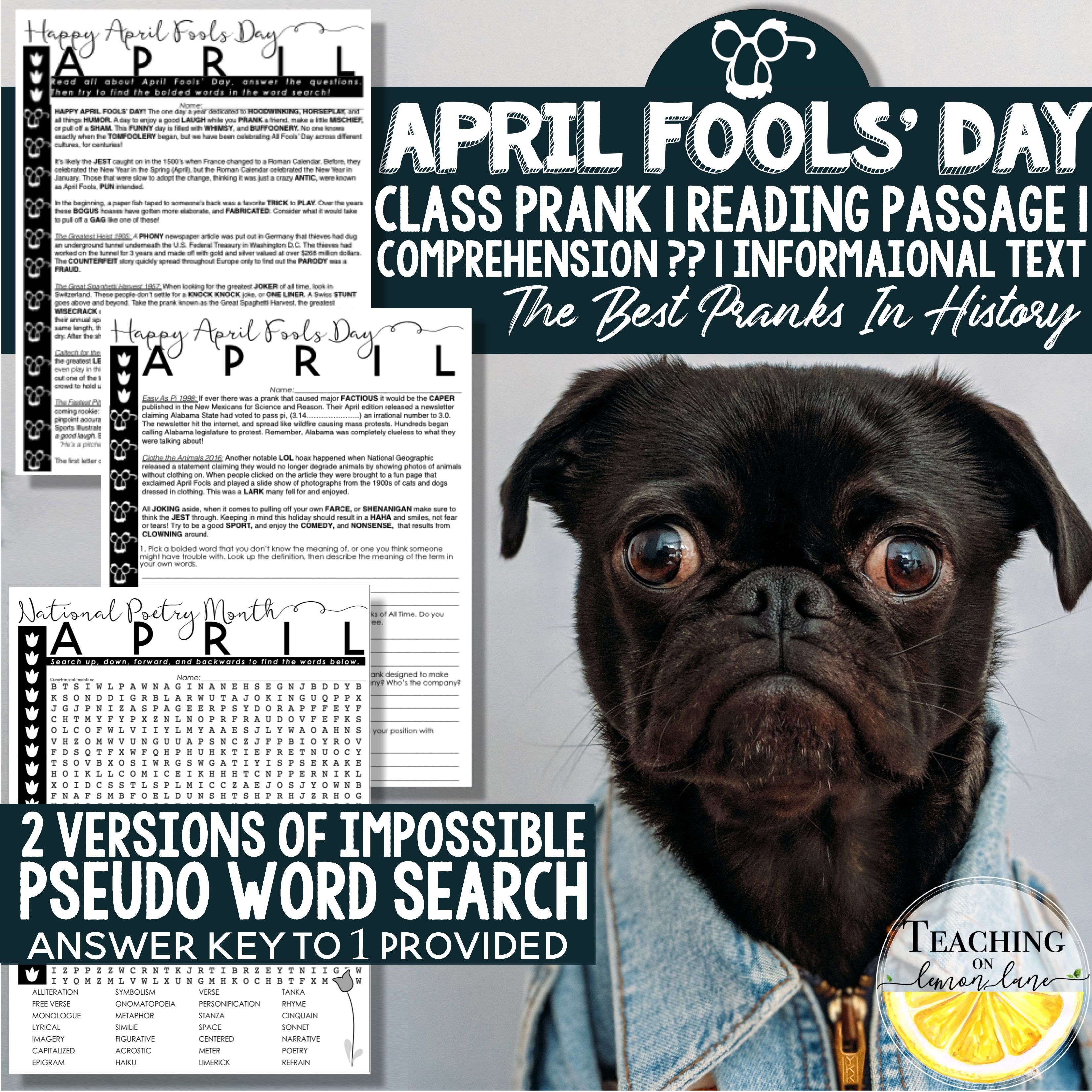 Exclusive On Lemon Lane Freebies
If you haven't already, make sure to snag this month's FREEBIES by clicking on the link below.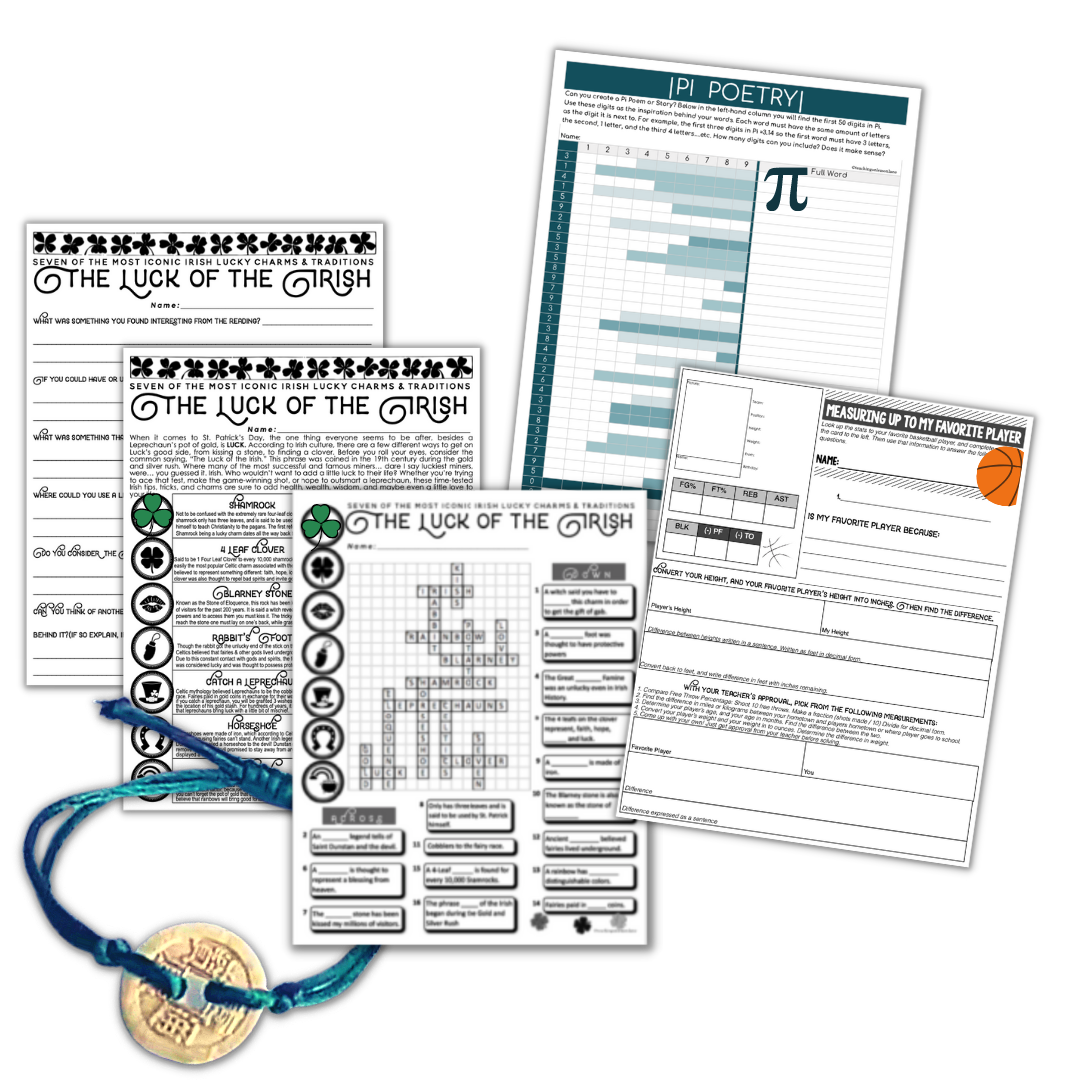 Click Here for the March FREEBIE Bundle
YOU DID IT! WE MADE IT!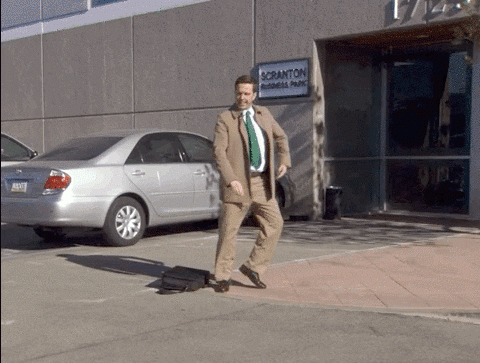 What's your favorite activity for March? Comment below!
Can't wait to hear what you think! Better yet, what did your students think? Comment below, or let's connect on Instagram or Facebook! Tag me in your pictures pretty please!

To stay up-to-date on new blog posts, freebies, exclusive promo codes, and sales… Join the Teaching on Lemon Lane Community! Pick any or all of the following to stay in the loop of all things Teaching on Lemon Lane.
If you enjoyed this PLEASE SHARE! Sharing on Pinterest, Facebook, or tagging on Instagram is a simple, yet wonderful way to support the efforts of Teaching on Lemon Lane!
Like this? You're Sure to LOVE These!
Free Downloads Included!
Click on the Image to Learn More
Click Here for my FAVORITE April activities and FREEBIES