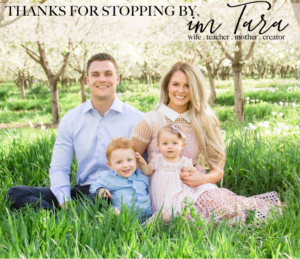 On Lemon Lane is a space dedicated to providing high quality, detail-oriented products for educators, religious teachers, stay at home mommas, and creatives alike. My hope is that it will be a place to uplift, inspire, encourage, and refresh.This site has been a product of my thoughts and dreams for a long time. I thrive when it comes to all things creative but nothing is more fulfilling than sharing them with you. If you haven't already, make sure to sign up to gain access to our exclusive member-only content. Subscription is free, and easy-peasy, lemon squeezy! *I promise I will treat your email as if it were my own… my personal email… not my trashy one 😉
You may be asking yourself, "What's with all the Lemon?" Great question! Lemon is a family name. My dad literally grew up on Lemon Lane, in a house his Great, Great, Great Grandpa Lemon built. Some of my fondest memories still live on Lemon Lane. To me, Lemon represents faith, family, foundation, and hope for the future.
I am married to my sweet husband Ben. We came about in a rather serendipitous way that left me knowing that Heavenly Father loves us, knows us personally, and is cautiously guiding us through life. I will forever be grateful for him. Ben is smart, talented, witty and fun. He loves discovering new music and enjoys anything related to smoking meat, hunting/conservation, or Sports, yet can sing every word to Newsies. We are both major foodies, love the Red Sox, and left a piece of our heart in New Orleans. We challenge each other. We balance each other. I am a better version of myself because of him. We are the parents to two beautiful babies, 17 months apart. 
Benson is hilarious and so smart. He is obsessed with animals and hunting and can tell you what a Oryx, and an Eland is… While singing along to Garth Brook's Thunder Rolls or Toto's Africa. He is wild and full of life, mischievous and sweet, rough and gentle all rolled into one.
Little Lovelyn fits her name just so. She is lovely. She has brought such a light into our family. This beautiful baby girl is the most strong-willed, little thing I have ever come across. Don't be fooled by her tiny stature, baby girl packs a punch. She has us all wrapped around her pretty, petite finger and she knows it. 
Even though the pictures are pretty and poised, know that our hands are full, and the days are long. My experience in motherhood has been such a rollercoaster causing extreme highs, and extreme frustrations, self-confidence, and self-reflections, utter joy, and utter exhaustion. Yet, it's all completely, worth it. Yes, our responsibilities and short-fallings and messes may be overflowing… but so are our hearts.
On Lemon Lane is divided into three separate categories.
Teaching:           · Educational · Fun · & Effective
Living:                 · Inspiring · LDS · Ideas
Creating:            · Everyday · Design · & Little Details
Each is a part of me.
Teaching
Educational · Fun · & Effective
Unlike most, I didn't always dream of becoming a teacher. However, after years of schooling and multiple degree shifts. (Literally I could have had my doctorate by the time I finally graduated. I just have an interest in too many things. The idea of picking just one constantly eluded me.) I finally decided to finish my degree in Elementary Education. When asked why ELED? There were a few logical reasons that came to mind, but the overarching idea of the importance of the role of a teacher stood out. I literally credit my success in school to two instances with two separate teachers. Both saw something in me that I didn't see in myself, and held me to a higher standard. I felt that if I could have this same type of impact on another, that it would be enough.
Becoming a teacher was one of the best decisions made. Not only did I discover a love for teaching, I gained knowledge and experiences that I draw from daily. Teaching also allowed a creative outlet. I was able to fine-tune my digital design skills as I created to the needs of my classroom. Like many teachers I was also in for a rude awakening to the demands and weight that accompany this profession. Many days I felt like a sub-par mother, wife, teacher, and community member. Working so hard to keep my head above water feeling mediocre in every facet. While the never ending paperwork, logistics, and hoops mounted.
Regardless of the obstacles, I loved teaching. Deciding to stay at home with my then two under two was a more bittersweet event than I could have ever imagined. There is a family created when teaching: your grade-level team, your students, the faculty, parents… 5th grade will forever hold a special place in my heart. My goal while at home is to continue to create products, and deliver fresh ideas that are educational, interesting, and effective. With the hope that in turn some of that precious teacher time will be freed up. If you are a teacher make sure to join the Teaching on Lemon Lane Facebook Group, here you will find a wonderful community willing to share their expertise and ideas, and follow Teaching on Lemon Lane on Instagram. Both are a great way to connect, and stay up to date when exclusive FREE teaching products are added to the Teaching on Lemon Lane resource library.
This error message is only visible to WordPress admins
There has been a problem with your Instagram Feed.
Living
Inspiring · LDS · Ideas
My faith is my foundation. If you are a member of the Church of Jesus Christ of Latter-day Saints, involved with Relief Society, Young Women, Sunday School, or interested in Gospel Lesson helps, Family Home Evening, Mutual ideas,  Scripture Study, or other Christian-based teaching resources. This is the place for you. You may also be interested in joining the Living on Lemon Lane Facebook group. A community built on the intent of Mosiah 18: 8-9. As well as following Living on Lemon Lane on Instagram. Here I strive to share inspiring stories, tender mercies, and faith promoting products and Latter Day Miracles, (original #latterdaymiracle). Everything I create in regards to my faith will always be free and can be accessed in the Living on Lemon Lane resource library. To learn more about what I believe, click here.
Creating
Everyday · Design · & Little Details
Here you will find a plethora of everything else! Organizational, Holiday, House Decor Designs, Gluten Free Recipes, Travel, Tips and Tricks, Lists and Guides, Party Invites and Details, Travel and Stay at Home, Crafts, and DIY projects, Favorite Things and not so Favorite Things… Being a wife and a mother. Basically a glimpse into the everyday, perfectly-imperfect, lemonade like life we live. These products can be found in both the shop, and the free resource library. I'd love to connect more! Make sure to like the On Lemon Lane Facebook page and follow On Lemon Lane on Instagram.