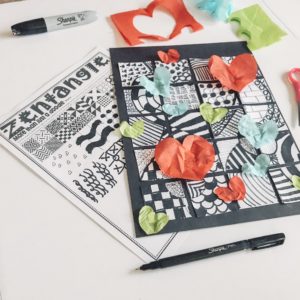 This is such a fun activity that my students always loved! The end result is so impressive, intricate, detailed with fun pops of colors. Students are always thrilled with the final product. What most don't realize is how simple, and fun the process is. Any student can have success with this project.
You can purchase this fun Valentine's Day Art Project at Teacher's Pay Teachers, Click Here to View. This product includes the mapping template, and the Zentangle planning page, as well as past student examples you can show to your class for inspiration.
To complete this project you need to either print the two grid pages back to back, or you can simply glue both pages together. Students practice and experiment with their design on the brainstorming page, then execute their design on the back to back grid page. When the pages are glued back to back or printed that way, the numbers on the backside of the student's design will help them map out their paper once they cut it out. ***See the video for clarifications.
Supplies:
Tissue Paper Various Colors
Scissors
Glue
Construction Paper
Black Ink, Markers, Sharpies, Pens…etc.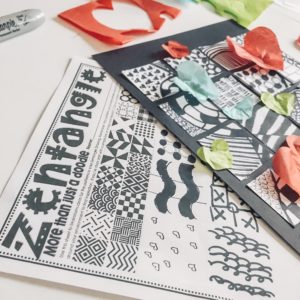 Instructions:
Practice designs on the Zentangle Planning Sheet
Glue the two grid pages back to back if they weren't printed double-sided. **Make sure grid marks line up.
Sketch out the big picture, then use black ink (Markers, pens…etc) to complete the zentangle. **The less white space the more impactful the final look will be.
Use the grid marks to cut out each square.
Using the numbers on the back of the square, put the pieces back together to create the big picture with small margins in between.
Glue the pieces of the zentangle on to a piece of colored construction paper, leaving a small margin in between each piece.
Cut out tissue paper hearts of different sizes and glue them to the zentangle and construction paper.
Display, and enjoy!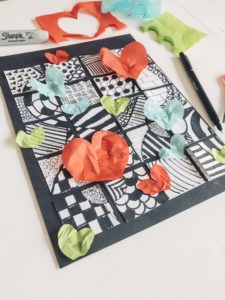 Can't wait to see what you do! If your looking for more ideas or would like to share your own ideas please join our member-only  Teaching on Lemon Lane Facebook Group!
Please tag me on Instagram I LOVE to see what you come up with! This project makes a beautiful hallway display or bulletin board. Stay tuned for a poem template I'll be posting that corresponds perfectly with this art project!

To stay up-to-date on new blog posts, freebies, exclusive promo codes, and sales… Join the Teaching on Lemon Lane Community! Pick any or all of the following to stay in the loop of all things Teaching on Lemon Lane. 
If you enjoyed this PLEASE SHARE! Sharing on Pinterest, Facebook, or tagging on Instagram is a simple, yet wonderful way to support the efforts of Teaching on Lemon Lane!