Disclosure: Some of the links below are affiliate links, meaning at no additional cost to you I will earn a small commission if you click through and purchase.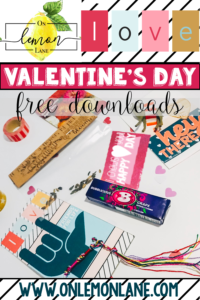 I love a fun and unique Valentine's handout! Two that are the most memorable were the gum-ball machine and whoopee cushion Valentine my niece and nephew handed out to their class. As I started to make the hand-outs editable through google drive (so you could get in on the fun,) I couldn't help but think of a few other fun options to add to the list!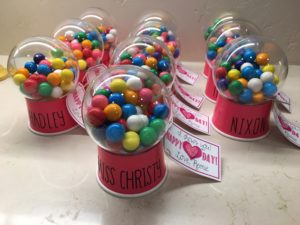 Gum Ball Machine: 
Supplies:
Paper Cups
Hot Glue
Marker: Write Name
Begin by flipping the paper cup on its mouth. Next cut off the bottom of the cup. Depending on the size of ornament you purchased will be where you cut. The smaller the ornament the less off the cup you will want to take.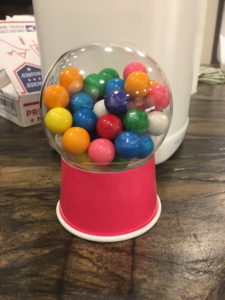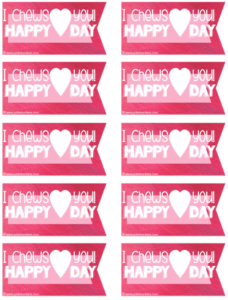 Next fill your ornament with gum-balls, then close and secure. The top of the ornament with the place for a hook will be placed into the cup. Use a few spots of hot glue to secure the bulb to the paper cup. Use a marker to personalize the Valentine, then add the "I Chews You" printable/ editable tag to the base. Does it get any cuter or simpler than that?!?!?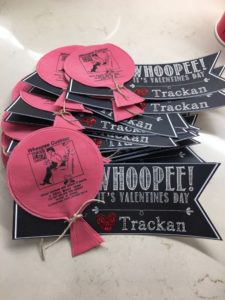 2. Whoopee Cushion Valentines: Maybe it's the 5th grader in me… BUT I LOVE this next one. Imagine the shock and joy on the receiver's face when handed one of these!
Supplies
Simply open and edit the "Whoopee it's Valentine's Day" Tag in Google Slides. You are able to edit by adding the name of who the gift is from.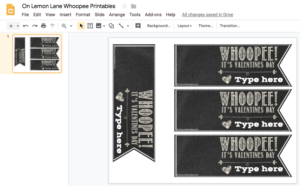 Print and cut out. Next, place the whoopee cushion on the tag. Punch two holes around the "neck" of the whoopee cushion. Thread the twine from behind the tag and around the neck to fasten it to the tag. Use tape to secure the balloon part of the cushion to the tag. As cute as it gets!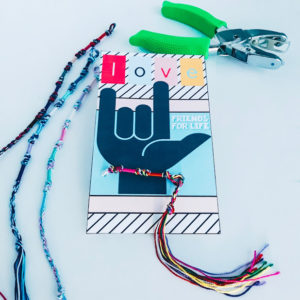 3. Friendship Bracelet Valentine: I LOVE how this one turned out. There is something inside of me that always tries to diverge from the beaten path when it comes to Holiday Hand-outs. For the life of me, I can't just give trick-or-treaters candy. (See what I gave them last year here!) So it only seems appropriate that I follow the same beat to a different drum when it comes to Valentine's Day. Heaven forbid I buy a store bought Valentine Kit…. WHICH I LOVED AS A KID… Instead of candy… what do you think about friendship bracelets! Did I mention you can get a whole slew of them for pennies on the dime…. I. Know.
Supplies:
Hole Punch
Friendship Bracelets *See my favorites below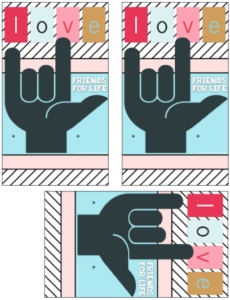 After downloading the tags, simply edit and print. Next, use the circle guides on the page to punch a hole on both sides of the wrist, weave the bracelet through and connect it to itself…. THAT'S IT!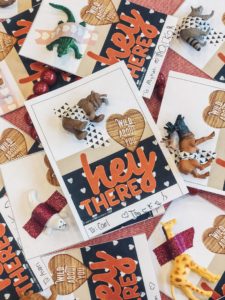 4. Wild About You: If you know anything about my son, you know I couldn't not do some sort of Valentine without some sort of critter on it. Thus the need for the Wild About You Tag. The beauty of this tag is that anything that falls under the category wild… will work great. A favorite critter, and a little washi tape and you're sure to have a crowd-pleaser.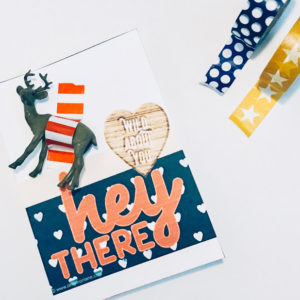 When it comes to the critter, I highly recommend the Safari LTD Toobs. If you are a teacher, or military, or first responder… I recommend Safari LTD even more!! The toobs are great because Safari LTD literally offers every type of animal or creature imaginable, dinosaurs, North American Animals **Benson's Favorites, African Animals, sea creatures…etc. Great size for this Valentine and great price. Again this valentine is sure to be a hit!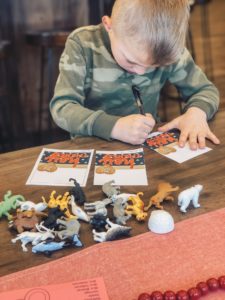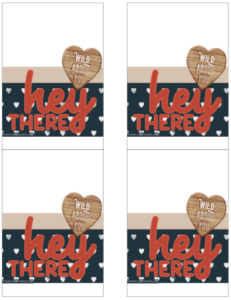 Supplies:
To complete simply download, edit, and print the free Wild About You Tag. Secure the animal using a strip of washi tape. If you haven't used washi tape before… be prepared for everything you think you know about the tape to be changed. It is so user friendly, can stick to itself but easily separates, tears easily, yet still durable. Won't tear or ruin the paper or item it is stuck to. It is beautiful and fun to work with!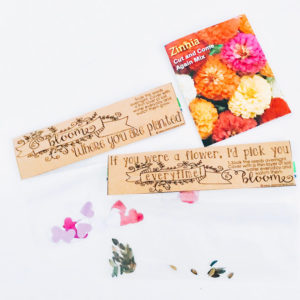 5. Blooming Valentines: Typically if you wanted to give everyone on your Valentines list flowers you would be looking at spending some mega, mooga, dough… not today. These beautiful blooming valentines are so fun and so sweet. Perfect to give to students, young women, friends, or loved ones. When it comes to this type of Valentine you have two options you can either use seeds or SEED PAPER… Let's start with the seed paper, seeing how it's one of the details I am most excited about!

Seed paper is literally a biodegradable paper that has seeds embedded in it. This means you plant and water and care for this dainty and sweet pieces of heart-shaped paper, and in their place will sprout wildflowers or whatever seed you desire if you go the DIY route.  Most instructions I have read advise you to soak the seed paper overnight, then plant by covering with a small layer or soil and caring for like you would any other plant. If you go the pre-made seed paper route, you can pick from a confetti option or an individual large shape. If you pick the confetti, simply divide the portion into a snack size ziplock bag and add the editable tag. If you choose the large shape, just attach the actual shape to the tag itself. Glue dots, Elmer's glue, or a glue stick will work great. If you want to get real granola… use egg yolks.
Confetti Options: Click on picture for details
Individual Seed Paper Shape Options: click on picture for details
The other option is to give a single packet of seeds or save money by buying seeds in bulk and separating them using ziplock snack bags. The labels I designed are 6.5 inches and will fit on top of a ziplock bag perfectly.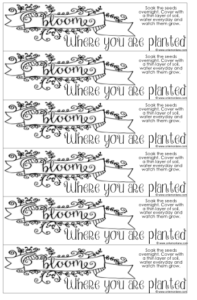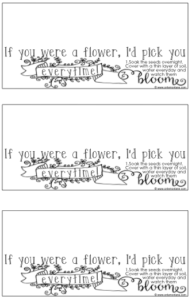 You also have two options when printing the labels, one is to save paper by only having one side. The other is two-sided. Simply use a stapler to attach ziplock baggie, or glue if using a single large shape of seed paper. See the video for clarifications.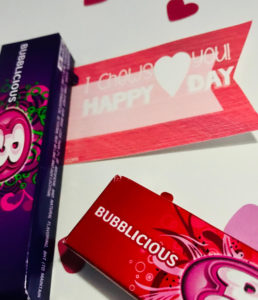 6. Bubble Gum Machine Alternative: The last example is simply a variation you can use on the "I Chews You" tag. If you find yourself short on time, or supplies, a simple trip to the supermarket or gas station for some packets of gum, or even pieces of gum, or rather anything "chewy" and you are good to go. For this example, I used the same tag that's to be used with the bubble gum machine except for this time just threw on a packet of gum. I'm doubtful anyone wouldn't be just as thrilled with the bubblicious as they would be with the machine!
Supplies:
Bubblegum (stick, pack, piece…etc.) or anything chewy
Adhesive, (glue dots, double stick tape, hot glue…etc.)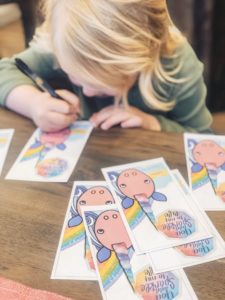 7. Sparkle Unicorn / Gnarly Narwhal Valentine: I love seeing printables that take on and implement actual items into their designs. This is exactly what I set out to do with the unicorn and narwhal designs. Alone these Valentines are a-lot of fun… but add a gel pen for a non-candy alternative, or a lollipop and they become dreamy! To make this happen all you need to do is once printed, cut along the dotted line at the base of the horn. This will create the "insert hole" in the middle of the paper. Add a gel pen, sucker, pencil, twisty straw…etc. These Valentines are sure to please!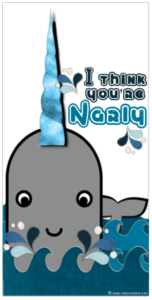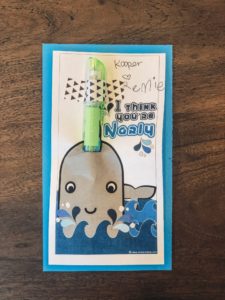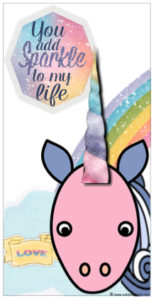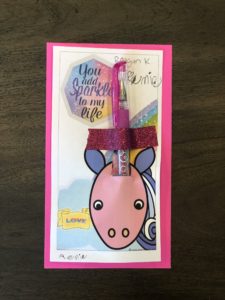 Supplies:
Scissors
Horn Item, see suggestions below
Tape, I prefer washi tape. Use this to secure item to the back of the valentine.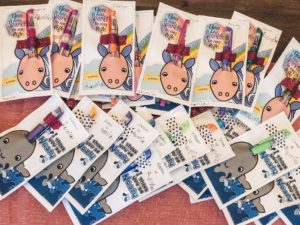 8. I Think You're A-MAZE-ING Valentines:

 This one turned out SO FUN. My sister in law and I were trying to think of a fun, more interactive Valentine you could use when giving a pen or a pencil…. She suggested a maze, and I could not be more thrilled with how simple and cute these turned out. I love the look of paint chips and thought this look added a fun pop of color. This is a great option for teachers to give to students especially if they are losing the pencil/eraser game. Talk about practical. Just don't tell the students you would have given them a new pencil regardless 😀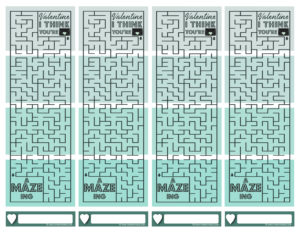 You can completely change this Valentine based on who you give it to. If your giving it to good friends or colleagues I'll suggest a bright flair pen until the cows come home. If it's for a student to student Valentine exchange, you'd be surprised how excited they will be about a new gel-pen or pencil they can use in the classroom.
Supplies:
Scissors
Writing Item, see suggestions below
Tape, I prefer washi tape. Use this to secure item to the valentine.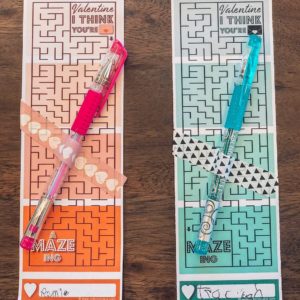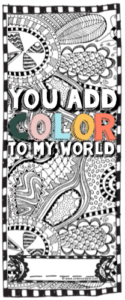 9. Coloring Page Valentine: Another idea for a more interactive Valentine was this coloring page handout. This one ended up being the perfect size to be used as a bookmark after well. I love how this one turned out. Add some sort of colorful pen, pencil, crayons, even watercolors and you are in business!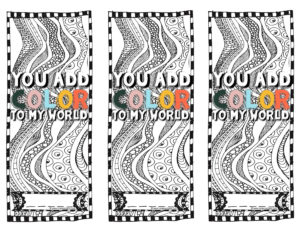 Supplies:
Scissors
Writing Item, see suggestions above and below
Tape, I prefer washi tape. Use this to secure items to the valentine.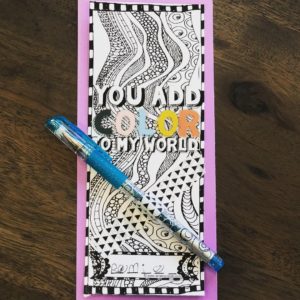 Please, please, please tag me if you end up using one of these. I can't tell you how happy it makes me to see my labor of love in your hands! Happy Valentine's Day dear friends!

To stay up-to-date on new blog posts, freebies, exclusive promo codes, and sales… Join the Teaching on Lemon Lane Community! Pick any or all of the following to stay in the loop of all things Teaching on Lemon Lane. 
If you enjoyed this PLEASE SHARE! Sharing on Pinterest, Facebook, or tagging on Instagram is a simple, yet wonderful way to support the efforts of Teaching on Lemon Lane!