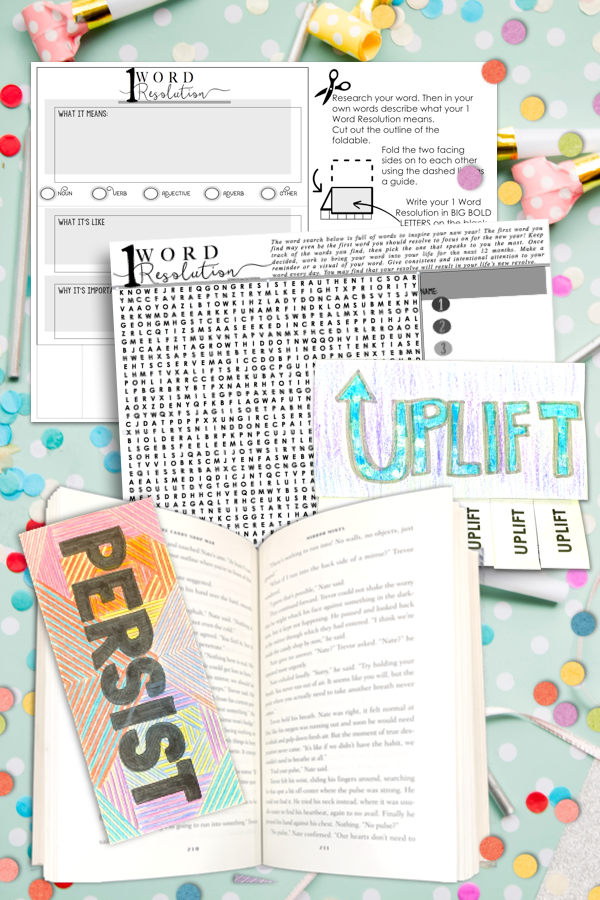 HAPPY NEW YEAR! I'm beyond excited to finally be able to share this idea with you! The best part is that EVERYONE can download the 1 Word Resolution Word Search for FREE! This activity is JAM packed and so much fun. It's the perfect way to ring in the year with focus and excitement.
🎉🎉🎉🎉 🎉
HOW IT WORKS:
Students begin with the word search. There are over 150 hidden 1-Word Resolutions in that pretty, little word search. The words range in difficulty so this is a great way to scaffold using the SAME resource. Words as simple and powerful as BE, GO, LOVE, or TRY can all be found. As well as more complex words like INTENTIONAL, AUTHENTIC, DISCIPLINE, CONSISTENT, COMPASSION, and INITIATIVE! This is such a fun way to introduce and explore new vocabulary words.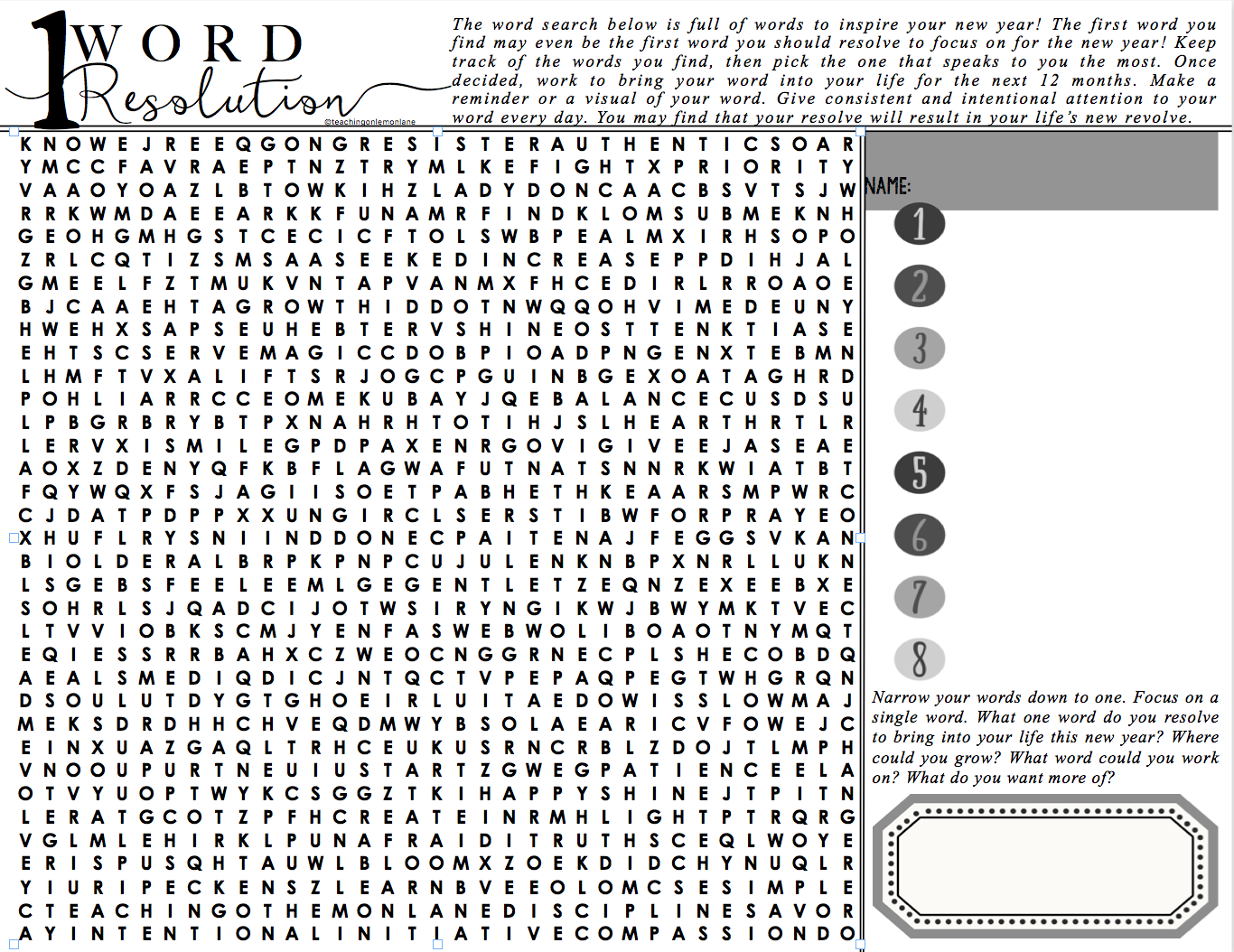 If you are looking for a list of words to inspire your new word for the new year, make sure to download this FREE LIST. This is the same list of words that can be found on the 1 Word Resolution Word Search! ***If you're doing this with your class consider downloading the list as a challenge for fast finishers, or January morning work! Keep in mind this FREE DOWNLOAD is only available to members of On Lemon Lane.
Not a member? Not a problem, signing up is FAST, FREE, and EASY PEASY LEMON SQUEEZY!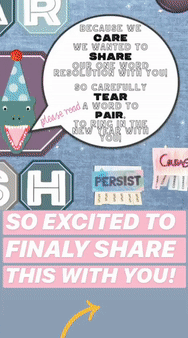 The word search requires students to find 8 words, then narrow their list to 1 meaningful word. The idea for this activity came from Facebook! Have you ever come across a word search post that tells you the words you find will determine your future…etc. I thought this could be a fun spin on one-word resolutions for the New Year! Maybe the first word you find is your brain trying to tell you something.
Followers on Instagram took on the challenge and they found words like; SEEK, GROWTH, CREATE, BALANCE, UNAFRAID and LIFT. Try the word search for yourself in the image below, make sure to share and tag @teachingonlemonlane, or comment your word below!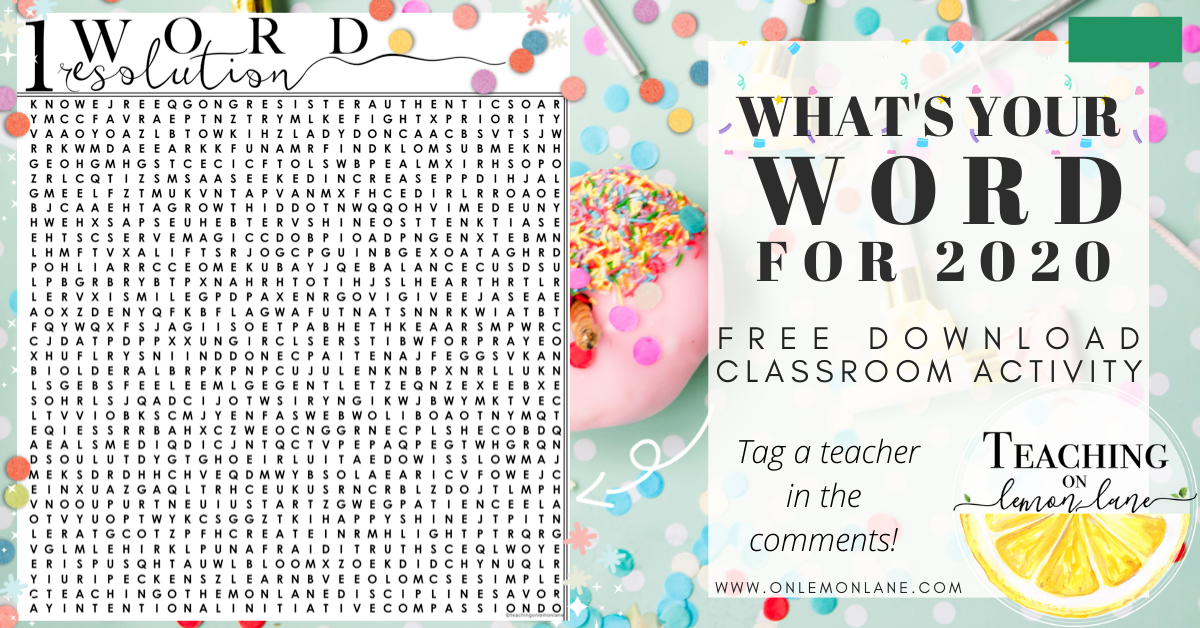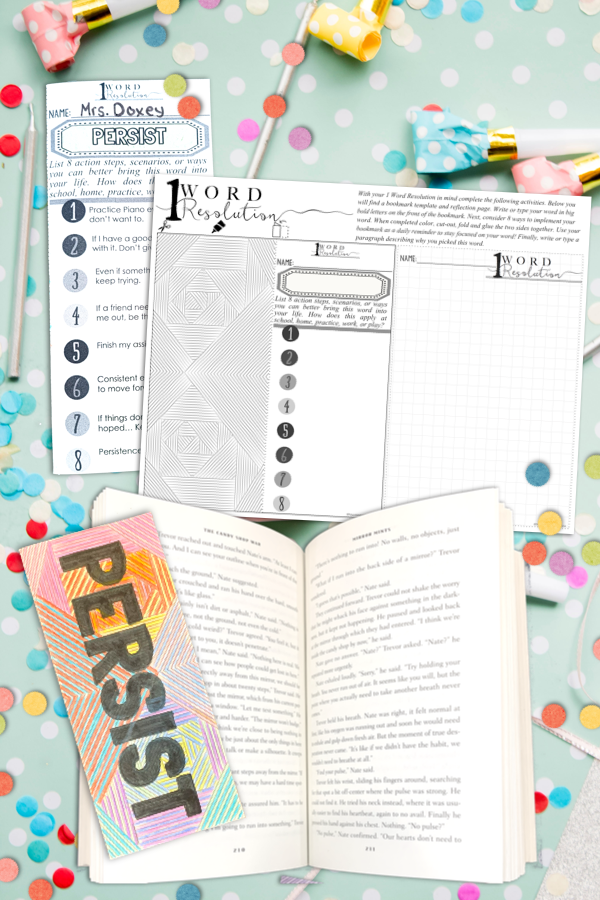 Once students have determined their word they will create a bookmark. This can be done by hand or digitally through Google Slides and Google Classroom then printed. The idea for the bookmark came from the need of students needing a daily reminder of their word. This is a great way for students to invest in their word.
On the back of the bookmark, students will create a list of 8 actions, scenarios or examples of what their word will look like in their life. When completed students will cut out the bookmark, fold down the center and fold the two backsides together. Laminating the bookmarks at this point is a great idea, you can even hole punch the top and add a fun string or embellishment.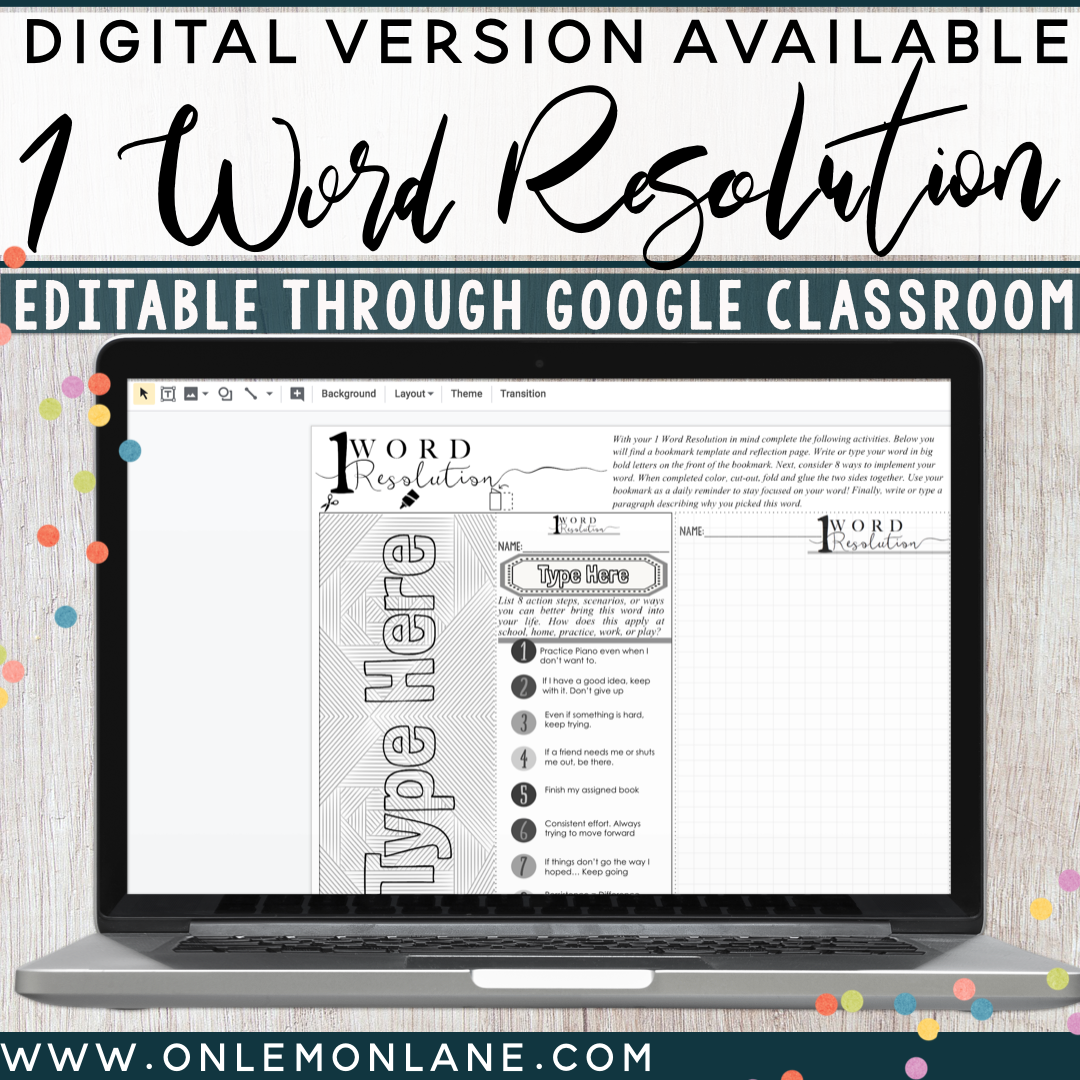 The second part of this page is a simple reflection. Again this can be done digitally or written by hand. Students will write a paragraph describing why they picked the word that they did, and the implications they hope it will bring. This makes for a really fun New Year's writing activity.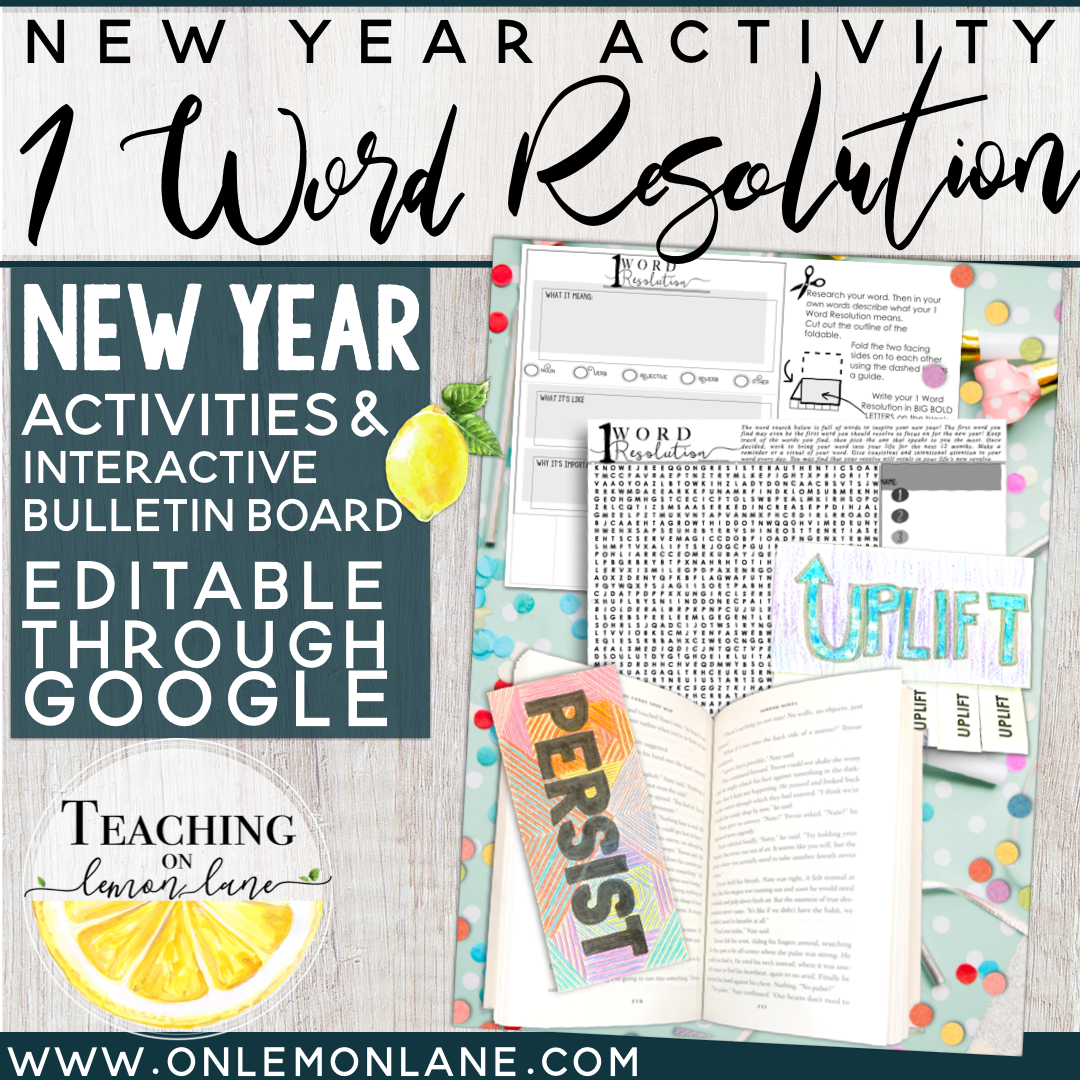 Click Here to Purchase the 1 Word Resolution & Bulletin Board Bundle

Click Here To Purchase on Teachers Pay Teachers

The next part of this activity is where students create their word on a folded page that will be displayed on a SUPER fun and INTERACTIVE Bulletin Board. You and your students are going to LOVE this. This next page can also be done digitally through Google Slides and Google Classroom or by hand. Students will dive deeper into what their word means, what it's like, and why it's important. Encourage synonyms and descriptive language in their writing.
What's really cool about their bulletin board piece is that it is created with the audience in mind. They are writing to other teachers or students in the school that will unfold their word to learn more about it and why they should pick their word for the upcoming year as well. The tearable slips at the bottom of the folded page are meant to be torn and kept as a reminder for the person that felt so inclined! This lovely idea came from Bar at, The Art Bar Blog, and it literally made my heart swoon.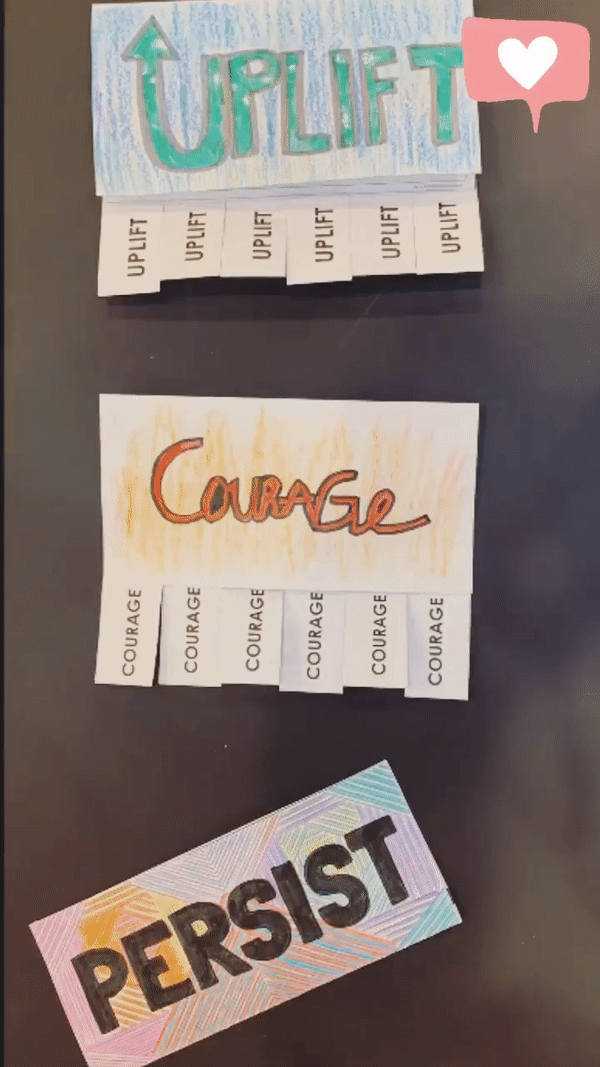 💛 Do you set a resolution or choose to focus on a single word?? Share below!
Can't wait to hear what you think! Better yet, what did your students think? Comment below, or let's connect on Instagram or Facebook! Tag me in your pictures pretty please!

To stay up-to-date on new blog posts, freebies, exclusive promo codes, and sales… Join the Teaching on Lemon Lane Community! Pick any or all of the following to stay in the loop of all things Teaching on Lemon Lane. 
If you enjoyed this PLEASE SHARE! Sharing on Pinterest, Facebook, or tagging on Instagram is a simple, yet wonderful way to support the efforts of Teaching on Lemon Lane!