I am so excited you are here! Before we dive in, did you know you can snag ALL of August's Morning Meeting slides FOR FREE?!? Keep reading for more details. 🤩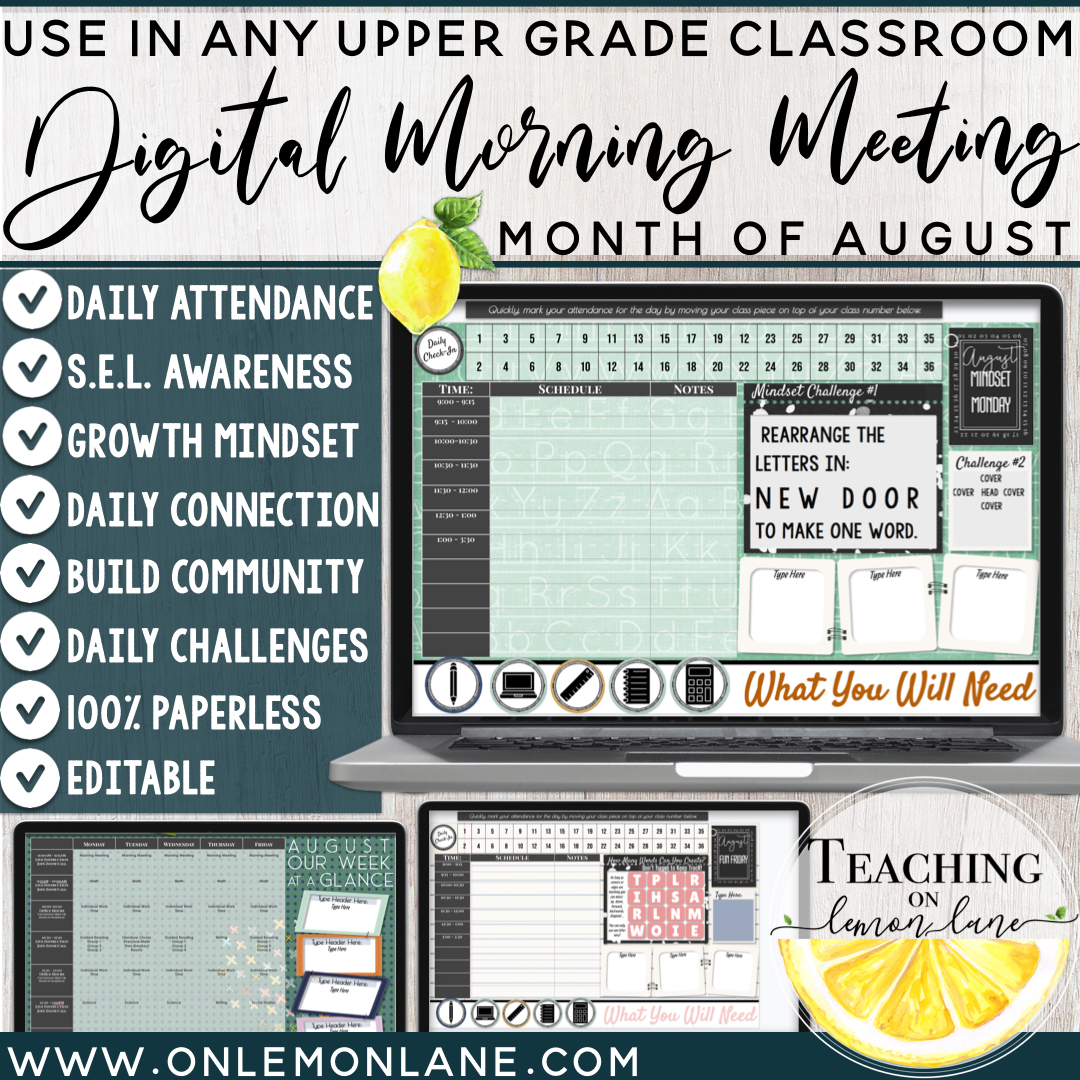 What's a Morning Meeting?
According to Responsive Classroom, a Morning Meeting is "an engaging way to start each day, build a strong sense of community, and set children up for success socially and academically."
Typically a Morning Meeting happens at the beginning of class and utilizes the first 15-30 minutes…depending on what your schedule allows.
Why a Morning Meeting is Needed in Your Classroom
Intentional mornings set the tone for intentional learning.
Starting your day with a consistent routine that allows students to connect, collaborate, reflect, review, or engage leads to a more conducive learning environment.  Establishing a Morning Meeting into your routine can:
establish a stronger sense of community
increase social/emotional awareness
promote structure
establish expectations
facilitate growth
A Morning Meeting that Does it All
Since I began teaching I had always wanted a slide that I would show at the beginning of each class. Fast-forward to now and I finally took the time to make that daydream a reality! I LOVE how these turned out.
These Morning Meetings are 100% paperless. Students will know and understand what the daily expectations are and will consequently be able to self-start. This also gives you flex time for students to arrive and engage before jumping into the curriculum you don't want them to miss. Also, because these slides are so fun and many of the challenges allow for interaction and connection, students are also internally incentivized to be there, be on time, and be ready!
Each day students will complete or respond to a digital daily attendance check-in, record and possibly reflect on their current emotion, and complete the daily task, challenge, or activity.
If you are looking for a consistent way to start each morning or each class, while connecting with your students, increasing organization, and building SEL…KEEP reading!

This product was created with the upper grades in mind. I  feel confident recommending them for  4th-12th-grade classrooms.
This 100% paperless product integrates seamlessly into whatever type of classroom you are in:
traditional
social distancing
virtual
or even hybrid
Does your Morning Meeting do this?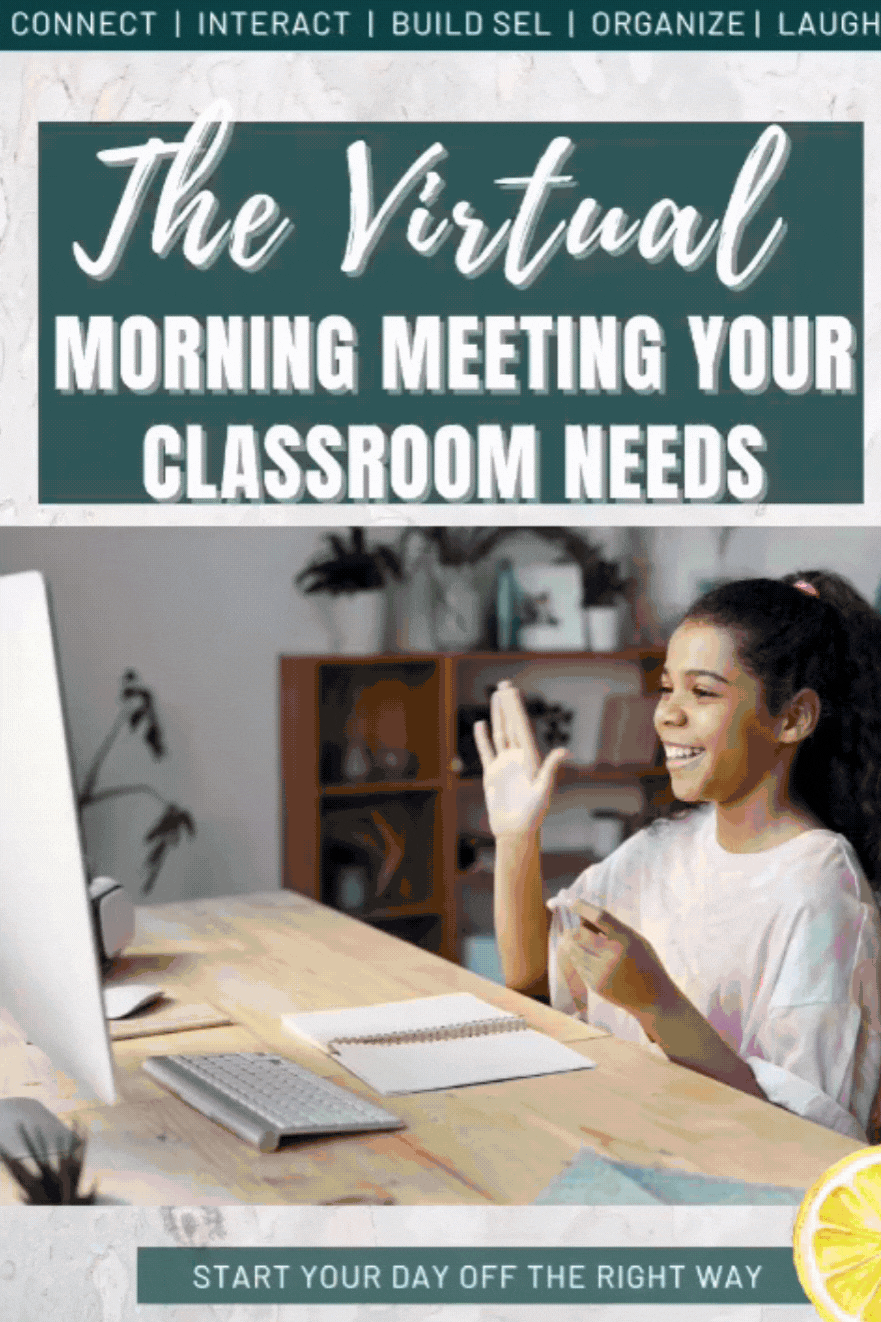 Each month includes templates that check ALL the following boxes:
digital daily attendance
daily assignment/subject slides with over 50 school supply icons to quickly show what students need for the day
daily challenges and class games
daily social-emotional check-in
grit and mindset challenges
Weekly Student Response Page
AND can…
build classroom community
improve organization
provide SEL learning and awareness
set up routines and structure
provide daily interaction and connection
AND is…
100% paperless
100% virtual classroom ready
100% any classroom ready
EDITABLE
In addition to all that 👆, you'll also get:
over 50 ready-to-go slides, all editable. (Use the slides I've prepared or quickly customize them to your classroom's needs and curriculum.)
Month View Schedule | Calendar (with easy-to-use calendar icons, including month-specific ones)
Weekly View Schedule (2 versions)
5 weeks worth of daily themed slides and challenges:

Mindset Monday and Mindful Monday
Trivia Tuesday and True or False Tuesday
Wonder Wednesday and Would You Rather Wednesday
Thoughtful Thursday: includes Kindness Challenges or Opinion-based challenges
Fun Friday: includes List It and Boggle Games
Whew! That's A LOT of good stuff.
Want to see for yourself or get a better look? Download ALL of the August Morning Meeting Slides…FOR FREE!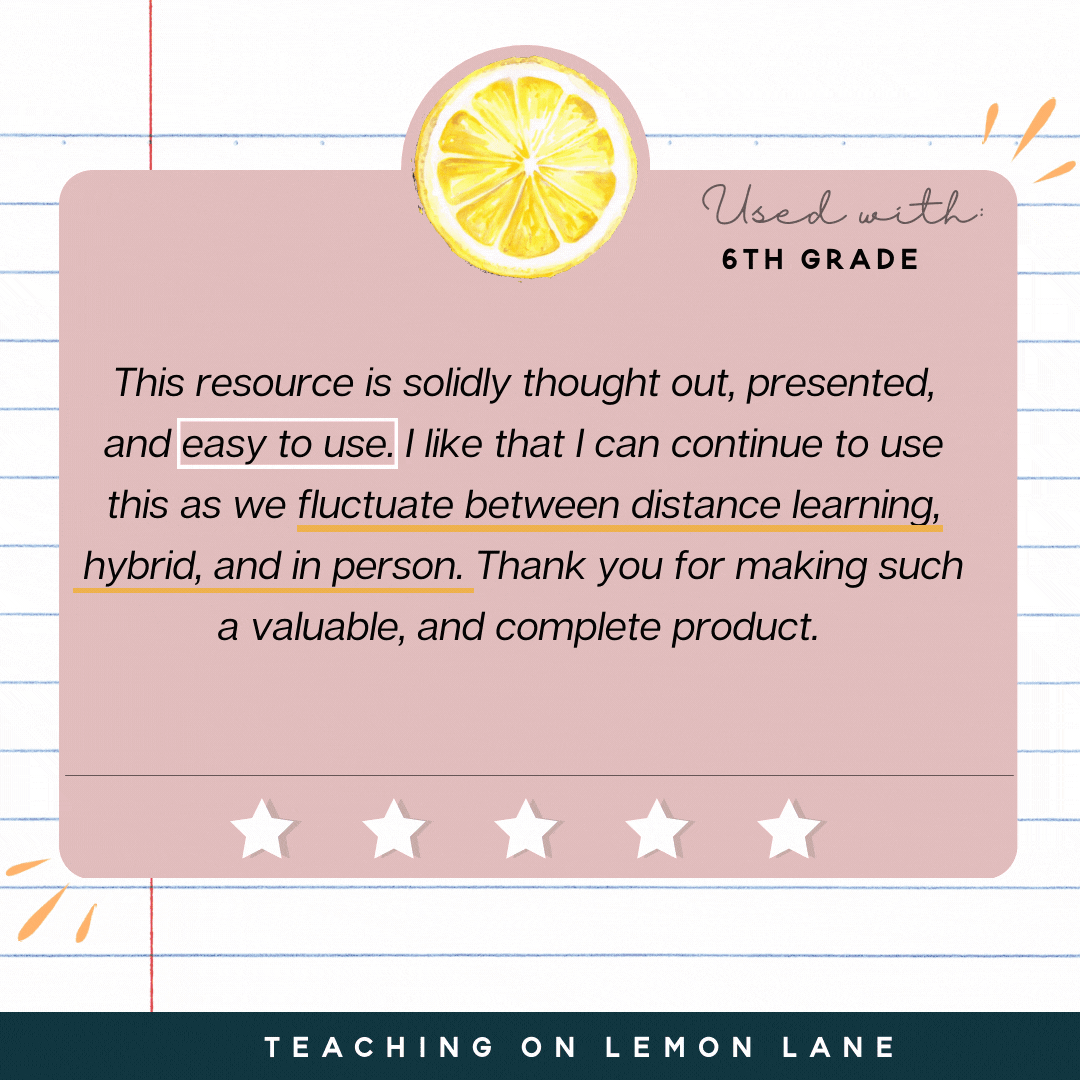 How To Purchase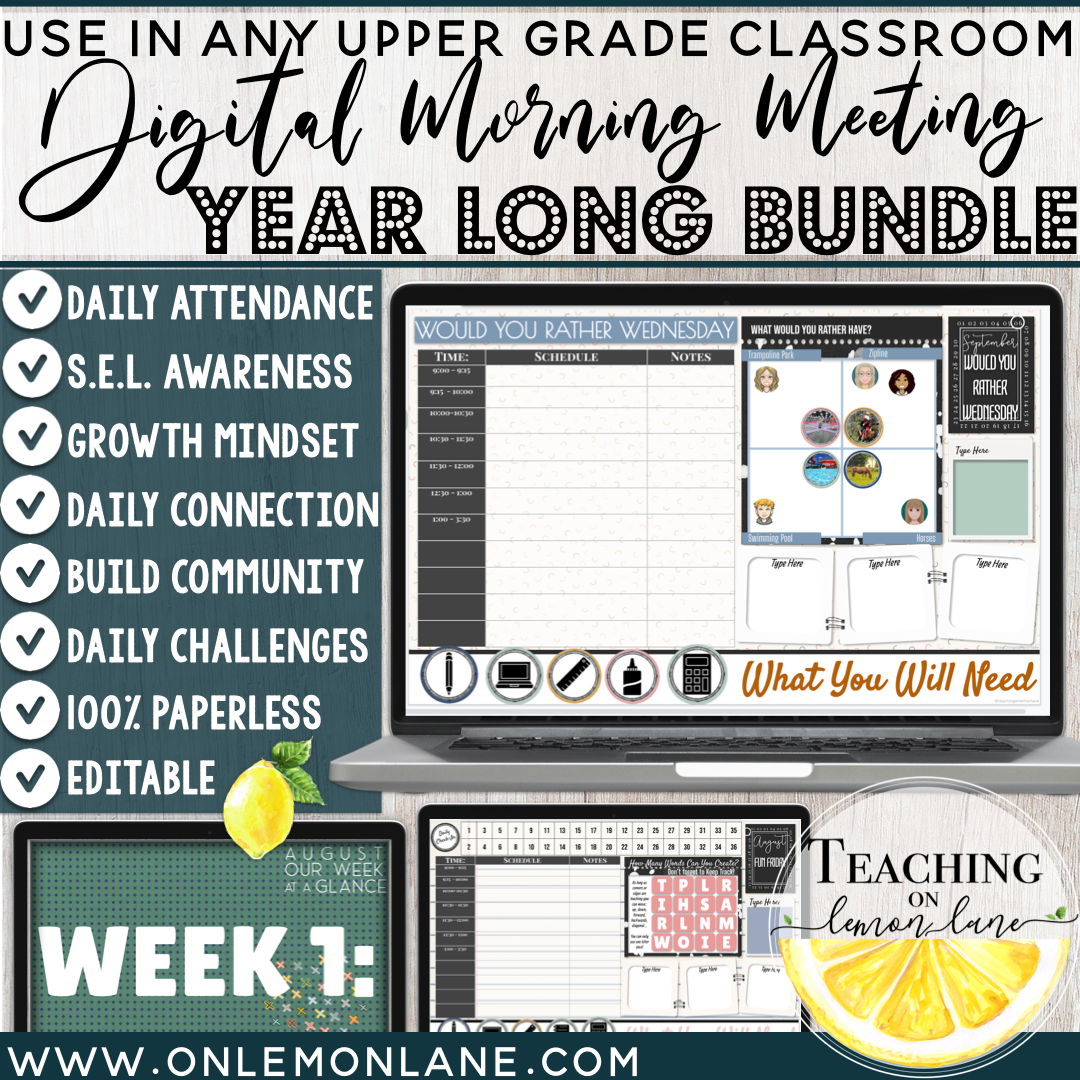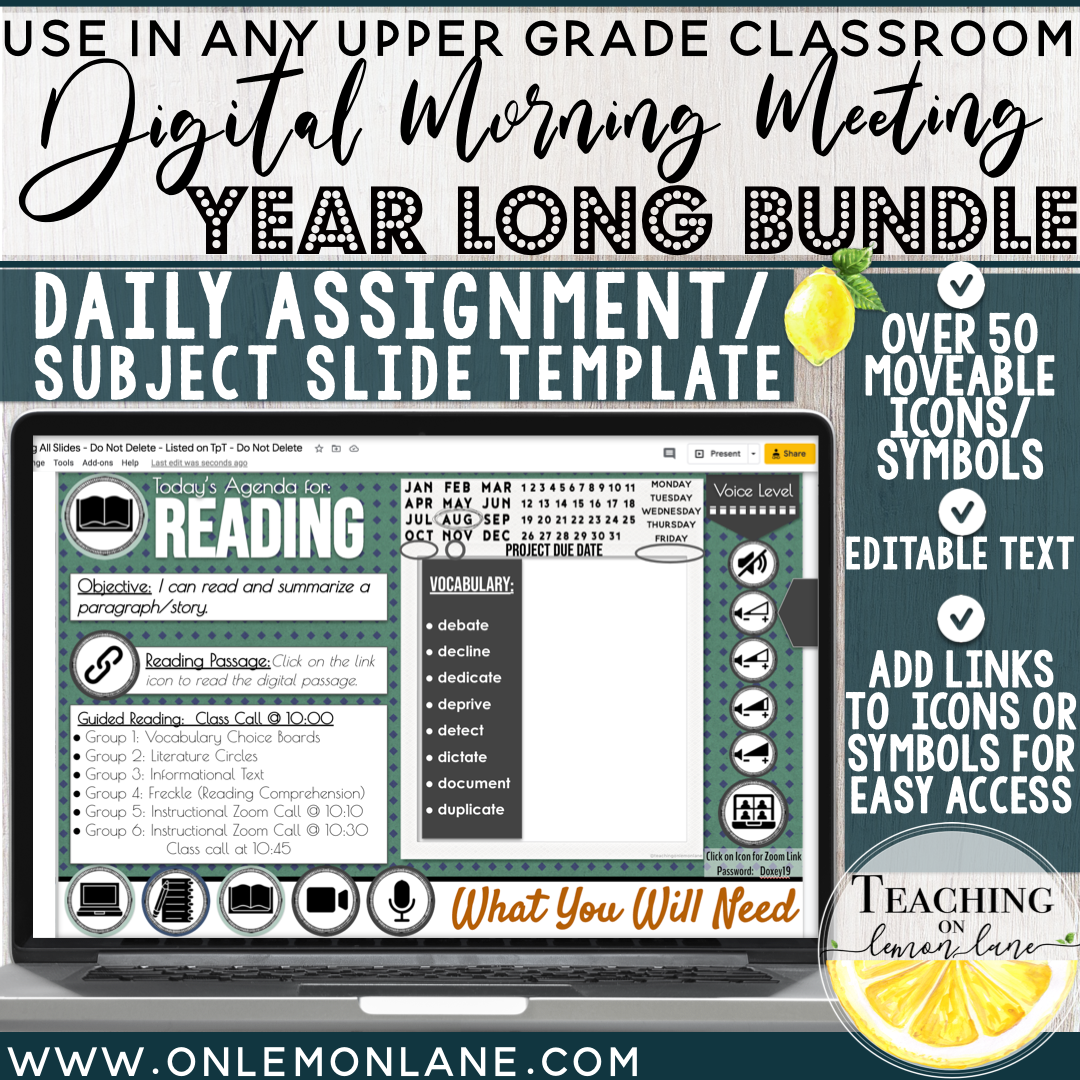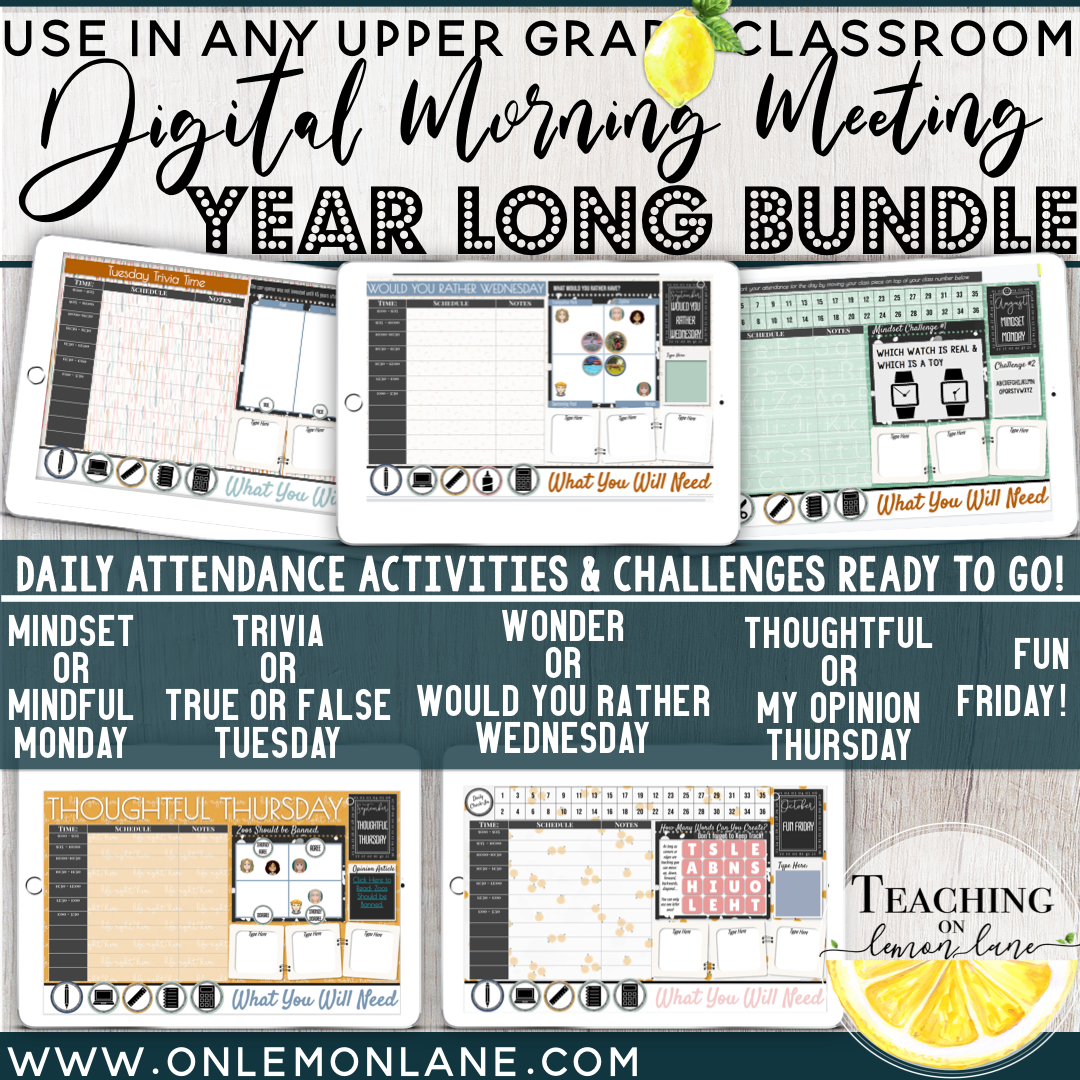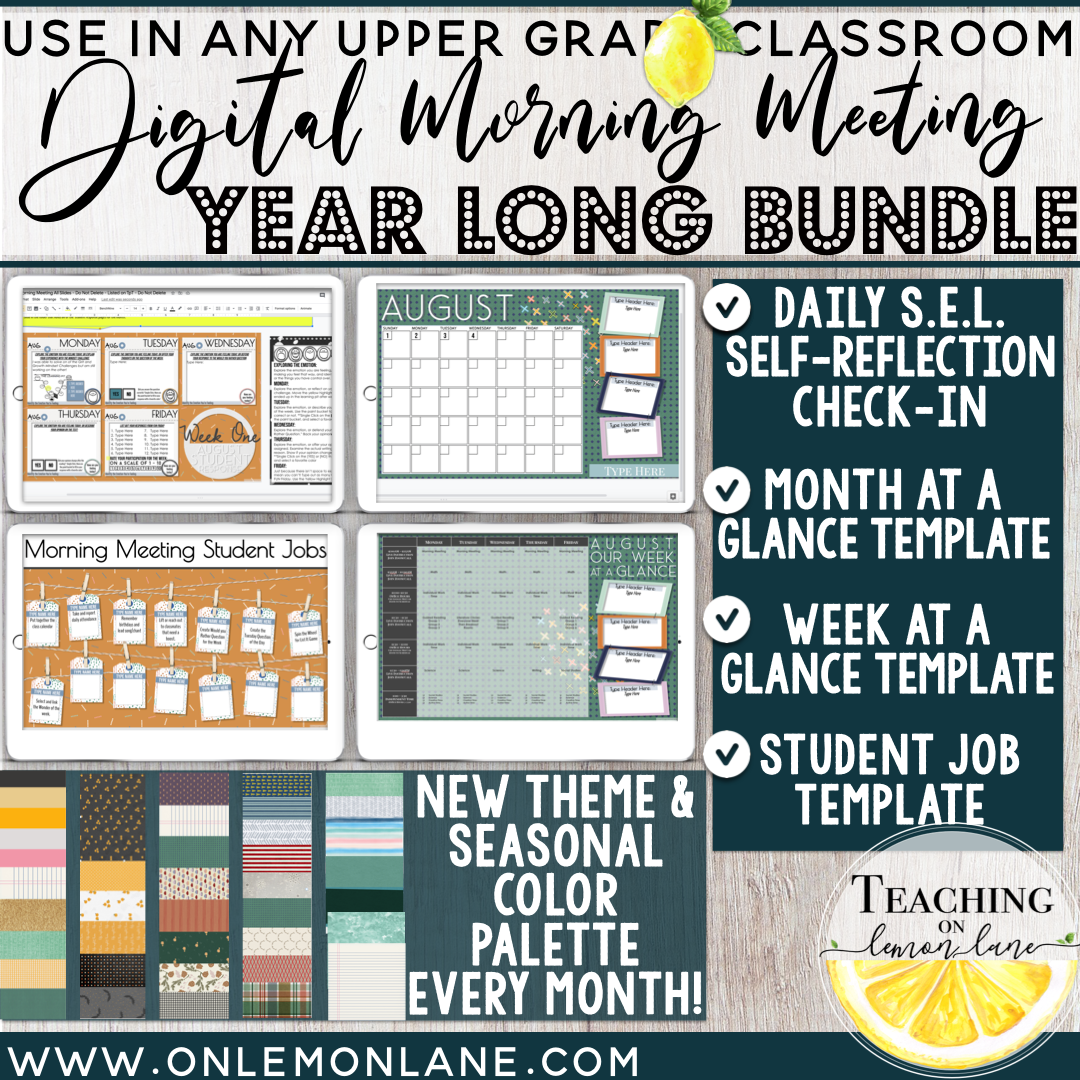 Year Long Bundle Morning Meeting
You can purchase each month separately…OR save BIG and purchase the YEAR-LONG BUNDLE at a fraction of the price. 
Click Here to Purchase the YEAR-LONG GROWING BUNDLE.
Like this? Make sure to check out these other great resources!
Freebies Included
Click on the image to learn more.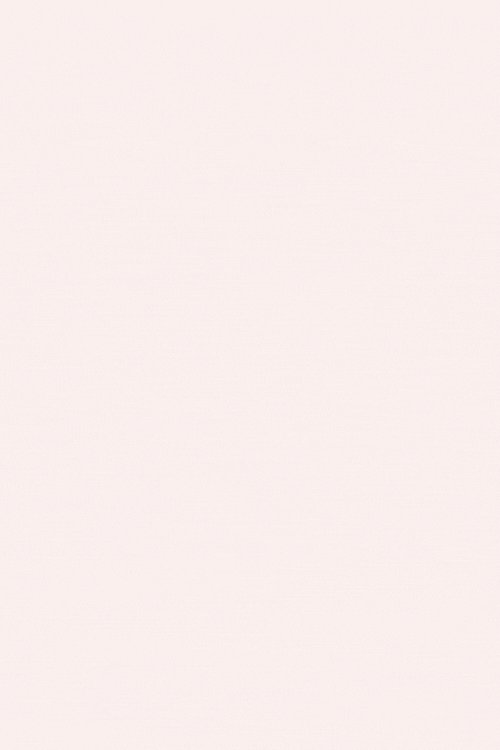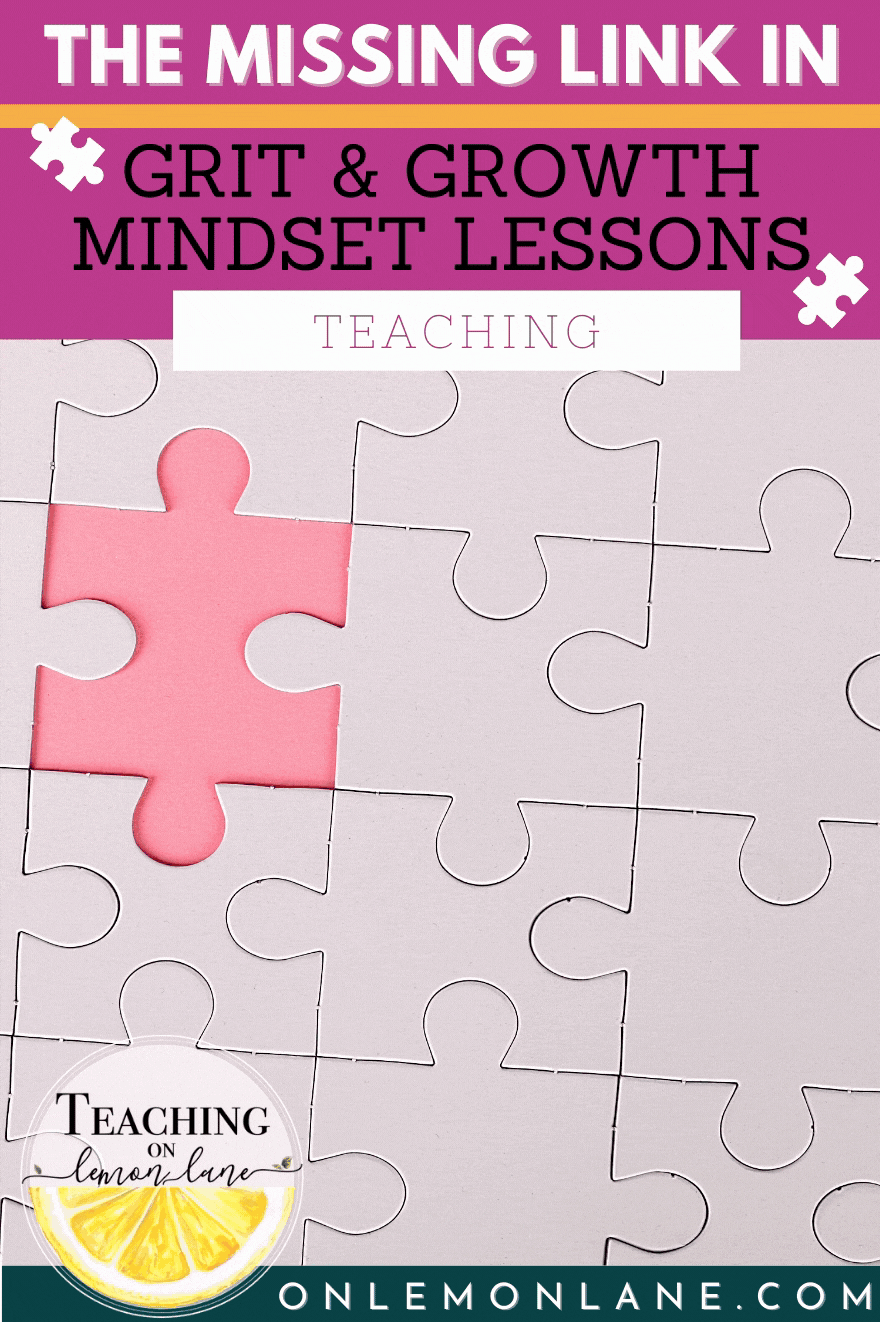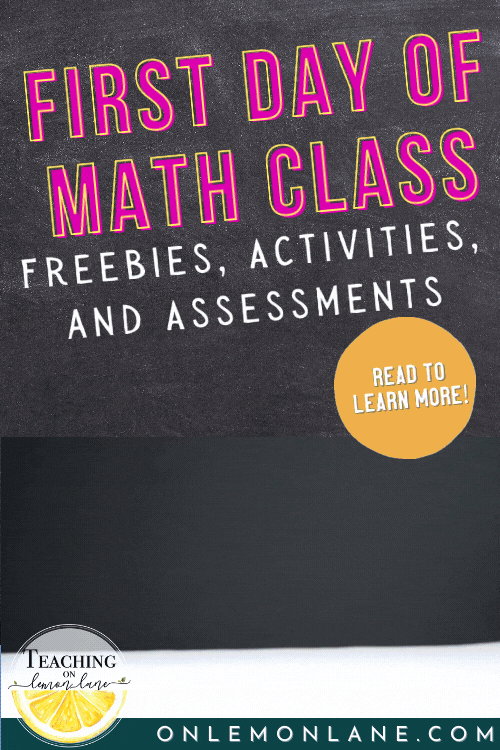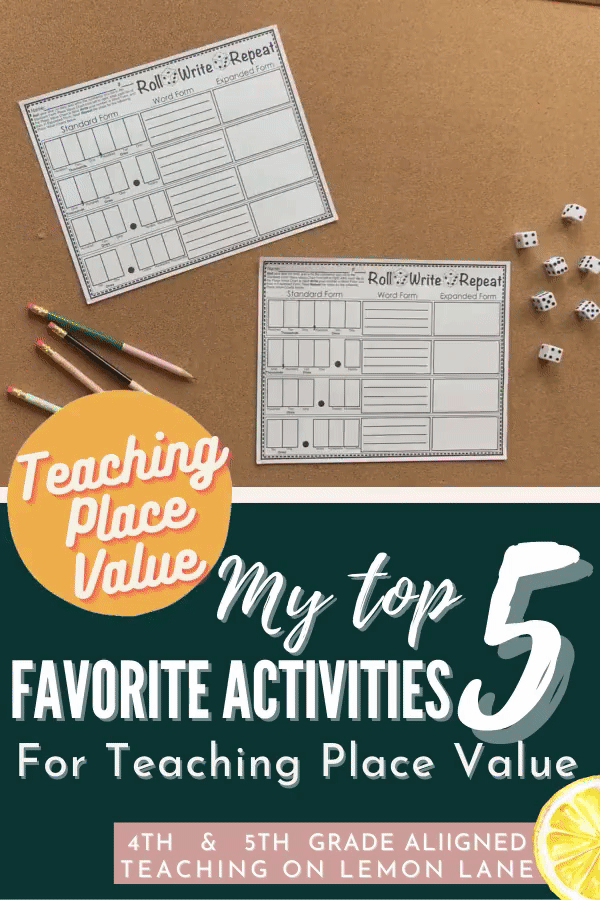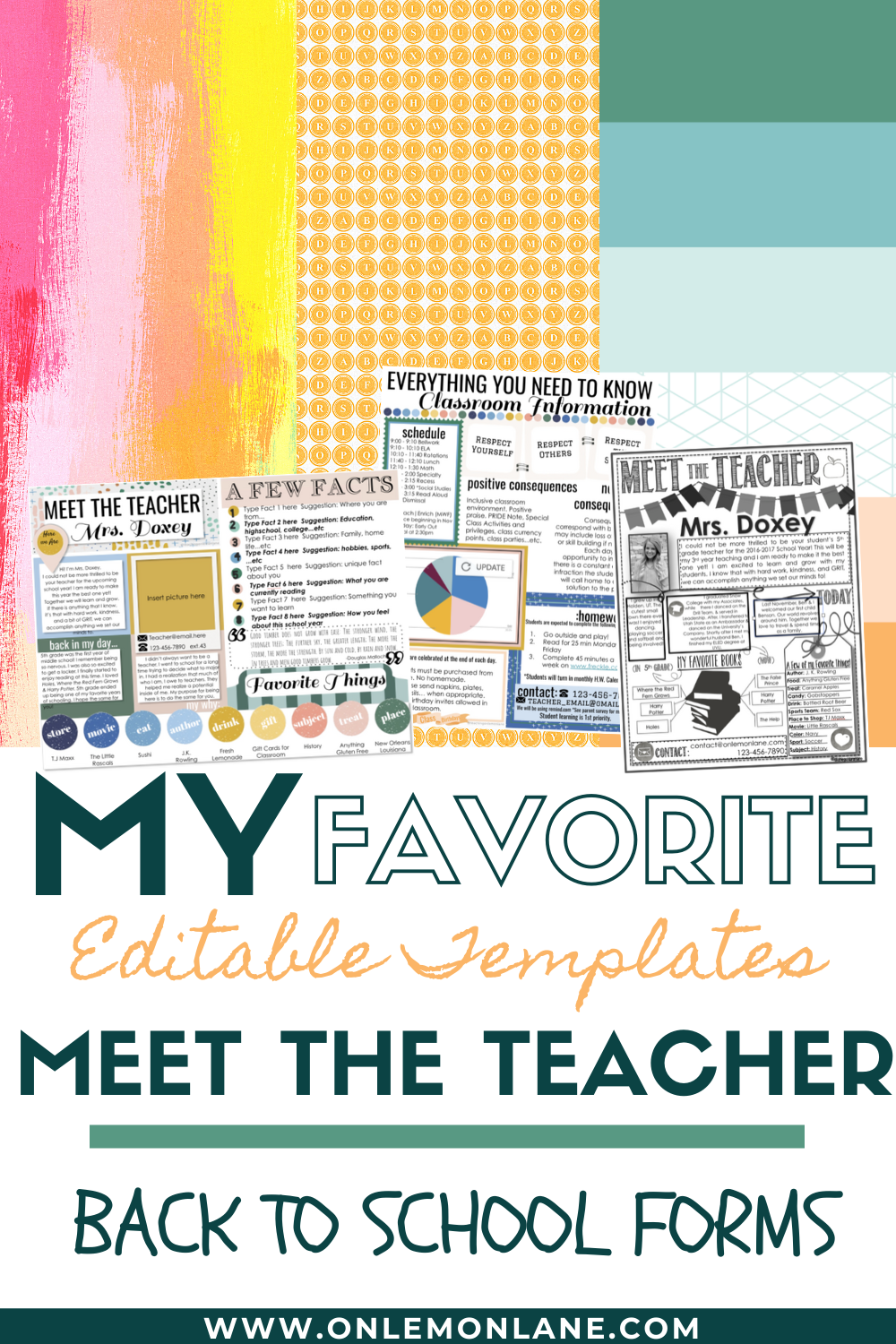 To stay up-to-date on new blog posts, freebies, exclusive promo codes, and sales, join the Teaching on Lemon Lane community! Pick any or all of the following to stay in the loop of all things Teaching on Lemon Lane. 
If you enjoyed this PLEASE SHARE! Sharing on Pinterest, Facebook, or tagging on Instagram is a simple yet wonderful way to support the efforts of Teaching on Lemon Lane!