Hello friends!
I've been SO EXCITED to share this new product with you! Since I began teaching I had always wanted a slide that I would show at the beginning of each class, fast-forward to now and I finally took the time to make that daydream a reality! I LOVE how these turned out. If you are looking for a consistent way to start each morning or each class, while connecting with your students, increasing organization, and building S.E.L… KEEP reading!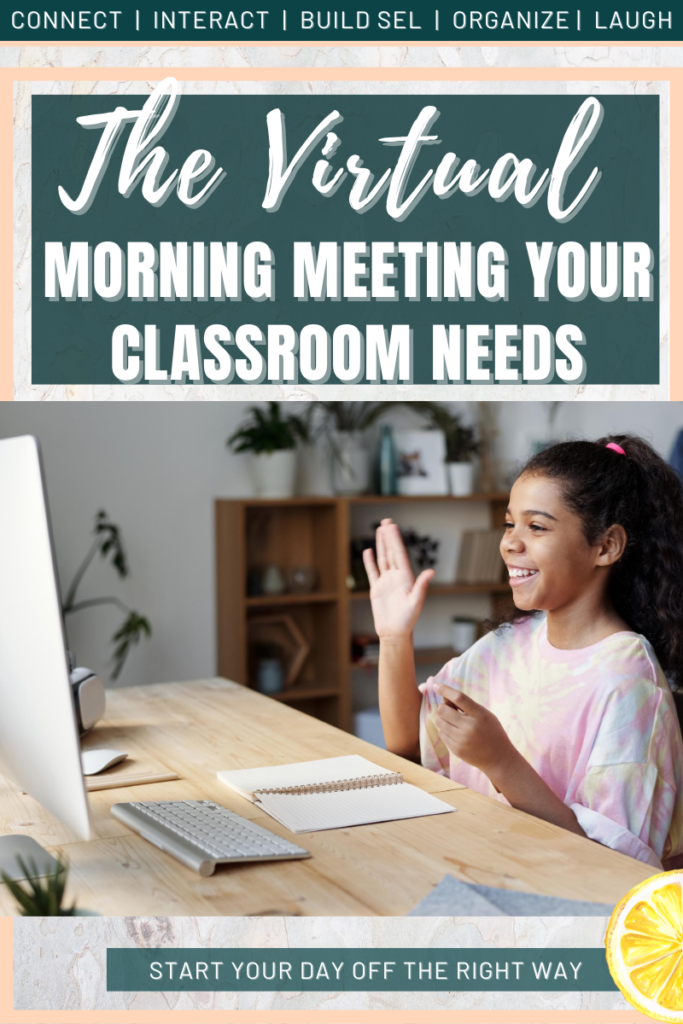 This product was created with your Upper-Grades in mind. I would feel confident recommending them for a 4th-grade – 12th-grade classroom. Whatever type of classroom you are in; Traditional, Social Distancing, Virtual, or even Hybrid this 100% paperless product integrates seamlessly.
This is the perfect way to start a virtual conference call, or traditional class. Students will know and understand what the daily expectation is, and will consequently be able to self-start. This also gives you flex-time for students to arrive and engage before jumping into the curriculum you don't want them to miss. Also, because these slides are so fun and many of the challenges allow for interaction and connection, students are also internally incentivized to be there, be on time, and be ready!
The Morning Meeting That Does it All
When I say this Morning Meeting does it all… I really do mean it. Each month includes templates that check the following boxes:
Digital Daily Attendance
Daily Assignment/Subject slides with over 50 school supply icons
SEL Learning & Awareness
Grit & Mindset Challenges
Daily Interaction & Connection
Build Classroom Community
Improve Organization
Daily Challenges & Class Games
Set-Up Routines & Structure
100% Paperless
100% Virtual Classroom Ready
100% Any Classroom Ready
EDITABLE
No time to read? Check out this "Quick Start" video
Over 50 ready to go slides, all editable. Use the slides I've prepared, or quickly customize them to your classroom's needs and curriculum.
Month View Schedule | Calendar (with easy to use Calendar Icons includes icons specific to the Month)
Weekly View Schedule (2 Versions)
5 Weeks Worth of Daily Themed Slides & Challenges

Mindset Monday and Mindful Monday
Trivia Tuesday and True or False Tuesday
Wonder Wednesday and Would You Rather Wednesday
Thoughtful Thursday: Includes Kindness Challenges or Opinion based challenges
Fun Friday: Includes List it & Boggle Games

Daily Slides include School Supply Icons to quickly show what students need for the day
Daily Social-Emotional Check-In
Weekly Student Response Page
Don't forget you can add these compatible slides:
Student of the Week/Day
Number of the Week/Day
Decimal of the Week/Day
Let's Dive In
Ok, so let's start from the beginning and really look at what is included and how these slides are intended to work. To start, every month will follow a similar set-up and include the same templates. This consistency will again help set-up a familiar and expected routine and expectation with your students. Each month, the specific questions, challenges, and games will change, as well as the colors and themes of the slides. This is fun because each month will be customized to the season/color palette.  I also will include icons specific to that month that can be used on the Month at a Glance slide…etc. Remember, the text and template are editable so if you OR YOUR STUDENTS… want to create your own "Would you Rather," question or a more curriculum-based trivia or True or False question you have the freedom and ability to do so.

Going forward, I'm going to show you each slide and template included. Remember based on the month the color and theme will change. I'll be using the August slides as an example. If you would like to see for yourself or get a better look, you can download ALL of the August Morning Meeting Slides… FOR FREE. 
I'm convinced you and your class will LOVE these.
In order to access the FREE download, you must be logged in. Not a member? Not a problem! Sign-up is FAST, FREE and Easy-Peasy Lemon Squeezy! Click here to become a member!
Not a member? Not a problem! Sign-up is FAST, FREE and Easy-Peasy Lemon Squeezy! Click here to become a member!
Already a Member? Click Here to Log In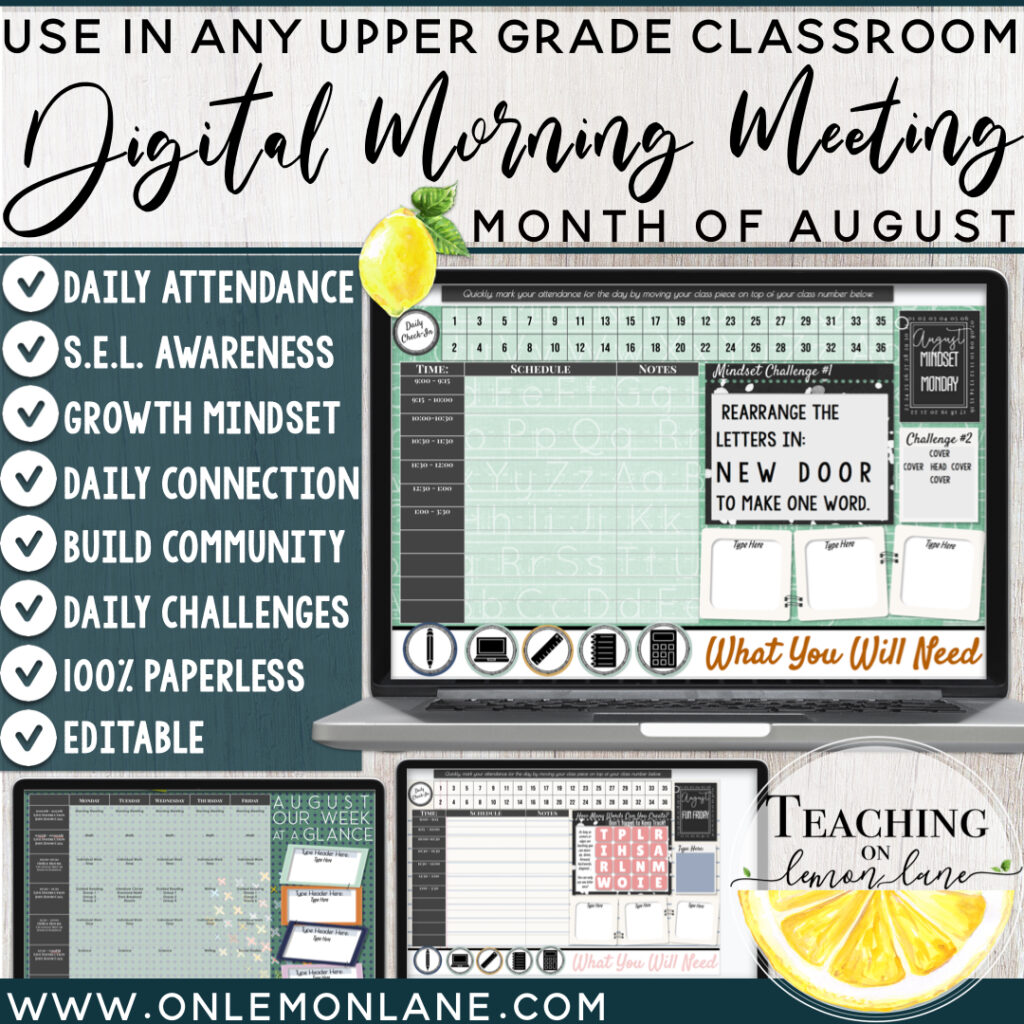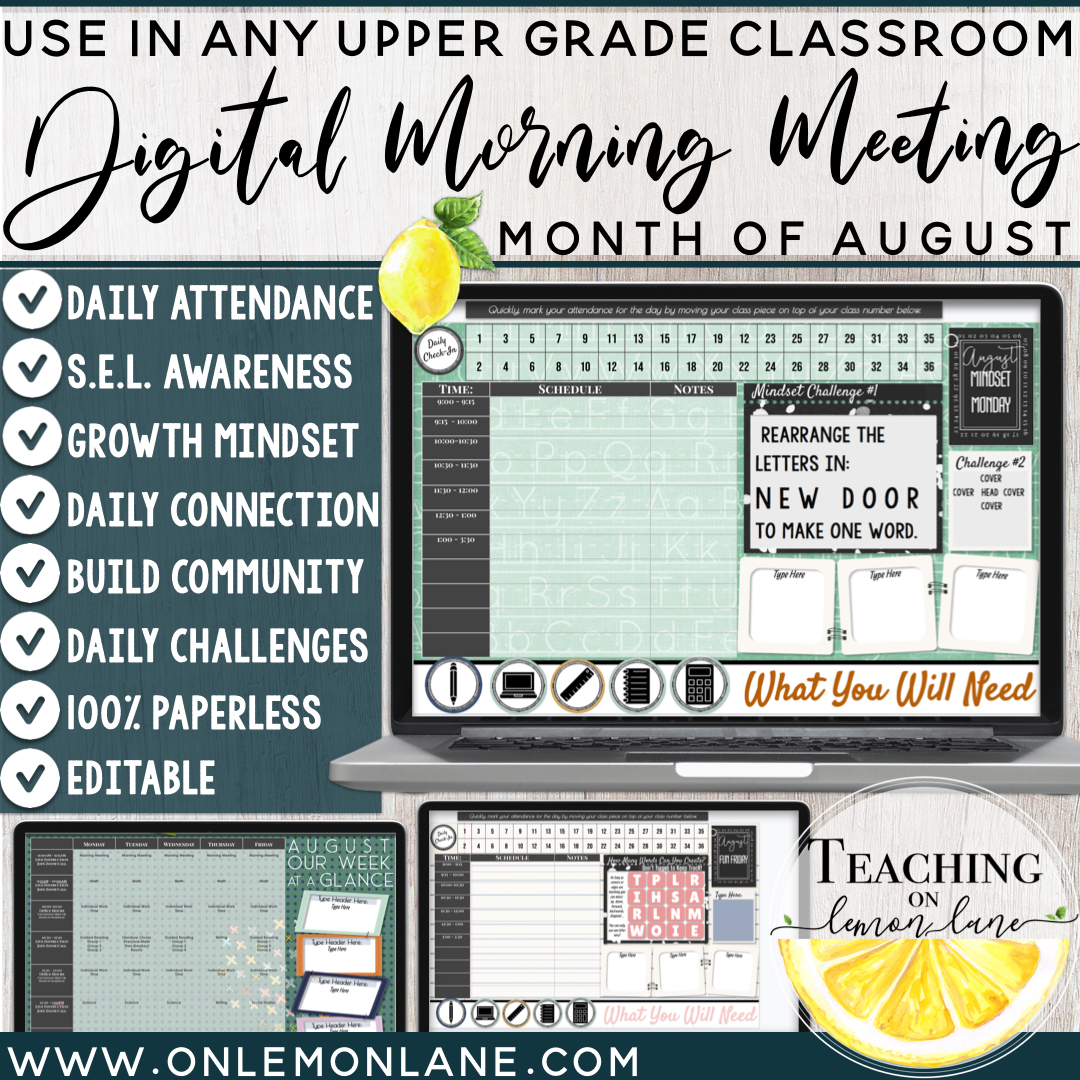 Click Here to Download ALL of the AUGUST Digital Morning Meeting Slides
The first templates I wanted to show you are the daily check-in slides. These slides are intended to be self-starters, so I would have these displayed with the intent of students entering class, and starting on the activity or challenge posted on the slide, while they wait for the rest of their classmates or for me to lead the class.
Each day students will complete or respond to a digital daily attendance check-in, record & possibly reflect on their current emotion, as well as complete the daily task, challenge, or activity. You will notice on these slides I've included a template for a daily schedule and notes. You can add links to your schedule or notes depending on what students will be doing for the day. There is also a space to mark the date and add reminders, rules, celebrations…etc. This is the perfect way to have any morning announcements or reminders in a place that students will see them. Also included on the template is a place to list out the supplies that students will need that day. You can add a link to these supplies for easier navigation. I've included over 50 icons of classroom supplies to meet your needs!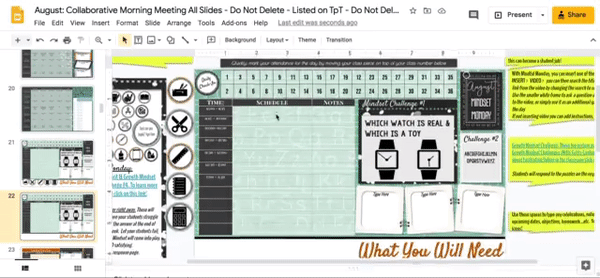 In order for students to show their attendance, this product needs to be shared as a collaborative slide. This means that you will share the same link with all of the class, do not give students a link that forces a copy giving each student their own individual presentation. The beauty of a collaborative slide is that it allows for connection and interaction even if you are teaching virtually. Students will mark their attendance by either moving their digital piece to show that they are here or by moving their piece to show their answer, opinion, or response to a daily challenge.
***Below I've included a GIF to demonstrate how students use their pieces to show their attendance/answer or interact with the daily task. The bright yellow boxes in the GIF are my notes that I include to help walk you through each step. You simply delete these once you're ready to share the presentation with your students.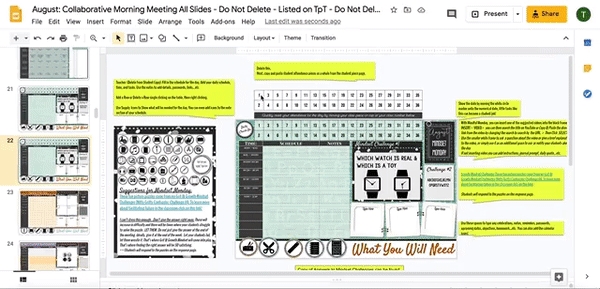 The digital pieces the students use can be ALOT of fun. I suggest inserting the student's actual picture, or my favorite… their self-created avatar into their piece! This allows students to see their classmates move and interact with the slides and questions making them more personal and again allowing for more connection.
More Connection = Better Classroom Commnity = Improved S.E.L.  
A Closer Look:
The following are the templates and schedule I've prepared. Each week the daily theme rotates, my hopes are that in doing so there will be enough variety to keep things enjoyable and fresh and that students will begin to look forward to their favorite daily themes!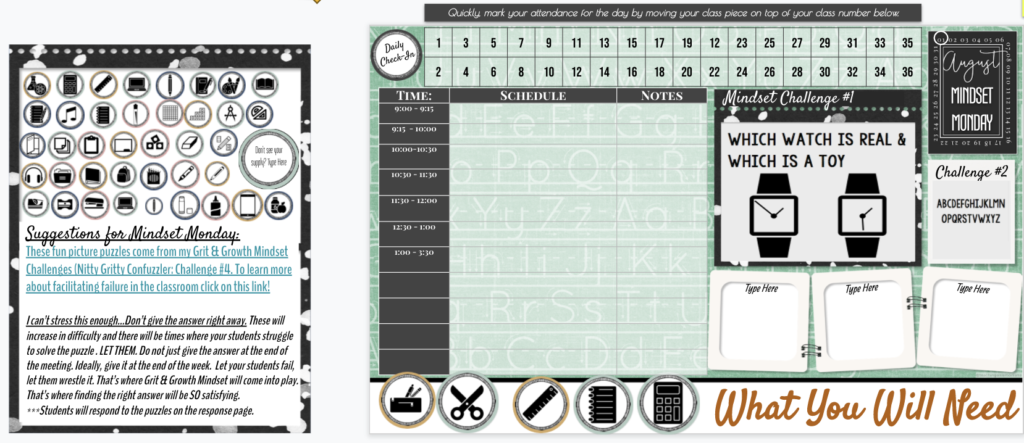 1st & 3rd Week Activities:
Mindset Monday (Build Grit and Growth Mindset through Challenges)
Tuesday Trivia (Multiple Choice Question)
Would You Rather Wednesday
Thoughtful Thursday (Opinion Article Based)
Fun Friday (Boggle Template)
2nd & 4th Week Activities:
Mindful Monday (Build S.E.L.)
Tuesday Trivia (True or False Question)
Wonder Wednesday (Link to Wonderopolis Wonder of the Day)
Thoughtful Thursday (Kindness Challenge)
Fun Friday (Scattegories Template)
Additional Daily Slides: 
Each month I also include a 5th week's worth of daily slides giving you the ability to switch out or simply have more available options if needed.
Remember almost all of the text you see on the templates is editable. This allows you to either use the slides as I've prepared them or you can customize the daily tasks to your own classroom needs and curriculum.
As mentioned, these slides are set up to be completed collaboratively. **However you can assign the weekly student response slides as an individual copy. The beauty behind collaborative slides is that they lend SO well to creating a classroom community. Students are able to interact and connect with each other. All while being aware of the emotional needs of their peers and with what their own responses provide as well.
Daily Assignment/ Subject Slides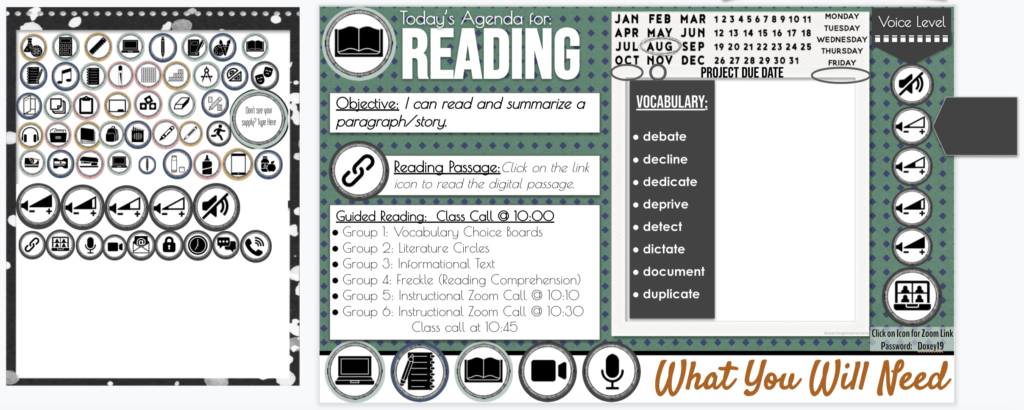 I especially love how these Daily Assignment/Subject slides turned out. Notice all of the icons to the left. Each of these can be moved and scaled depending on what you need. I've included a voice level chart using the icons, however, you can set this up however you need. The other great part about these icons is that you can easily link a website to them. This makes it easy for students to quickly navigate where you need them to go. Besides the white frame and text that shows the month, the numerical date, and day of the week… Everything is editable.
These slides are a great way to start each subject, or a follow up to your daily morning meeting. State your expectations in a clear, easy to understand way.
Month at a Glance/ Week at a Glance: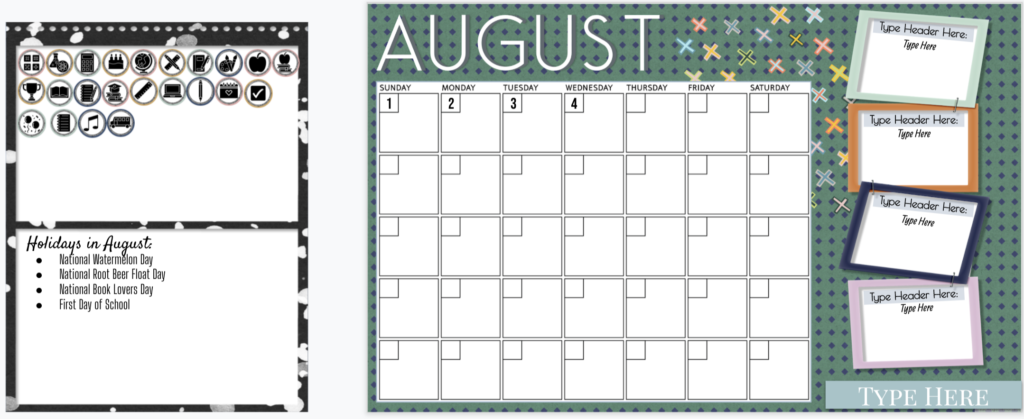 Each month will also include a Month at a Glance Template with fun Calander Icons and a list of Holidays you might want to celebrate. I will update each month to include seasonal icons specific to that month as well. The Month at a Glance template is a great place to take note of class birthdays, school breaks, and other things you would like the students to be aware of.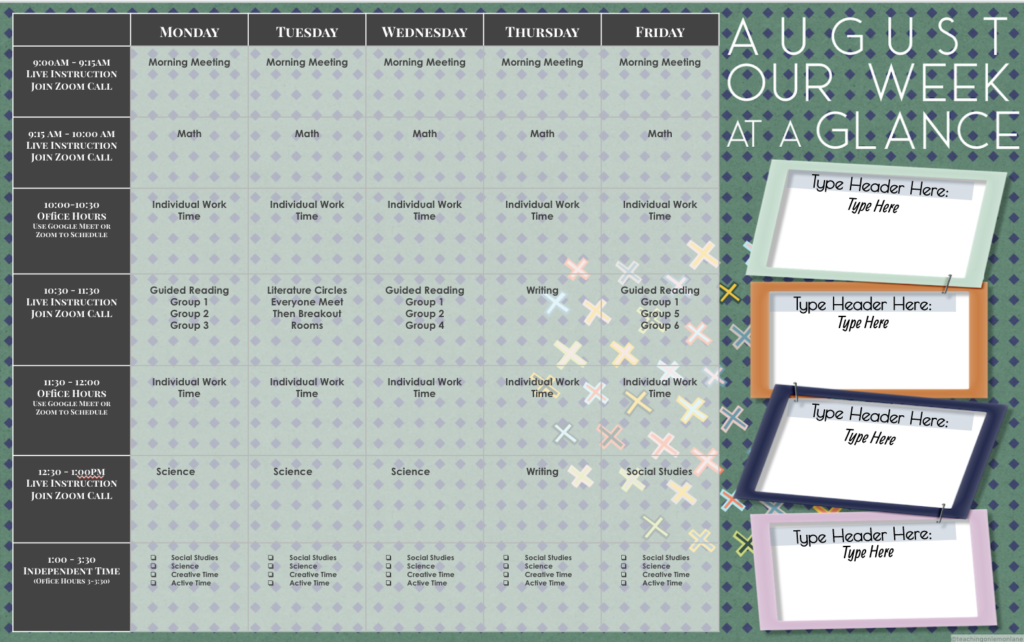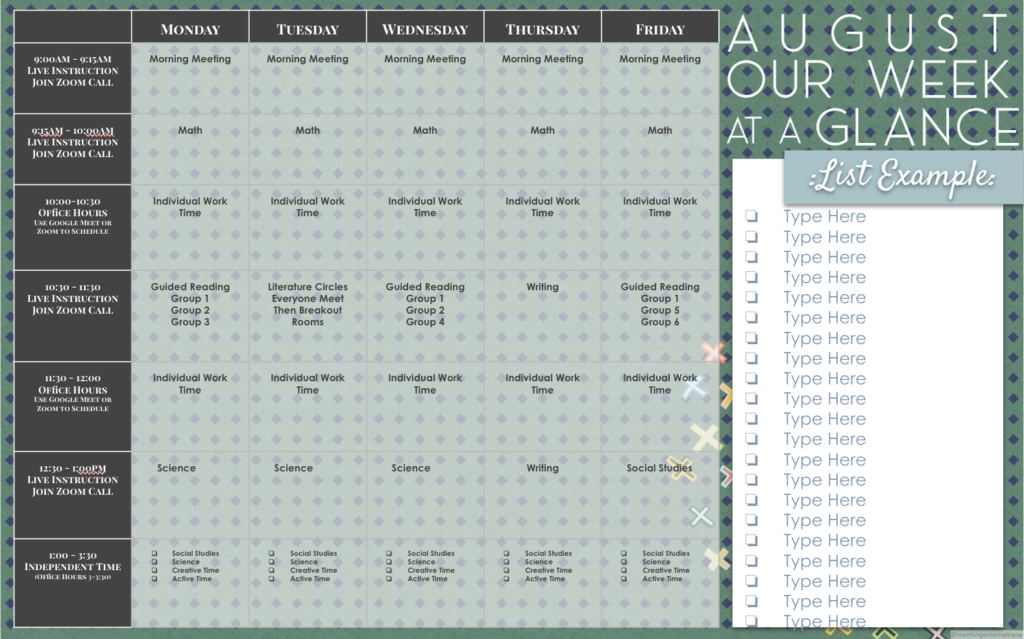 I've also included two templates that you can use as a Week at A Glance Slide. Again these are great for organizing events, class schedules, reminders, and due dates.
Student Job & Slide Quick Links:

I've included a template that can display student jobs. (Technically the text is editable so you can use this template for whatever you need!) All of the jobs I've listed are considered digital jobs and are in relation to the Morning Meeting. Once students have a handle on how everything works you can begin delegating different jobs to your students and allow them to more fully customize the slides to your own classroom. When students are more involved in something, engagement increases.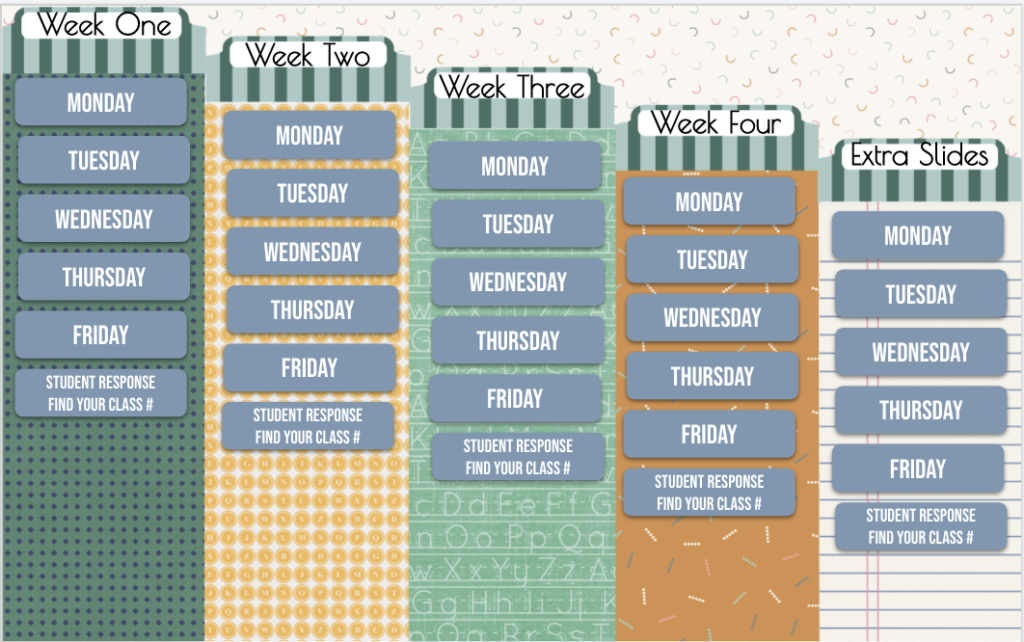 Lastly, each month will include a shortcut slide. This is simply to help with the ease of navigating around a collaborative slide. As a collaborative slide, each student will need their own individual copy of the response sheet that they interact with weekly. You can share the student's response sheet individually as a separate presentation, or simply make a copy of the number of slides each week for each student. I personally like keeping the slides completely collaborative because this allows students and you to see the emotional daily check-in of each student. Having this awareness promotes a need of taking care of one another and lifting each other, again promoting that crucial Social-Emotional well being within the classroom.
Tips for using this Product in a Traditional Classroom
If you are in a traditional classroom, and not 1:1 with tech, these slides would work best projected onto a whiteboard or where students can see. From there on the templates like "Would you Rather Wednesday," or Tuesday True or False/ Trivia I would simply have actual magnets or markers that students could use to show their response on the projected slide. Daily challenges like the Wonder Wednesday or What's your Opinion slide would have to be done together. If you would like to avoid that simply use the Would you Rathe Wednesday Slide and the Thoughtful Thursday Templates on Kindness. All student responses could simply be recorded by hand in a journal.
If you are 1:1 in a traditional classroom, students can simply interact with the slides the same way as if you were completely virtual. This would allow them to use the template I've included to show and interact with the different slides and challenges while showing their attendance as well.
How To Purchase: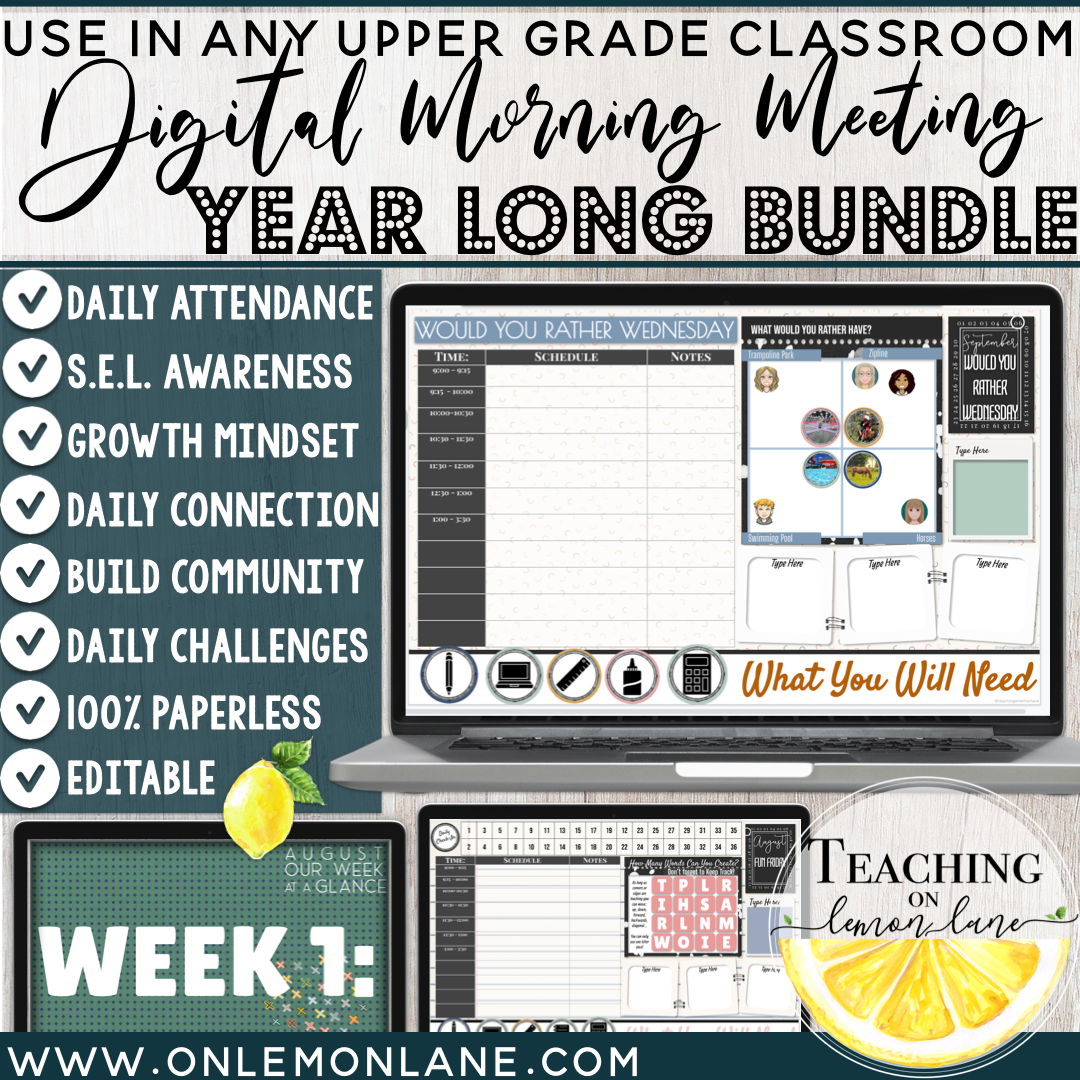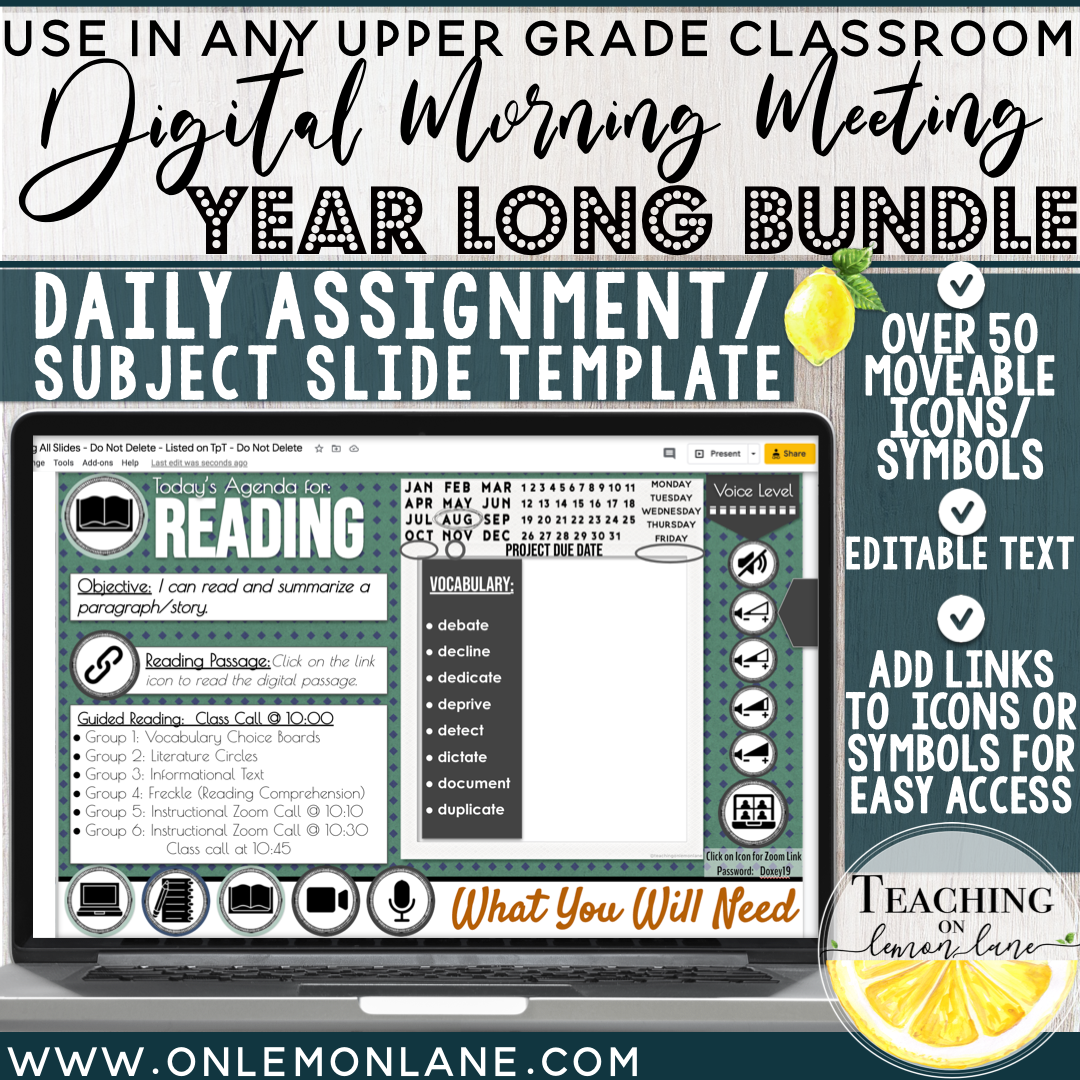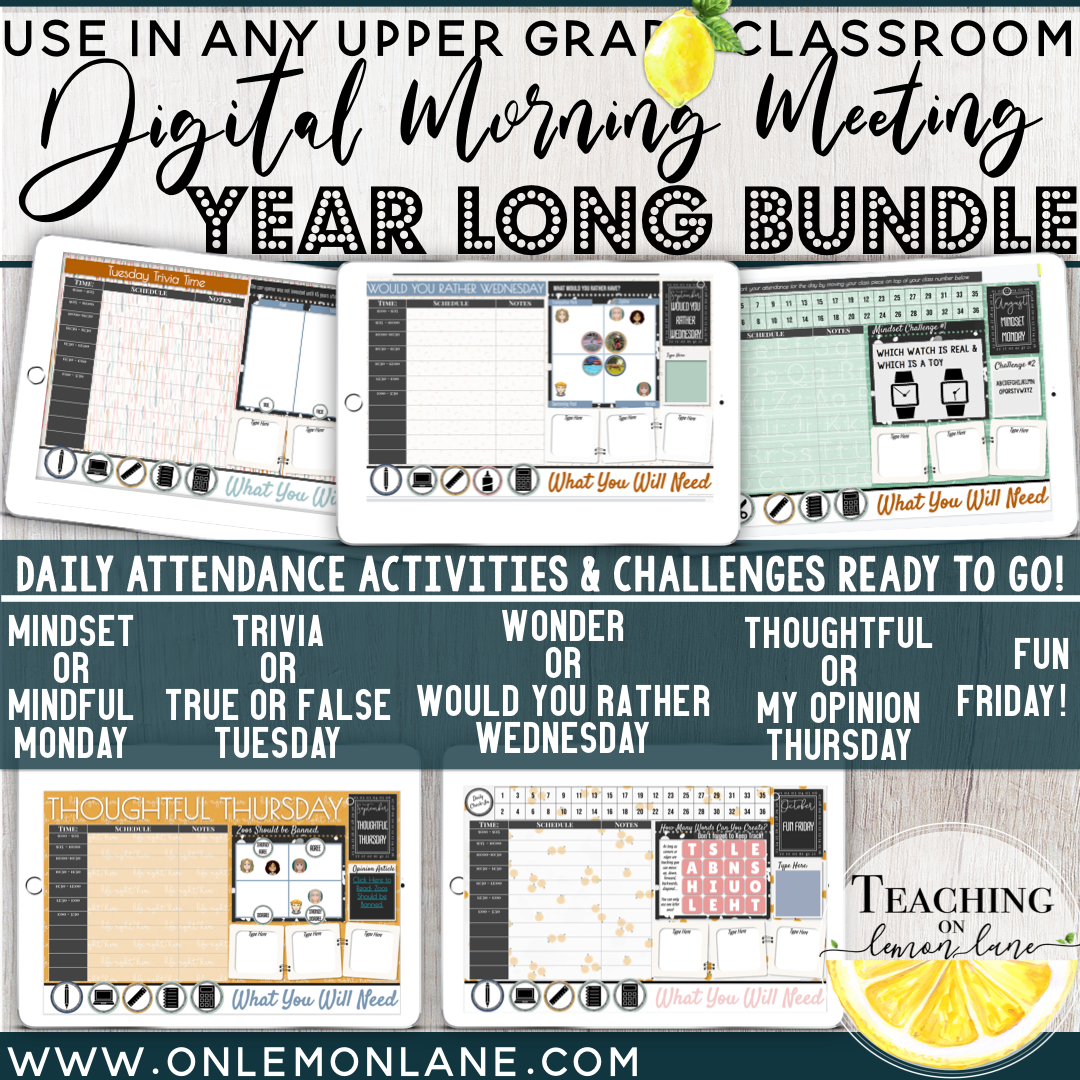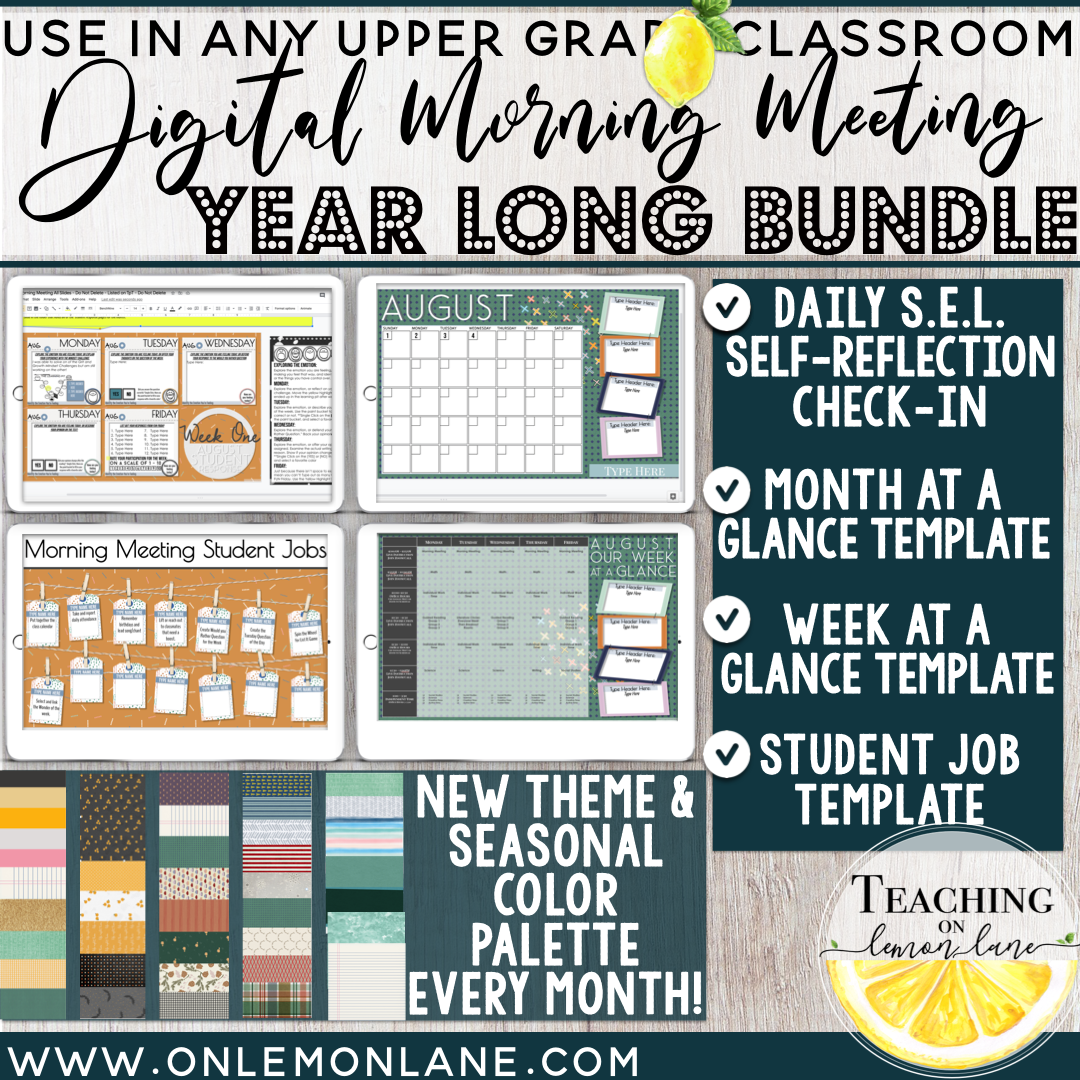 Year Long Bundle Morning Meeting
You can purchase each month separately… OR get in early and purchase the YEAR LONG GROWING BUNDLE at a fraction of the price. 
***THIS IS A GROWING BUNDLE FOR THE ENTIRE SCHOOL YEAR August – May***
With every month added the price will increase until it reaches it's Bundled discount price of $49.99

(If you were to purchase every month individually it would be around $80.00)
Click Here to Purchase the YEAR LONG GROWING BUNDLE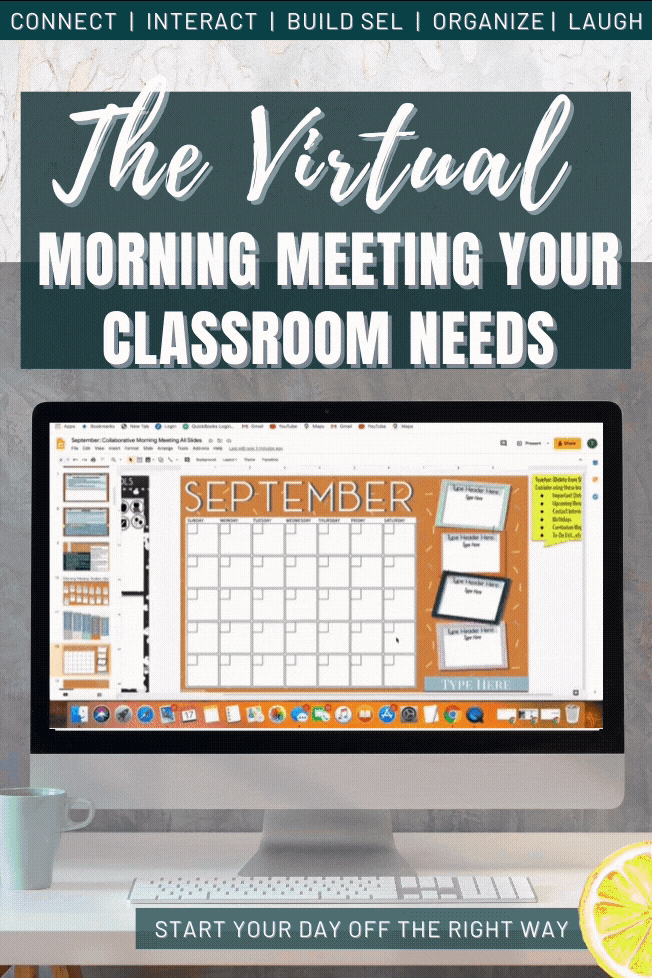 Stay in the loop, let's connect!

To stay up-to-date on new blog posts, freebies, exclusive promo codes, and sales… Join the Teaching on Lemon Lane Community! Pick any or all of the following to stay in the loop of all things Teaching on Lemon Lane. 
If you enjoyed this PLEASE SHARE! Sharing on Pinterest, Facebook, or tagging on Instagram is a simple, yet wonderful way to support the efforts of Teaching on Lemon Lane!