I love the Easter season and all it brings! From the springtime blooms, to the warmer weather it is easily one of my favorite times of the year. After my son was born I started to feel the need to start more Christ-centered traditions to what we were currently doing. We still do the Easter Bunny, and egg hunts, but adding the following activities has made this season even more special to our little family. I hope you love these activities, suggestions, and printables as much as I do!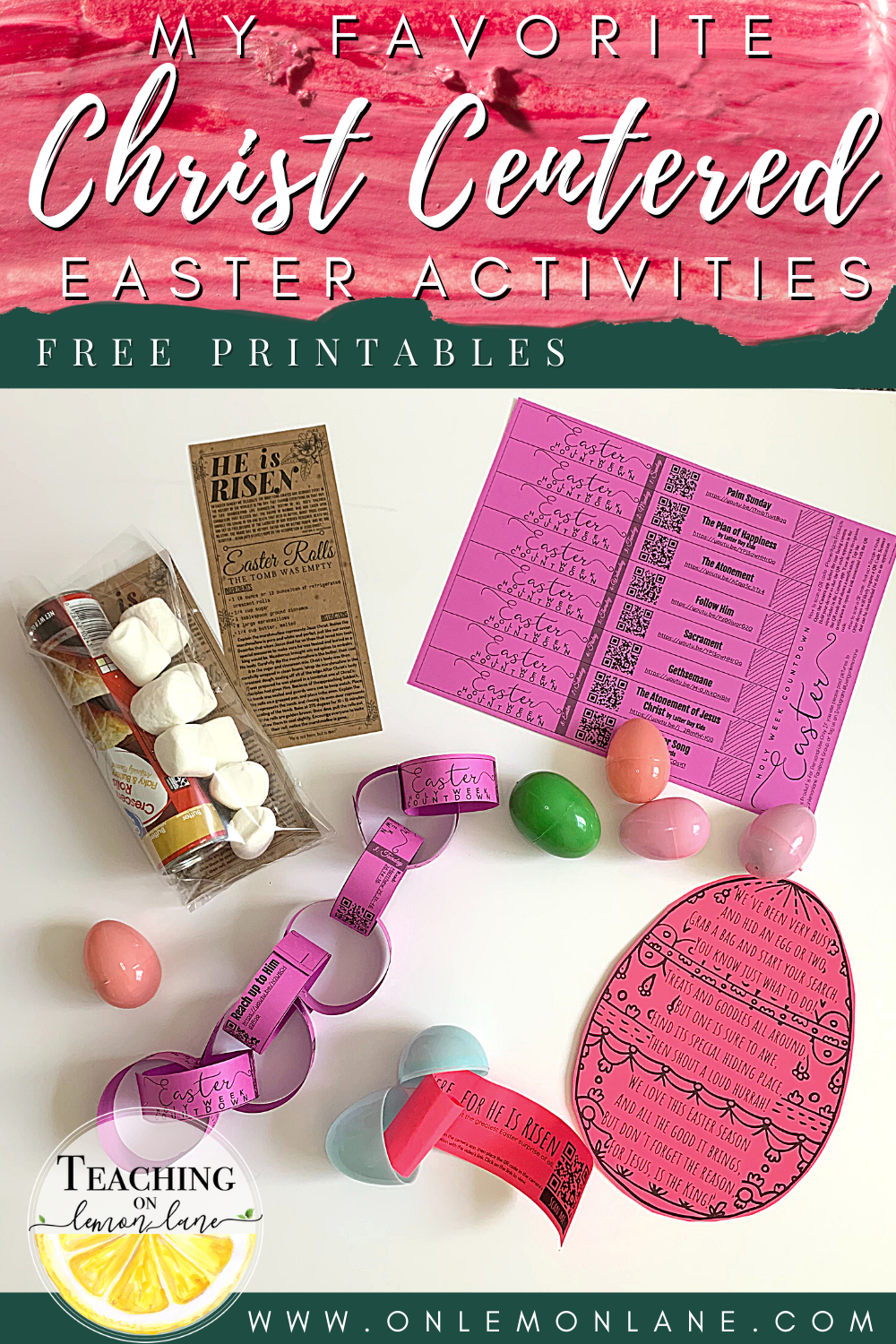 In order to access these downloads, you will need to be a member of On Lemon Lane, and signed in to your account. Not a member? Not a problem? Sign-up is FAST, FREE and Easy-Peasy, Lemon-Squeezy!
Click Here to Become a Member, once logged in click on the following links for access to the downloads!
Already a Member? Click Here to Login.
The Best Easter Surprise of All: Empty Easter Egg Hunt
I've been trying to think of a fun way to involve my kids with spreading the Easter cheer this year… when @latterdaykids posted their new Easter video, I knew I wanted to build the activity around it!
This is a great activity to do for your kids, then involve them in sharing it with a neighbor or loved ones? This would also be a GREAT service activity for your Young Men, Young Women, or Activity Day children to prepare and share!
To complete this activity simply print off the poem and QR code, place the QR code slip in a "special" egg. Hide the special egg along with other traditional Easter eggs, place the poem on the unsuspecting friend's door, then knock and RUN!
This is a great activity that doesn't require the same type of plan ahead like the Holy Week Count down requires.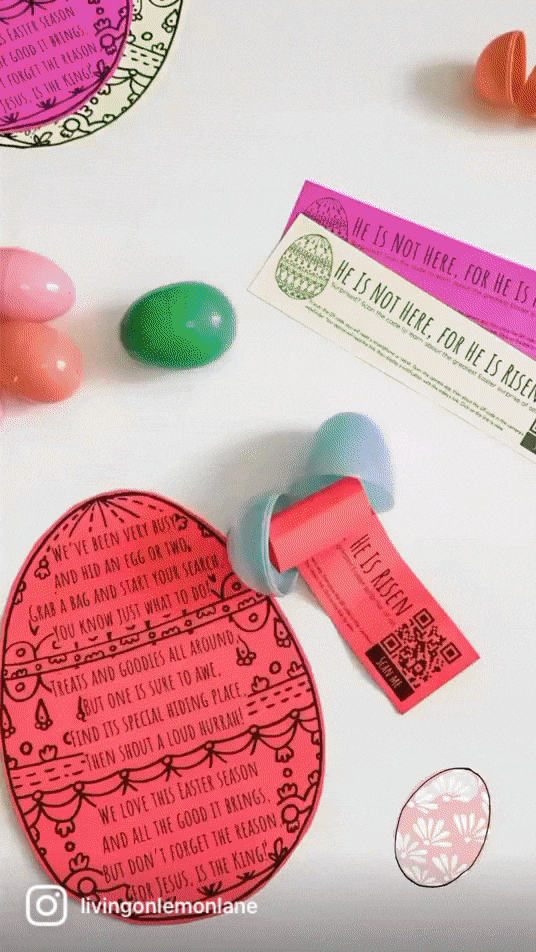 Click Here to Access the Download
Celebrate the WHY of Easter with this FREE Paper Chain countdown. Use the strips to create a paper chain, or roll them up and hide them in plastic Easter Eggs.
This countdown comes in 3 different and editable versions and follows the Holy Week's events. Use the QR code's to watch inspirational videos about Jesus Christ, His atonement, and His resurrection.
Read the scriptures that correlate with Holy Week. There's a differentiated countdown for everyone including the following 3 versions:
Toddlers
Young children,
Youth and families.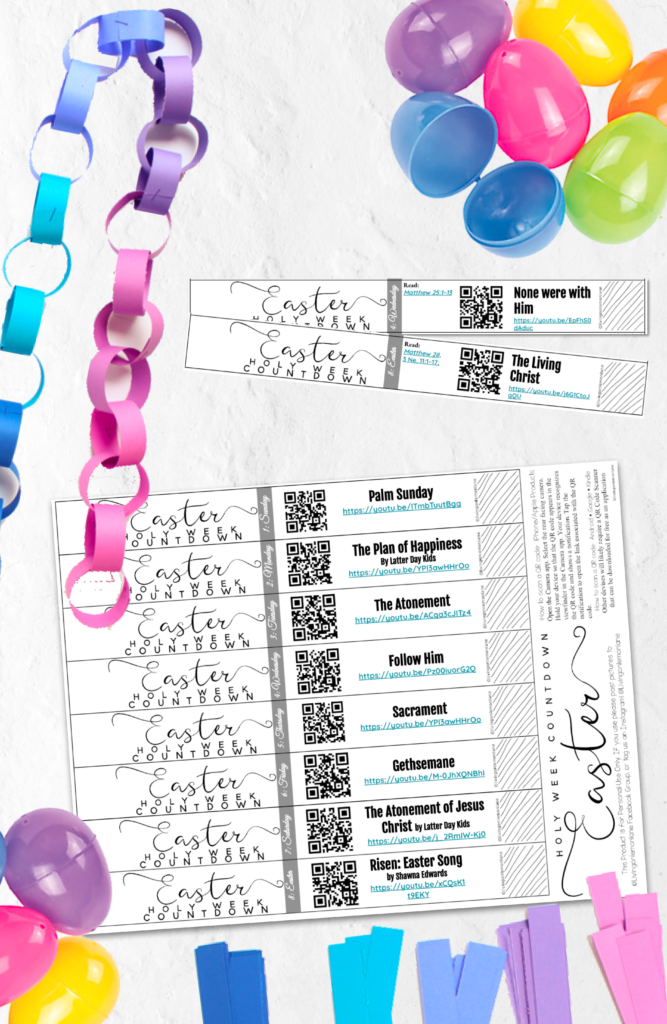 I received really great feedback on the Free Countdown to General Conference Paper Chain, so I wanted to create something similar that could help you and your family prepare spiritually for Easter. I used a similar template to create the Countdown to Easter. The activity is an 8-day countdown that starts the Sunday before Easter and follows the Holy Week procession. The fun part about this countdown is you can choose how to use it. Cut the strips and hide them in eggs to be found throughout the week, or create a paperchain like the one used to prepare for General Conference.
I've prepared 3 different templates for you to pick from, each one is editable and can be customized for personal use with your own traditions, and activities. Like the General Conference Countdown, these make great activity handouts for Primary, Ministering, Activity Days, Young Men\Young Women…etc. Comment below on how you plan to use them!
Easter Countdown: Free Download 3 Different Versions
Version 1 Toddlers | Young Children: Created with toddlers and young children in mind. Each QR code links you to a video appropriate and engaging for this age group. Kids will better understand the WHY of Easter and even begin to learn more about Holy Week. See below for the list of videos included in this countdown.
Version 2: Families | Youth: This countdown was created with youth and families in mind. Each day gives you a handful of scriptures to read. These scriptures follow the chronology of Holy Week, starting with Palm Sunday. This countdown also includes a QR code that will link you to a video focused on our Savior Jesus Christ appropriate for Easter Sunday. I put a lot of thought and effort into finding videos that I felt would be impactful. See below for a list of videos included.
Version 3: Families | Youth: This countdown is completely focused on the scriptures. Meaning you will read the same scriptures that are on version 2 that follow Holy Week. This time, however, the videos the QR code will link you to will be videos that illustrate the scriptures you've just read. This is a great way to bring the passages to life, and better understand their meaning. The Church of Jesus Christ of Latter-Day Saints has done a wonderful job creating these New Testament videos, everyone is sure to enjoy, and even more… feel something.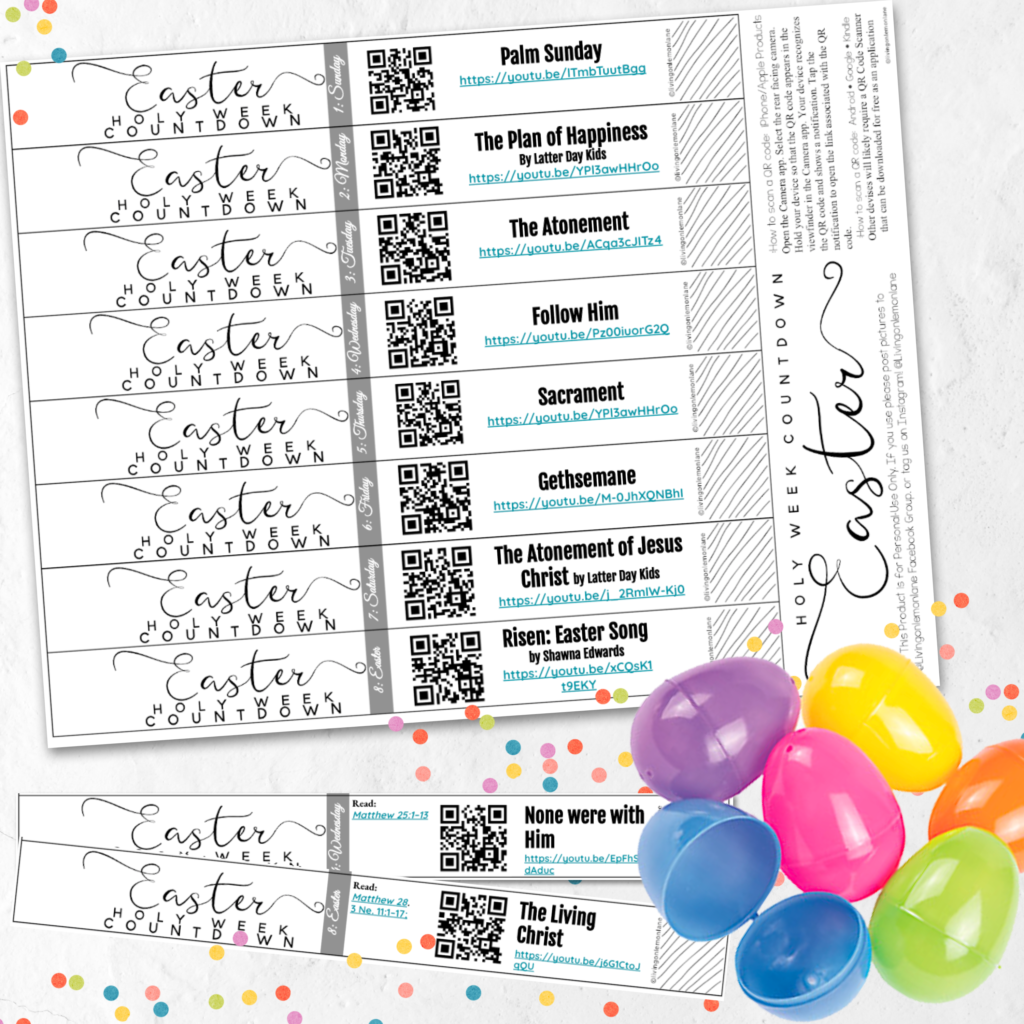 Easter Empty Tomb Ressurection Rolls: My Favorite Easter Tradition
I started making Easter Ressurection Rolls when my son was 2, and haven't looked back. This is such a wonderful tradition to start with your family. I love that it is a simple way to celebrate the WHY of Easter. It's also a hands-on way for your loved ones to experience and learn about Jesus Christ's resurrection. At 2 years old, with a little support and explanation, kiddos can successfully complete the steps almost 100% independently.
I've always used the simplified recipe that utilizes the can of crescent roll dough, however, the Friend published a fun (From Scratch) recipe that is sure to be a hit. You will find both recipes below, as well as my explanation of the steps and symbols, as well as a free-handout that makes for a really beautiful, and meaningful gift for ministering, family members, neighbors, friends, primary kiddos, activity days, mutual…etc!
Instructions:
Preheat oven, melt butter, and combine cinnamon and sugar prior to the activity.
Explain you are going to make special easter rolls. Divide the dough into sections

Give each participant a marshmallow and explain the marshmallow represents Jesus Christ. Notice the marshmallow is pure and white and perfect, just like our savior. Describe that when Jesus died for us, those that loved him took special measures to make sure he was treated and buried as a king would be.

Nicodemus brought oils and spices that were only used on the rich and used these to embalm Christ's body. The butter represents the oil and the sugar and cinnamon represent the spices. Carefully dip the marshmallow in the butter, then coat it in the sugar and cinnamon mix.

Christ's body was then carefully wrapped in clean linens. Wrap the marshmallow in the crescent dough, sealing off all of the edges.

After Christ's body was prepared he was placed in a tomb that Joseph of Arimathea, one of Christ's disciples had given Him. Because of the approaching Sabbath, the tomb was sealed and guards were sent to keep watch.

Place the rolls on a greased pan, and place in the oven. Explain the oven represents the tomb, and closing the oven door represents the sealing of the tomb. Bake at 375 degrees for 10 – 15 minutes until the rolls are golden brown.

Once done, pull the rolls out and allow them to cool slightly.

Encourage everyone to taste their roll, notice the marshmallow is gone. Testify that Christ lives, that he is risen.

Explain that after the Sabbath Day the devoted Mary Magdalene and other faithful women set out for the tomb, to further care for Christ's body. At the tomb they saw an angel, and were afraid; but he told them to not be afraid, and that "He is not here: for he is risen…"

Not a member? Not a problem! Sign-up is FAST, FREE and Easy-Peasy Lemon Squeezy! Click here to become a member!

Click Here for the FREE Printable Handout,

I love dropping off a can of Crescent Rolls, Marshmallows, and the handout to my friends, neighbors. These are perfect for ministering.

This could also be a fun activity to send home with your Young Women|Men or primary kiddos! Because the text is black you can print the handout on any color of paper for an extra pop. I think it looks especially beautiful printed on a more natural-looking cardstock like I've linked here.  The recipe is not editable, however, the instructions for the activity are!
How do you center your Easter Celebrations of Christ? Please comment below, I love hearing how you utilized these ideas, or hearing new ideas to remember that He is the reason for the season!