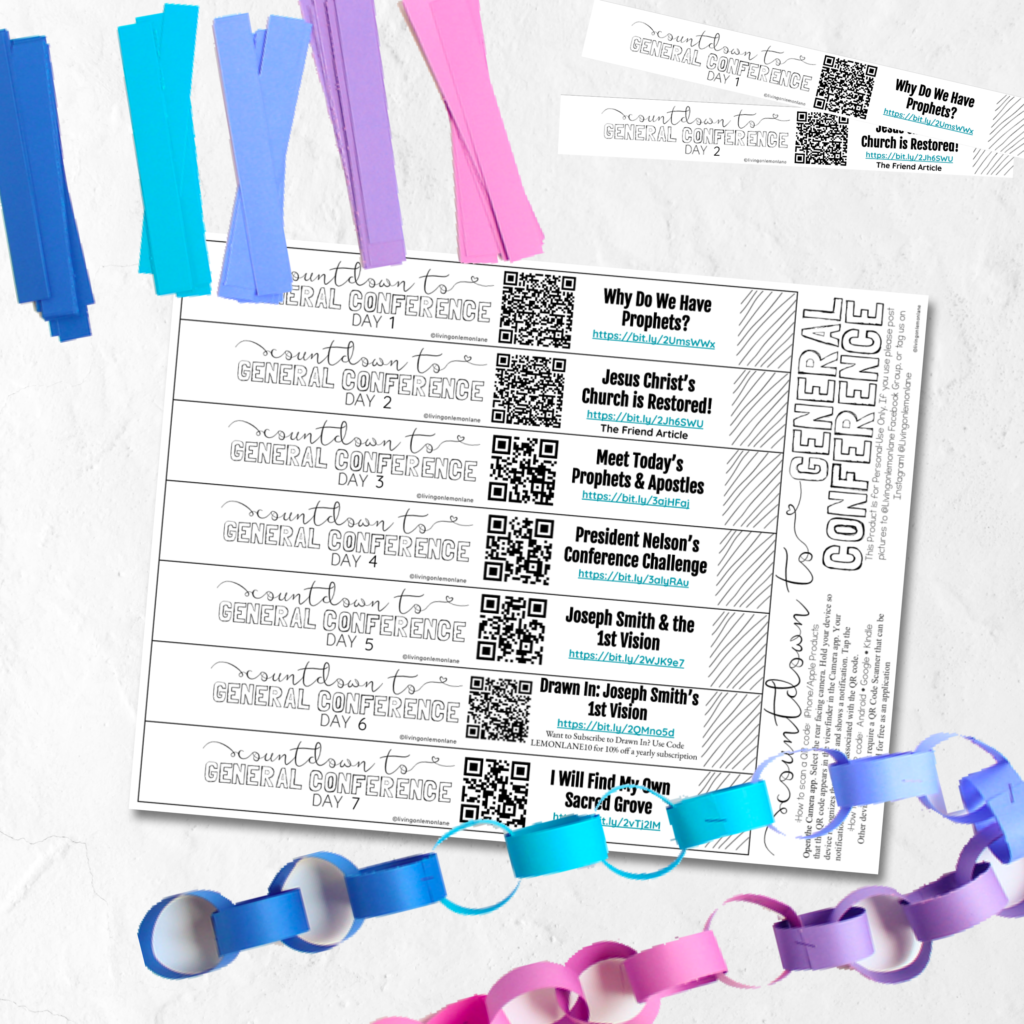 Hey guys! I am SO EXCITED about this activity. The idea for this activity literally came days ago! So I apologize that I am just getting it posted now. Essentially, you will print the paper chain template, cut it out, and either glue to staple the ends together. For the next seven days as a family, you will complete one of the chain's activities each day. Activities range from podcasts to videos, to songs, to articles. Each activity I've highlighted is age-appropriate and focused on preparing for General Conference, with an added emphasis on Joseph Smith and the Restoration of the Gospel.
I've prepared two versions for you. One paper chain is geared with activities and videos meant for Toddlers and  Younger Children. This means the videos will be shorter, songs will be engaging, and stories will be illustrated. The second version is meant to be completed as a family with older children, Young Men or Young Women. You can expect full conference talks, awesome videos, songs, and an episode from one of my FAVORITE podcasts of all time.
The best part about this download is that it is editable, which means if you would like to add your own QR code, link, or text it is completely customizable to your needs!
The second best part is QR CODES. These are a HIT in the classroom. Do not let these scare you, especially if you have an iPhone or an iPad. Using a QR code is as simple as opening the camera app on your apple device, placing the QR code in view, and Voilà, the link to the activity will automatically appear at the top of the screen. Simply click on the link and you are on your way!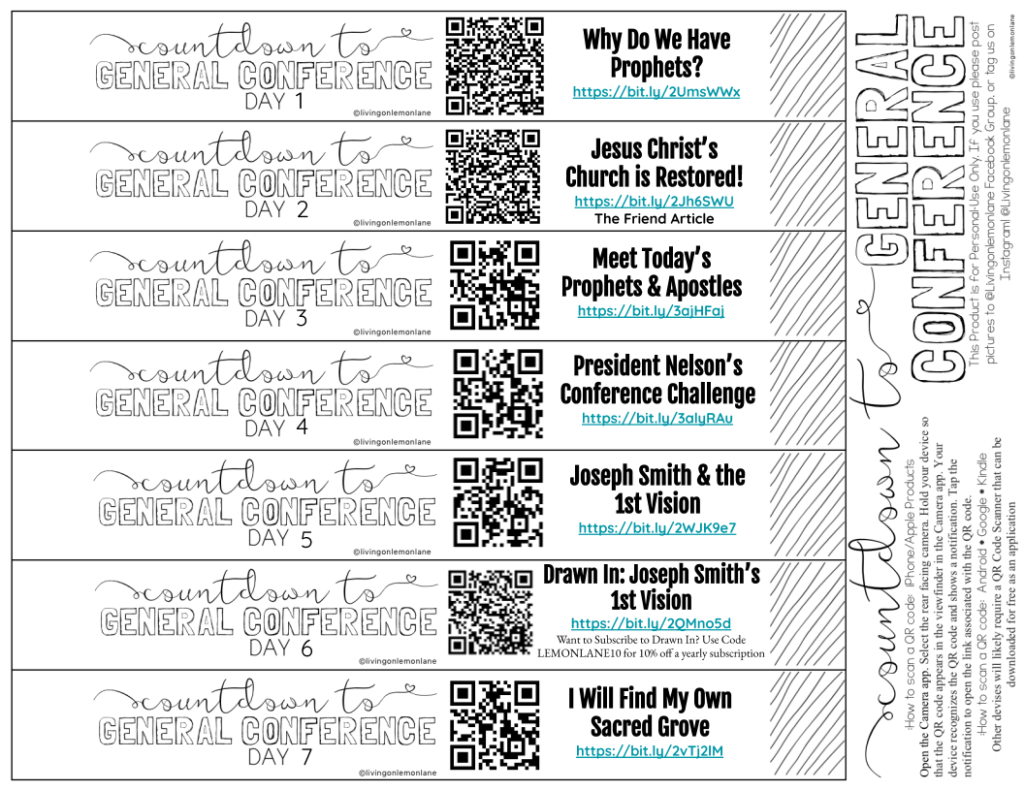 If you don't have an Apple device, all you need to do is download a free QR code scanner. If you're still nervous I've included the links in the download with a shortened URL as well so you have another option to access the activities.
I would recommend starting with Day 1 and working to Day 7. I tried to place the activities in a somewhat methodical order that build upon each other. Let me know if you have any questions!
***I've included my FAVORITE resources for studying the Restoration of the Gospel as an individual. Make sure to check those out as well. 
If you do this activity PLEASE PLEASE PLEASE take pictures and tag me! Post to the Facebook group, or tag @livingonlemonlane on Instagram! Don't forget to pin these images to your Pinterest. This is a SMALL and SIMPLE way to support the efforts of Living on Lemon Lane by sharing these ideas with your friends and family.
This FREE download gives you access to the digital version which will allow you to alter the text and even complete the page online or, you can simply print and complete by hand. *** This FREE Download is exclusive to members of Living on Lemon Lane. In order to access the download, you must be logged in. Not a member? Not a problem! Sign-up is FAST, FREE and Easy-Peasy Lemon Squeezy! Click here to become a member!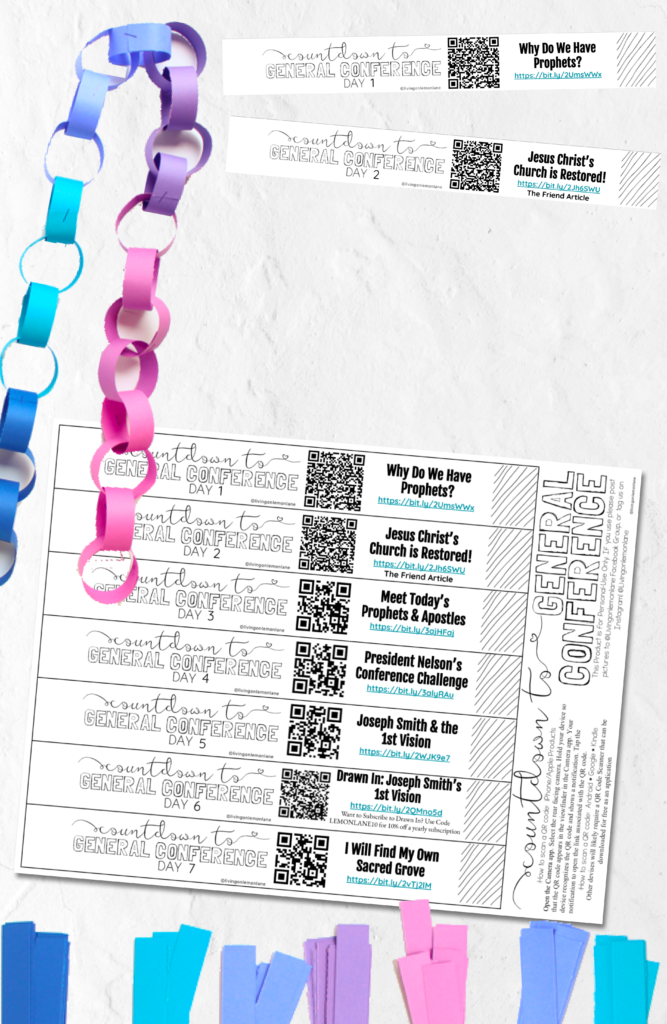 CLICK HERE TO DOWNLOAD THE MEMBER ONLY FREEBIE

Not a member? Not a problem! Sign-up is FAST, FREE and Easy-Peasy Lemon Squeezy! Click here to become a member!
I've included videos from two of my favorite creators, Latter Day Kids, and David Bowman of the Drawn In Series. Make sure to subscribe to their channels as a way to support their efforts!
I've recently teamed up with David Bowman artist, author and creator of the Drawn-In Video Subscription to bring a discount to all Living on Lemon Lane readers. This is the ONLY Paid Come Follow Me product that I have a subscription to, and it is worth every cent. Similar to his books, instead of just introducing the scripture story he explains a principle, then takes it a step further by exploring APPLICATION.  Click here to watch his Free Videos, I've included his FREE video on the countdown this video was created especially for the April 2020 Bicentenial General Conference with a focus on Joseph Smith and the Restoration of the Gospel of Jesus Christ of Latter Day Saints.If you love his videos as much as I do, use the code LEMONLANE1o for a discount on a yearly-subscrition.He will have videos, resources, and printables for each of the Come Follow Me Curriculiums. 
Individual Study Recommendations
Preparing for General Conference with a Focus on the Restoration
Now, I didn't make you a paper countdown chain… But if you're feeling really left out, remember the file above is editable so you can make a countdown chain for your own individual study if needed! I did, however, gather some of my favorite resources for studying the restoration of the Gospel of Jesus Christ. Many of these, especially the podcasts, fell into my lap like manna at a time when I was praying to have my testimony of the Prophet Joseph Smith bolstered. They are beautiful and thoughtful, and I hope you make time to listen to every single one.
Did I miss one of your favorites?? Please share your favorites in the comments below!
Perspectives on the Prophet Joseph Smith explores the life of Joseph Smith through various points of view.
The Book of Mormon Will Change Your Life-Eyring
The Power of the Book of Mormon in My Life-Scott
Plain and Precious Truths Restored-Clyde
Listen to, or read "Saints" online. 
Then, after each chapter, listen to the podcast interview with historians and experts focused on that chapter for more insight.