Come Follow Me: Book of Mormon, Teaching Ideas and Free Resources
3 Nephi 1 – 7
QUESTIONS TO PONDER:
Each Come Follow Me Lesson asks important and reflective questions. When I first began my individual study these questions threw me off. Simply because many of these questions required so much depth and individual reflection in order to answer honestly. My first approach to come follow me was to get in, get out, get it done, check it off. These questions simply didn't allow me to do so. In fact, I felt a little sick when I would read a question like, "How does the spirit speak to you?" and I wouldn't know the answer right away. After a time, and pondering on that specific question I realized IT'S OKAY. In fact, I think these questions were meant to be set aside, thought about, and pondered. When we try and come up with the quick easy, obvious, answer, we are depriving ourselves of an opportunity to reflect, ponder, pray, and RECEIVE REVELATION. Is this not the whole reason for Come Follow Me? Are we not trying to finetune and recognize how we, and how to receive personal revelation.
So each week I will list out some of the questions issued in Come Follow Me. Maybe you pick to ponder about all of them, maybe you pick just one. Whatever you do, ponder on this for the ENTIRE week. Pray about it, discuss it with loved ones, then at the start of the new week, take the time to write down your impressions or thoughts, share them with your family, testify of powerful insights.
How do you imagine you would have felt if you had been one of the believers during the time described in 3 Nephi 1–7?

How might it have felt, for example, to wait for the night with no darkness that would announce the Savior's birth, knowing you would be killed if it didn't happen?
As you read 3 Nephi 1:4–21 and 5:1–3, look for what Nephi and the other believers did to keep their faith during these difficult times. How did the Lord bless them?
What do you learn that can help when you find yourself waiting for blessings promised by the Lord?

You might think that witnessing something so miraculous as a night without darkness would stay with you for a long time and be an anchor to your testimony. But the memories of the signs and wonders the Nephites witnessed seemed to fade over time. What caused them to forget, and what were the results of forgetting? (see 3 Nephi 1:22; 2:1–3).

What are you doing to remember and renew your witness of spiritual truths? For example, consider how recording your spiritual experiences can help you.

How will you share your witness with those closest to you to help them believe?

What do you think it means to be a disciple of Jesus Christ?
In 3 Nephi 5:12–26, Mormon interrupted his abridgment of the Nephite records and declared that he was a disciple of Jesus Christ. Then, in 3 Nephi 7:15–26, he described the ministry of another disciple—the prophet Nephi. What do you find in these two passages that helps you understand what it means to be a disciple of Christ?
What did the Nephites do when they saw the Gadianton robbers coming? What can our family learn from the Nephites when we face difficult situations? What can we learn from the Nephites' words after the Lord helped them in their time of difficulty?
3 Nephi 5:13; Doctrine and Covenants 41:5

Read 3 Nephi 5:13 and Doctrine and Covenants 41:5, and discuss what it means to be a disciple of Christ. Maybe family members could talk about times when they noticed each other being disciples. If you have small children, you might make a badge that says, "I am a disciple of Jesus Christ," and let them wear the badge whenever you notice them following the Savior.
Lesson:
If you do any of these activities PLEASE PLEASE PLEASE take pictures and tag me! Post to the Facebook group, or tag @livingonlemonlane on Instagram! Don't forget to pin these images to your Pinterest. This is a SMALL and SIMPLE way to support the efforts of Living on Lemon Lane and sharing these ideas with your friends and family.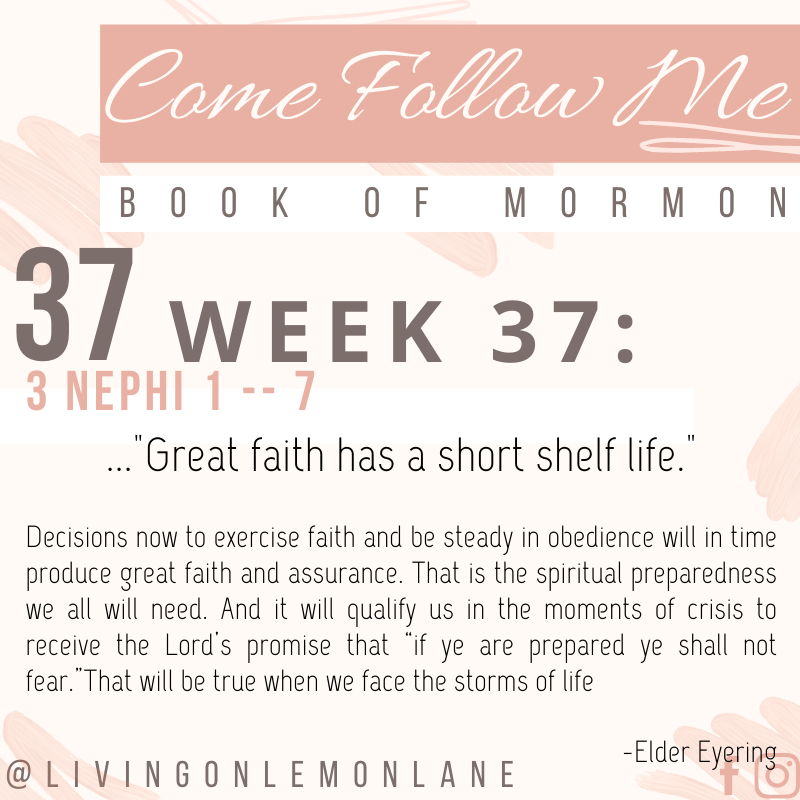 Make sure to tag a friend to help spread the word. 
Teaching Ideas for Toddlers & Young Children
Watch or Listen To:
With a 2-year-old and 4-year-old, I understand the STRUGGLE and the attention span you are dealing with. Below are some of my favorite videos or audio recordings|podcasts you can listen to and watch with your children. My favorites right now are the Book of Mormon Story videos.**Different from the newly released B.O.M. videos. These are illustrated and READ stories to your children. THESE are PERFECT for when everyone is strapped in the car seat. My 4-year-old now requests these over the radio. Each segment is only 2-4 minutes long. This allows us to listen, review and discuss together, and listen again throughout the week.  Many of the videos I share can be found on the Saint's Radio Channel App. (Formerly Mormon Channel App, If you don't already have this, DOWNLOAD NOW.)
I am absolutely LOVING the YouTube Channel, Latter Day Kids. Each week they put out a beautifully illustrated video meant for young children to be used in conjunction with the Come Follow Me Lessons. This week's video is all about All Things Denoting there is a God! You can even head to their website to download discussion questions to go along with the video and a fun coloring page.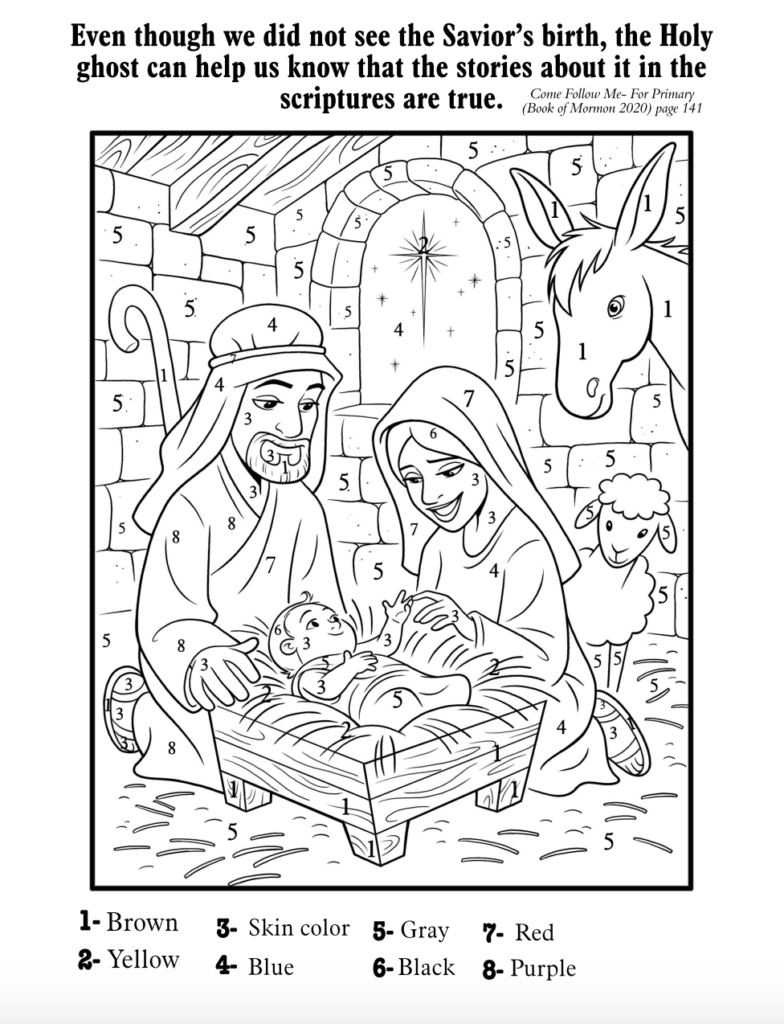 Click Here for the Red Crystal: Lots of Great Ideas and Free Printables for this Week!
Activity Suggestions from the Friend or the Come Follow Me Manual:
Read 3 Nephi 5:13 and Doctrine and Covenants 41:5, and discuss what it means to be a disciple of Christ. Maybe family members could talk about times when they noticed each other being disciples. If you have small children, you might make a badge that says, "I am a disciple of Jesus Christ," and let them wear the badge whenever you notice them following the Savior.
Before class, place a star on the wall. Invite the children to look for something on the wall that usually isn't there. Tell the children that the Nephites saw a new star in the sky when Jesus was born. Summarize the account in 3 Nephi 1:4–15 and 19–21. You could also use "Chapter 41: The Signs of Christ's Birth" (Book of Mormon Stories, 114–16, or the corresponding video on 

ChurchofJesusChrist.org

).

Read 3 Nephi 5:13, and invite the children to repeat the phrase "I am a disciple of Jesus Christ." Teach them that a disciple of Jesus Christ tries to follow Him. Share a few things Mormon did to be like Jesus, such as teaching God's word and obeying God's commandments (see 3 Nephi 5:13–18). Help the children think of ways they can be disciples.

On a piece of paper, help the children trace their hand and cut it out. Write "I am a disciple of Jesus Christ" on one side, and invite them to draw something they can do to be a disciple on the other side (you might need to help them think of ideas). Sing together a song about following the Savior, such as "I'm Trying to Be like Jesus" (Children's Songbook, 78–79).
 Teaching Ideas for Families
Watch or Listen To:
Finding time to make Come Follow Me can be tough, it can also be tough to keep the attention of family members. The Book of Mormon videos recently released by the church are a WONDERFUL resource. ***Filming has recently been postponed due to Covid 19
Read:
I LOVE using the Institute and Seminary Manuals to aid my study! They answer questions, provide insight and background coupled with beautiful quotes from Prophets and Apostles.
Activity Suggestions: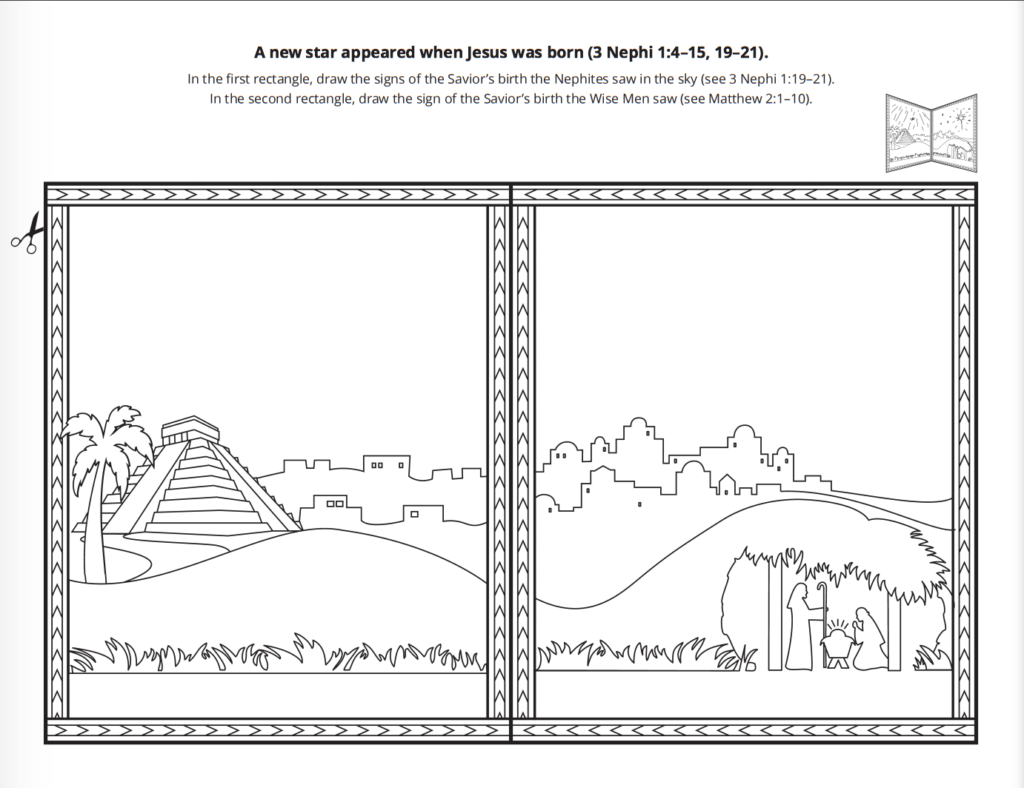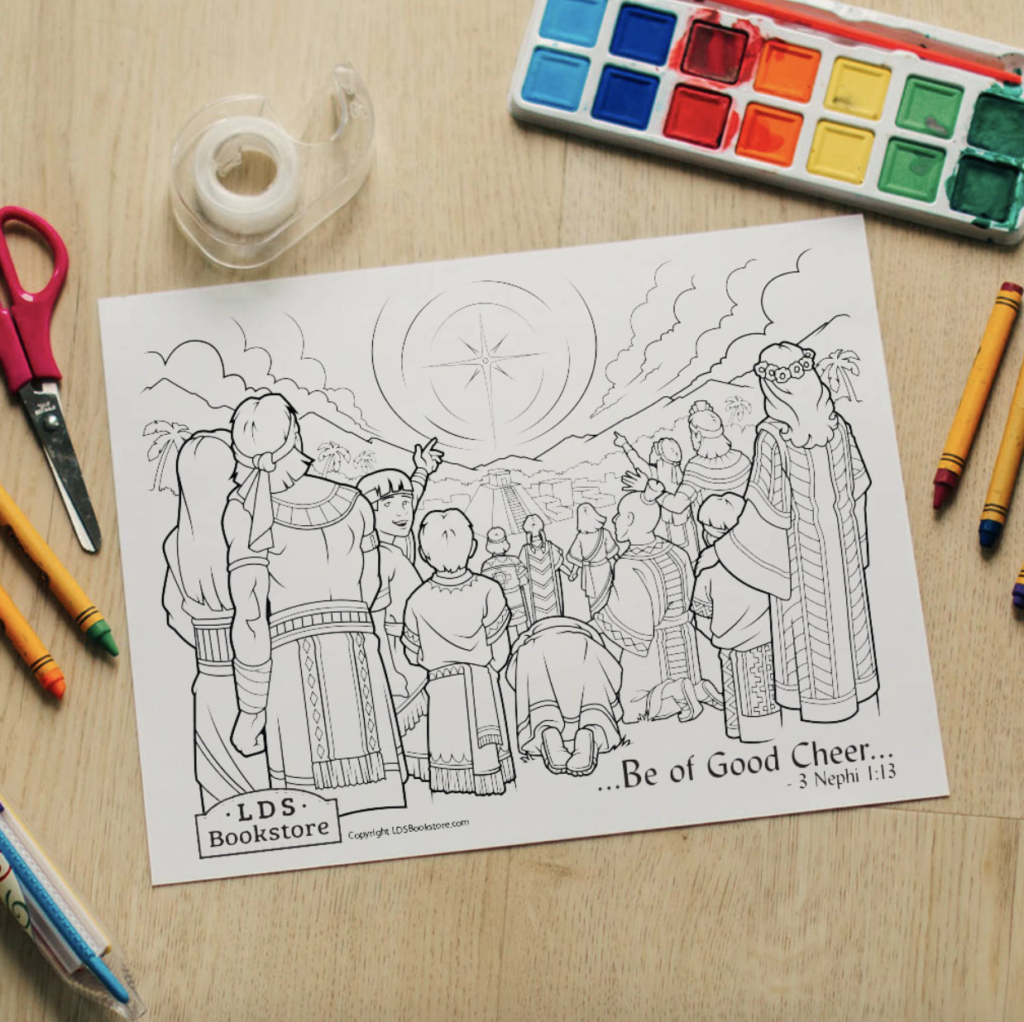 Fun Free Coloring Page from LDS Bookstore **Need to Add to Cart and Checkout in order for access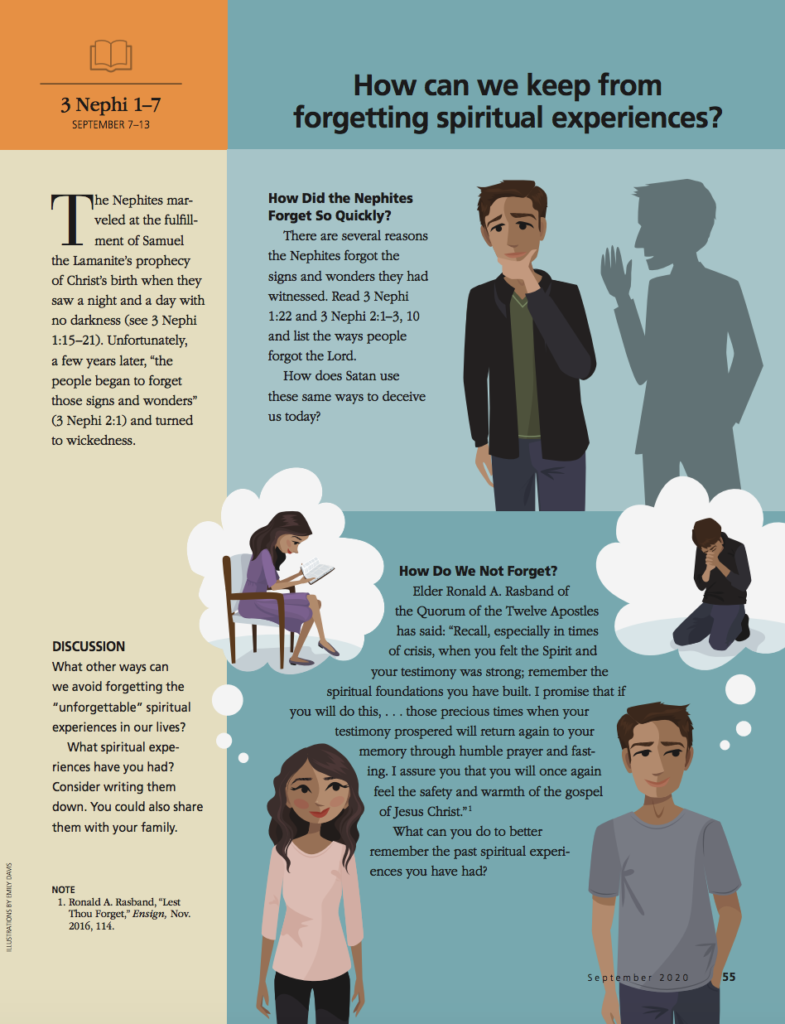 Activity Suggestion from Come Follow Me:
3 Nephi 2:1–3; 6:15–17 To help your family learn how Satan can deceive us, draw a body, and as your family reads 3 Nephi 2:1–3 and 6:15–17, mark the different parts of the body mentioned. According to these verses, what are some of the ways Satan tempts us to forget God and turn to sin?
We are stronger when we gather together.
The Nephites had to gather together for physical safety. How can you help the children see that gathering together with righteous friends can also give them spiritual strength?
Read with the children the following verses, and invite them to look for reasons why the Nephites gathered together and the blessings that came to them: 3 Nephi 2:11–12 and 3:13–14, 24–26. Why is it important for us to "gather" today in our families and at church? How can gathering make us spiritually stronger?

Use an object lesson to teach that we are stronger together than we are apart. For example, invite the children to try breaking one stick and then a bundle of sticks or tearing one piece of paper and then a stack of papers. How are we like the sticks or the paper? How can we strengthen each other when we gather together in our families or at church?

Explain that Jesus is gathering His people into the Church today through missionary work (see 3 Nephi 5:24–26). Invite a full-time missionary or ward missionary to share experiences showing how people have been strengthened by being gathered into the Church.
Invite the children to think of something they will do this week to be disciples of Christ. Encourage them to write it down and share it with their families.
Activity Suggestion from the Ensign:
Read 3 Nephi 2:1–3 together and talk about how some people "began to forget those signs and wonders which they had heard." Then play an activity to help your family remember God all week.

Label a jar "God loves me."

Give each family member a small piece of paper and ask them to write down a blessing God has given them. Put the papers in the jar.

Encourage family members to add more papers to the jar as they notice blessings during the week.

At the end of the week, pick a handful of papers to read out loud and talk about.

Discussion: Why do you think the adversary wants us to forget the spiritual "wonders" we notice in our lives? How can we remember God every day?
Individual Study & Extension
Watch or Listen To:
Read:
:MOST IMPORTANT PART:
Comment below and share YOUR favorite resources for this week of Come Follow Me in the Book of Mormon. Join the conversation on @livingonlemonlane on Instagram and stay updated on new blog posts!  If you enjoyed this PLEASE SHARE! Till next week.
General Conference is Coming Up! Make sure to check out these Free Downloads and Activities to prepare. CLICK ON THE IMAGE TO LEARN MORE.