I've been Gluten Free for over 5 years now, at first it was an adjustment but now, thankfully, it has become second nature. For the most part I've been able to find a close imitation of all the things I used to love, and believe me there are many #Foodie. All except for a cinnamon roll… Let me know ?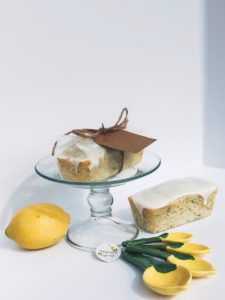 That being said I am always on the look out of awesome Gluten Free Recipes or small tweaks I can make to family favorite recipes so I can continue to enjoy them. This Lemon Zucchini Quick Bread is one of my absolute favorites to make in the summer time! Especially when we have zucchini from the garden coming out of our ears, or if we found a long lost zucchini the size of your leg growing in the depths of the jungle we call our garden… Ben seemed to accidentally stumble upon a green thumb and keeps quite an impressive garden.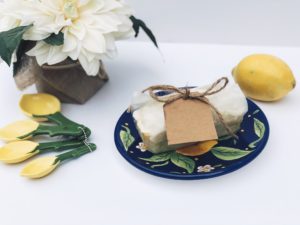 Between my dad's tips and Ben's dad's helping hand, anything but would be a disappointment.  This year we have had quite the battle with deer, spider-mites, and grasshoppers. Hoping that next year a fence will make a difference but if not send us all of your tried and true tips!
If you are new to Gluten Free baking, be warned that there may be a few things that seem strange especially when it comes to this recipe. Mostly, just the idea of blending all of your wet ingredients together to create the liquid that binds your dry ingredients.
A couple tips if you have an overabundance of Zucchini…
Prepare the shredded Zucchini in bulk. 
Give the zucchini a quick blanch before freezing.

Blanch: Give it a quick dunk in boiling water, then back to an ice bath. This will prevent it from going mushy, or discoloring. I've used both blanched and straight frozen: you may notice the difference in zucchini noodles, however when baking the texture goes unnoticed.

Shred and separate the Zucchini in the amount of 4 cups.

Most recipes that call for any type of shredded zucchini will call for 2 C. increments.

Pat out the excess water from the zucchini before storing it in a freezer bag.
Store it in the freezer and use when needed to cut the preparation time in half!
The base of this recipe originates from Gluten Free on a Shoestring. If you are new to GF or not and haven't tried Nicole's recipes… DO IT. I made a few alterations to the recipe, that being said the original is just as wonderful. I have yet to create Nicole's own recommended flour mix and instead have messed with it until I felt like it behaved and tasted right when using a store bought GF all purpose mix. Plus more lemon… always more lemon ? One of my favorites at the moment is the GF pillsbury flour. I've used many, but this is one that I repeat purchase.
New to GF and looking for a flour?
***This is my personal opinion but if you are new to GF baking and looking for a flour to try, always look at the first ingredient. If the first ingredient is brown rice then steer clear. It tastes like dirt to me, and I like brown rice! White rice, tapioca flour, or coconut flour are the types of flour that I like to see listed first. Also pay attention if your mix has xanthan gum, if it doesn't you will need to add this as well!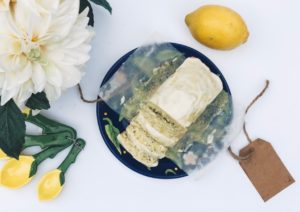 Perfect for Ministering to a Neighbor
This bread is my go-to when I am looking to drop something off or say hello to a friend or neighbor. For the most part it is allergen friendly, and a crowd pleaser to kids and adults alike. If you do decide to use this bread as a gift, make sure to check out the free downloadable tag to top it all off. It looks great on white paper and even better on butcher paper.
Recently I purchased mini bread pans about 6in in size, approximately half the size of a regular loaf. Complete game changer. You are left with the perfect size bread to drop off and share with friends and neighbors, plus you get double the amount for the same amount of effort. Let me know what you think!
GF Iced Lemon Zucchini Bread
A delightful summer treat. Lemon and zucchini come together to create a subtle, but sweet flavor. The lemon zest icing takes it to the next level.
Total Time
1
hour
10
minutes
Ingredients
Dry Ingredients
2 1/2

Cups

All Purpose Gluten Free Flour

Often I use Pillsbury's Mix

3/4

Cup

Cornstarch

Measure in the sink. It can get messy!

1

tsp

Baking Soda

2

tsp

Baking Powder

2

tsp

Salt

2

Cup

Sugar

2

Lemons

Zest: Finely Grated

2 1/2

Cups

Shredded Zucchini

Patted Dry: This recipe calls for 4 Cups of Zucchini total
Wet Ingredients
2/3

Cup

Oil

1/2

Cup

Fresh Lemon Juice

1 1/2

Cup

Shredded Zucchini
Lemon Zest Icing
8

Cups

Powdered Sugar

3

Tbsp

Fresh Lemon Juice

1

Lemon

Zest: Finely Grated
Instructions
Preheat your oven to 325 and prepare your bread pans. (Regular Pan: 9x5in)

Simply greasing the pans will do just fine, you can also line the pans with parchment paper.
Dry Ingredients
Begin by combining and mixing your dry ingredients, adding the zucchini last.
Wet Ingredients
Next you will be blending or emulsifying all of your wet ingredients. It tends to be the most convenient to combine these ingredients in the same container you will be blending them together in.
Combine Wet & Dry Ingredients
This next part tends to work best if you create a well within your dry ingredients, then carefully pour your wet ingredients into the well. Mix until all the ingredients are combined. The batter will be thick, similar to a waffle batter.

Next add the batter to your bread pans. I aim for just under 3/4 full. Place the pan or pans in the center of the oven. If you are using the mini bread pans as I suggested: check the loaves around 40 minutes and continue to check within 3 minute intervals. The bread will have slightly goldened *Remember GF flour tends to stay lighter base than a regular wheat based flour. Once you can stick a toothpick in the center and it come out clean the bread is done.
Lemon Zest Icing
This part is the "Icing on the cake" pun intended.... Mix your powdered sugar and finely grated lemon zest together. Next, add your lemon juice in smaller increments as you work to add all of the lemon juice. If you still need more juice by the time you add the 3 Tbsp, proceed with caution. A little goes a LONG way. If needed add powdered sugar, or lemon juice until the consistency is a slow running liquid. The glaze should be thick, but still pourable.

Pour the icing on the loaves. **Make sure the loaves have had adequate time to cool, to prevent the icing from melting and running off the bread. Allow the icing to set up before serving.