St. Patrick's Day Craft for Older Kids
I had been racking my brain trying to come up with a fun, age-appropriate, educational activity that could be used in the upper grades for St. Patricks Day. When I finally started thinking about Lucky Charms… my mind finally started to roll.
When I stumbled across the Lucky Chinese Coin, and found it could be used to make a bracelet, I knew I had a winner. The only issue is that every tutorial I watched required you to use a flame to finish the edges, or adhere ends to prevent them from coming unraveled. This works great when you're working on your own, but I intended this project to be done in the classroom, which meant flames with the students were out.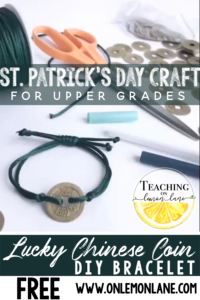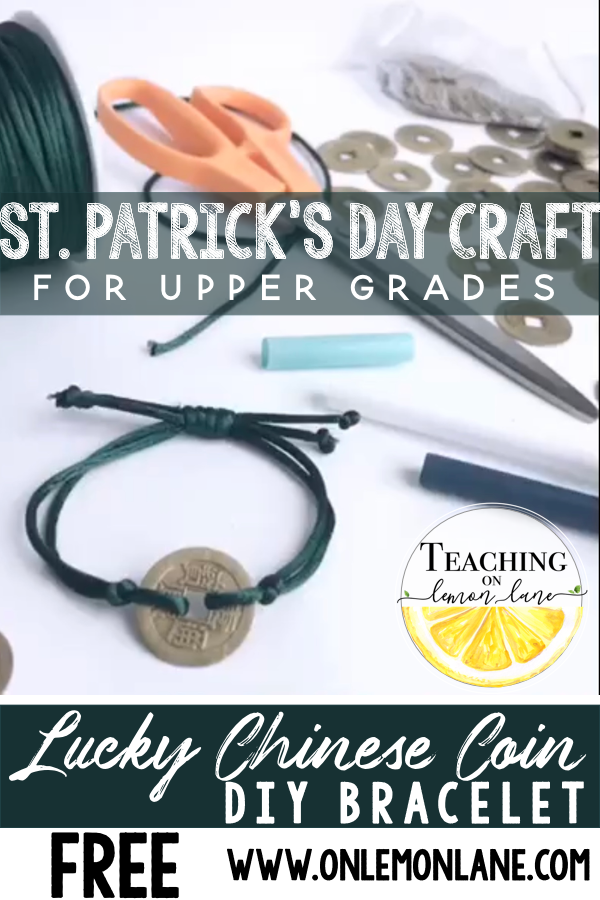 This bracelet is a bit of a makeshift for me, but I couldn't be more pleased with the simplicity of the process or the final design. It looks intricate and complicated, but I can confidently recommend this project to 4th graders and up. (3rd graders continue to surprise me though so let me know if you're in a younger grade and have success.
I think the thing I was most pleased with however was the cost of supplies. Often I'm turned away from different projects when I consider the overall cost. This was not one of those. Your entire grade level could create one of these beauties for less that 20$ total in supplies! Best part, you buy it once and have enough cord to go around for years to come!
Below I will list the supplies and vendors that I used. They are affiliate links, but I would recommend sticking to them, especially when it comes to the coins. Other vendors had random reviews that the coins were too small and bent easily. For the purpose of the bracelet you need a strong and sturdy metal. The coins I purchased were perfect! I swayed off the traditional lucky Chinese Coin bracelet path by choosing a green cord instead of a red one. I liked the idea of making something green each kid could wear come St. Patrick's Day as a bit of pinch protection. You will learn in my Luck of the Irish and The Luckiest Charms of All Activity that green is known to symbolize wealth,  health, and prosperity so I thought it was the perfect choice for a DIY Lucky Charm.
Supplies:
Masking Tape, Washi Tape, Painter's Tape… Any of these will work great!
Scissors
Straws These Smoothie straws work great, a wider opening makes it easier to slip the cord through.
Text step by step instructions coming soon, for now watch the video that includes steps and details above. Let me know if you have any questions. I can't wait to see what you and your class do with this!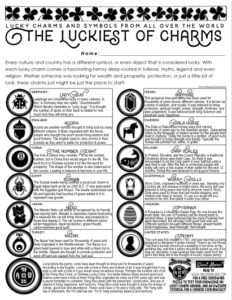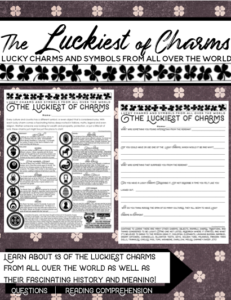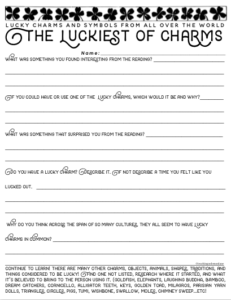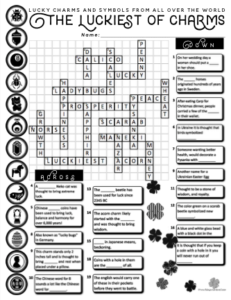 ***Just a reminder I have a wonderful reading comprehension and crossword puzzle that I made to go along with this activity. The reading is all about different lucky charms around the world and across cultures. It was absolutely fascinating to me. The reading also delves deeper into the Chinese Coin, it's history, and what it is believed to bring in the luck department. The Crossword is free, however the answers will be most easily found in the reading found on TPT. However It's absolutely an option to treat the crosswords as a web-quest and have the students seek out the answers themselves!