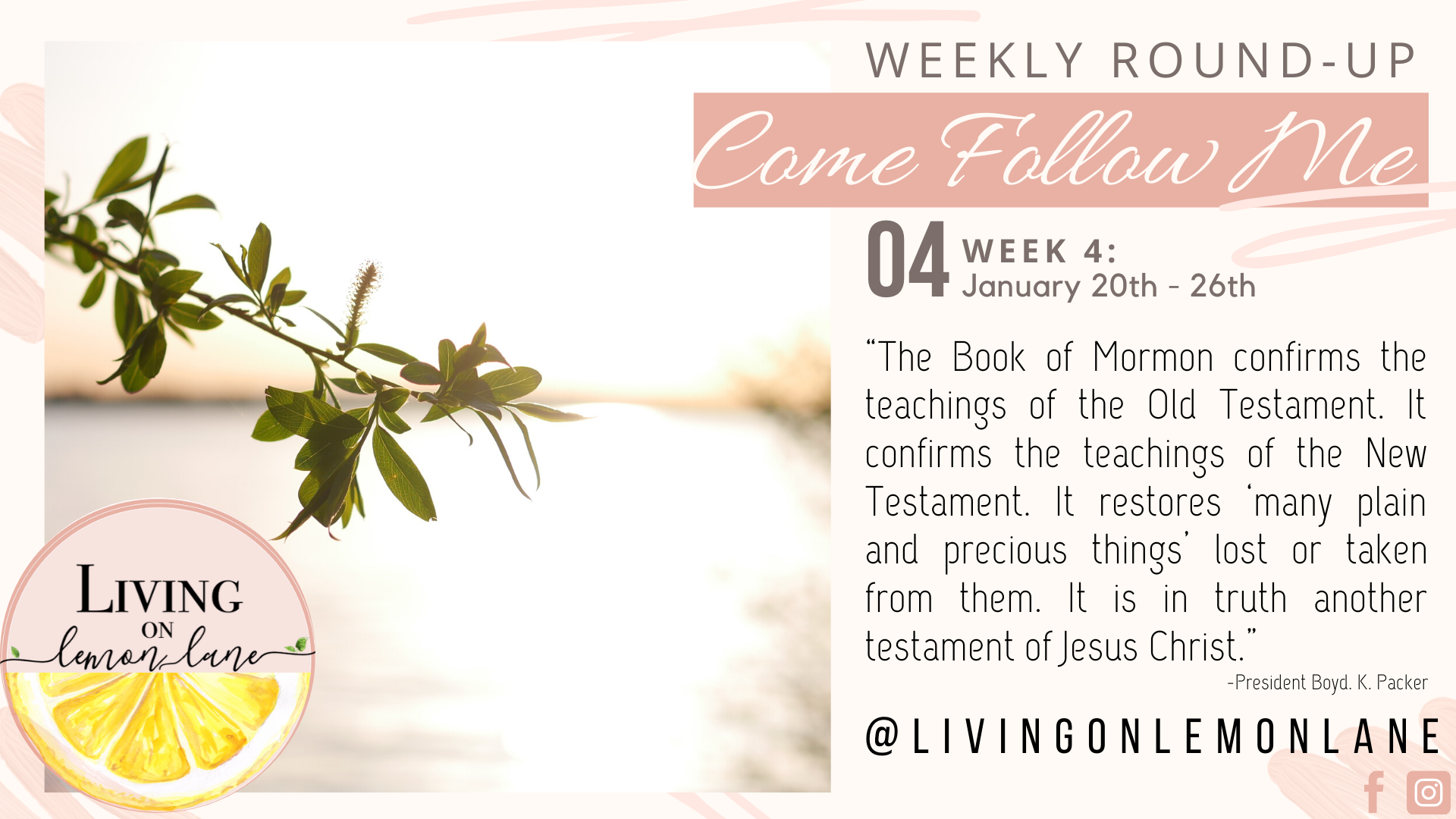 To stay up to date, make sure to follow @livingonlemonlane on Instagram!
Make sure to tag a friend to help spread the word. 
Week 4: Come Follow Me: Book of Mormon, Teaching Ideas and Free Resources
January 20th-26th
1 Nephi 11-15
Questions to Ponder:
Each Come Follow Me Lesson asks important and reflective questions. When I first began my individual study these questions threw me off. Simply because many of these questions required so much depth and individual reflection in order to answer honestly. My first approach to come follow me was to get in, get out, get it done, check it off. These questions simply didn't allow me to do so. In fact, I felt a little sick when I would read a question like, "How does the spirit speak to you?" and I wouldn't know the answer right away. After a time, and pondering on that specific question I realized IT'S OKAY. In fact, I think these questions were meant to be set aside, thought about, and pondered. When we try and come up with the quick easy, obvious, answer, we are depriving ourselves of an opportunity to reflect, ponder, pray, and RECEIVE REVELATION. Is this not the whole reason for Come Follow Me? Are we not trying to finetune and recognize how we, and how to receive personal revelation.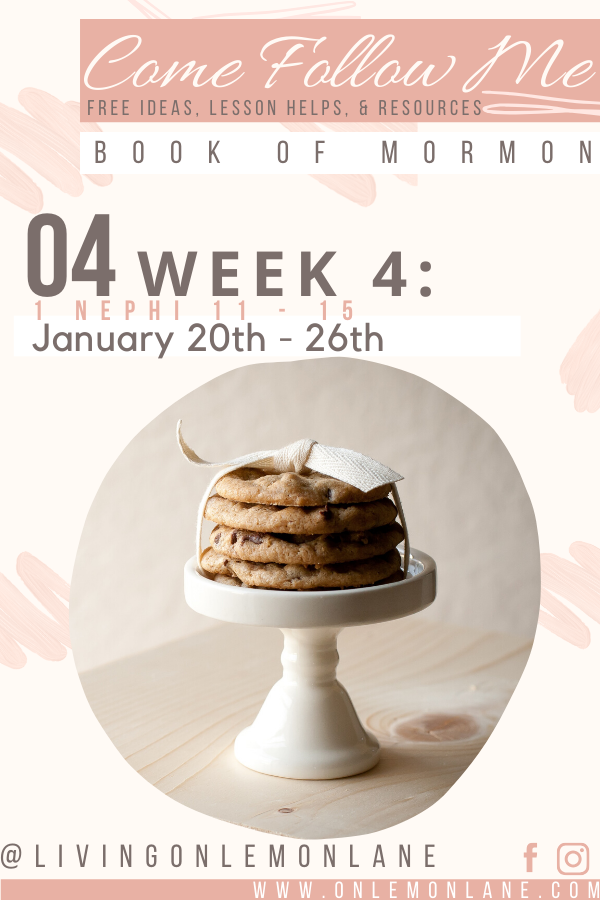 So each week I will list out some of the questions issued in Come Follow Me. Maybe you pick to ponder about all of them, maybe you pick just one. Whatever you do, ponder on this for the ENTIRE week. Pray about it, discuss it with loved ones, then at the start of the new week, take the time to write down your impressions or thoughts, share them with your family, testify of powerful insights.
What passages are of the most value to your family from the reading?
God has a work for you to do in His kingdom. You are among "the saints of the church of the Lamb" seen by Nephi… What is your work?
What do you find that helps you understand why Jesus Christ is the ultimate expression of God's love?
Why is it valuable for you to know these things?
What are some of the precious truths that the Book of Mormon helps us better understand?

How is your life different because these plain and precious things have been restored?

Have you ever felt like you weren't receiving personal revelation—that God wasn't talking to you?

What counsel did Nephi give his brothers when they felt this way?

How can you apply Nephi's counsel in your life, and how can you use his counsel to help others?

Why are we "armed with righteousness and with the power of God" when we live true to our covenants with God?
What experiences can you share of when you have "inquired of the Lord"?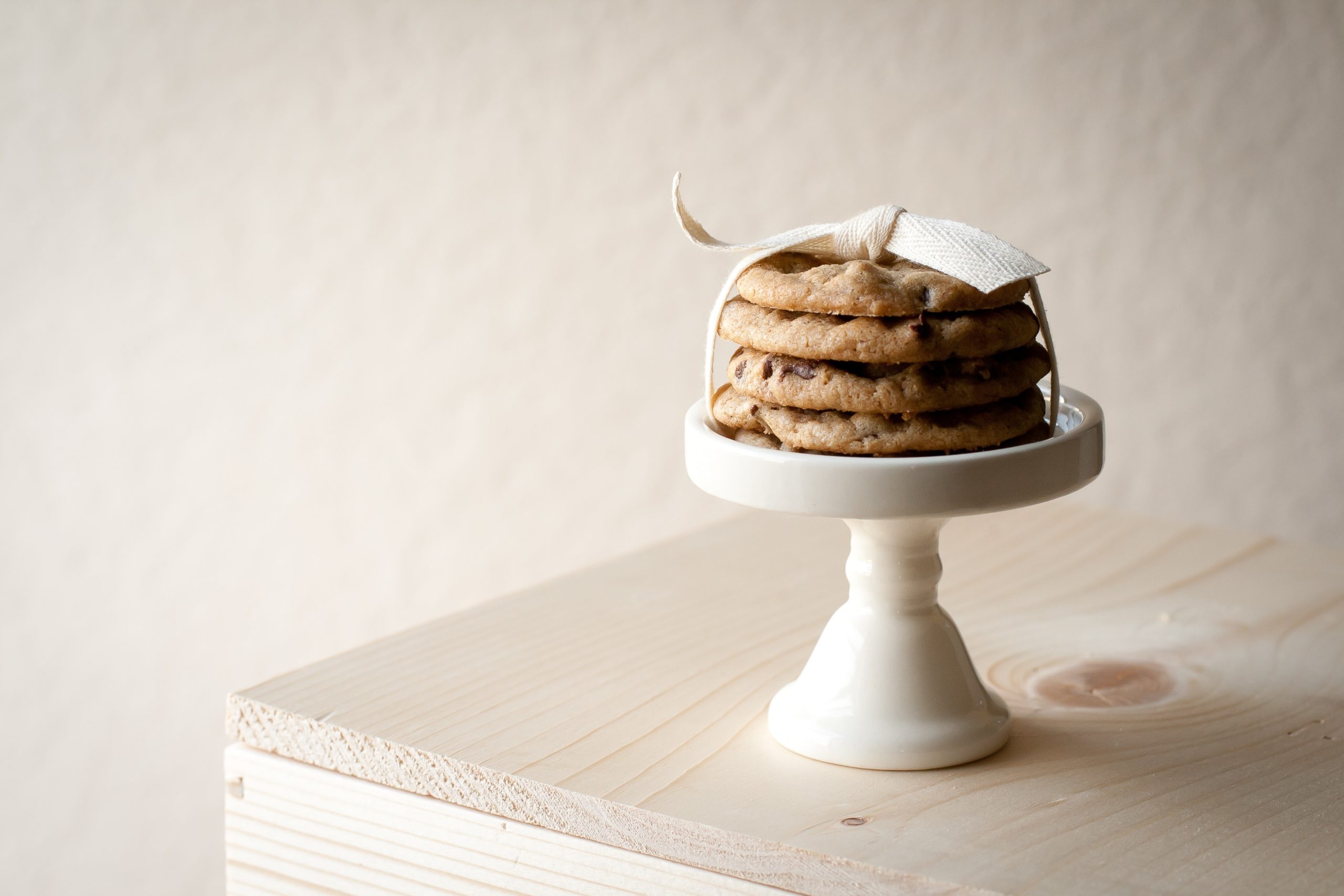 Object Lesson: Plain and Precious Truths
"The Book of Mormon confirms the teachings of the Old Testament. It confirms the teachings of the New Testament. It restores 'many plain and precious things' lost or taken from them. It is in truth another testament of Jesus Christ."
-President Boyd. K. Packer
This week's object lesson is all about the plain and precious truths that were lost or taken from the Bible. By exploring this idea children and youth will better explain the necessity and importance of the Book of Mormon. A fun way to explore this concept came from a suggestion made by Clyde J. Williams in a 2006 Ensign article. I will be posting a link to his article as well because it is WONDERFUL.
You have two options to explore this idea, one is more hands-on and requires more prep than the other. The idea, however, is the same. Essentially you will be comparing and contrasting two recipes. Pick a simple recipe you and your family enjoy, or you can use my editable recipe template I've already thrown together. ***This template is only available to members of On Lemon Lane. Not a member? Not a problem! Sign-up is FAST, FREE, and Easy-Peasy, LEMON-Squeezy!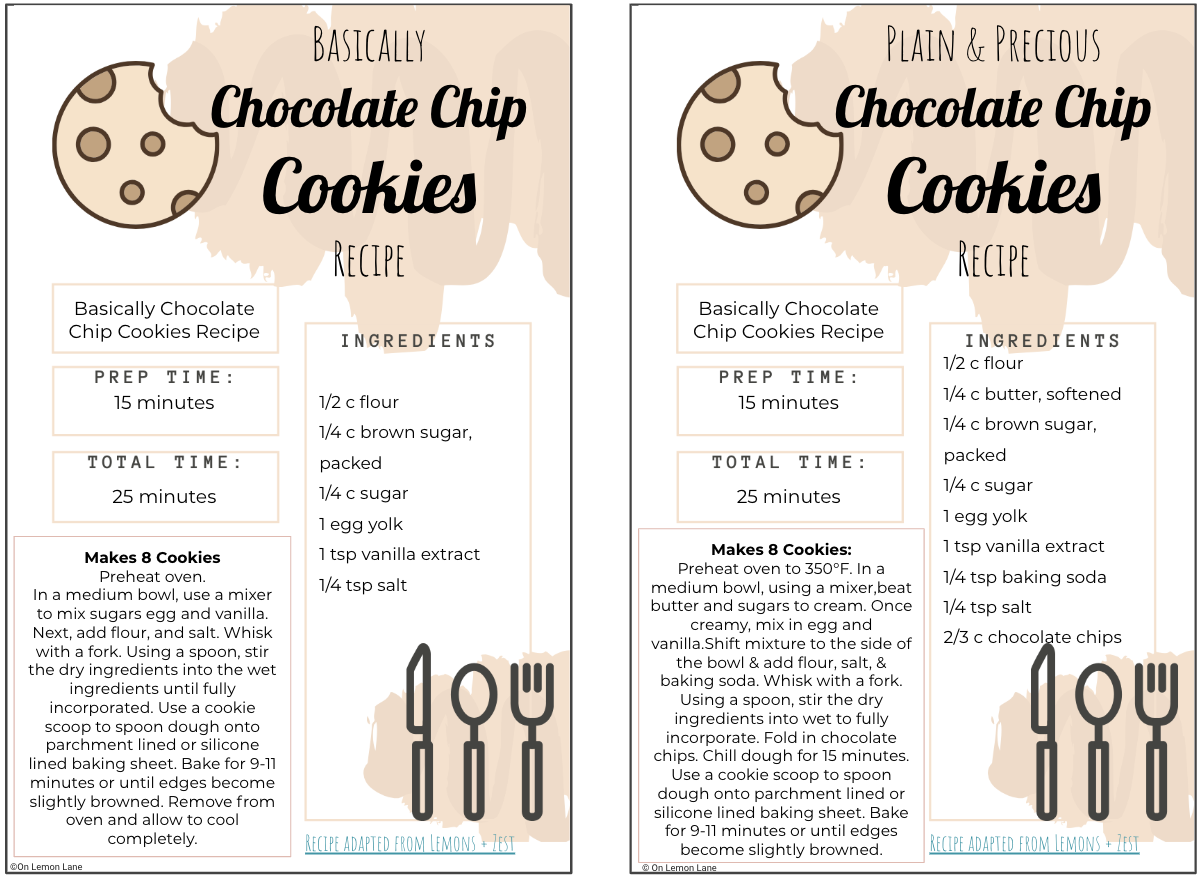 If you use my recipe template all of the text is editable so you can even adapt the activity to your own beloved cookie recipe. You will notice that each recipe I've included only makes 8 cookies. This was done purposefully to prevent you from creating and wasting a large batch of ingredients on cookies that are meant to flop. I would approach this as an inquiry lesson.
Inquiry-based learning is an approach to learning that emphasizes the student's role in the learning process. Rather than the teacher telling students what they need to know, or what the problem is… students are encouraged to explore the material, ask questions, and share ideas. This allows them to build knowledge through exploration, experience, and discussion.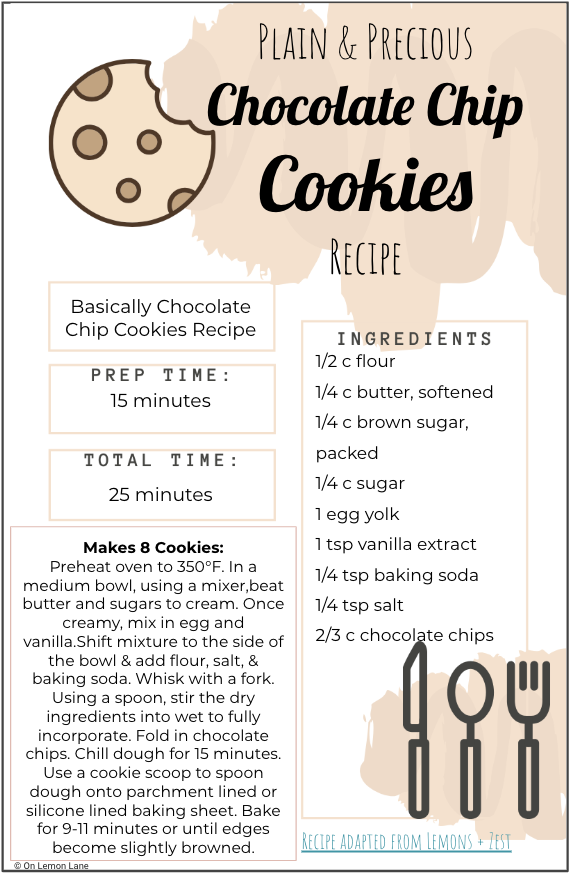 Start with the "flopped cookie recipe card." Do not mention that ingredients or information are missing. Simply prepare the cookies as if nothing is wrong. If your child picks up on the chocolate chips missing, point out the recipe card doesn't have chocolate chips, however, you can guess the amount to add. You will also have to guess the temperature at which to bake. If you haven't discussed this week's lesson, you can do that while the cookies bake, or if you have already gone over the lesson simply enjoy your time together and prepare to make parallels. The parallels you are trying to connect or discuss is the impact plain and precious things can have overall when they are taken away or missing.
40 And the angel spake unto me, saying: These last records, which thou hast seen among the Gentiles, shall establish the truth of the first, which are of the twelve apostles of the Lamb, and shall make known the plain and precious things which have been taken away from them; and shall make known to all kindreds, tongues, and people, that the Lamb of God is the Son of the Eternal Father, and the Savior of the world; and that all men must come unto him, or they cannot be saved.
Pull the flopped cookies out of the oven, examine and taste. Discuss what might have happened. "Find" the correct recipe card and compare and contrast the different recipes. This time prepare the cookies again following the actual recipe. Discuss again the parallels of the lesson while enjoying the yummy treat! ***If you want more than 8 cookies for this batch make sure to double or 4x the recipe!
If you do this activity PLEASE PLEASE PLEASE take pictures and tag me! I want to see the good, the flopped, and the delicious! Post to the Facebook group, or tag @livingonlemonlane on Instagram!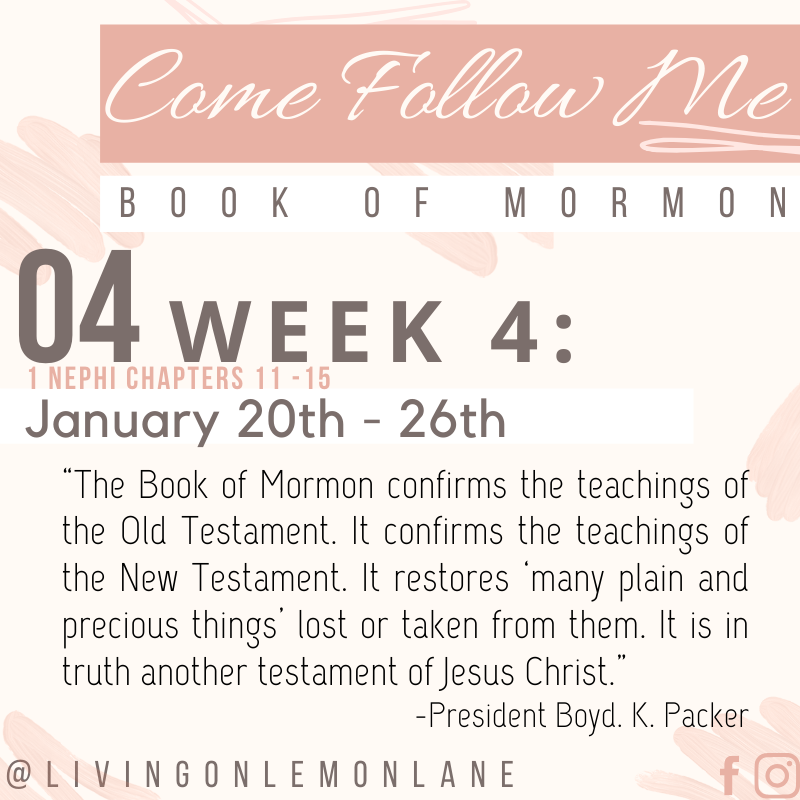 To stay up to date, make sure to follow @livingonlemonlane on Instagram!
Make sure to tag a friend to help spread the word. 
Teaching Ideas for Toddlers & Young Children
Watch or Listen To:
With a 2-year-old and 4-year-old, I understand the STRUGGLE and the attention span you are dealing with. Below are some of my favorite videos or audio recordings|podcasts you can listen to and watch with your children. My favorites right now are the Book of Mormon Story videos.**Different from the newly released B.O.M. videos. These are illustrated and READ stories to your children. THESE are PERFECT for when everyone is strapped in the car seat. My 4-year-old now requests these over the radio. Each segment is only 2-4 minutes long. This allows us to listen, review and discuss together, and listen again throughout the week.  Many of the videos I share can be found on the Saint's Radio Channel App. (Formerly Mormon Channel App, If you don't already have this, DOWNLOAD NOW.)
Read:
Activity Suggestions: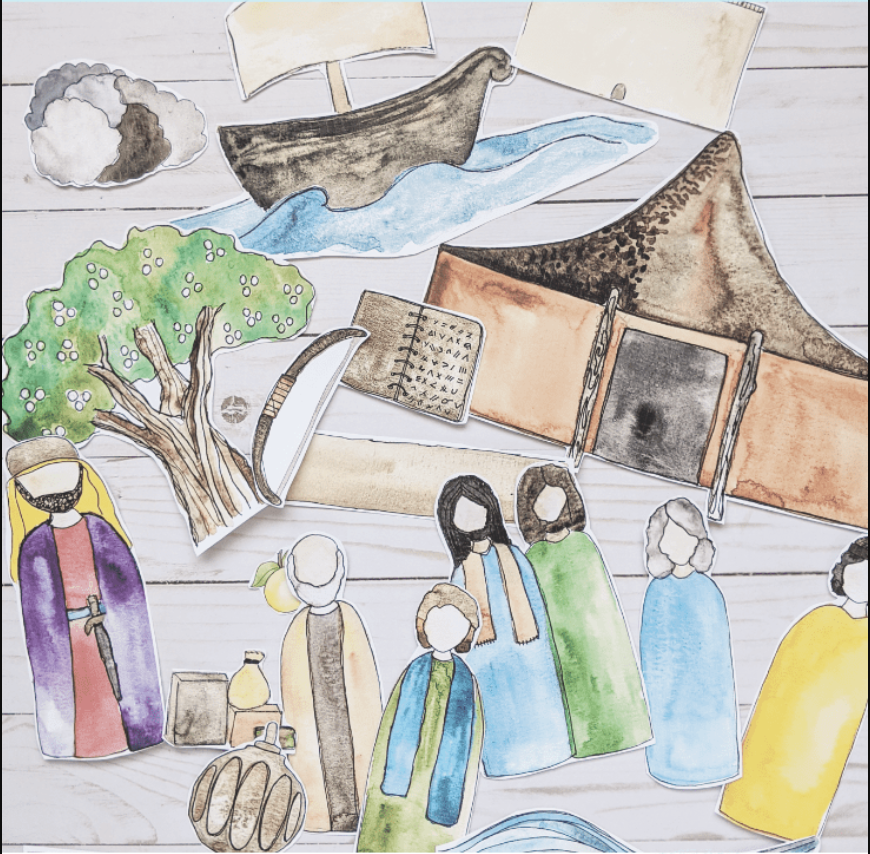 My heart literally swooned, when I saw A Lively Hope's rendition of Lehi and his family! Print these on cardstock and laminate for the PERFECT addition to your Come Follow Me Lesson this week! Click on this link to access the FREE Download!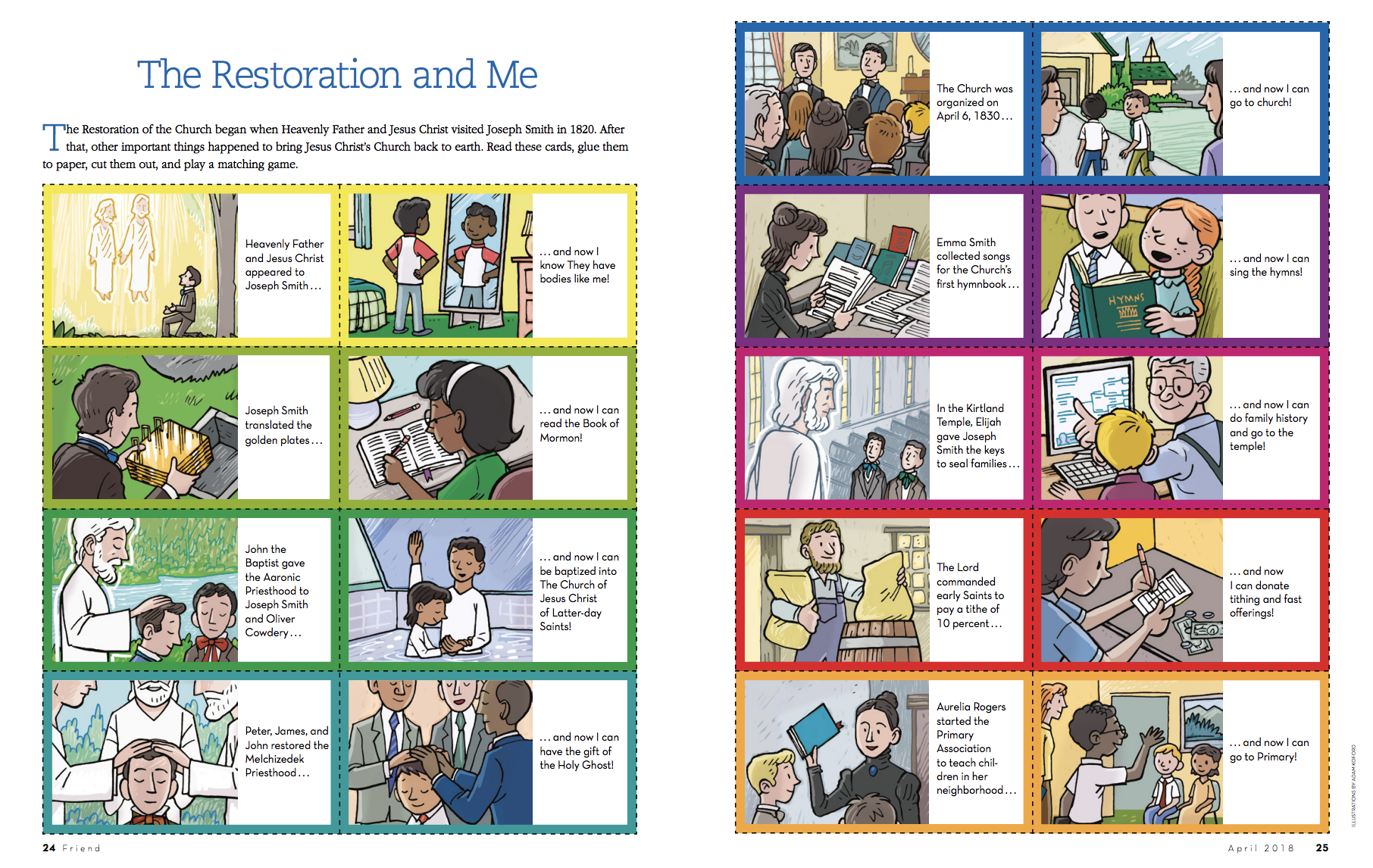 An adorable matching game that explains and illustrates different truths brought about by the Restoration of the Gospel. A great activity to go along with the idea of the plain and precious truth. Click here to Download!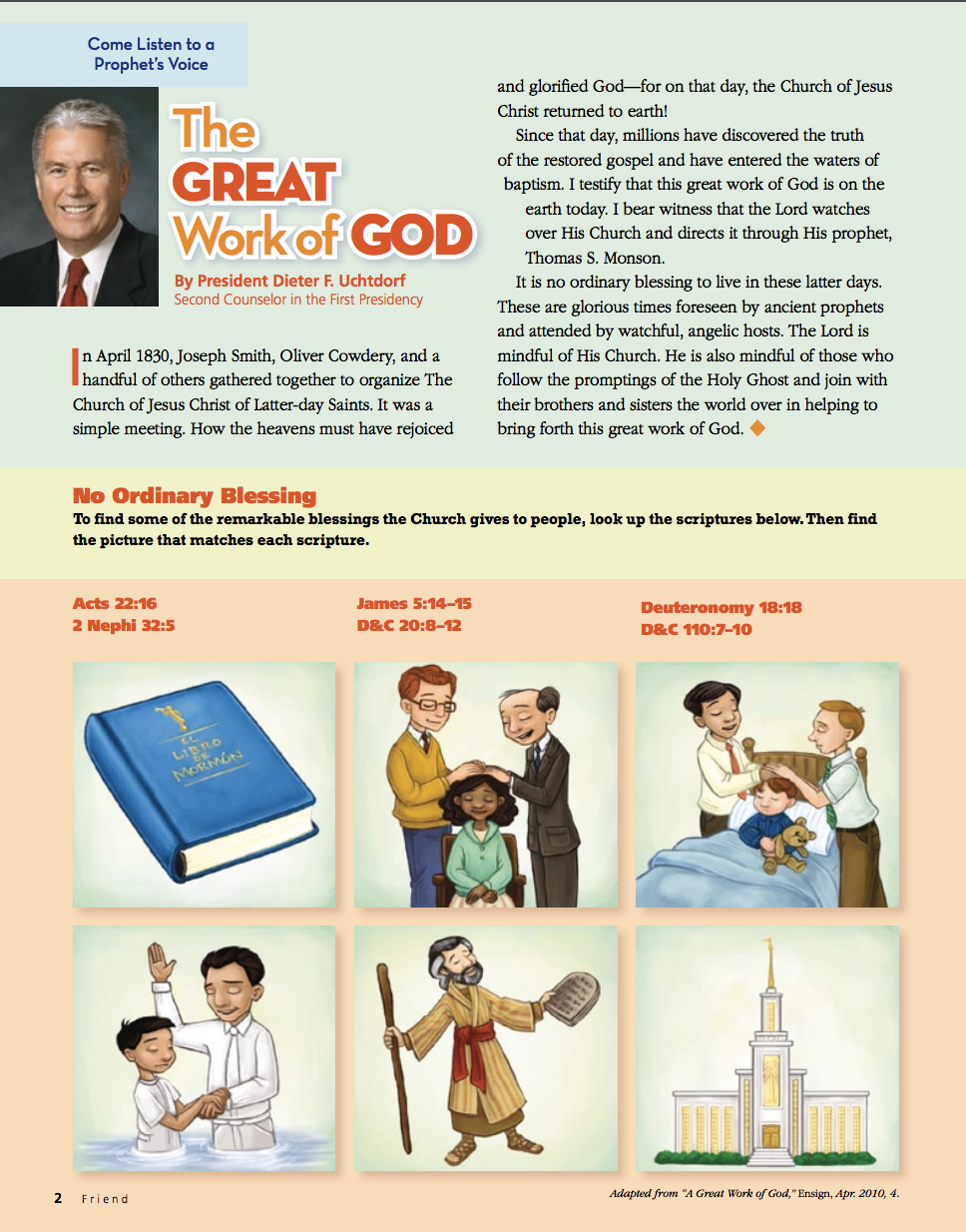 Scripture Chase and Matching Activity of Blessing the Church provides.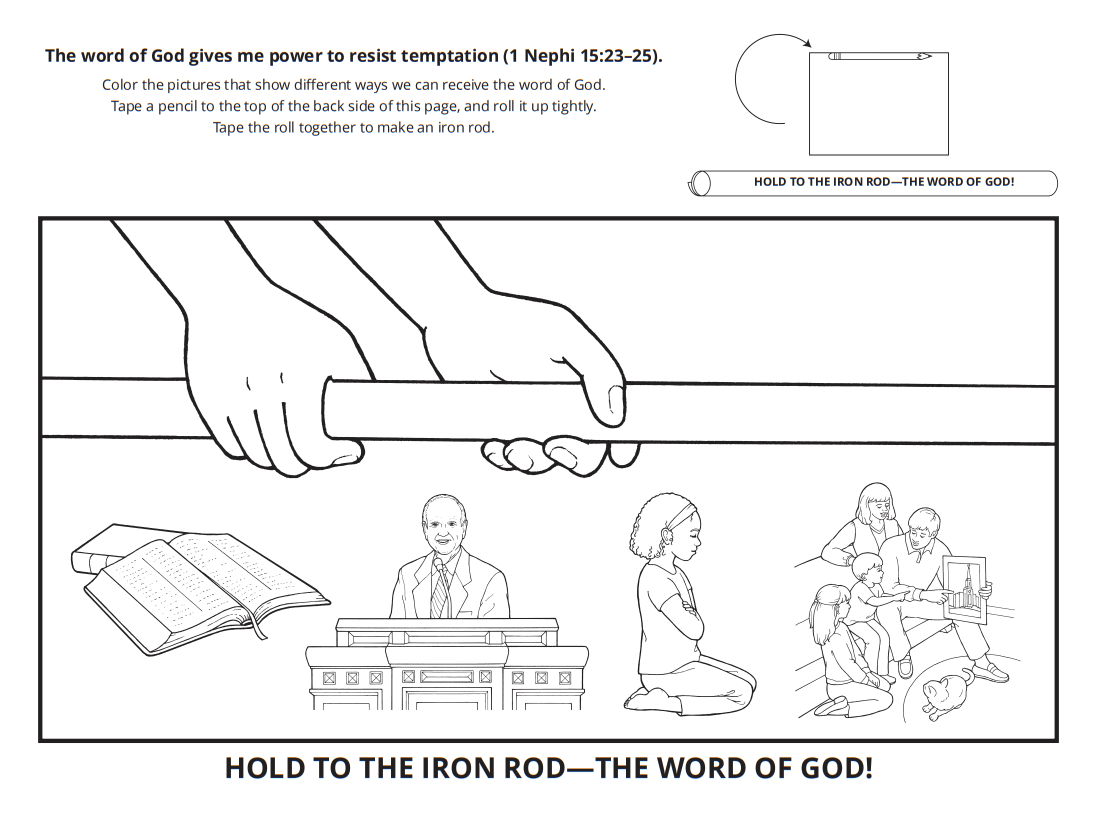 Click Here to Download the Coloring page and Activity
Teaching Ideas for Families
Watch or Listen To:
Finding time to make Come Follow Me can be tough, it can also be tough to keep the attention of family members. The Book of Mormon videos recently released by the church are a WONDERFUL resource. 
Read:
I LOVE using the Institute and Seminary Manuals to aid my study! They answer questions, provide insight and background coupled with beautiful quotes from Prophets and Apostles.
Activity Suggestions: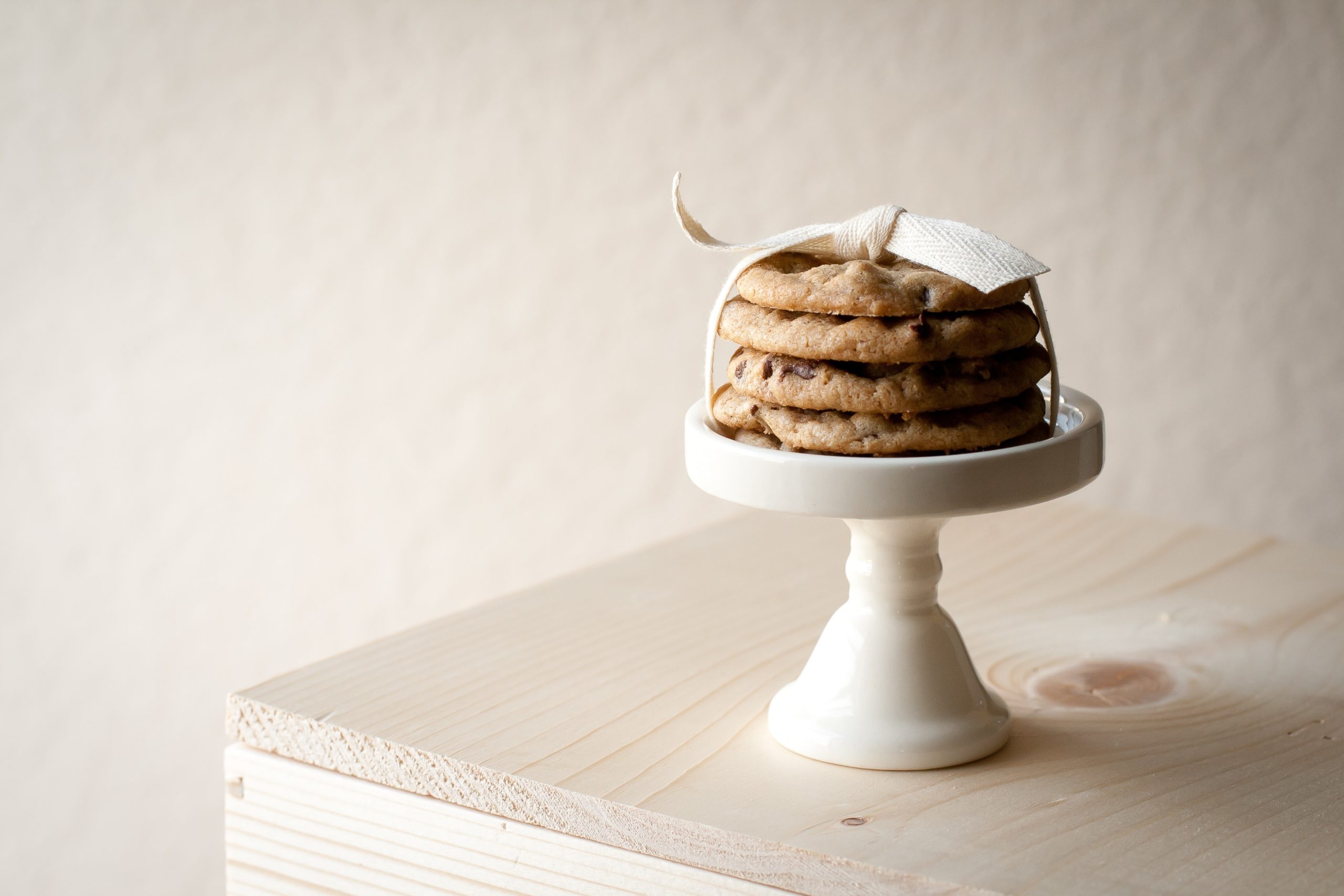 Click Here for the Editable Flopped Cookie Recipe Card Activity. **Object lesson is outlined above.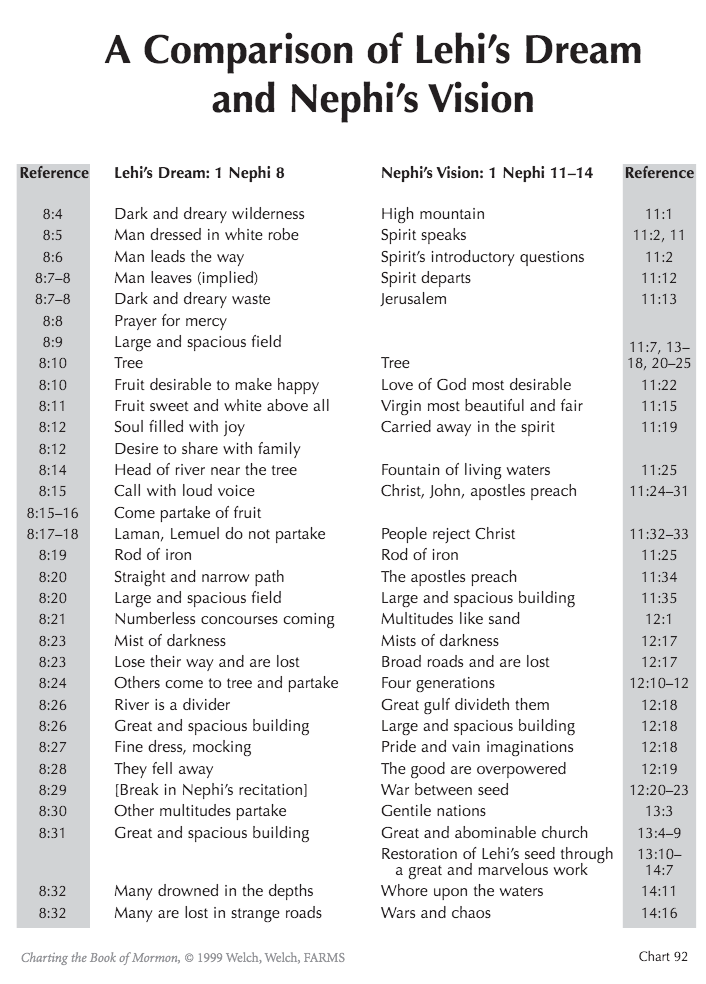 Compare and Contrast Lehi's Dream and Nephi's Vision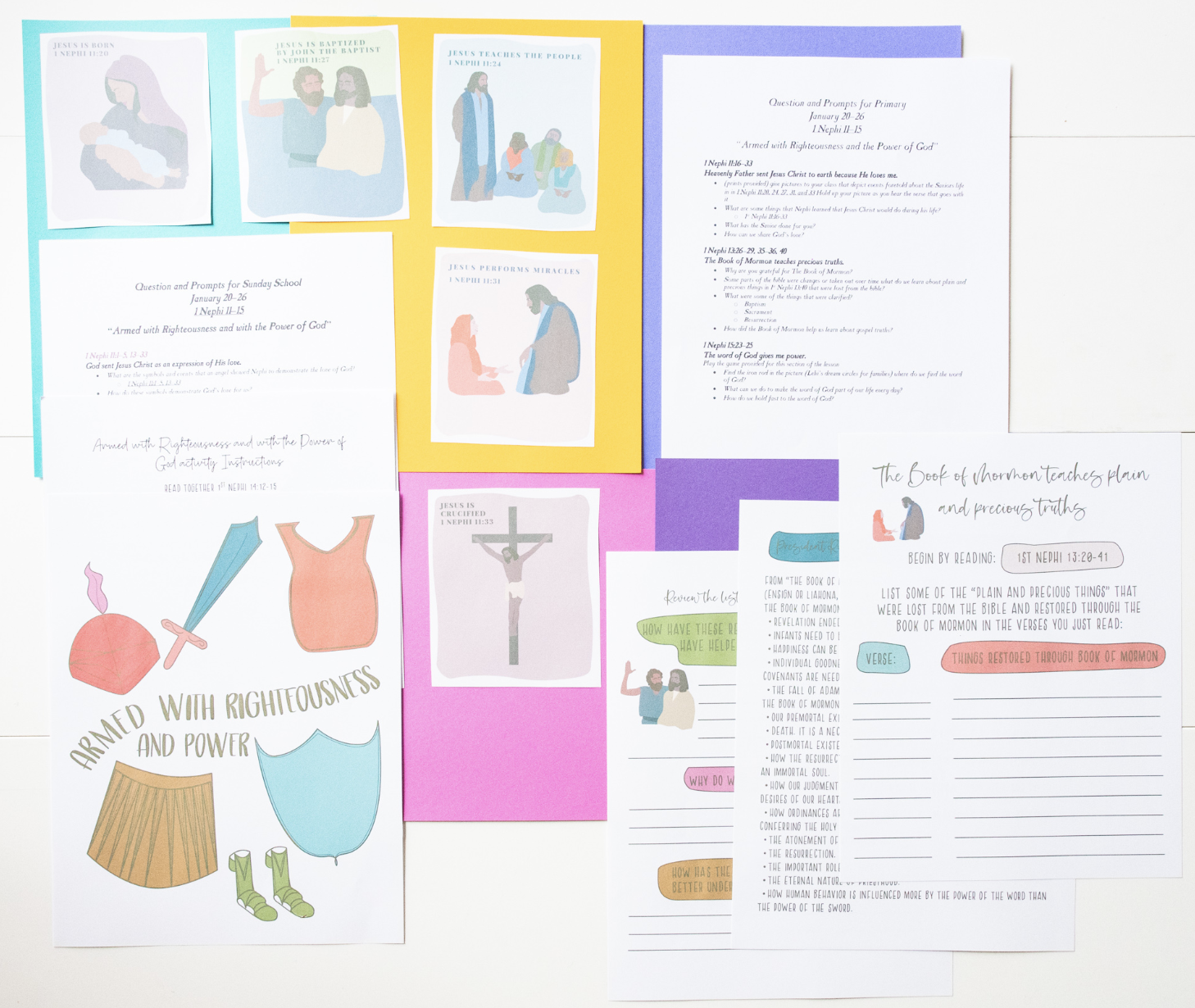 Beautiful illustrations and activity by Ministering Simply, "Armed with Righteousness and the Power of God."
Click here to access the FREE Download!
Individual Study & Extension
Watch or Listen To:
Ever wish you could sit in on a lecture by THE scholar, Hugh Nibley… You. Can. Watch the video above!
Read:
:MOST IMPORTANT PART:
Comment below and share YOUR favorite resources for Week 2 of Come Follow Me in the Book of Mormon. Join the conversation on @livingonlemonlane on Instagram and stay updated on new blog posts!  If you enjoyed this PLEASE SHARE! Till next week.