Make sure to tag a friend to help spread the word.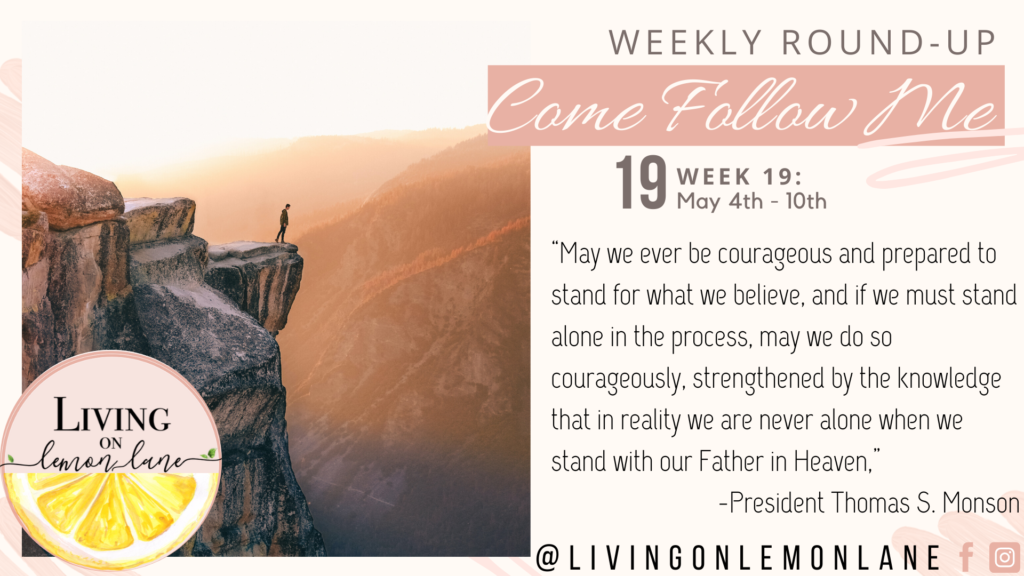 Week 19: Come Follow Me: Book of Mormon, Teaching Ideas and Free Resources
May 4th – 10th
MOSIAH 11 – 17
Questions to Ponder:
Each Come Follow Me Lesson asks important and reflective questions. When I first began my individual study these questions threw me off. Simply because many of these questions required so much depth and individual reflection in order to answer honestly. My first approach to come follow me was to get in, get out, get it done, check it off. These questions simply didn't allow me to do so. In fact, I felt a little sick when I would read a question like, "How does the spirit speak to you?" and I wouldn't know the answer right away. After a time, and pondering on that specific question I realized IT'S OKAY. In fact, I think these questions were meant to be set aside, thought about, and pondered. When we try and come up with the quick easy, obvious, answer, we are depriving ourselves of an opportunity to reflect, ponder, pray, and RECEIVE REVELATION. Is this not the whole reason for Come Follow Me? Are we not trying to finetune and recognize how we, and how to receive personal revelation.
So each week I will list out some of the questions issued in Come Follow Me. Maybe you pick to ponder about all of them, maybe you pick just one. Whatever you do, ponder on this for the ENTIRE week. Pray about it, discuss it with loved ones, then at the start of the new week, take the time to write down your impressions or thoughts, share them with your family, testify of powerful insights.
If you do an activity PLEASE PLEASE PLEASE take pictures and tag me! Post to the Facebook group, or tag @livingonlemonlane on Instagram! Don't forget to pin these images to your Pinterest. This is a SMALL and SIMPLE way to support the efforts of Living on Lemon Lane and sharing these ideas with your friends and family.

Make sure to tag a friend to help spread the word. 

Teaching Ideas for Toddlers & Young Children

Watch or Listen To:

With a 2-year-old and 4-year-old, I understand the STRUGGLE and the attention span you are dealing with. Below are some of my favorite videos or audio recordings|podcasts you can listen to and watch with your children. My favorites right now are the Book of Mormon Story videos.**Different from the newly released B.O.M. videos. These are illustrated and READ stories to your children. THESE are PERFECT for when everyone is strapped in the car seat. My 4-year-old now requests these over the radio. Each segment is only 2-4 minutes long. This allows us to listen, review and discuss together, and listen again throughout the week.  Many of the videos I share can be found on the Saint's Radio Channel App. (Formerly Mormon Channel App, If you don't already have this, DOWNLOAD NOW.)