Make sure to tag a friend to help spread the word.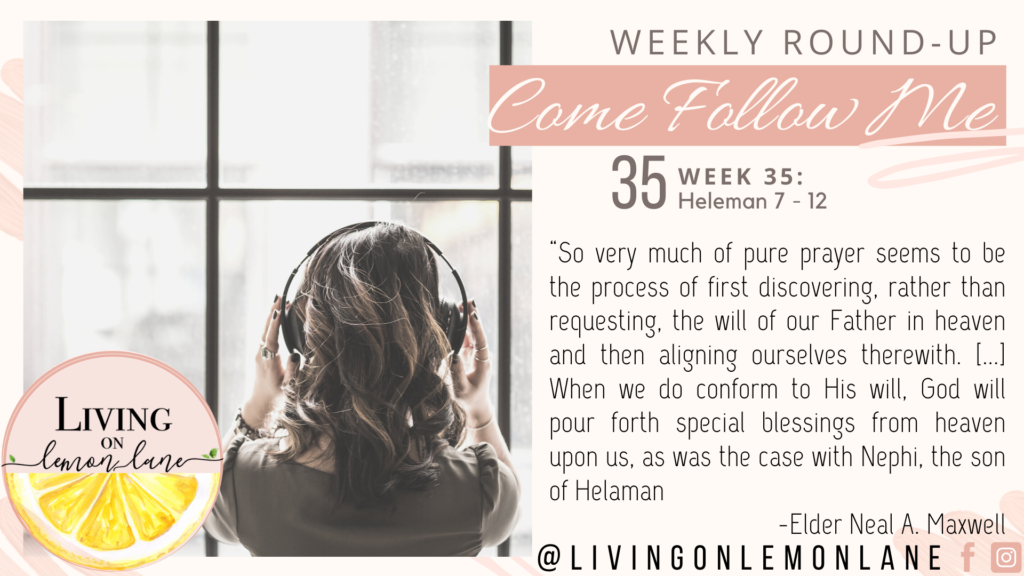 Come Follow Me: Book of Mormon, Teaching Ideas and Free Resources
Heleman 7-12
QUESTIONS TO PONDER:
Each Come Follow Me Lesson asks important and reflective questions. When I first began my individual study these questions threw me off. Simply because many of these questions required so much depth and individual reflection in order to answer honestly. My first approach to come follow me was to get in, get out, get it done, check it off. These questions simply didn't allow me to do so. In fact, I felt a little sick when I would read a question like, "How does the spirit speak to you?" and I wouldn't know the answer right away. After a time, and pondering on that specific question I realized IT'S OKAY. In fact, I think these questions were meant to be set aside, thought about, and pondered. When we try and come up with the quick easy, obvious, answer, we are depriving ourselves of an opportunity to reflect, ponder, pray, and RECEIVE REVELATION. Is this not the whole reason for Come Follow Me? Are we not trying to finetune and recognize how we, and how to receive personal revelation.
So each week I will list out some of the questions issued in Come Follow Me. Maybe you pick to ponder about all of them, maybe you pick just one. Whatever you do, ponder on this for the ENTIRE week. Pray about it, discuss it with loved ones, then at the start of the new week, take the time to write down your impressions or thoughts, share them with your family, testify of powerful insights.
Helaman 7–11 is a particularly good place to learn what a prophet is, what he does, and how we should receive his words. As you read these chapters, pay attention to Nephi's actions, thoughts, and interactions with the Lord.

How does Nephi's ministry help you better understand the role of the prophet in our day?

What else do you find?
How do these verses affect how you feel about our living prophet?
What has he taught recently?
What are you doing to listen to and follow his direction?

If signs or miracles were enough to change a person's heart, then all of the Nephites would have been converted by the remarkable signs Nephi gave in Helaman 9. Instead, "a division among the people" (Helaman 10:1) arose because many of them "did still harden their hearts" (Helaman 10:15).

How do the wicked often react to signs and miracles? (see Helaman 10:12–15; see also 3 Nephi 2:1–2).
What is the danger of making signs the foundation of a testimony? (see "Signs,")

If you have ever felt downtrodden, anxious, or confused, you might learn an important lesson from Nephi's example in Helaman 10:2–4. What did he do when he felt "cast down"? (verse 3).
How might you create a habit of pondering?
What helps you remember Him?
What changes are you inspired to make based on what you learned?
Helaman 7–9 What similarities do we see between things that Nephi did and what prophets do today? What is our prophet teaching today?
What did Nephi desire and what did he do about it? What do we learn about prayer from Nephi's example?
What do we learn about Nephi's brother, Lehi, in Helaman 11:17–23? Whom do we know who lives a righteous life without receiving a lot of recognition?
Lesson:
"So very much of pure prayer seems to be the process of first discovering, rather than requesting, the will of our Father in heaven and then aligning ourselves therewith. […] When we do conform to His will, God will pour forth special blessings from heaven upon us, as was the case with Nephi, the son of Helaman" (All These Things Shall Give Thee Experience [1979], 93–94). Elder Neal A. Maxwell
I don't know when I will stop being surprised by the little coincidences. You know the coincidences that once they happen you begin to believe it wasn't a coincidence at all but rather tender mercy. These past few weeks I've been up to my neck in a to-do list and often when things get like this the things that should take the most priority, (Family-time, Come Follow Me, Prayer…etc) are often the first to fall off the wagon. This week was no exception. When things are like this the idea of writing and preparing a post like this one is the LAST thing I want to sit down and do. THE. LAST.THING.
Forgive me, I'm rambling. This idea that I am trying to add my own witness to is the idea that stuck the most with me from last conference. (Watch the Video:)
The Lord loves effort. Even when our effort feels like it is next to nothing, or all we have left, it is something. I think I'm learning that the Lord not only loves effort, but through the enabling power of our Savior Jesus Christ and His Atonement… that effort can be consecrated and become more than what we ever had to give in the first place. Not only that but the Lord blesses us in our efforts. "When we do conform to His will, God will pour forth special blessings from heaven upon us…" I have felt this. In the tiniest ways, I have felt this.
There are times when taking the time to create a weekly post like this seems heavy, daunting or burdensome… Often times, I have NO idea which quote or thought or resource I would like to highlight… and yet things come together, and yet, every. single. time. I make the effort to write a post like this, I am better because of it.
An example of one of those tiny coincidences this week that I led on to earlier was a video that my husband played on his phone as we drove to my parent's house. The video is of President Bednar teaching and instructing some of the Church's Institute and Seminary teachers. He expounds on revelation in a way that I hadn't heard before, and that contradicted the way I had taught how to receive revelation in previous lessons. The main takeaway for me was how the act of receiving revelation isn't an act at all, rather a process that is ongoing…etc The teachings are beautiful. My husband had no recollection of where he had come across the video or really a "why" to sharing it, but we both were grateful for the experience.
Fast forward to now, I've committed to make the effort, to write this weekly post, even though every fiber in my body seems to be fighting the idea of it. The first paragraph I read in the Come Follow Me Manual is this:
"Nephi, Lehi, and others had "many revelations daily" (Helaman 11:23). Frequent revelation is not just for prophets—it's available to you, too. Recording your impressions can help you receive revelation more consistently."
The Lord loves effort. The Lord will bless us when our will aligns with His. The Lord KNOWS us, He LOVES us, He is AWARE of us and wants to BLESS us.
Even with tiny coincidences like having an idea of what I wanted to share and highlight with you this week…
I hope you take the time to watch, share, and ponder on this video of Elder Bednar this week, especially his thoughts on revelation.
If you do any of these activities PLEASE PLEASE PLEASE take pictures and tag me! Post to the Facebook group, or tag @livingonlemonlane on Instagram! Don't forget to pin these images to your Pinterest. This is a SMALL and SIMPLE way to support the efforts of Living on Lemon Lane and sharing these ideas with your friends and family.

Make sure to tag a friend to help spread the word. 
Teaching Ideas for Toddlers & Young Children
Watch or Listen To:
With a 2-year-old and 4-year-old, I understand the STRUGGLE and the attention span you are dealing with. Below are some of my favorite videos or audio recordings|podcasts you can listen to and watch with your children. My favorites right now are the Book of Mormon Story videos.**Different from the newly released B.O.M. videos. These are illustrated and READ stories to your children. THESE are PERFECT for when everyone is strapped in the car seat. My 4-year-old now requests these over the radio. Each segment is only 2-4 minutes long. This allows us to listen, review and discuss together, and listen again throughout the week.  Many of the videos I share can be found on the Saint's Radio Channel App. (Formerly Mormon Channel App, If you don't already have this, DOWNLOAD NOW.)
I am absolutely LOVING the YouTube Channel, Latter Day Kids. Each week they put out a beautifully illustrated video meant for young children to be used in conjunction with the Come Follow Me Lessons. This week's video is all about All Things Denoting there is a God! You can even head to their website to download discussion questions to go along with the video and a fun coloring page.
Activity Suggestions: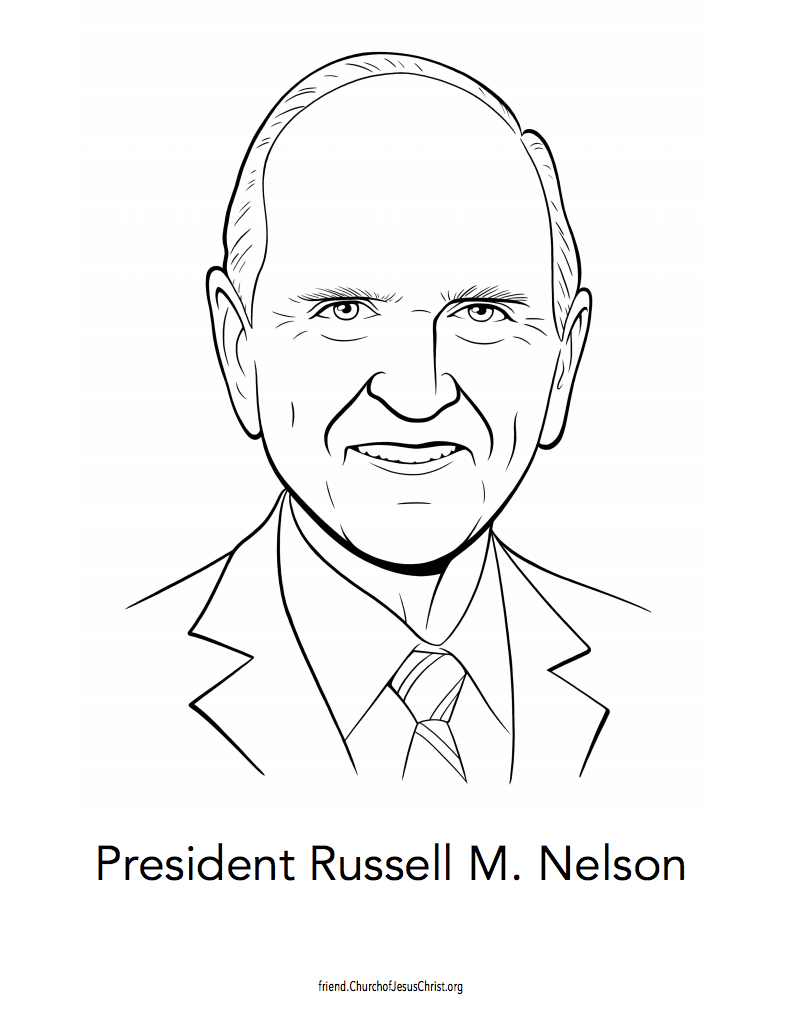 Prophet and Apostle Coloring Pages as of 2020
Activity Suggestions from the Friend or the Come Follow Me Manual:
Sing together a song about prophets, such as "Follow the Prophet" (Children's Songbook, 110). Pick a key phrase from the song, and write one word from the phrase on each of several paper footprints. Lay the footprints on the floor leading to a picture of the Savior. Invite the children to follow the path of the footprints, and help them read the words.

Read Helaman 11:18 together and help your little ones say, "I will listen to the prophets and apostles." Watch a short video of testimonies of the prophet and apostles at https://bit.ly/333rMkn. Teach your children the name of each person who speaks. When you see the prophet, help your children cup their hands around their ears to listen extra closely to what he has to say.
 Teaching Ideas for Families
Watch or Listen To:
Finding time to make Come Follow Me can be tough, it can also be tough to keep the attention of family members. The Book of Mormon videos recently released by the church are a WONDERFUL resource. ***Filming has recently been postponed due to Covid 19
Read:
I LOVE using the Institute and Seminary Manuals to aid my study! They answer questions, provide insight and background coupled with beautiful quotes from Prophets and Apostles.
New Era & Ensign Articles: 
Activity Suggestions: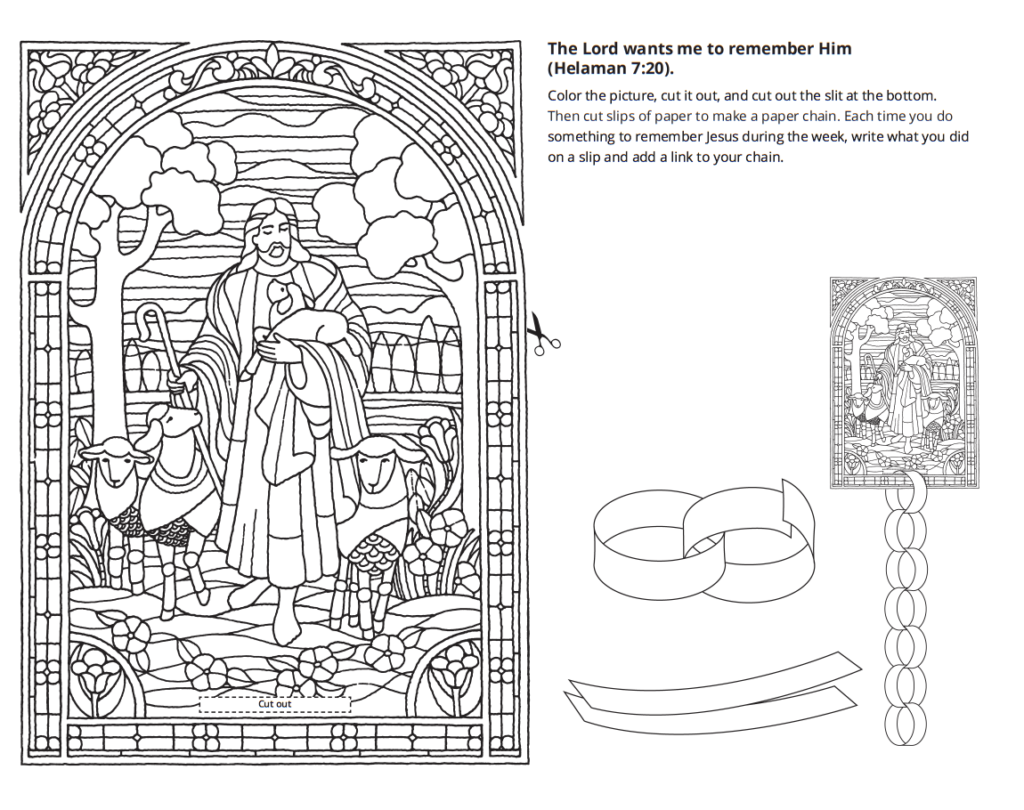 Ponderize:
Activity Suggestion from Come Follow Me:
Can you think of an object lesson you can use to help your family understand what "unsteadiness" means? For instance, you might invite a family member to try balancing something on his or her head. You could then invite family members to look in Helaman 12:1–6 for reasons people can be unsteady in following the Lord. How can we remain spiritually steady?

Read together Helaman 7:20–21, and ask the children what they think it means to forget God. Explain that the word forget can also mean "to neglect" or "ignore." Display a picture of the Savior, and invite the children to draw things they might spend too much time doing that could cause them to forget the Lord. Put their drawings in front of the picture of Jesus. Ask the children to think of things they can do each day to remember Heavenly Father and Jesus. As they share their thoughts, take away the drawings one by one until the picture of the Savior is revealed.
Individual Study & Extension