Mother's Day Gift | Corsage & Poem
This is one of those projects that I just really love. Students are left with an age-appropriate gift that they can proudly give to a loved one. They are just really lovely. I think one of the reasons I think so fondly of this project is because the idea of the paper corsage came to me after being told we would be taking the students to a rest home on Valentine's Day, and that it would be nice to give something to the residents after the students had finished their musical numbers.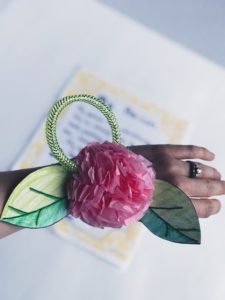 I wracked my brain, and finally, the idea of a tissue paper flower came to mind. I had made similar fabric bows for headbands before, but never a paper one. I knew that others had had success with them though. Then the need to turn the Tissue Paper flowers into corsages and boutonnières began to overtake my thoughts. When I finally came up with this method I was THRILLED. They actually turned out better than I imagined. The materials were extremely inexpensive and placed the gift at around $0.25 per student, plus the pipe cleaners made the corsage very easy and forgiving to apply. You will have to stay tuned for my GENIUS Macgyver thought for turning these beauties into a painless, stress-free boutonnière. (Watch out Father's Day) I will never forget the smiles on the student's faces, or the residents of the rest home when they received such a sweet gift. As we left everyone in the rest home was dolled up with a beautiful flower on their wrist, or their shirt. It's moments like that that add such a sweetness to life.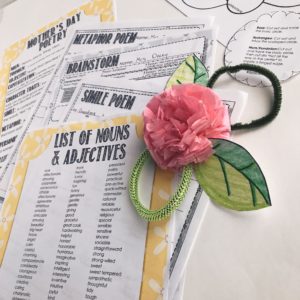 What started as a Valentine's Day Project spiraled into the perfect Mother's Day Gift. Also included in this product is a template for a sweet poem, rich in figurative language. The poem is scaffolded and a wonderful review of language skills. ? The poem can be written to any special woman in your student's life, often that's a mother, grandmother, aunt or even neighbor, many times it's a teacher?
The product includes samples of what I call a simile poem, metaphor poem, and a mixed example. I've also included a figurative language anchor chart. There is also a page that includes suggestions for nouns or adjectives to try out when brainstorming their poems. Speaking of brainstorming… there's also a page for that! The poetry that will flood your classroom will floor you. Poetry and figurative language marry so well together, and this is one of those examples that illustrate it so well. Many times it was a poetry lesson that allowed my students to "get it" when it came to alliteration or personification. Both of these devices are encouraged in this lesson.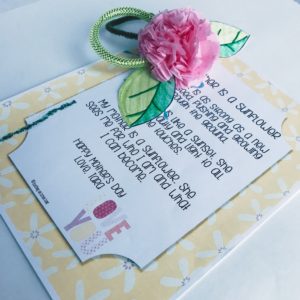 Don't be nervous about the flowers, though they look beautiful and intricate, they are really SO SIMPLE. I've included detailed steps as well as the videos to clear up any misunderstandings or fear about the project!
When students are done they have a beautiful poem and a sweet flower. I have students thread the flower through the page of the poem as shown in this image. When students give the flower and the poem to a loved one they are then instructed to place the corsage on the person's wrist.
Below you will find the few supplies that are needed to complete this look. You will notice I used tubing to add another dimension, these flowers look great with or without the extra bling.
Supplies: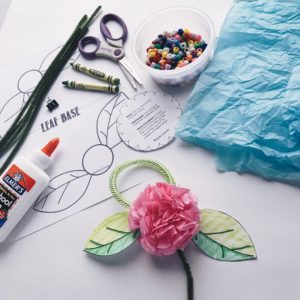 Other Supplies Found in the classroom:
Glue
Push Pin
Scissors
Crayons or Markers
Don't forget to watch the video at the beginning of this post!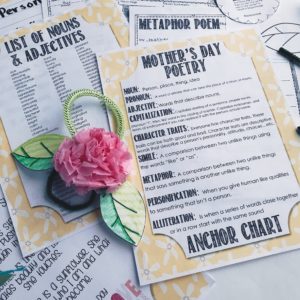 Click Here to Purchase this product through the website
Click Here to Purchase the Product through Teachers Pay Teachers

To stay up-to-date on new blog posts, freebies, exclusive promo codes, and sales… Join the Teaching on Lemon Lane Community! Pick any or all of the following to stay in the loop of all things Teaching on Lemon Lane. 
If you enjoyed this PLEASE SHARE! Sharing on Pinterest, Facebook, or tagging on Instagram is a simple, yet wonderful way to support the efforts of Teaching on Lemon Lane!