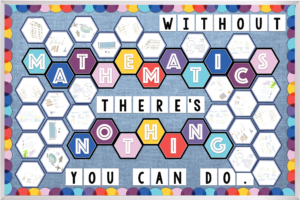 If ever there was a PERFECT first day of math class activity… this would be it. This activity can span across all grade levels due to the rigor you set through discussions, and expectations. This activity leads to meaningful discussion, an increased awareness of numbers, and an improved appreciation for mathematics. I was searching for a meaningful first day of math class activity when I stumbled across this quote by Shakuntala Devi:
"Without mathematics, there's nothing you can do. Everything around you is mathematics. Everything around you is numbers."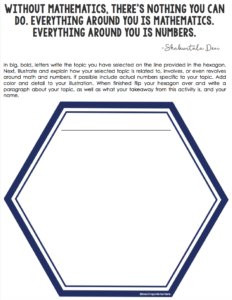 After reading this I knew I had found the foundation for the activity.
Prepare for class discussion by reading these articles, it is also an option to assign the reading to different groups of students before discussing the assignment. 
https://www.mathnasium.com/math-is-everywhere
Copy and paste the link below for a great resource:     
mi.fu-berlin.de/en/math/groups/ag-geom/publications/db/ICM-Proceedings-Maths_everywhere.pdf
https://www.nctm.org/Publications/Mathematics-Teaching-in-Middle-School/Blog/Show-Students-the-Real-Purpose-of-Math/
Instructions: Divide students into groups of 4-6. Pass out the hexagons to each student. Ask them to discuss the quote at the top of the page. Challenge them to think of as many examples as possible with evidence to back up their thinking. How is math involved in sports, food, art, daily tasks…etc. After students have discussed come back and discuss what they found as a class. Lead the class in a discussion listing the topics they were able to come up with on the board. Further the discussion by asking which occupations or careers require math… Again, keeping a running list displayed for the class. Once students have a handle on things, ask the students to select a topic from the board. You can do this by randomly drawing students names and letting them write their name next to the word on the board until every student has a topic. Their assignment will be to illustrate and describe how their selection is related to math on the hexagon they were handed. Encourage students to use aspects of math like graphs, measurements, percentage, probability, fractions, tables, angles, shapes, patterns…etc in their design. On the back of the page students will reflect on the assignment and explain in their own words the meaning of the quote. 
Based on your own discretion you can either have the students cut out their own hexagons, or simply gather them to but cut out later. Print off the rest of the images, cut out, and begin to assemble your bulletin board. When assembling begin with "mathematics" you can then add student hexagons around mathematics as well as the other words that aren't hexagons. Continue in this manner until your bulletin is completed. 
MOST IMPORTANT PART: Please, please, please take pictures! I want to see student examples, and the finished result, I especially want to hear about your experience with this project. Know that what you do is important. I hope this activity brightened your day, and lessened your load. Good luck with the school year, be kind to yourself and your students. They need the best version of YOU. 
Share in the private Teaching on Lemon Lane Facebook group: https://www.facebook.com/groups/597200094028482/
Or on Instagram: https://www.instagram.com/teachingonlemonlane/?hl=en 
This is an exclusive and FREE download to members of On Lemon Lane. Simply below to download. Not a member? No problem! Sign up is Free and easy peasy Lemon Squeezy! Click Here to Become a Member!

To stay up-to-date on new blog posts, freebies, exclusive promo codes, and sales… Join the Teaching on Lemon Lane Community! Pick any or all of the following to stay in the loop of all things Teaching on Lemon Lane. 
If you enjoyed this PLEASE SHARE! Sharing on Pinterest, Facebook, or tagging on Instagram is a simple, yet wonderful way to support the efforts of Teaching on Lemon Lane!