To stay up to date, make sure to follow @livingonlemonlane on Instagram!
Make sure to tag a friend to help spread the word. 
Week 1 COME FOLLOW ME: Doctrine and Covenants – TEACHING IDEAS & RESOURCES | D&C Section 1
Questions to Ponder:
Each Come Follow Me Lesson asks important and reflective questions. When I first began my individual study… these questions threw me off. Simply because many of these questions required so much depth and individual reflection in order to answer honestly. My first approach to Come Follow Me was to get in, get out, get it done, check it off. These questions simply didn't allow me to do so. In fact, I felt a little sick when I would read a question like, "How does the spirit speak to you?" and I wouldn't know the answer right away. After a time, and pondering on that specific question I realized IT'S OKAY. In fact, I think these questions were meant to be set aside, thought about, and pondered. When we try and come up with the quick easy, obvious, answer, we are depriving ourselves of an opportunity to reflect, ponder, pray, and RECEIVE REVELATION. Is this not the whole reason for Come Follow Me? Are we not trying to finetune and recognize how we, and how to receive personal revelation.
So each week I will list out some of the questions issued in Come Follow Me. Maybe you pick to ponder about all of them, maybe you pick just one. Whatever you do, ponder on this for the ENTIRE week. Pray about it, discuss it with loved ones, then at the start of the new week, take the time to write down your impressions or thoughts, share them with your family, testify of powerful insights.
As you read Joseph Smith—History 1:1–26, what strengthens your testimony of his divine calling?
What do you learn from Joseph Smith's experience in verses 5–20? Think of your own need for wisdom and greater understanding, and consider how you will seek truth.
To read Joseph's other accounts, see "First Vision Accounts" (Gospel Topics Essays, 

topics.ChurchofJesusChrist.org

). What do you learn from reading all of these accounts?
As you read about Joseph's experience, ponder how the First Vision has changed your life. For example, you might complete this sentence in different ways: "Because the First Vision happened, I know that …" How have you been blessed because of the First Vision?
When Joseph Smith faced opposition because of his vision, he identified with the Apostle Paul, who was also persecuted for saying he had seen a vision. As you read Joseph's account, what inspires you to remain true to your testimony?

What other examples—from the scriptures or people you know—give you courage to stay true to the spiritual experiences you have had?

How can we handle disagreements without becoming contentious like the people described in this verse? Joseph Smith—History 1:6.
Reading these verses might inspire family members to share experiences when a scripture passage touched their hearts and inspired them to act. Joseph Smith—History 1:11–13.
When have members of your family felt that Heavenly Father knows them personally?
How can we respond when people question our testimonies?
Lesson: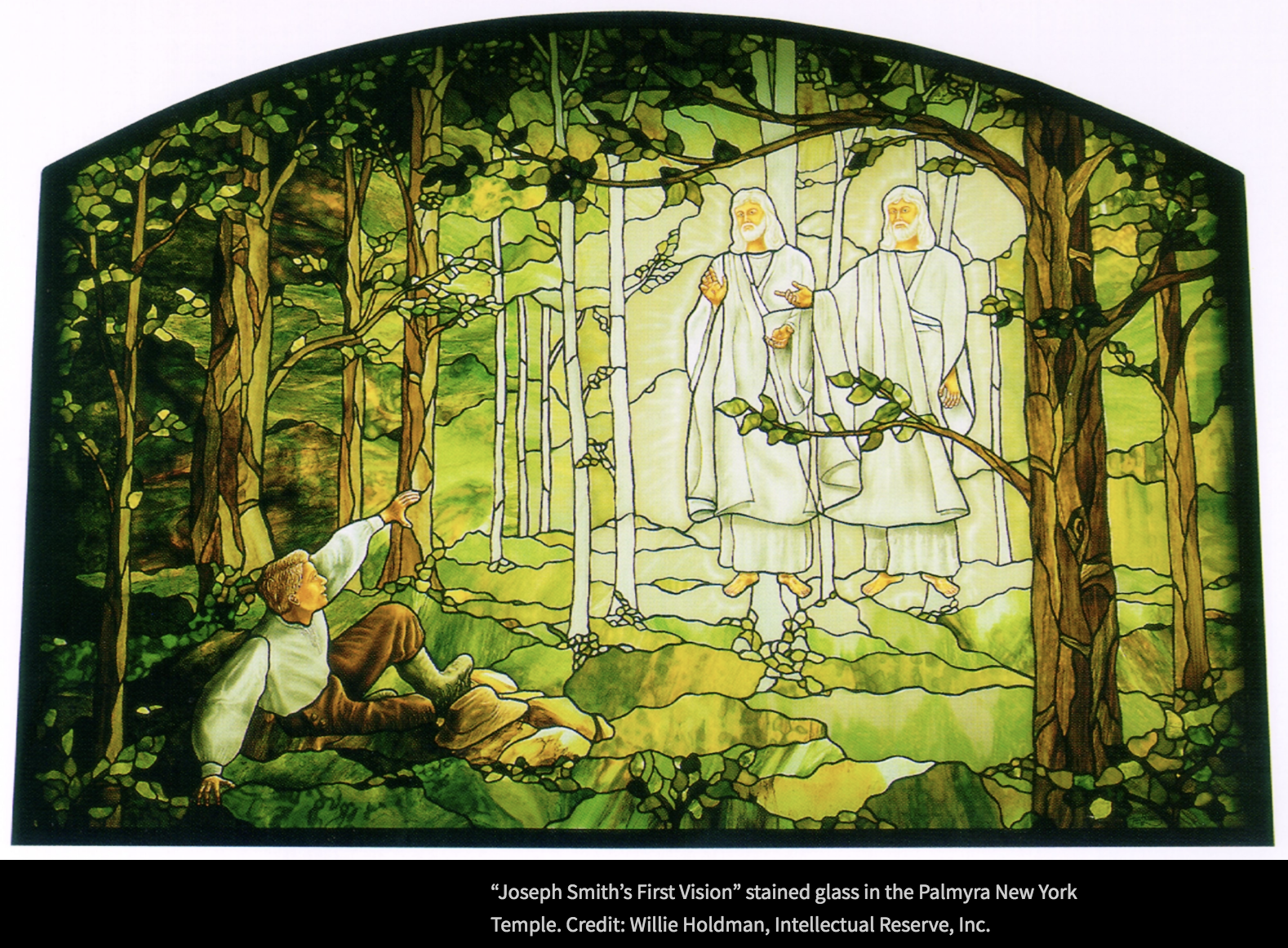 "If Joseph Smith's transcendent experience in the Sacred Grove teaches us anything, it is that the heavens are open and that God speaks to His children. The Prophet Joseph Smith set a pattern for us to follow in resolving our questions. Drawn to the promise of James that if we lack wisdom we may ask of God, the boy Joseph took his question directly to Heavenly Father. He sought personal revelation, and his seeking opened this last dispensation." 

"In like manner, what will your seeking open for you? What wisdom do you lack? What do you feel an urgent need to know or understand? Follow the example of the Prophet Joseph. Find a quiet place where you can regularly go. Humble yourself before God. Pour out your heart to your Heavenly Father. Turn to Him for answers and for comfort" (Ensign, May 2018).

-President Russel M. Nelson
Joseph Smith Papers First Vision Podcast: Dive deep into Joseph Smith's First Vision Accounts through this 6 part audio series!
The First Vision: A Joseph Smith Papers Podcast is a six-part miniseries from the Joseph Smith Papers Project that explores the history and legacy of Joseph Smith's first vision. Series host Spencer W. McBride interviews historians and other scholars in a documentary-style podcast about this pivotal event in the history of the Restoration. Released in the bicentennial year of Joseph Smith's vision of God the Father and Jesus Christ, the podcast recreates the world in which Joseph Smith was seeking answers to the pressing questions of his soul. Listeners will be invited to understand the First Vision from the perspective of historians.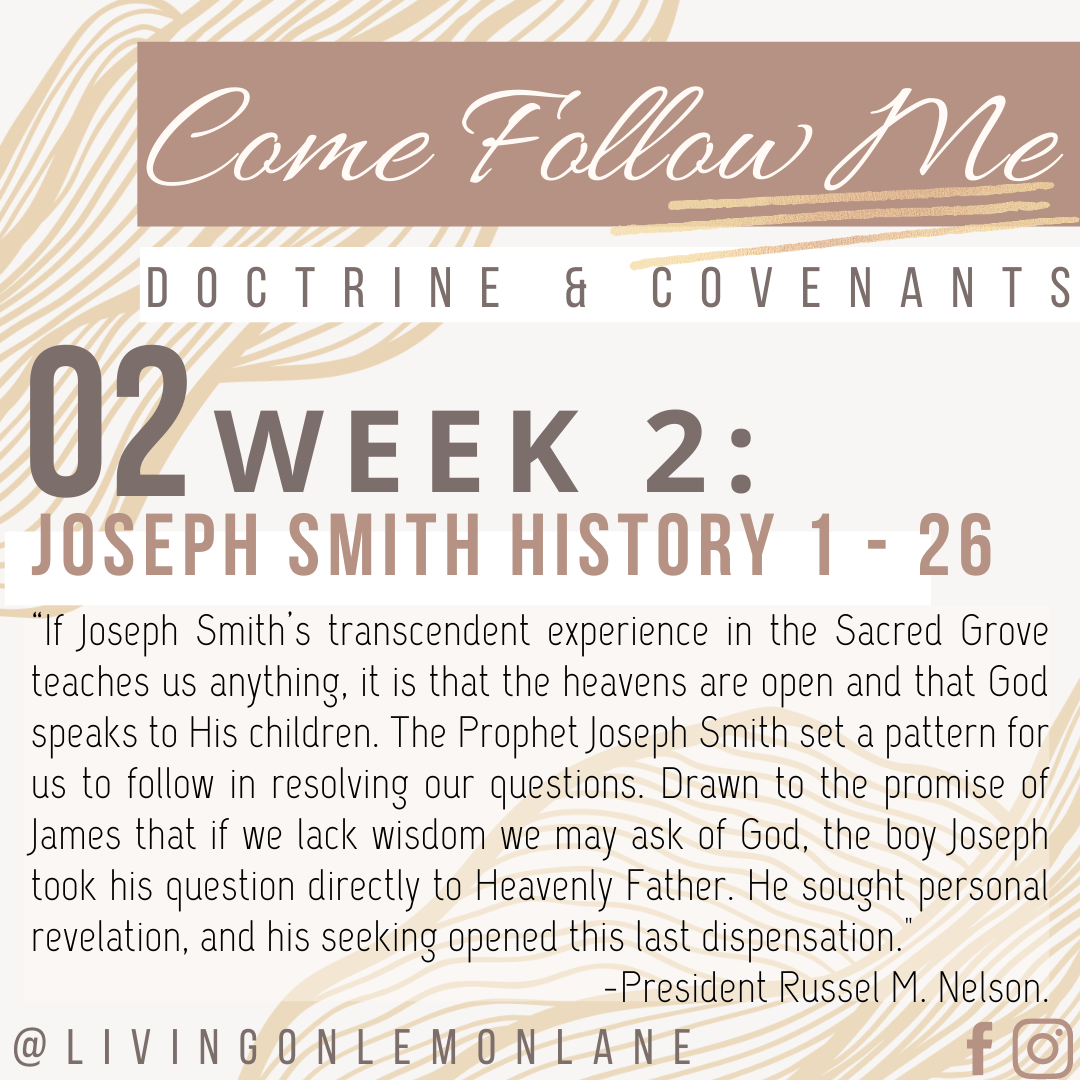 If you do this activity PLEASE PLEASE PLEASE take pictures and tag me! Post to the Facebook group, or tag @livingonlemonlane on Instagram! If you appreciate these object lessons or resource ideas, don't forget to pin these images to your Pinterest. This is a SMALL and SIMPLE way to support the efforts of Living on Lemon Lane and sharing these ideas with your friends and family.
Make sure to tag a friend to help spread the word. 
Teaching Ideas for Toddlers & Young Children
Watch or Listen To:
With young children, I understand the STRUGGLE and the attention span you are dealing with. Below are some of my favorite videos or audio recordings|podcasts you can listen to and watch with your children.  Many of these are PERFECT for when everyone is strapped in the car seat. My 5-year-old now requests many of these over the radio. This allows us to listen, review and discuss together, and listen again throughout the week.  Many of the videos I share can be found on the Saint's Radio Channel App. (Formerly Mormon Channel App, If you don't already have this, DOWNLOAD NOW.)
I am absolutely LOVING the YouTube Channel, Latter Day Kids. Each week they put out a beautifully illustrated video meant for young children to be used in conjunction with the Come Follow Me Lessons. This week's video is all about All Things Denoting there is a God! You can even head to their website to download discussion questions to go along with the video and a fun coloring page.
The ONLY Paid Subscription I use for Come Follow Me
I've recently teamed up with David Bowman artist, author and creator of the Drawn-In Video Subscription to bring a discount to all Living on Lemon Lane readers. This is the ONLY Paid Come Follow Me product that I have a subscription to, and it is worth every cent. Each week you get TWO engaging and fun videos (around 20 minutes long each!) as well as exclusive content and printables! Like his books, instead of just introducing the scripture story he explains a principle, then takes it a step further by exploring APPLICATION.  Click here to watch his Free Videos, If you're interested make sure to use the promo code LEMONLANE10 at checkout to receive 10% off of the yearly membership!
Read:
Activity Suggestions:
Activity Suggestions From Come Follow Me:
As your family reads these verses, consider showing the painting that accompanies this outline or another picture of the First Vision (perhaps your family would enjoy drawing their own depiction). You could also watch the video "Ask of God: Joseph Smith's First Vision" (

ChurchofJesusChrist.org

). You could each make a list of truths we learn from this vision, then share your lists with one another. This would be a great time for family members to share how they obtained their testimonies of Joseph Smith's First Vision. Joseph Smith—History 1:16–20.
Teaching Ideas for Families
Watch or Listen To:
The church recently released, "Saints," A New Narrative approach to church history. It. Is. WONDERFUL. This gives such depth and understanding to the early saints. Historians did a remarkable job marrying facts, conversations, and primary sources with the art of storytelling. Every conversation read, or detail noted, comes from a primary account. Saints is also intended to be read and comprehended at an 8th-grade reading level making it accessible to nearly every Latter-Day Saint. Please add this to your study this year!
Click Here to Listen to or Read Chapter 1 of the "Saints," (**To listen, click on the headphone icon in the bottom right-hand corner)
Read:
Activity Suggestions From Come Follow Me: