Make sure to tag a friend to help spread the word.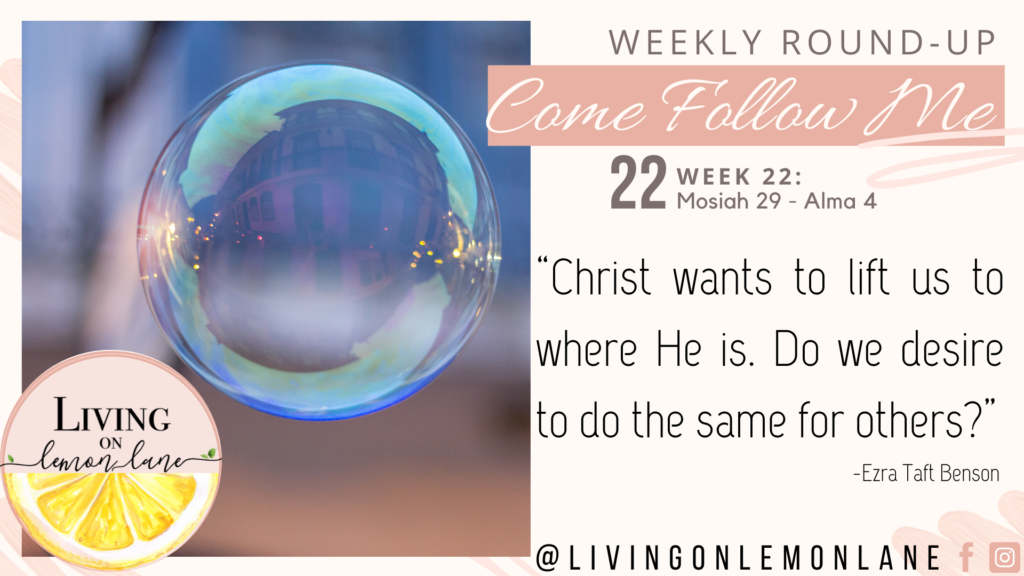 Week 22: Come Follow Me: Book of Mormon, Teaching Ideas and Free Resources
May 25th – 31st
MOSIAH 29 – ALMA 4
Questions to Ponder:
Each Come Follow Me Lesson asks important and reflective questions. When I first began my individual study these questions threw me off. Simply because many of these questions required so much depth and individual reflection in order to answer honestly. My first approach to come follow me was to get in, get out, get it done, check it off. These questions simply didn't allow me to do so. In fact, I felt a little sick when I would read a question like, "How does the spirit speak to you?" and I wouldn't know the answer right away. After a time, and pondering on that specific question I realized IT'S OKAY. In fact, I think these questions were meant to be set aside, thought about, and pondered. When we try and come up with the quick easy, obvious, answer, we are depriving ourselves of an opportunity to reflect, ponder, pray, and RECEIVE REVELATION. Is this not the whole reason for Come Follow Me? Are we not trying to finetune and recognize how we, and how to receive personal revelation.
So each week I will list out some of the questions issued in Come Follow Me. Maybe you pick to ponder about all of them, maybe you pick just one. Whatever you do, ponder on this for the ENTIRE week. Pray about it, discuss it with loved ones, then at the start of the new week, take the time to write down your impressions or thoughts, share them with your family, testify of powerful insights.
Have you noticed religious rights being threatened in your nation or community?

What do you learn from the way the Nephites responded to this threat? (see Alma 2:1–7).

There are likely many important issues facing your community. How can you, like the Nephites, make sure that your voice is included in "the voice of the people"?

Perhaps you live in a place where the voice of the people has limited influence on the government; if so, are there other ways you can be a positive influence in your community?

Why might people have found Nehor's teachings enticing? As you read Alma 1:2–4, see if you can identify the falsehoods in Nehor's teachings; you'll probably notice that they're taught alongside partial truths.
Gideon withstood Nehor "with the words of God" (Alma 1:7, 9). Can you think of scriptures that refute Nehor's falsehoods?
How can you be more like the people of God? Do you notice any "priestcraft" in your own service? Chapters 1 and 4 of Alma both describe periods when the Church prospered, but Church members responded to that prosperity differently in each case. What differences do you notice?

Based on what you find, how would you describe the attitude that "humble followers of God" (Alma 4:15) have toward riches and prosperity?
What do you feel inspired to change about your own attitude?

Some might say that the office of chief judge would have put Alma in the best position to solve the problems he saw among his people. But Alma felt there was a better way. What impresses you about his approach to helping his people?

Your study may inspire thoughts about how you can righteously influence those around you; if so, act on those thoughts.

What message did the Amlicites want to communicate when they "set [a] mark upon themselves"? (see Alma 3:4, 13).

What messages might we send—intentionally or unintentionally—with our appearance? This might be a good time to review "Dress and Appearance" in For the Strength of Youth (2011), 6–8.

What things or experiences have "awakened [us] to a remembrance of [our] duty" toward God? (Alma 4:3).
How can we avoid being a "stumbling-block to those who [do] not belong to the church"? (Alma 4:10).
To help your family understand the power of testimony, you could ask them to think of a time when hearing someone's testimony affected them deeply.

Why might Alma have chosen to use testimony and the word of God to touch the hearts of the people? (see also Alma 31:5).
Why is this more effective than other methods people might use to persuade others to change?
Are there people whose faith we could strengthen by sharing our testimonies with them?
Lesson: