Make sure to tag a friend to help spread the word.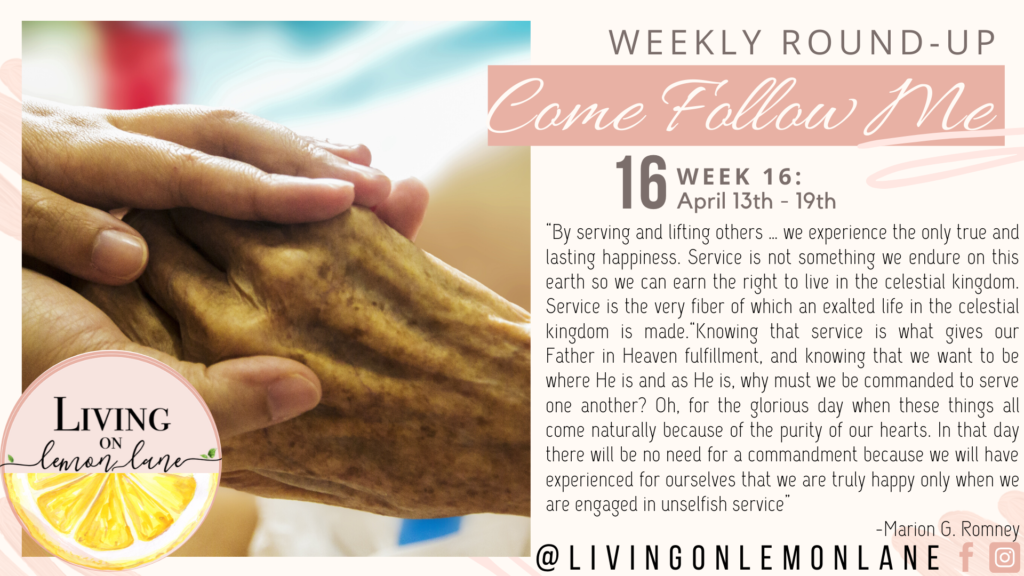 Week 16: Come Follow Me: Book of Mormon, Teaching Ideas and Free Resources
April 13th – 19th
Mosiah 1-3
Questions to Ponder:
Each Come Follow Me Lesson asks important and reflective questions. When I first began my individual study these questions threw me off. Simply because many of these questions required so much depth and individual reflection in order to answer honestly. My first approach to come follow me was to get in, get out, get it done, check it off. These questions simply didn't allow me to do so. In fact, I felt a little sick when I would read a question like, "How does the spirit speak to you?" and I wouldn't know the answer right away. After a time, and pondering on that specific question I realized IT'S OKAY. In fact, I think these questions were meant to be set aside, thought about, and pondered. When we try and come up with the quick easy, obvious, answer, we are depriving ourselves of an opportunity to reflect, ponder, pray, and RECEIVE REVELATION. Is this not the whole reason for Come Follow Me? Are we not trying to finetune and recognize how we, and how to receive personal revelation.
So each week I will list out some of the questions issued in Come Follow Me. Maybe you pick to ponder about all of them, maybe you pick just one. Whatever you do, ponder on this for the ENTIRE week. Pray about it, discuss it with loved ones, then at the start of the new week, take the time to write down your impressions or thoughts, share them with your family, testify of powerful insights.
What did King Benjamin ask them to do to prepare to hear God's word? (see verse 9).

How can you better prepare yourself to receive the word of God in your personal and family study and during Church meetings?

Do you struggle to find time to serve or wish that your service brought you more joy?

What do you think King Benjamin would say if you asked him why he served with all his "might, mind and strength"?

What do I learn from these verses about the Savior and His mission?

How has Jesus Christ helped me overcome sin? How has He helped me change my nature and become more like a saint?

What do I learn about becoming a saint from Mosiah 3:19?

How did the plates of brass and the plates of Nephi bless King Benjamin's people?

How do the scriptures bless our family?

What do we learn about service from King Benjamin's teachings and example?

What do we feel inspired to do?

Would it benefit your family to have a discussion about humility?

Why did King Benjamin not boast about all he had done?
What can we learn from his teachings about our relationship with God?

What did King Benjamin teach about the consequences of knowing truth but not living it?

What did he teach about how to obtain true happiness?

What do we need to do to become saints?

Which characteristic from this verse can we focus on developing as a family?
Lesson: Just Serve
"By serving and lifting others … we experience the only true and lasting happiness. Service is not something we endure on this earth so we can earn the right to live in the celestial kingdom. Service is the very fiber of which an exalted life in the celestial kingdom is made.
"Knowing that service is what gives our Father in Heaven fulfillment, and knowing that we want to be where He is and as He is, why must we be commanded to serve one another? Oh, for the glorious day when these things all come naturally because of the purity of our hearts. In that day there will be no need for a commandment because we will have experienced for ourselves that we are truly happy only when we are engaged in unselfish service" (in Conference Report, Oct. 1982, 135; or Ensign, Nov. 1982, 93). – Marion G. Romney
I thought this week was the perfect week to focus on Service. There are so many great resources out there that really simplify the process for setting up, and finding organizations to serve in nationally and even locally. With King Benjamin's focus on service in these chapters, I thought finding an immediate way to apply the teachings would be beneficial.
The resource I wanted to focus on primarily is called, Just Serve. It is an organization put together by the Church of Jesus Christ of Latter-Day Saints, and it really is phenomenal. You do not have to be a member of the Church of Jesus Christ of Latter-Day Saints to participate or volunteer, rather it is a platform that brings service-minded individuals together.



To start, simply search for projects happening in your area. Because this platform is more of a connecting piece for people the service projects are constantly changing and adapting to the current needs and limitations. Heres my favorite part… If you don't see a project that interests you, but you have a great service project in mind… You can simply create an account and submit an idea for service. My biggest piece of advice with service or really anything that you want to do that could help or uplift others… Don't wait. Don't wait for someone else to validate your idea, and don't hinge your possible efforts on someone else's validation. If you feel like your idea will make a difference, then it will. Do it, and go for it. After all, even if it's just ONE person… what does King Benjamin teach us about service.
17 And behold, I tell you these things that ye may learn awisdom; that ye may learn that when ye are in the bservice of your cfellow beings ye are only in the service of your God.
Now if you're thinking, "with all this social distancing I'm limited with how I can serve." You're right, you may be limited, and service may look a little different, but just because you are limited doesn't mean you are unable. Pray for inspiration as to how you can help despite your unique limitations and circumstances. If you would like a few ideas  to get your brain going, I've linked a couple of well-written blog posts about serving below:
If you do this activity PLEASE PLEASE PLEASE take pictures and tag me! Post to the Facebook group, or tag @livingonlemonlane on Instagram! Don't forget to pin these images to your Pinterest. This is a SMALL and SIMPLE way to support the efforts of Living on Lemon Lane and sharing these ideas with your friends and family.

Make sure to tag a friend to help spread the word. 

Teaching Ideas for Toddlers & Young Children

Watch or Listen To:

With a 2-year-old and 4-year-old, I understand the STRUGGLE and the attention span you are dealing with. Below are some of my favorite videos or audio recordings|podcasts you can listen to and watch with your children. My favorites right now are the Book of Mormon Story videos.**Different from the newly released B.O.M. videos. These are illustrated and READ stories to your children. THESE are PERFECT for when everyone is strapped in the car seat. My 4-year-old now requests these over the radio. Each segment is only 2-4 minutes long. This allows us to listen, review and discuss together, and listen again throughout the week.  Many of the videos I share can be found on the Saint's Radio Channel App. (Formerly Mormon Channel App, If you don't already have this, DOWNLOAD NOW.)

I've recently teamed up with David Bowman artist, author and creator of the Drawn-In Video Subscription to bring a discount to all Living on Lemon Lane readers. This is the ONLY Paid Come Follow Me product that I have a subscription to, and it is worth every cent. Like his books, instead of just introducing the scripture story he explains a principle, then takes it a step further by exploring APPLICATION.  Click here to watch his Free Videos, If you're interested make sure to use the promo code LEMONLANE10 at checkout to recieve 10% off of the yearly membership!
Illustrated Book of Mormon Stories: Chapter 12 Mosiah, page 32 Click Here to Download the PDF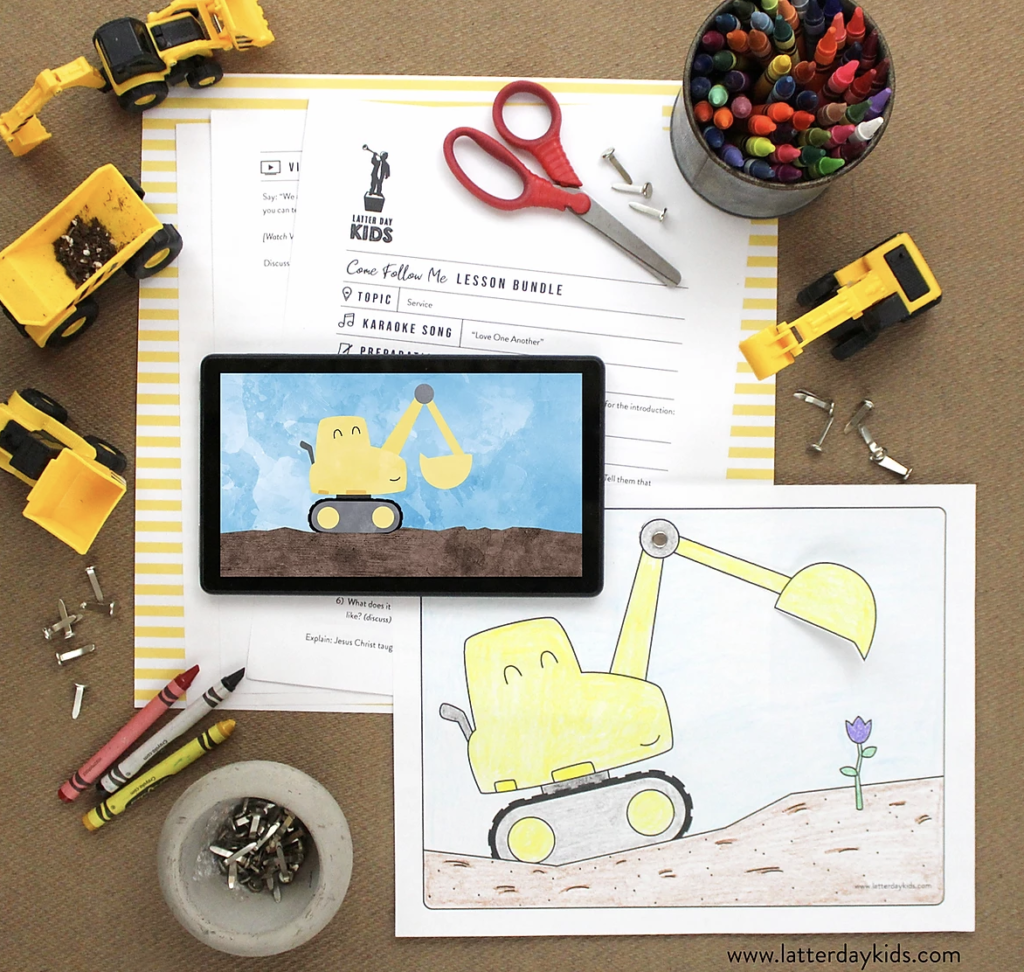 I am absolutely LOVING the YouTube Channel, Latter Day Kids. Each week they put out a beautifully illustrated video meant for young children to be used in conjunction with the Come Follow Me Lessons. This week's video is all about Serving Others.  You can even head to their website to download discussion questions to go along with the video and a fun coloring page.
Activity
See above for a list of service activities for toddlers and young children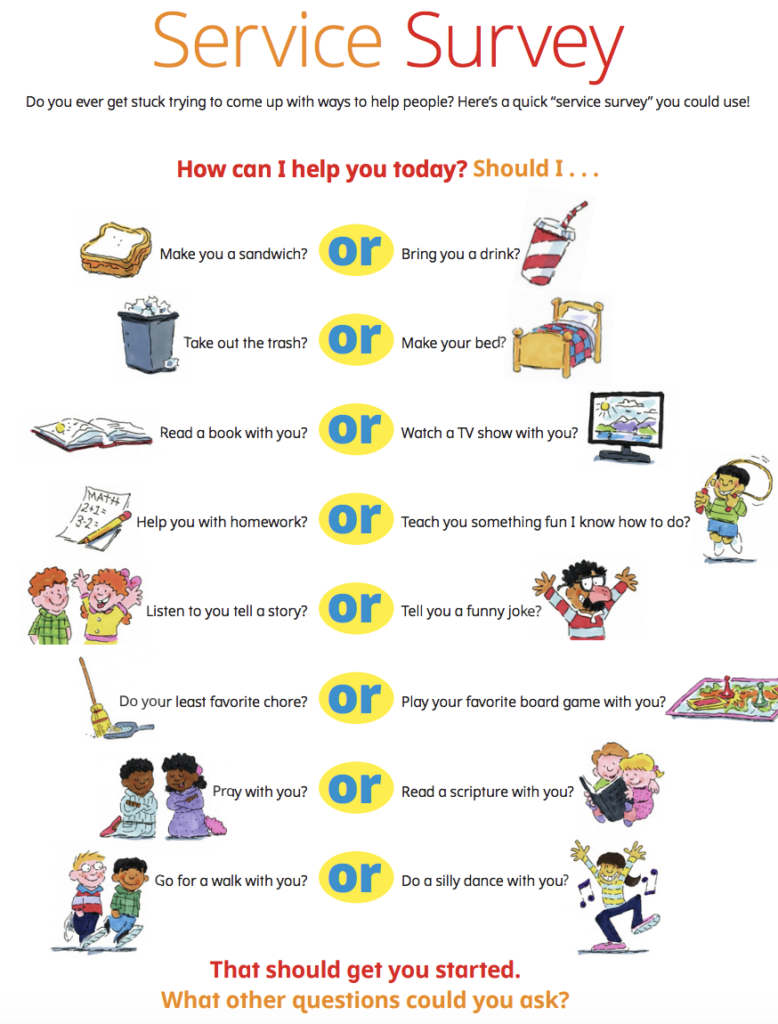 Click Here for a fun Service Survey that was published in the Friend. Another great way to think of small, creative ways to serve.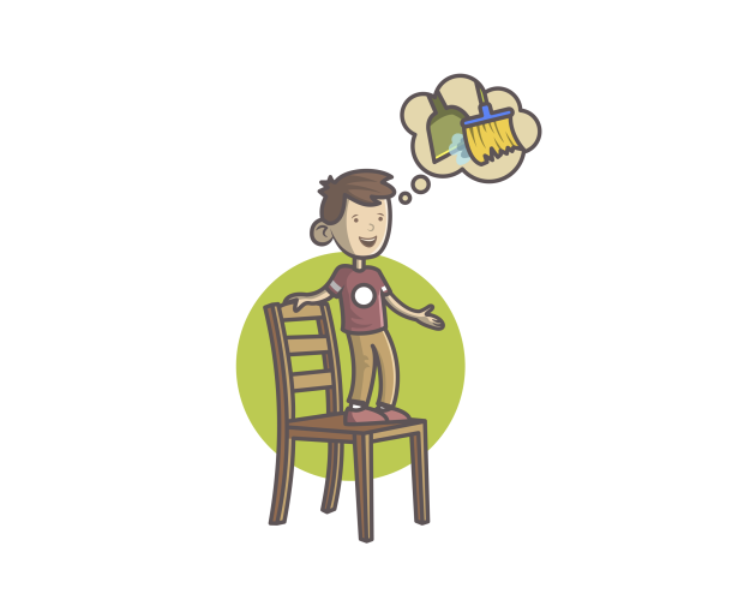 King Benjamin built a tower and taught his people that when we serve each other, we are really serving God (see Mosiah 2:17).

Build a tower. It can be a chair, an ottoman, a few boxes, etc.

Take turns getting up on your tower and thanking someone in the family for the service they have done recently.

Now take turns getting on the tower again and sharing with the family one way you're going to provide service this week.

Discussion: Why is it important to serve others? How does it make you feel when someone serves you? How can we serve someone (and God) as a family this week?
Teaching Ideas for Families
Watch or Listen To:
Finding time to make Come Follow Me can be tough, it can also be tough to keep the attention of family members. The Book of Mormon videos recently released by the church are a WONDERFUL resource. 
This video covers next week's lesson as well. Consider splitting the video into 2 halves or watching it twice.
No secret here… I LOVE Sister Bonnie Oscarson
Read:
I LOVE using the Institute and Seminary Manuals to aid my study! They answer questions, provide insight and background coupled with beautiful quotes from Prophets and Apostles.
Activity Suggestions: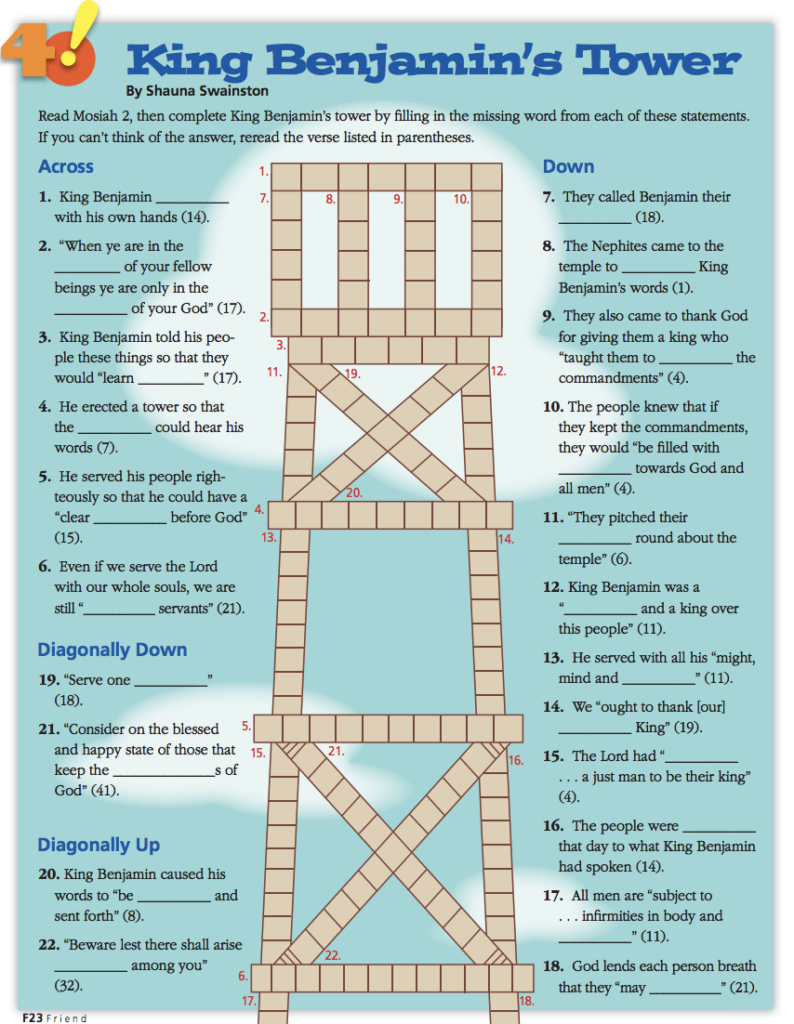 Click Here to Download this Fun Crossword Puzzle based on Mosiah Chapter 2
See above for Service suggestions and ideas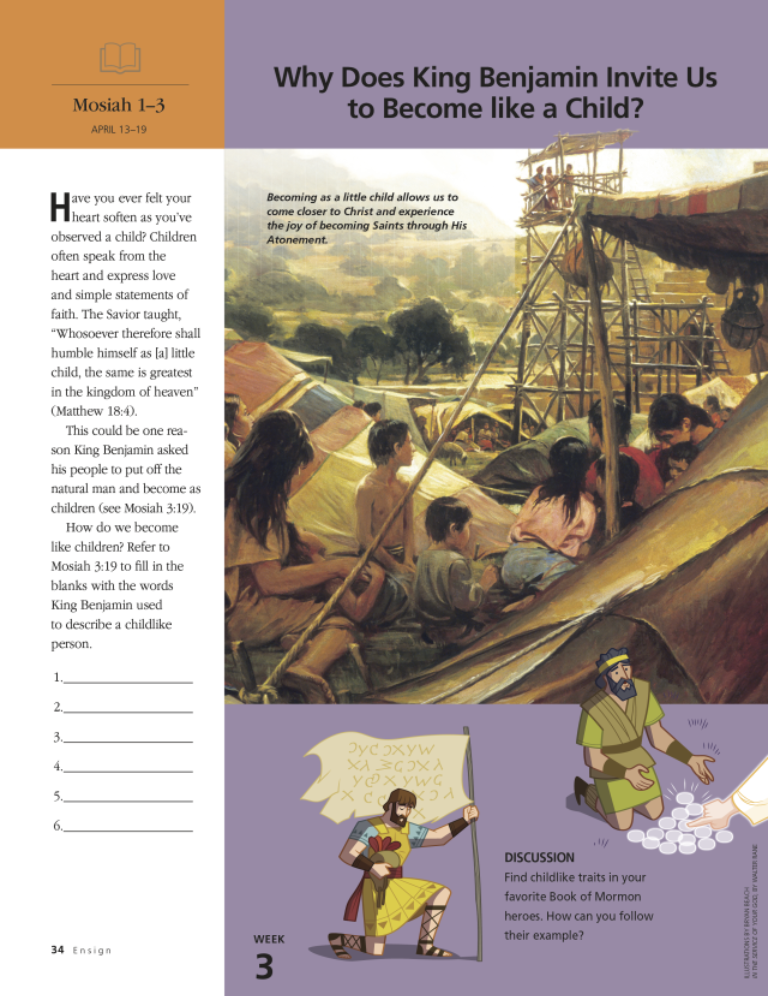 Click Here to Download the Graphic above from the Ensign