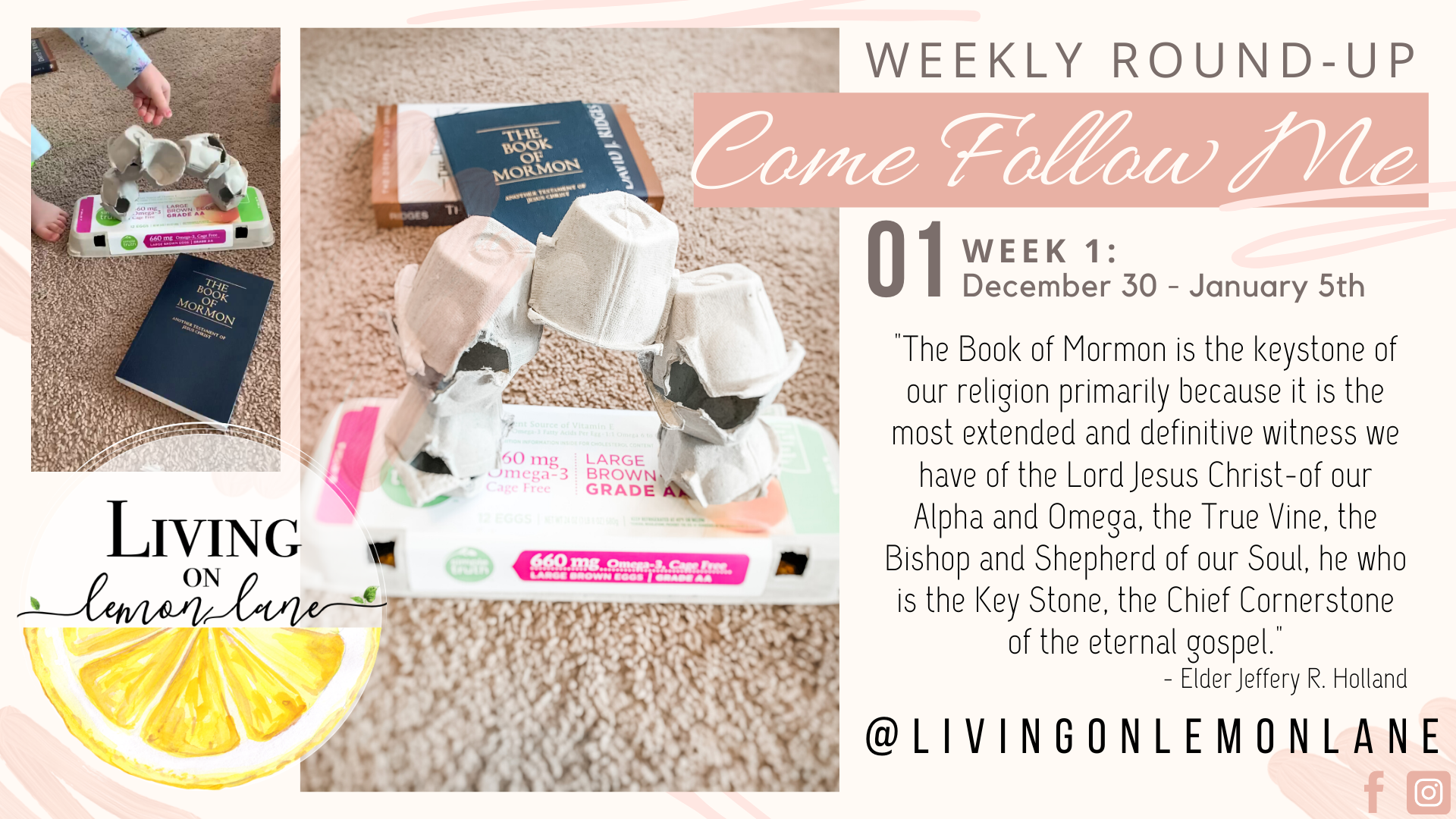 Hello friends!
I've felt inclined to build out the "Living" side of my website since starting it… My background is in education and I've spent the last year building out that side of things. With the start of the year and studying the Book of Mormon I finally feel like it's time to REALLY commit.
Holding myself accountable: Each week I will be doing a resource roundup of my favorite FREE lesson supplements that will help you to easily implement the Come Follow Me lesson that week. My hope is that the Blog Post and Social Media posts will be a place where YOU also share your plans, and ideas, a place where everyone can leave feeling like they have a GAME PLAN.
At the moment we are planning lessons for a two-year-old and 4-year-old so resources and ideas will range from extremely simple, to other study resources that allow you to dive deeper.
If this is something you are interested in, make sure to follow @livingonlemonlane on Instagram!Make sure to tag a friend to help spread the word. 
What you can expect:
Fun hands-on lessons like the Egg Carton Cornerstone video from this week.
Coloring Pages
Podcast Recommendations
Institute and Seminary Study Guides
Videos
Teaching Suggestions
Art Work
Topic Essays
Printables
Comment below if this is something you would be interested in and I'll link up where you can follow along and SHARE your ideas!
Week 1: Come Follow Me: Book of Mormon, Teaching Ideas and Free Resources
Questions to Ponder: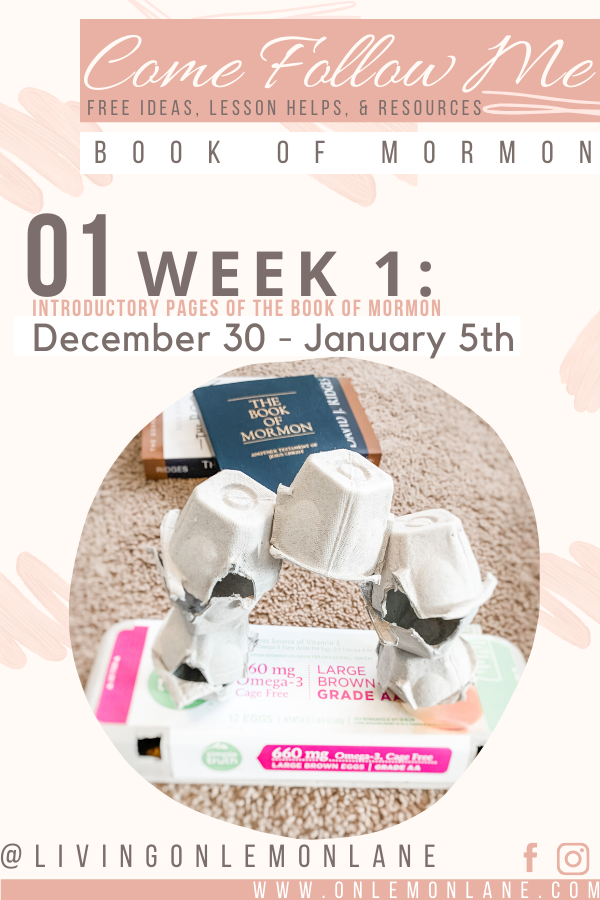 Each Come Follow Me Lesson asks important and reflective questions. When I first began my individual study these questions threw me off. Simply because many of these questions required so much depth and individual reflection in order to answer honestly. My first approach to come follow me was to get in, get out, get it done, check it off. These questions simply didn't allow me to do so. In fact, I felt a little sick when I would read a question like, "How does the spirit speak to you?" and I wouldn't know the answer right away. After a time, and pondering on that specific question I realized IT'S OKAY. In fact, I think these questions were meant to be set aside, thought about, and pondered. When we try and come up with the quick easy, obvious, answer, we are depriving ourselves of an opportunity to reflect, ponder, pray, and RECEIVE REVELATION. Is this not the whole reason for Come Follow Me? Are we not trying to finetune and recognize how we, and how to receive personal revelation.
So each week I will list out some of the questions issued in Come Follow Me. Maybe you pick to ponder about all of them, maybe you pick just one. Whatever you do, ponder on this for the ENTIRE week. Pray about it, discuss it with loved ones, then at the start of the new week, take the time to write down your impressions or thoughts, share them with your family, testify of powerful insights.
How can you "give [your name] unto the world, to witness unto the world" what you know about the Book of Mormon?
If someone asked you where the Book of Mormon came from, what would you say?
How can we make the Book of Mormon the keystone of our faith in Jesus Christ?
Do you have a testimony of the Book of Mormon? If so how did you gain it? If not how can you gain one?
Object Lesson: Keystone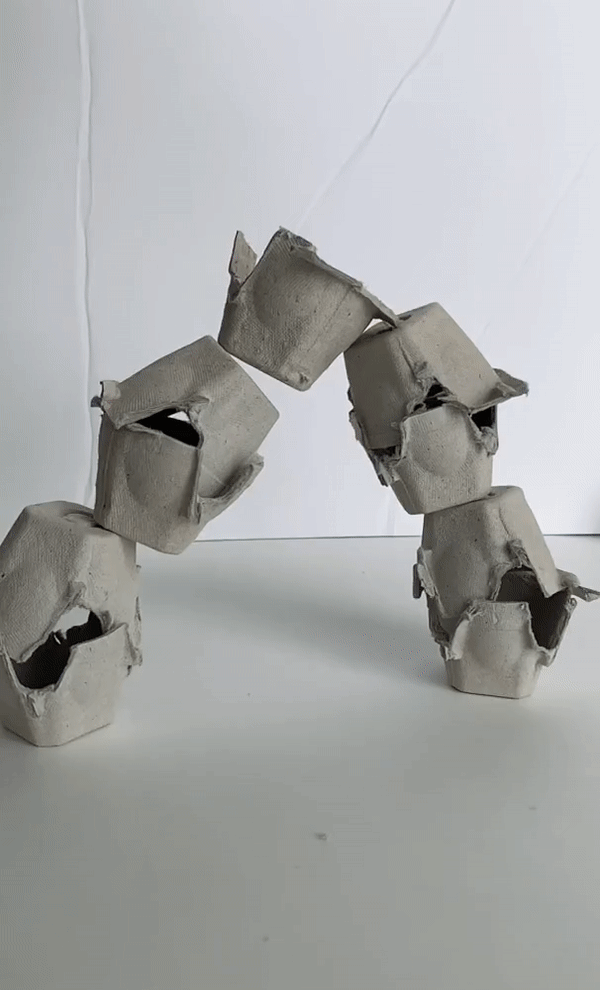 The Book of Mormon is the keystone of our religion primarily because it is the most extended and definitive witness we have of the Lord Jesus Christ-of our Alpha and Omega, the True Vine, the Bishop and Shepherd of our Soul, he who is the Key Stone, the Chief Cornerstone of the eternal gospel. – Jeffery R. Holland
I wanted to find a fun object lesson that would allow my kids to experiment and experience what exactly a keystone is. A picture can only do so much in this case. Lucky for you I found and came up with a couple of great options!
Materials you can use to create your own Roman Arch (Keystone)
Sugar Cubes
Free Printable from Look Kool: Print, cut out, and fold the blocks out of paper using this awesome resource!
Egg Carton
Egg Carton: This turned out better than expected! I wanted to have a hands-on activity for the kiddos to experience and better understand what a Keystone is. In order for this to work the material needs to be lightweight, I found a fun printable that allows you to fold paper blocks that will make a Roman Arch but I wanted something that would require even less prep. I'm low maintenance when it comes to prep… EGG CARTONS. You guys, they worked!! This is a great activity across all ages. They are a perfect size and weight for little ones to hold and experiment with, however, add the challenge of a Roman arch and even adults can benefit from this visual! –
If you don't have access to an egg carton or a printer, run to the grocery store. Sugar cubes also make a fun and YUMMY manipulative!
Teaching Ideas for Toddlers & Young Children
Watch or Listen To:
With a 2-year-old and 4-year-old, I understand the STRUGGLE and the attention span you are dealing with. Below are some of my favorite videos or audio recordings|podcasts you can listen to and watch with your children. My favorites right now are the Book of Mormon Story videos. These are illustrated and READ the stories to your children. THESE are PERFECT for when everyone is strapped in the car seat. My 4-year-old now requests these over the radio. Each segment is only 2-4 minutes long. This allows us to listen, review and discuss together, and listen again throughout the week.  Many of the videos I share can be found on the Saint's Radio Channel App. (Formerly Mormon Channel App, If you don't already have this, DOWNLOAD NOW.)
Read:
Activity Suggestions: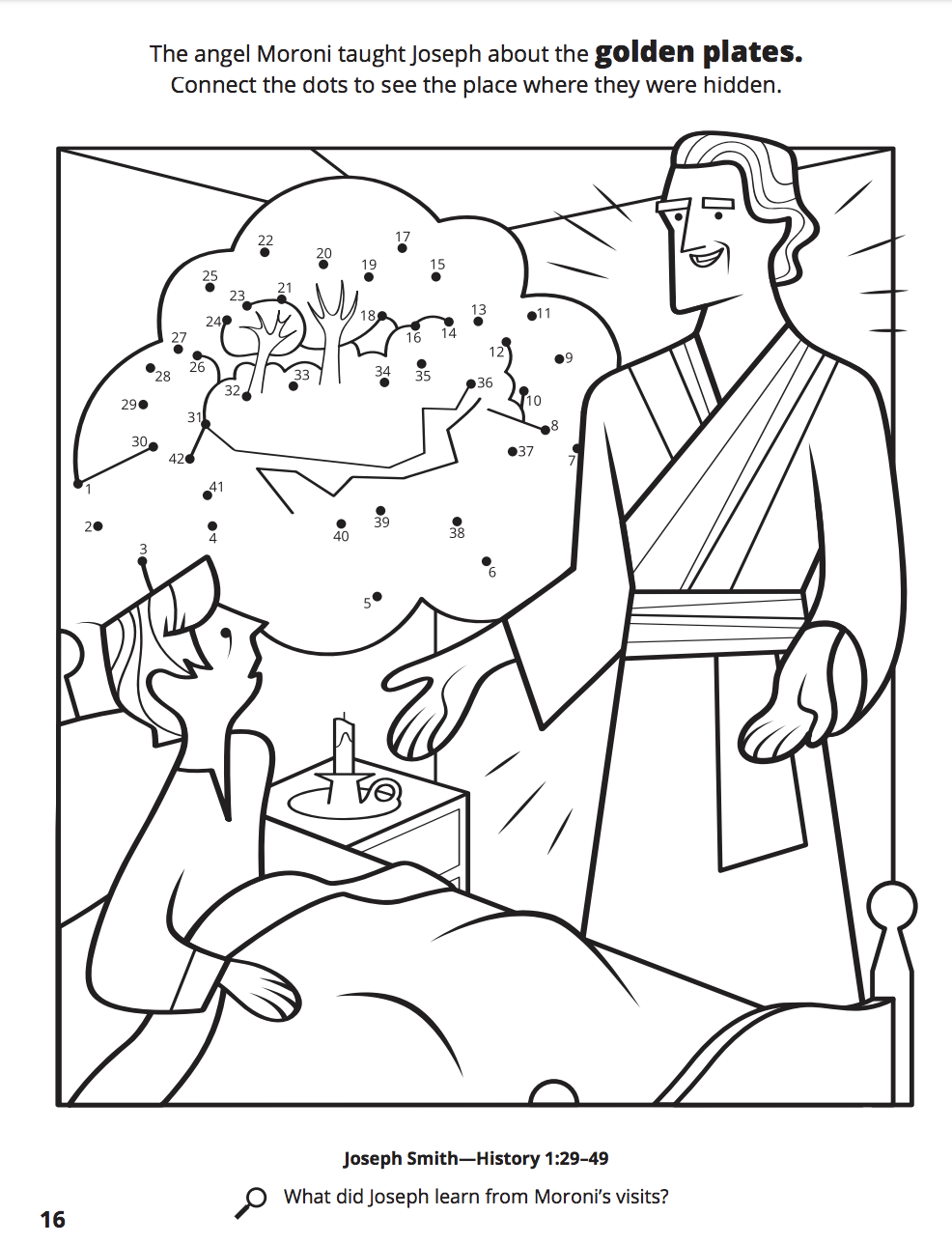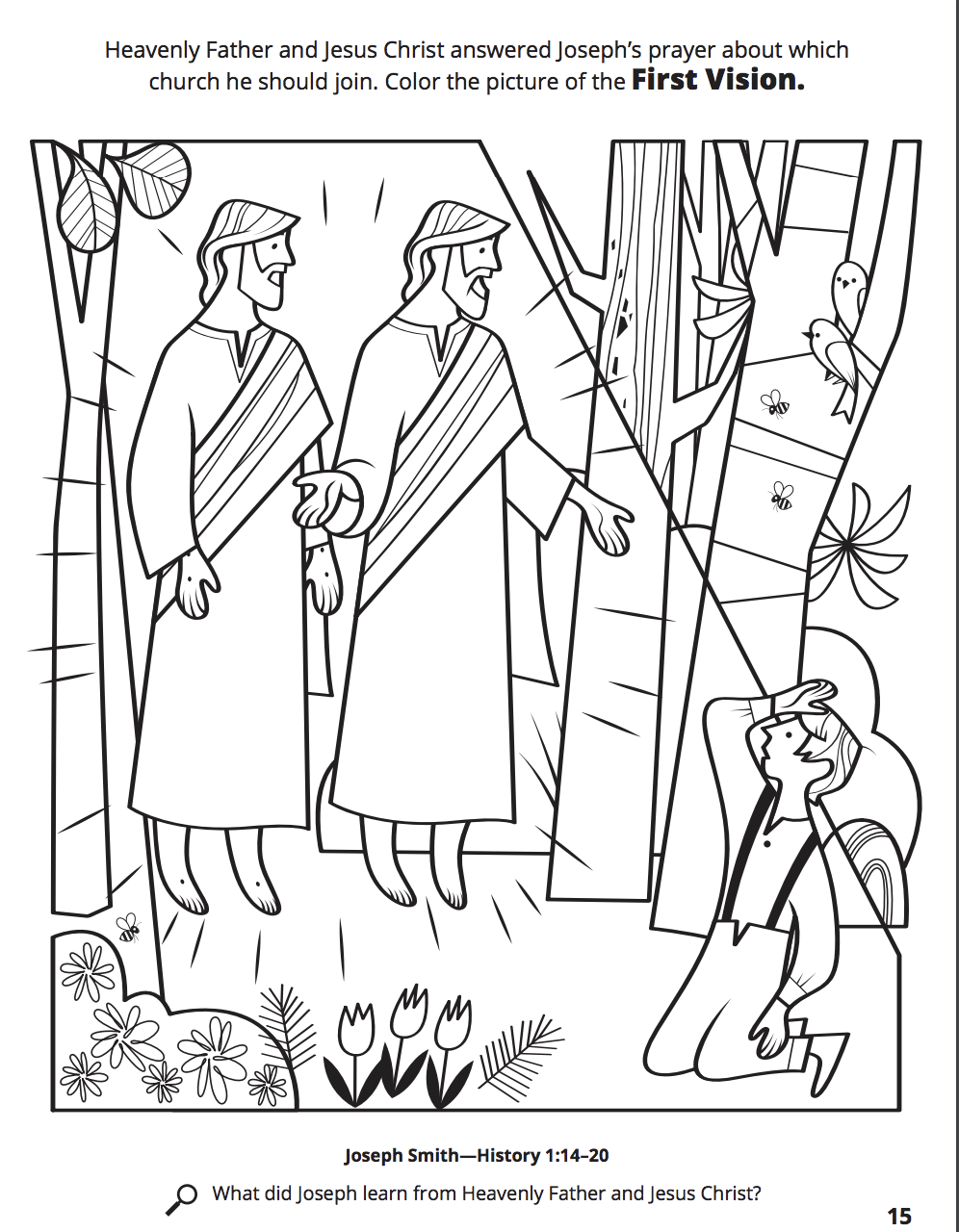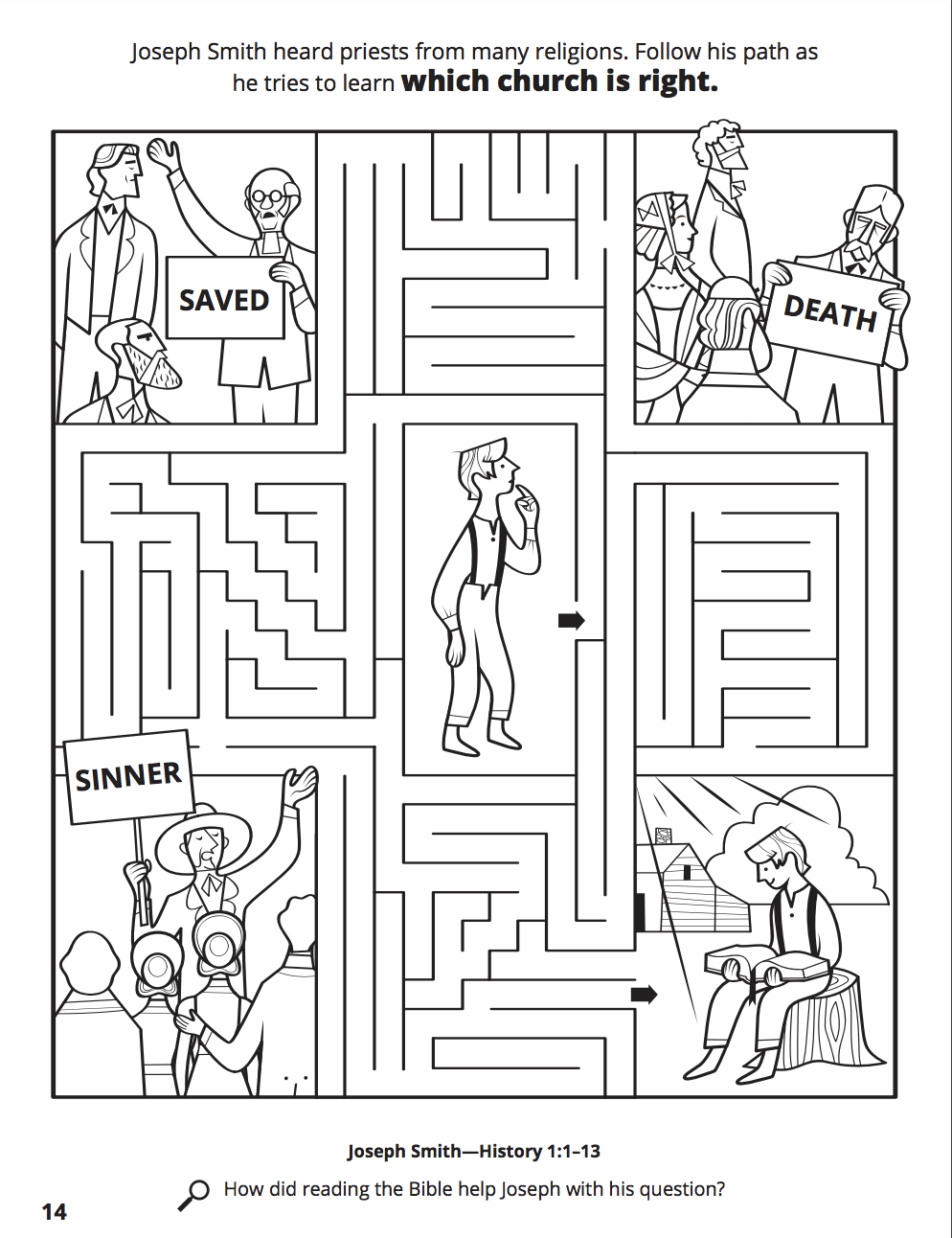 Teaching Ideas for Families
Watch or Listen To:
Finding time to make Come Follow Me can be tough, it can also be tough to keep the attention of family members. All of the videos shown below are less than 5 minutes for that reason. 
Read:
Activity Suggestions: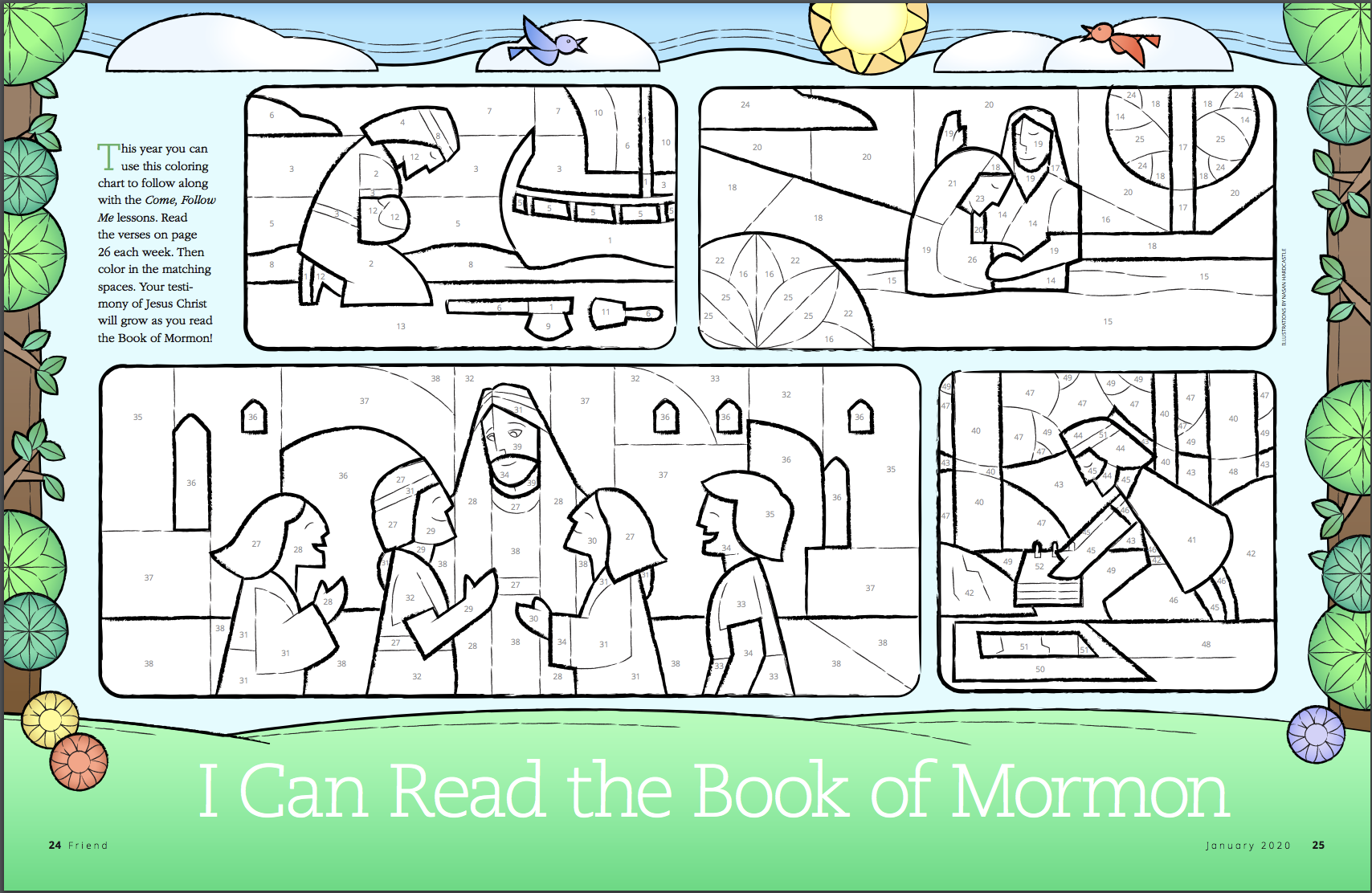 Download this FREE Coloring page. Children will color in a segment after completing each week of Come Follow Me
Individual Study & Extension
Watch or Listen To:
Read:
I LOVE using the Institute and Seminary Manuals to aid my study! They answer questions, provide insight and background coupled with beautiful quotes from Prophets and Apostles.
:MOST IMPORTANT PART:
Comment below and share YOUR favorite resources for Week 1 of Come Follow Me in the Book of Mormon. Join the conversation on @livingonlemonlane on Instagram and stay updated on new blog posts! Till next week.