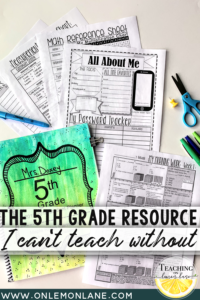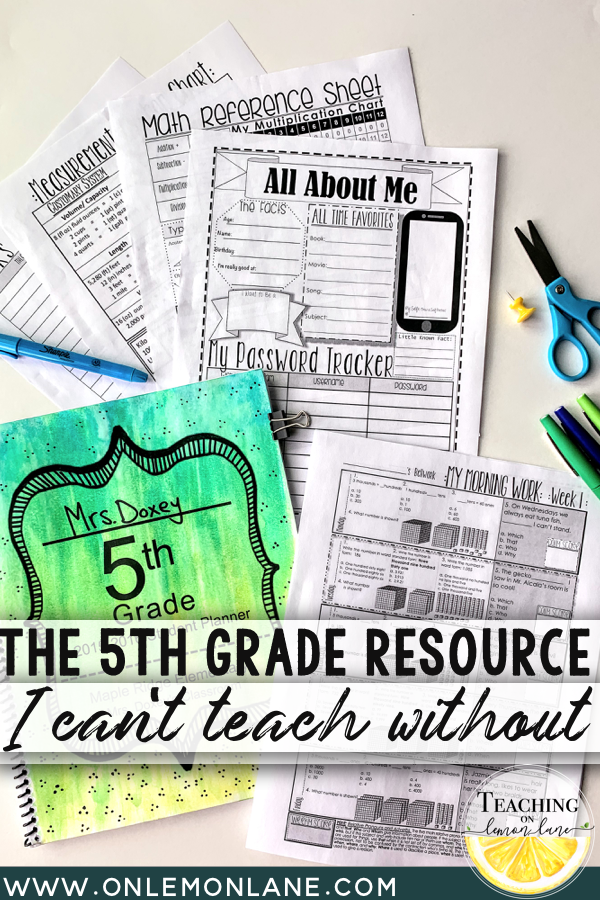 If there was one product that is extremely near and dear to my 5th grade teacher heart…. It would be this one. After surviving my first year of teaching I went into Summer Break with a desire to create a product with MY specific needs in mind. I NEEDED to better incorporate Language|Grammar standards into the classroom, I NEEDED to be more organized & consistent with what I required of my students, and I NEEDED something that would require as little of my precious prep-time and mental space as possible. I struggled to find time to effectively teach the Common Core ELA Language standards (Grammar). I also hated sending my students home with math homework on a concept I had just introduced. Lastly, I couldn't believe how many parents and students expected me to know what their homework would be three weeks in advance. Thus, the idea for a student planner, self-propelled grammar teaching, spiral review, math homework hybrid was born. I began to brainstorm what I could do to meet these needs, and through that mental grind, the 5th Grade Student Planner\Daily ELA & Math Workbook HYBRID was born.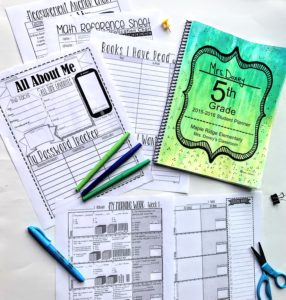 Obviously I still have no idea what to call this beautiful work of blood, sweat, and tears, but I do know that I love it. I'm also confident that once you catch my vision, you will love it too. A quick way to get an idea of what is included is to watch the video above, I'll also give you a rundown here.
In a nutshell, this product includes 40 weeks worth of painstakingly, fantastic 5th grade curriculum aligned material. Each work page is made up of 25 glorious fifth grade problems: 20 math, and 5 ELA|Language.  4 math problems and 1 language problem a day. Week 1 – 4 spiral reviews through 4th-grade material. This is great because it allows you to assess your student's needs and identify any gaps in their learning as well as give your students enough time to become familiar and confident with 5th grade material before it is assigned to them as independent work during week 5. Once you get into 5th grade material you will notice you go about 4 weeks then the pages begin to spiral review. This keeps content current, and familiar. I can not stress how important or necessary this is.
As mentioned above I NEEDED to better incorporate language and grammar into my daily instruction. I realized that much of this can be self-taught or reviewed. The students just needed the support to be successful… You will notice on the work page that the 5th problem of each day is in a gray square, this problem will always be a language question. Each week students will work on a specific ELA|Language|Grammar topic. The topic can be found at the bottom of the page next to the HINT. The hint is  a paragraph that describes the topic, how to use it, as well as examples and non-examples. Students are able to read through the description and apply what they have learned through their responses to the questions. Based on their responses you are able to decipher which language topics need more support and practice, and which ones the students understand. Again I can not stress how WONDERFUL and needed this was to have
To Purchase the Student Planner Hybrid Click Here
Click Here to Purchase
I've created two separate products to make sure you have an option that fits your need. The first is the student planner hybrid. To use simply print the pages double-sided the planner layout on one side and the work page on the other.
If you follow me you know that I love to use student planners in the classroom. I also LOVE to have a planner for myself. Be warned… I'm not a digital planner type of girl, I'm a 30 tabs open, 30,000 emails in the inbox kinda girl. Not proud, just honest. With that being said for those of you that would like a digital version of this… Stay tuned. It's. coming.
I really advocate using a student planner in the classroom. It's a great way to increase student accountability, organization, and open up the lines of communication from the home to the school. Coming from a school where homework was encouraged I saw great advantage in combining the two. The first year I used this hybrid I used it as student planner and student homework for the ENTIRE year combination.
The planner version actually includes over 20 planner layouts with more being added. Surely, there is one to meet your classroom needs, if not please let me know. Some of the best layouts came from the suggestions of teachers!
Quick Tip: During the first week of school the students and I will go through and write down EVERY. SINGLE. DATE. into our planners as well as holidays, breaks, and birthdays. This can literally be accomplished in 20 minutes and will be a life-saver for the rest of the school year!
To Purchase the Daily Math & ELA Workbook with Weekly Evidence & Reflection Sheet, Click Here.
Click Here to Purchase
The second option is your more standard workbook|bell ringer. In this version, the student planner pages have been replaced with a weekly evidence sheet. The weekly evidence sheet includes space for students to show their work and a place to rate and reflect on their understanding of the concepts that were reviewed that week. This is a fantastic assessment to quickly pin-point what your students need as a class as well as individually. To use this version you would simply print double-sided, except this time the weekly evidence page would be on one side and the work pages would be on the other.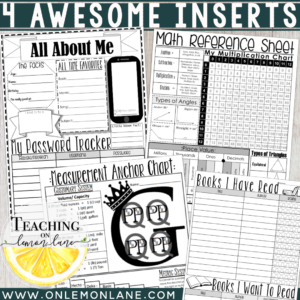 Also included in this product (both Versions) are my planner inserts.
Click Here to Purchase
The inserts alone are pretty great, but add them to your student's workbook and it really takes things to the next level. The inserts include Anchor Charts, Math Reference Sheets, an All About me Page, a place for students to keep track of passwords, as well as a page to record the books they've read, and books that have been recommended to them. Your students will love the pages that personalize this booklet to them… and you will LOVE the math anchor charts… ESPECIALLY the measurement anchor chart when you being to teach the Customary and Metric Systems.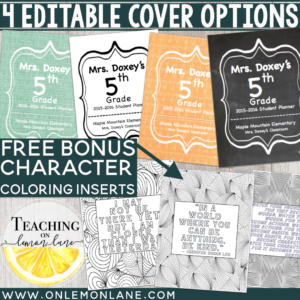 This product also includes 4 editable cover options. The covers are editable through PowerPoint. I've updated this product to also include 4 Grit and Growth Mindset intricate coloring pages. These are perfect for students to flip to in the back of their book to work on as a fast finisher. They are also great to work as filler pages. When you print double-sided you may come across the need to add an extra page to make sure things align correctly. These pages are perfect to meet that need.
You will notice in the video I mention using a poem throughout the year that I challenge my students to memorize. This was something that my own 5th grade teacher did that I wanted to continue in my own classroom. In 5th grade we were required to memorize Robert Frost's, The Road not Taken. Still to this day I can recite portions of this beloved poem, and still do this day it's words will come to my mind when a situation mirrors the meaning behind it. I treasure this and wanted my students to have this throughout their lives as well. I have my students memorize Good Timber.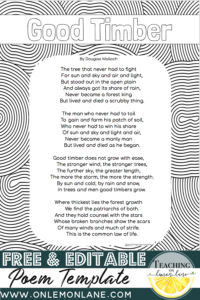 If you would like to include a favorite poem in your workbook simply click here for my FREE template. Good Timber is ready to go, or you can edit the slide and title with your own favorite piece of poetry. This free and editable download is available to members of On Lemon Lane. Not a member? No problem! Sign up is free and easy peasy lemon squeezy!
You really have two options to decide from when it comes down to this product. All of which have to do with how you will use it in your classroom. I have used it both as a student planner and a student workbook and see great value in both. Technically I have also used the student planner and instead of requiring the pages for homework, I used them as a bell ringer. It really comes down to whether you want the pages combined with a student planner or not. The student planner and inserts are available for separate purchase if you decide you want to utilize both. Read to the end to see my list of pros and cons to the options listed.



ScreenShot2019-07-29at102357PM
ScreenShot2019-07-29at102226PM
ScreenShot2019-07-29at102148PM
ScreenShot2019-07-29at102131PM
ScreenShot2019-07-29at102114PM
The Run Down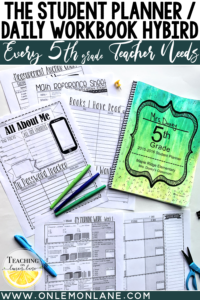 ***Every 5th grade Common Core Mathematics standard is covered. Week 1 – Week 4 Review 4th grade concepts giving you time to teach your 5th grade curriculum before the students see that specific concept in their booklet. Each week is focused on a specific concept that the students would have been taught previously. Preventing them from seeing something that hasn't yet been introduced in the classroom. My issue with the layout of math workbooks, mountain math, and spiral review is that a lot of times the concepts that I don't teach until the end of the year were mixed in with concepts taught at the beginning. This led to students assuming they understood concepts they didn't and led to mistakes that were tough to assess.
***Every 5th Grade ELA Common Core Language standard is covered. Here's the best part. On each page, students are given an explanation of the language concept being taught. Students learn to read through and apply what they have read. They also are able to find and cite evidence to the responses given. Have I mentioned how much I LOVE this booklet.
These Math and ELA pages work great as homework, bellwork, morning work, stations, rotations, guided math levels… the possibilities are really endless.
The planner is beautiful and has over 20 different layout options for you to customize it exactly to your needs! The planner also has 4 different covers, 2 math anchor charts, and a fun get to know you, as well as a password tracker **Which is a gift that keeps giving throughout the year**
*** I print the cover on cardstock one-sided, followed by the All About Me pg, and Book Recommendation pg. The next 40 pages are front and back with one of the planner layouts on one side and the work pages on the back going from week 1 to week 40. Lastly, the math reference pg and measurement reference, and Grit and Growth Mindset coloring pages for fast finisher work.
4th Grade Review
Place Value
Multiply Whole Numbers
Divide by One Digit Divisor
Divide by Two Digit Divisor
Add and Subtract Decimals
Multiply and Divide Decimals
***Spiral Review Previous Concepts
Expressions and Patterns
Fractions and Decimals
Add and Subtract Fractions
Multiply and Divide Fractions
Measurement
Geometry
***Spiral Review Previous Concepts
***Spiral Review All Concepts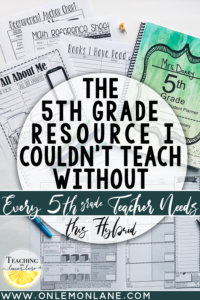 Friends have asked about how to go about getting the booklets bound. At our school district, we had a service within the district that would take care of printing and binding needs, if you are a new teacher make sure to ask if this is something your district offers. Your school may even have a binding machine that will allow you to bind the booklets by hand. Simply, ask someone to show you the ropes and off you go. If not try your local print shop, make sure they know you are a teacher when requesting a price quote. You can also ask for their suggestions to make the booklets as economically priced as possible!
Can't wait to hear how you use these in your own classroom! This is the resource I simply couldn't teach without. Do you have a favorite resource? Tell me in the comments, or let's connect through Instagram or Facebook. I LOVE hearing from you.
Pros of using Planner Pages and Work Pages as Homework:
Students know the expectation for the YEAR
Parents know the expectation for the YEAR
If a student was going on to be out of class for a week, they knew where to start for missing work
Students should never see anything new, or something they had just learned as their homework.
Each Language topic for the week includes a description, examples, and non-examples so parents and students can effectively apply the skill.
Students only have one booklet/assignment to keep track of.
Cons of using Planner Pages and Work Pages as Homework:
Like any homework assignment, not every child will utilize, or complete the work.
Students must use another sheet of paper to show their work.
After putting in all the work to put this together I decided that I needed every student to utilize this. So the following year instead of using the work pages for homework, I decided to use them as my bell ringer for math class. I loved this as well.
Pros to using Work Pages as Bell Ringer
Whether math class was first thing in the morning, or right after lunch, students knew exactly what to do as soon as they came into the room.
You can quickly identify the most missed problems and go over as a class to clear up misconceptions.
The 5 problems a day can be completed within 5-10 minutes.
Pros to using Evidence page as opposed to Planner pages:
Students have a space to show their work.
Students rate their understanding of the topics each week to give you a quick and simple assessment.
There is a space where students can write a quick note to you about anything they want you to know. Great line of communication between student and teacher.
Pros to using Planner page as opposed to Weekly Evidence page:
Increases Student organization skills.
Increases student accountability and responsibility in learning.
Opens the lines of communication between home and school.
Parents gain a better idea about what is being covered in school and their student's proficiency.
Cons of using Reflection Pages:
Like with any Bell-Ringer you run into students completing tasks at different paces. Make sure students know what to do if they finish the page early.
You may need to make accommodations for students that work at a much slower rate. Assigning only the odd problems was a solution to this issue for me.
Stick to your scope and sequence. Many times you will find holes or misunderstandings while students spiral review though the concepts you've already taught. Review the concept, address the misconceptions, and move on to the lesson you have scheduled. With how this is set up you will constantly be coming back, and exposing students to similar concepts. Rest assured it will come with more exposure and practice. Keep moving at the rate your scope and sequence requires.

To stay up-to-date on new blog posts, freebies, exclusive promo codes, and sales… Join the Teaching on Lemon Lane Community! Pick any or all of the following to stay in the loop of all things Teaching on Lemon Lane. 
If you enjoyed this PLEASE SHARE! Sharing on Pinterest, Facebook, or tagging on Instagram is a simple, yet wonderful way to support the efforts of Teaching on Lemon Lane!